Drinking Water Pipe Replacement
East Bay Municipal Utility District supplements distribution system decisions with AI
Jun 1st, 2019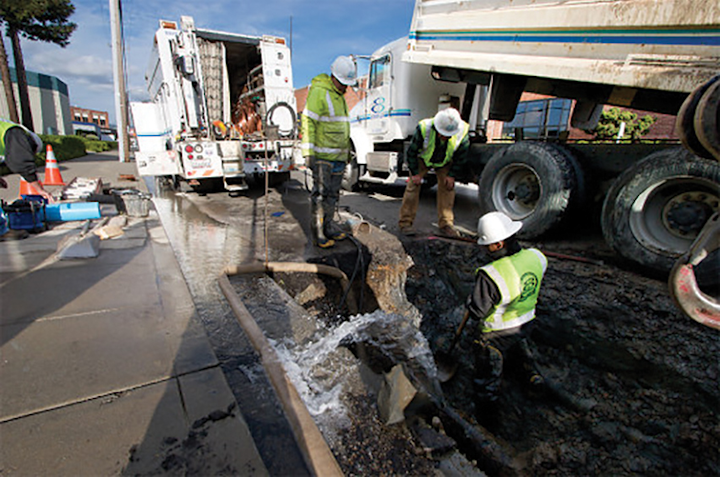 East Bay Municipal Utility District (EBMUD) has a proud history of providing high-quality drinking water in Alameda and Contra Costa counties in the East San Francisco Bay area of California. Approximately 4,200 miles of distribution pipeline deliver water to its 1.4 million customers across a 332-square-mile area. The pipes in this system are comprised of buried cast iron (35 percent), asbestos cement (30 percent), steel (26 percent) and PVC (9 percent). Some of the cast iron pipe in the system is more than 125 years old.
For five consecutive years, water professionals surveyed by the American Water Works Association (AWWA) have ranked replacement of aging infrastructure as the industry's top challenge. For EBMUD, replacing one mile of its distribution system can cost upwards of $3.8 million dollars. Furthermore, pipe replacement in any location comes with side effects of disruption to traffic, sidewalks and business.
Which Drinking Water Pipes to Replace?
Historically, EBMUD was replacing around 10 miles of distribution pipe per year. The utility's approach to selecting the projects was reactive, replacing only pipes that had broken many times before. Although EBMUD's main break rate was within industry standards, the failure rate was increasing.
In 2014, EBMUD created the Pipeline Rebuild program. The goal was to increase the pipe replacement rate in a cost-effective, efficient and sustainable manner while decreasing the annual break rate.
In 2016, EBMUD began selecting replacement projects by evaluating risk, and increased its pipe replacement rate to 15 miles per year with the next goal being 20 miles per year by 2020. The long-term target is 40 miles per year. With a large inventory of aging cast iron and asbestos cement pipe, EBMUD's risk analysis is increasingly proactive and strategic in determining which pipes to replace.
Around the same time EBMUD created the Pipeline Rebuild program, Fracta began developing a cloud-based solution using machine learning to assess the condition of drinking water distribution pipes. The solution calculates and visualizes the Likelihood of Failure (LoF) for every water pipe segment. This LoF score represents the mathematical probability of pipe failure.
Fracta takes utility data on pipe age, material, and break history, adding in dozens of additional environmental factors. Through machine learning, information like soil chemistry, soil slopes, air and water temperature, and proximity to other infrastructure is analyzed. This data is then fed to computer algorithms that analyze correlations between data points. The more data fed into the model, the better it performs.
Artificial intelligence (AI) and machine learning, combined with utility pipe-break archives and environmental data, can pinpoint which pipes are most likely to fail and thus are the best candidates for replacement. It moves condition assessments from reactive to predictive. Additionally, it proves to be quicker and less expensive when compared to physical condition assessments. However, only one out of five utilities surveyed in 2018 by AWWA use big data methods to improve the operation and maintenance of their water and sewer systems.
Fracta software calculates and visualizes the Likelihood of Failure (LoF) for every water pipe segment. This LoF score represents the mathematical probability of pipe failure in a given area.
Using a Machine Learning Model to Supplement the Existing Pipe Replacement Methodology
In 2016, Fracta modeled EBMUD's 4,200 miles of drinking water pipes and subsequently commercialized its Pipeline Condition Assessment model in 2017. During the five-year period from 2012-2016, the LoF-predicted breaks from the Fracta model were compared to the actual breaks experienced by EBMUD.
The predicted results were within 10 to 15 percent of the actual results. The results were favorable and EBMUD is now using Fracta as a supplemental tool for selecting which pipes to replace and developing a long-term plan to increase its distribution pipeline replacement rate.
In an effort to select and prioritize projects, EBMUD continues to supplement its current methodology with AI and machine learning to better assess and predict a pipeline's LoF. With this process, EBMUD will replace the right pipes, protect natural resources through reduced water loss from main breaks, and continue to provide high-quality drinking water to all its customers at a fair rate. WW
Doug Hatler is chief revenue officer for Fracta with more than 30 years of experience as a sales and marketing leader, management consultant, environmental regulatory specialist and civil/environmental engineer. He earned a BS in environmental science and an MBA from Rutgers University. He holds an MS in environmental engineering from the New Jersey Institute of Technology.