Reagent-less Membrane Sensors Help Streamline Water Quality Monitoring
Water quality monitoring panels continuously monitor five water quality parameters selected by the Philadelphia Water Department. The panels are factory assembled and delivered to monitoring sites ready for installation.
May 1st, 2013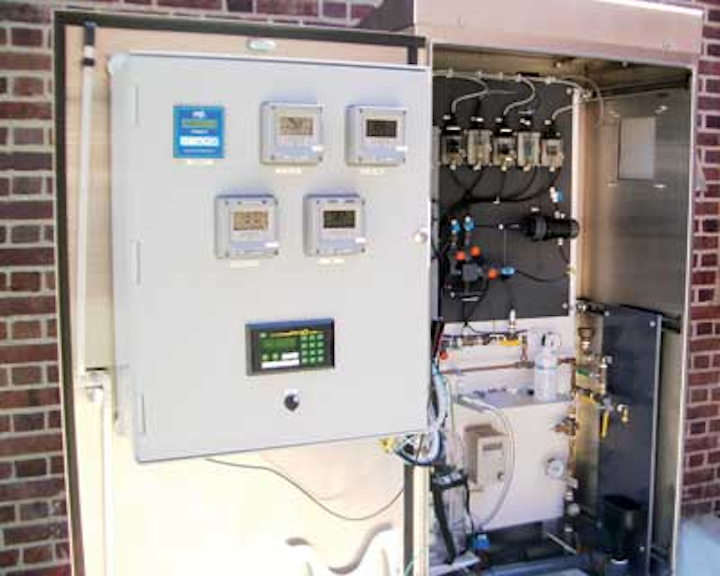 The Philadelphia Water Department (PWD) has developed and implemented an online Water Quality Monitoring Network (OWQM) for the city's drinking water distribution system. The purpose of the network is to provide PWD water quality engineers and treatment plant operators the ability to obtain real-time "snap-shots" of water quality conditions, both at key entry points and at strategic locations throughout the distribution system. Practical benefits are early detection of water quality deterioration ahead of customer taps; the ability to document changes for further analysis; a deeper understanding of how water conveyance operations affect water quality; and the seamless integration of a new contamination warning system.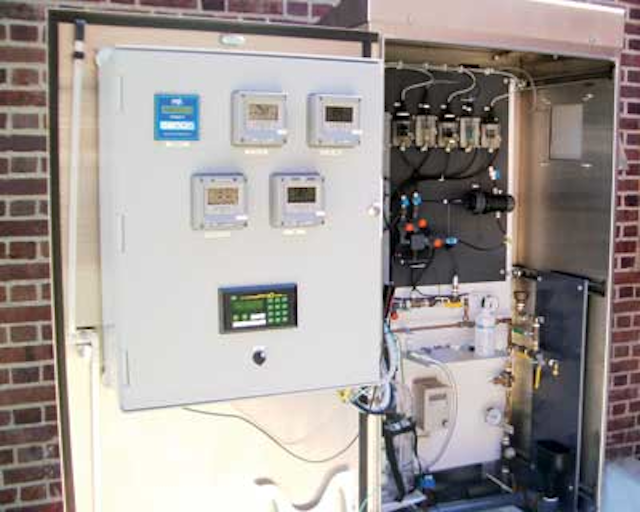 Water quality monitoring panels continuously monitor five water quality parameters selected by PWD. The panels are factory assembled and delivered to monitoring sites ready for installation.
PWD began development of the OWQM in 1999, with a pilot study that included an extensive review of available monitoring technologies. Three sites were selected that were representative of the varying degrees of water quality within the water distribution system. Among the sites selected were a major water transmission main supplying the largest finished water reservoir, the central laboratory service line, and a pumping station located in an area that historically presented some intriguing water quality challenges.
These sites were outfitted with a suite of traditional instruments to monitor total chlorine residual, conductivity, turbidity, pH, temperature, service main pressure, service main flow (where applicable), and instrument board flow. Water quality data was continuously transmitted back to the department's Central Lab Facility either by spread spectrum radio or via the PWD Ethernet.
Although the pilot study was successful, it became apparent that their initial instrument selections presented some significant operational and maintenance challenges. Of particular concern were increased reagent and buffer use and the man-hours required for chlorine and turbidity monitor service and calibration. PWD decided to migrate toward reagent-less membrane chlorine sensors and evaluated various turbidimeters in order to reduce the volume of calibration standards.
In 2002, PWD evaluated water quality instruments from a local manufacturer, Analytical Technology Inc. (ATI), and assembled an array consisting of combined chlorine, conductivity, ORP, turbidity, and pH. The decision to migrate to ATI analyzers and sensors has proven cost effective through reduced on-site service time, cost savings attributed to a reduction in calibration standards usage, and decreased downtime of sensors, which equates.to less breaks in the data stream.
In 2004, with major input from PWD, ATI designed a custom, state-of-the-art water quality panel system that would continuously monitor the five water quality parameters selected by PWD. The system was factory assembled and delivered to monitoring sites for installation and connection to the SCADA system. Between 2004 and 2008, the system was continuously expanded to provide broad distribution system surveillance throughout Philadelphia.
The implementation of this extensive monitoring system with documented reliability played a role in PWD being awarded an EPA Water Security Initiative Grant in 2008. The grant allowed PWD to expand the OWQM sites to monitor for potential contamination of the potable water supply. PWD installed 10 dedicated Contaminant Warning System (CWS) sites in addition to the existing 30 OWQM sites. Each site is outfitted with the standard ATI water quality array and enhanced with a UV254 monitor.
"Philadelphia was selected for this pilot because of its existing water quality protection programs and its commitment to put in place the complex systems needed to increase water security," said William T. Wisniewski, the U.S. EPA's acting administrator for the mid-Atlantic region.
The project is expected to serve as a model for all of the United States' drinking water utility companies. Philadelphia was one of four cities to model this project along with New York City, San Francisco and Dallas.
Analytical Technology will be exhibiting its systems at ACE 13. For more information, visit the company's website, www.analyticaltechnology.com.
Analytical Technology® is an exhibitor at the ACE® '13 event and can be found at Booth No. 14058
More WaterWorld Issue Articles
WaterWorld Articles Archives