Exercising Options: Outsourced Hydrant Assessment Program Pays Off
The City of Austin, Texas, is in the fifth year of a hydrant assessment program that has reduced the number of hydrants out of service at a given time from 80 to less than 10 hydrants out of 25,000 in the system.
Mar 1st, 2013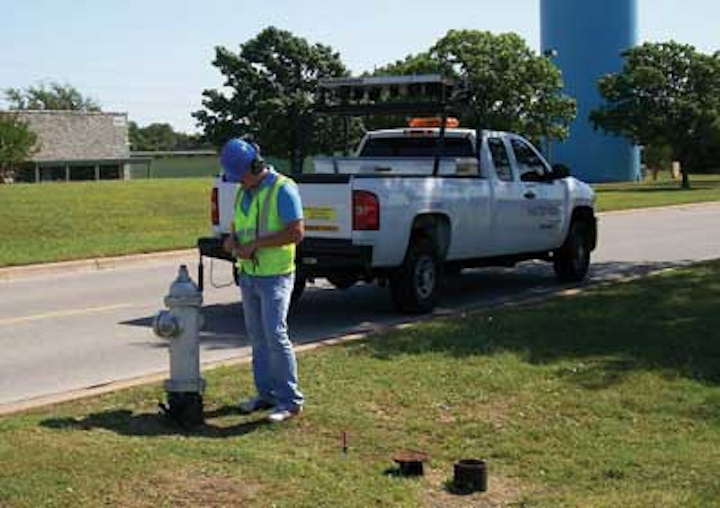 The City of Austin, Texas, is in the fifth year of a hydrant assessment program. When the program began, it was typical to have 70 or 80 hydrants out of service at a given time. Today, that number is now typically under 10 hydrants out of 25,000 in the system. The city is now planning to implement a similar assessment program for its larger valves.
An independent contractor was hired in 2009 to locate and assess the condition of hydrants around the city and repair any minor problems. That has freed up city staff to focus on major repairs that would put the hydrants out of service, said Matt Cullen, Supervising Engineer with the Austin Water Utility.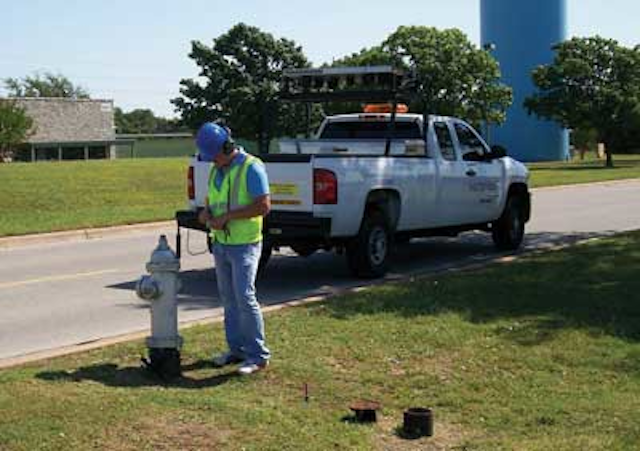 Nick Pulido, Crew Chief for Wachs Water Services, performs condition assessment and maintenance on a hydrant in the City of Austin.
Wachs Services Co. is the contractor on the project.
"When we initiated the contract with Wachs there were all these minor repairs that needed to be done," Cullen said. "Our internal crews were getting caught up on doing minor repairs and there were bigger repairs they weren't getting to. We hired Wachs to free up our crews for the serious work of getting hydrants back into service. And that approach has been successful."
The hydrant assessment program includes locating and operating hydrant control valves, flushing a minimum of water to insure the hydrant is flowing properly, then oil the hydrant and pressurize it with the caps on to see if any of the caps are leaking. The service crew notes if the hydrant is hard to operate, if there are any leaks, or if it doesn't drain. They also record the hydrant's GPS coordinates to insure the accuracy of Austin's maintenance management system.
Austin is about to embark on a similar assessment program for its large diameter valves, sizes 24 inch and larger. There are an estimated 1,800 to 2,000 large-diameter valves in the system. The contractor will determine the GPS location of the valves, and will open and close each valve twice, if possible.
"A lot of our valves fail because it's been 25 years since they've been operated," Cullen said. "We are trying to get a routine in place of operating the valves so they won't be locking up on us. That's a big focus of this program. We know the first time through we are going to identify a huge number of valves that need work."
Cullen said Austin decided to outsource the hydrant and valve assessment programs because the economic and political climate prevented hiring the number of personnel needed to run such programs in-house.
"My group prepared a report to our executive team on the number of people we would need to properly address our ARVs (air release valves), our PRVs (pressure relieve valves), our small diameter valves, our large diameter valves, and our hydrants. It was a huge number," Cullen said.
Outsourcing was chosen as a viable alternative.
"From the executive team's point of view you can cut an outsource program at any point. Whereas, if you hire someone, and at some point have to stop the program, then you are looking at laying people off," Cullen said. "Outsourcing allows for a potentially temporary approach to handling the situation."
"I personally wish that we would bring the people on to do the work and have them in-house. These contractors have been good for us and have done a good job. I wouldn't say they are super expensive, but it probably is more expensive than having our own people," he said.
Never Ending Project
The goal of the hydrant program is to assess about 8,000 per year. At that rate it would take about three years to assess all hydrants in the system. During the first pass through, a large number of hydrants required some sort of minor repair or painting.
"In the first couple years, we ended up with a backlog of hydrants needing minor repairs," Cullen said. "We decided to not worry about painting and instead used the money allocated for painting on making minor repairs."
Later this year the department hopes to catch up on minor repairs and beginning painting hydrants. At least 18,000 need painting, which could take several years to complete.
"We are still another five years away from being totally well-oiled and catching everything as soon as a problem is found," Cullen said. "When we get to that point, are we going to hire people in-house? I still think the political landscape is such that extra FTEs aren't necessarily there."
More WaterWorld Issue Articles
WaterWorld Articles Archives