PRODUCTS & SERVICES: PIPE, TOOLS
The Megaflange Series 2100 restrained flange adapter from EBAA Iron is an on-site fabrication tool for pipeline installations that is generous in its deflection limits.
Oct 1st, 2006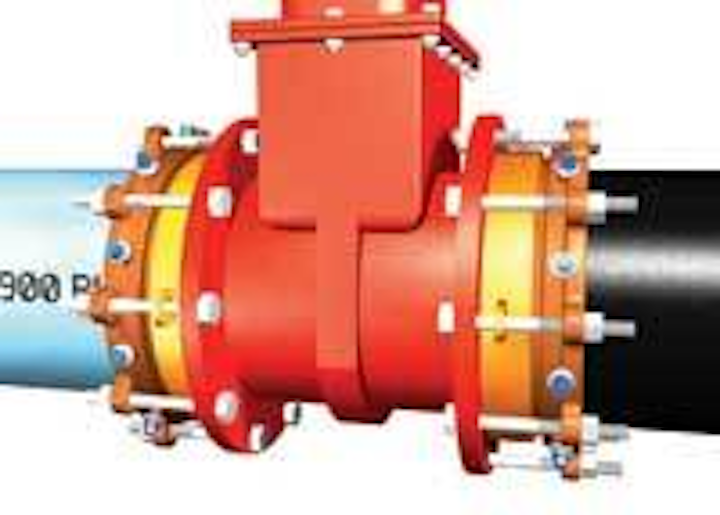 Flange adapter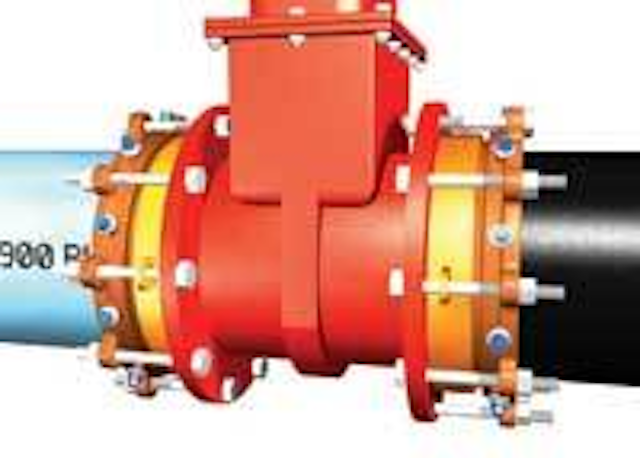 Click here to enlarge image
The Megaflange Series 2100 restrained flange adapter from EBAA Iron is an on-site fabrication tool for pipeline installations that is generous in its deflection limits. The adapter saves time and is field adaptable (pipe may be cut to length at the job site). It provides joint deflection up to 5° depending on pipe size, and it can be used on ductile iron, PVC and steel pipe.
EBAA Iron Inc.
Eastland, TX Tel: 800-433-1716 Web: www.ebaa.com
Pipe products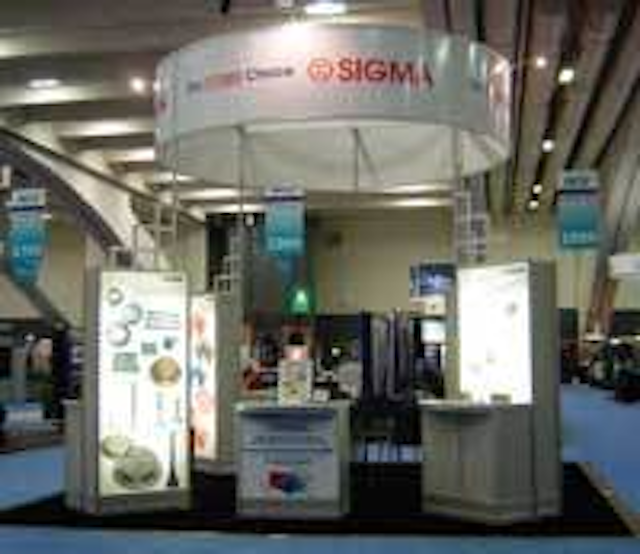 Click here to enlarge image
Sigma Corp. offers a wide range of products for the waterworks industry. Product areas include ductile iron pipe fittings: mechanical joint, flanged, and push on; municipal construction castings, such as valve boxes, meter boxes, manhole covers, and frames and grates; pipe and fitting restraint products such as the contoured wedge design One Lok and the serrated restraint PV-LOK; and extended products such as pipe lube, detection tape, flanged accessory packs, and more.
Sigma Corp.
Cream Ridge, NJ Tel 800-999-2550 Web: www.sigmaco.com
CPVC pipe
Harvel Plastics has extended its line of rigid extruded industrial CPVC pipe to include 18", 20", and 24" sizes in Schedule 40 and 80 dimensions. Technological advancements and stringent lab testing have enabled the company to maintain outstanding physical properties for mechanical, thermal, electrical, and fire performance.
Harvel Plastics Inc.
Easton, PA
Tel: 610-252-7355
Web: www.harvel.com
Leak noise correlator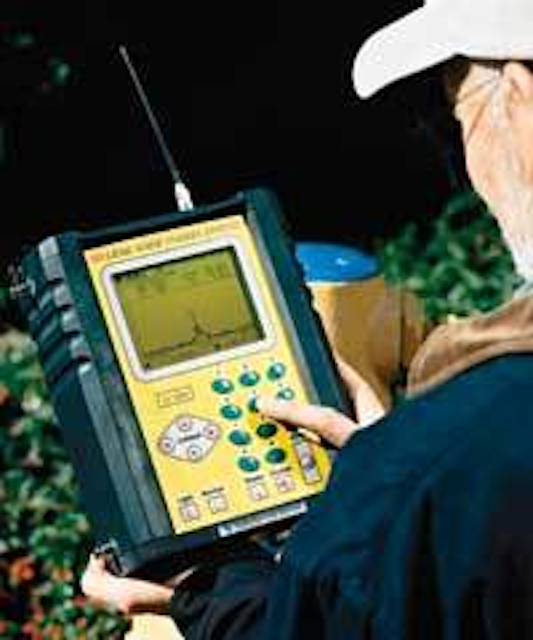 Click here to enlarge image
The new LC-2500 Leak Noise Correlator from SubSurface Leak Detection is an improvement on its predecessor, the LC-2100. The new unit correlates four times faster, and the radio transmitters are four times more powerful, transmitting up to 3500 feet to the main processor unit and traveling over hills and around tall buildings.
SubSurface Leak Detection Inc.
San Jose, CA
Tel: 408-249-4673
Web: www.subsurfaceleak.com
Pipeline inspection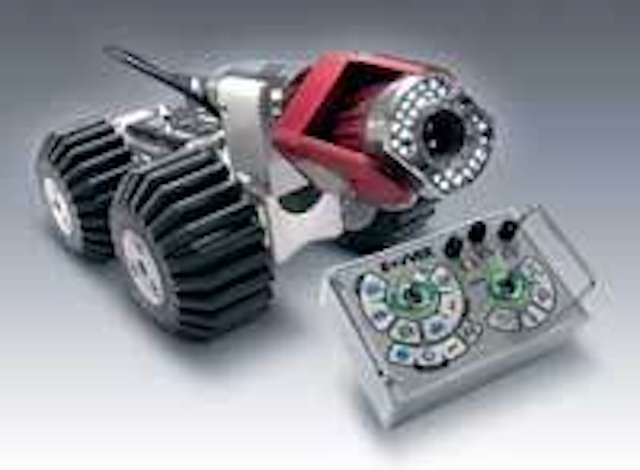 Click here to enlarge image
Envirosight offers remote visual inspection equipment for municipal wastewater or drinking water systems. Lines may be inspected for structural integrity, corrosion and cracks. The company specializes in video inspection equipment for every situation, from crawlers to portable zoom cameras that are maneuverable, configurable and compact.
Envirosight LLC
Randolph, NJ
Tel: 866-936-8476
Web: www.envirosight.com
Line stopping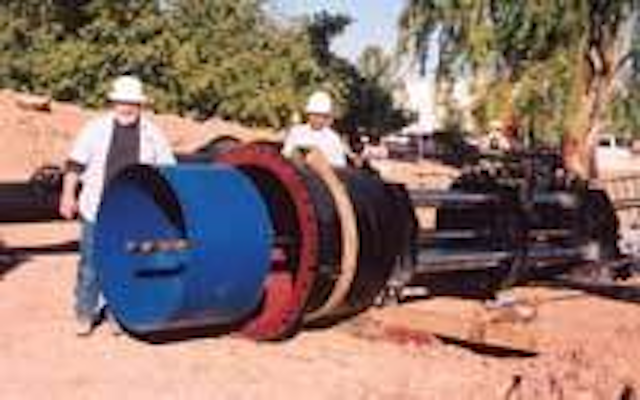 Click here to enlarge image
ADS® LLC, formerly ADS Corp., now offers Hydra-Stop® products and contract services for line stopping, valve insertion and line tapping (pipe tapping). Hydra-Stop, recently acquired by ADS, offers a full line of pipe maintenance equipment including the Hydra-Stopping® System, Jr. Hydra-Stopper®, and Insta-Dam®.
ADS LLC
Huntsville, AL Tel: 800-538-7867 Web: www.hydra-shop.com
Sewer fittings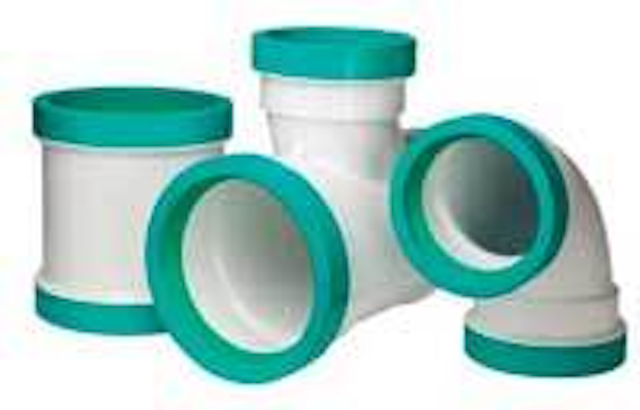 Click here to enlarge image
Plastic Trends now offers a square ring design on the SDR 26 Heavy Wall Gasketed Sewer Fittings. The new square cut design allows this unremoveable ring to lock onto the fitting, essentially making it one piece. The company also has strengthened the branches on 4" and 6" tees, wyes and sanitary tees to a minimum wall thickness of SDR 18.
Plastic Trends Inc.
Shelby Township, MI Tel: 800-232-5690 Web: www.plastictrends.com
Pipeline inspection camera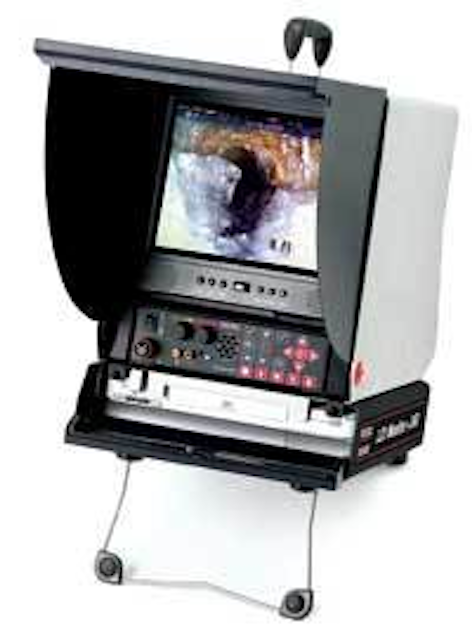 Click here to enlarge image
Ridge Tool has introduced the Ridgid® SeeSnake® LCD Monitor+DVD for use with all SeeSnake camera reels. The new high-resolution LCD monitor and DVD system provides users with digital recording capabilities as well as improved picture quality, in a lightweight design. The 10.4" color LCD monitor has a resolution of 640 x 480 and provides good picture quality even in sunlight.
Ridge Tool Co.
Elyria, OH
Tel: 800-769-7743
Web: www.ridgid.com
Universal pipe gasket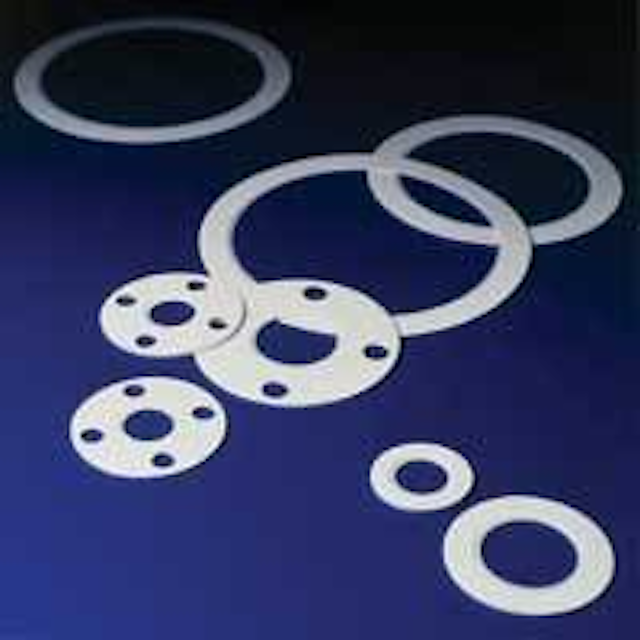 Click here to enlarge image
W. L. Gore & Associates' Gore™ Universal Pipe Gasket allows maintenance engineers to standardize their gasket applications across steel, glass-lined steel and FRP systems wherever a non-metallic gasket can be used. Unaffected by even the most aggressive chemicals, the gaskets conform to irregular surfaces and protect flanges.
W.L. Gore & Associates
Elkton, MD
Tel: 800-654-4229
Web: www.gore.com/sealants
Sewer cleaning system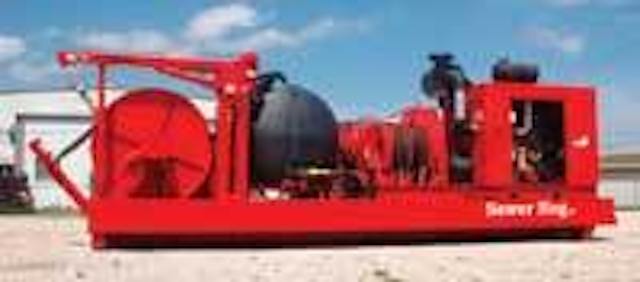 Click here to enlarge image
A new combination sewer cleaning system, specifically designed to clean large diameter sewers, has been introduced by Garner Environmental. At the heart of the system is the SK-1000, rated at 350 gpm at 2,000 psi and driven by a 600 hp engine.
Garner Environmental
Pasadena, TX
Tel: 281-991-7179
Web: www.garner-sewer.com
Fittings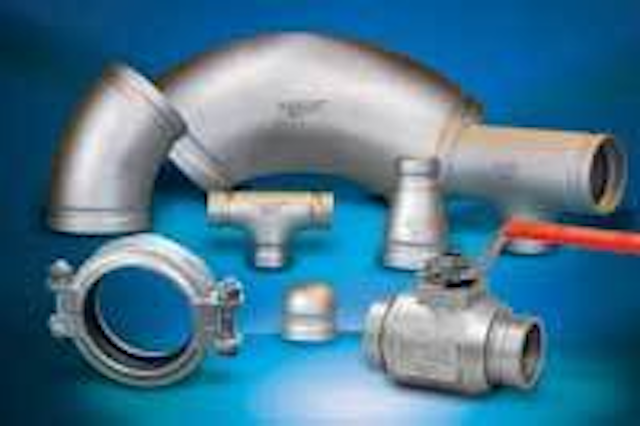 Click here to enlarge image
Anvil International recently introduced its line of Gruvlok® Stainless Steel Formed Weldless Type 304 Fittings. Featuring full flow design with ends grooved to Gruvlok specifications, the product line offers quick installation with the 7400SS Coupling. "A" Series Stainless Fittings are offered in sizes ranging from 1 ¼" to 12". The elbows and tees have compact center-to-end dimensions.
Anvil International
Portsmouth, NH
Tel: 603-422-8000
Web: www.anvilintl.com
Root removal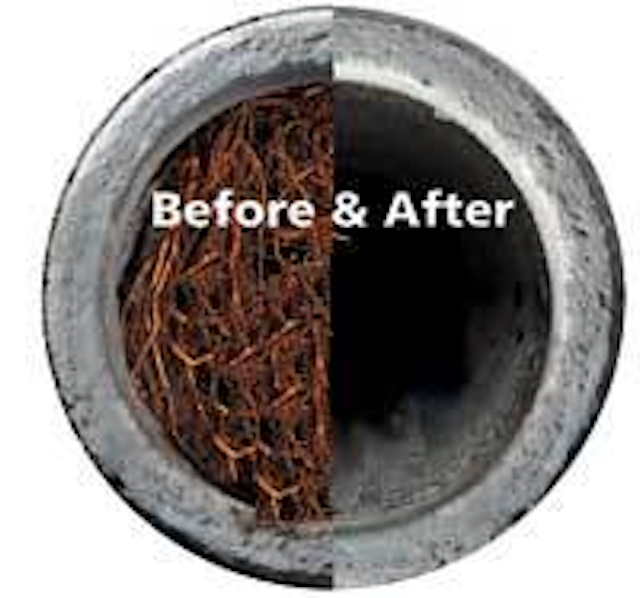 Click here to enlarge image
RootX® can be used by a utility's own maintenance crews and equipment to kill pipeline roots. Crews can treat a 400-foot mainline in 30 minutes or less. The patented foam reaches the top of the pipe where 90% of the roots are. It is non-caustic, non-fumigating and non-systemic and contains no diquat dibromide, copper sulfate or metam sodium. The product won't harm pipes or wastewater treatment operations, it is registered for use in all 50 states, and is guaranteed to keep pipes root-free for 25 months.
RootX
Salem, OR
Tel: 800-844-4974
Web: www.rootx.com
Abrasion resistant pipe

Click here to enlarge image
Abresist piping is tougher than the grit, sludge or biosolids being conveyed in wastewater plants. The basalt-lined piping lasts five times longer than ½" cast iron. Pipes, elbows and fittings are custom engineered for each application and can be provided in a variety of end connection arrangements to retro-fit into existing systems or install in new ones using flanges, grooved couplings, compression couplings or welded attachments.
Abresist Corp.
Urbana, IN
Tel: 800-348-0717
Web: www.abresist.com
Manhole liner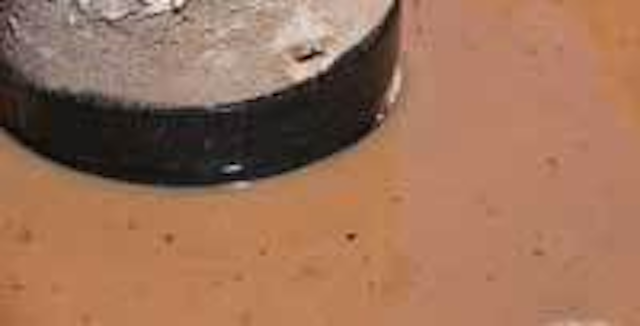 Click here to enlarge image
The Riser-WrapTM seal is a two-layer system designed for corrosion and sealing protection on encapsulating manholes and pipelines. It seals joints against ground water infiltration and is tolerant to soil stress, UV and freeze-thaw conditions. The first layer is a sealant encapsulated by a heat shrink sleeve - a 2.5 mm cross-linked, high density polyethylene membrane. Applications are for manholes (pre-cast base, cone, risers, cast iron frame), concrete vaults boxes, septic tank joints, repair and step-down joints.
Pipeline Seal & Insulator, Inc.
Houston, TX
Tel: 800-423-2410
Web: www.pipelineseal.com
Root control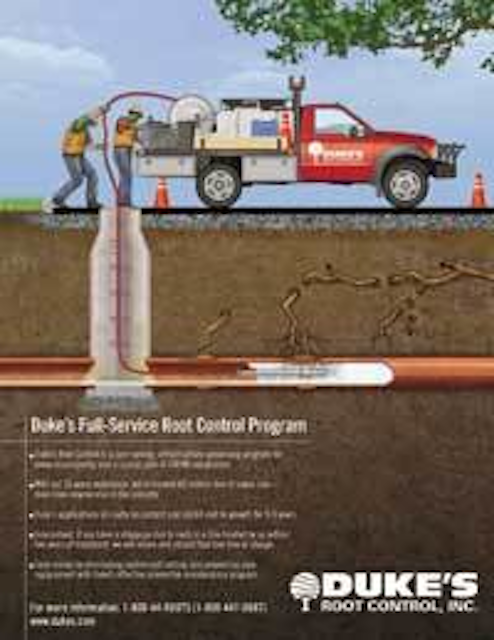 Click here to enlarge image
Duke's Root Control Service is designed to control sewer line root problems. Over 2,000 municipalities have used the company's services in more than 70 million feet of sewer pipe. The company applies EPA registered products that kill tree roots without harming above-ground vegetation. The material is injected as a foam, from manhole-to-manhole, killing all roots on contact and also inhibiting re-growth for 3 to 5 years.
Duke's Root Control Inc.
Syracuse, NY Tel: 800-447-6687 Web: www.dukes.com
Polymer mortar pipe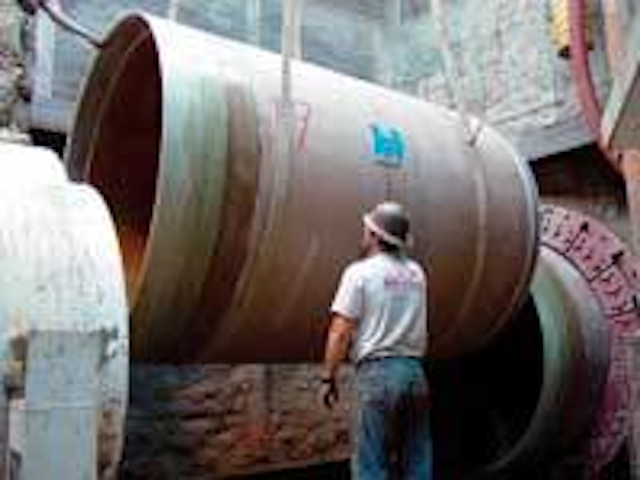 Click here to enlarge image
Centrifugally cast, fiberglass-reinforced, polymer mortar Hobas pipe is inherently corrosion resistant and lasts 100 years or more. It is suitable for virtually every installation method of new construction and rehab including open cut, sliplining, jacking, microtunneling and above ground. Leak-free, push-together joints reduce installation time and costs.
Hobas Pipe USA
Houston, TX
Tel: 800-856-7473 Web: www.hobaspipe.com
Pipe locators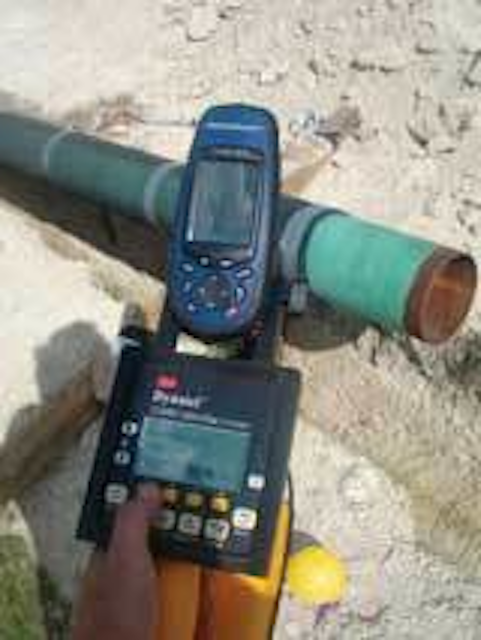 Click here to enlarge image
The Dynatel pipe/cable/fault locators 1420, 2250M-iD and 2273M-iD from 3M are now compatible with select GPS/GIS field mapping instruments for real-time mapping of underground facilities. This integrated solution from Dynatel simplifies the mapping process and allows a generalist field technician to perform real-time mapping with sub-meter accuracy. The locators, combined with 3M electronic marking system (EMS) markers, provide a solution for mapping critical buried assets using GPS/GIS and a simple process for identifying them. 3M RFID markers contain a memory technology that can be programmed in the field to document attributes of each point of buried facility. These markers have a unique serial number and additionally can store facility-specific information such as description of facility, owner, material type, size, date and additional information correlating the marker to facility records.
3M Co.
Tel: 800-426-8688
Web: www.3M.com/dynatel
Pipeline inspection
RS Technical Services has introduced the TranSTAR Transporter, which is designed for transporting video cameras through pipe networks. The six-wheeled, all gear driven transporter can be used to inspect lines 6" to 24". A high-torque 1/8 hp rare earth PM motor lets the tractor achieve speeds up to 70 feet per minute. Soon to be available as a steerable unit with true differential wheel control and freewheel. There is no need to coordinate the transporters' reverse speed and reel; a freewheel clutch allows rapid retrieval once inspection is complete. Innovative technology guides the microprocessor that controls all of the unit's functions.
RS Technical Services Inc.
Petaluma, CA
Web: www.rstechserv.com
Pipe products
Click here to enlarge image
American Cast Iron Pipe Co. is one of the largest manufacturers of ductile iron pipe, fire hydrants and valves for the waterworks industry. Its subsidiaries include American Castings, and American Valve & Hydrant Manufacturing Co. It's American Ductile Iron Pipe Co. promotes the use of ductile iron pipe for several trenchless technology installation methods, including pipe bursting and horizontal directional drilling (HDD). The company is responsible for the development of "bell-less" MT Push Pipe and GS Push Pipe used for pipe bursting, micro-tunneling, or slip-lining. It also offers the Fastite Push-Bar joint pipe for pipe bursting, in sizes through 64". For HDD, the company offers pipe in sizes from 4" through 42".
American Ductile Iron Pipe Co.
Birmingham, AL
Web: www.acipco.com/adip
Piping couplings, fittings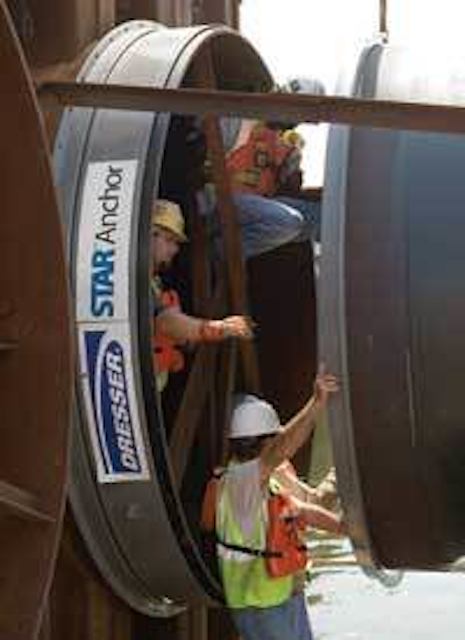 Click here to enlarge image
The current Dresser Piping Specialties product line includes a complete line of pipe joining couplings and repair products, expansion joints, flange adapters, dismantling joints, service connectors, compression fittings, and much more for plant and buried service piping installations.
Dresser Piping Specialties
Bradford, PA
Tel: 814-362-9200 Web: www.dressercouplings.com
Sound data logger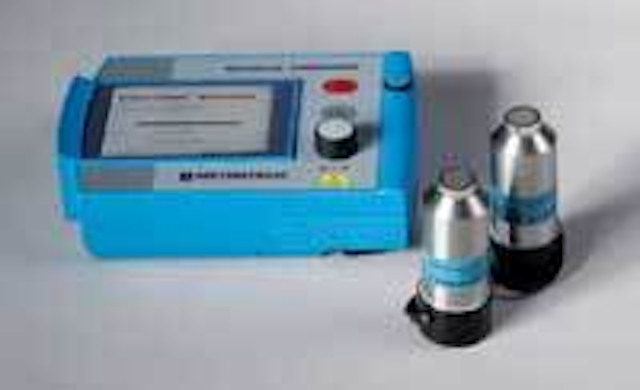 Click here to enlarge image
Metrotech has released a new digital sound data logger system, the HL 7000™ Metrolog. Designed for acoustic zone monitoring, it combines sound level and frequency loggers with radio transmission for monitoring pipeline networks. The system can be used on all pipe materials. The system is compact in size, has a large graphic display with acoustic sound capabilities and has a battery life of five years.
Pipe penetration seals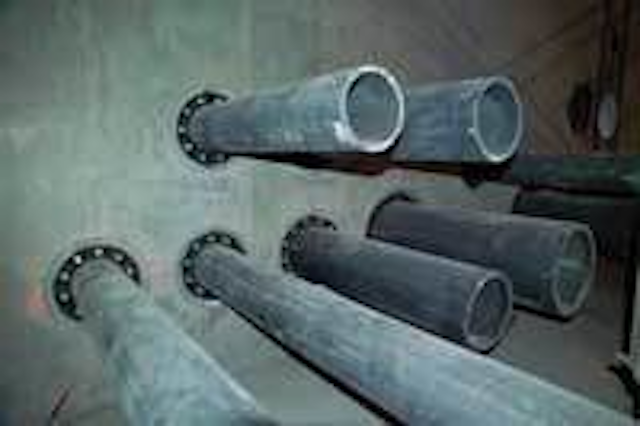 Click here to enlarge image
PSI-Thunderline offers the Link-Seal® pipe penetration seal lineup with 15 sizes. The wastewater/water Hydronic seal holds 20 psig of pressure (40 feet of static head) using standard carbon steel bolts with both a zinc dichromate coating and an organic coating that passes a 1,470 hour (ASTM B117-97) salt spray test. The modular seals use 316 stainless steel hardware.
PSI-Thunderline/Link-Seal
Houston, TX
Tel: 800-423-2410
Web: www.linkseal.com
Tapping machine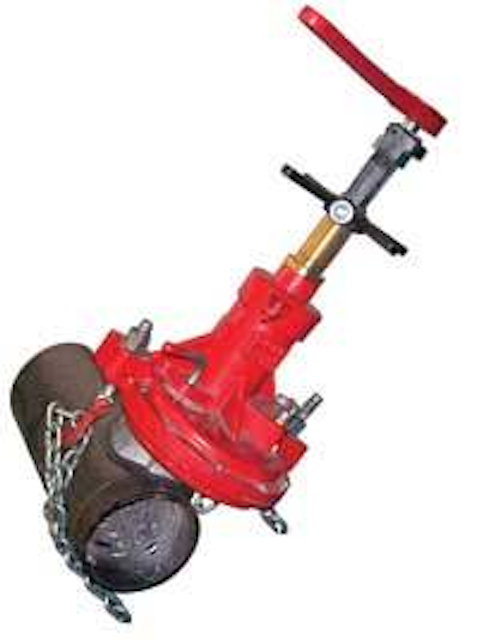 Click here to enlarge image
Reed'sTM 1100 tapping machine is used to drill and tap water mains while under pressure, then to install ¾" or 1" corporation stops in a 2-step operation. The machine covers 4" - 48" cast or ductile iron and C-900 PVC with the use of saddles and chain extensions. It is user-friendly with a low profile and new "flip clamp" feed system.
Reed Manufacturing Co.
Erie, PA
Tel: 800-666-3691
Web: www.reedmfgco.com
PE fusion datalogger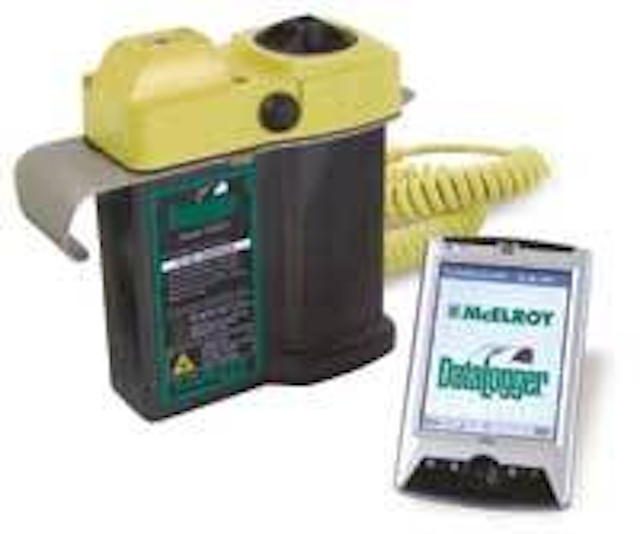 Click here to enlarge image
The McElroy DataLogger® is used to record and document the key parameters of the polyethylene pipe fusion process. The device can be used to verify that proper procedures have been followed prior to installation. The datalogger consists of a Pocket PC as the recording device and is connected via wireless to a data collection device.
McElroy Manufacturing Inc.
Tulsa, OK
Tel: 918-836-8611
Web: www.mcelroy.com