PRODUCT SHOWCASE
American Highway Products' Manhole riser has a pivoted turnbuckle linkage ensures a pressed in bearing fit when installed.
Feb 1st, 2006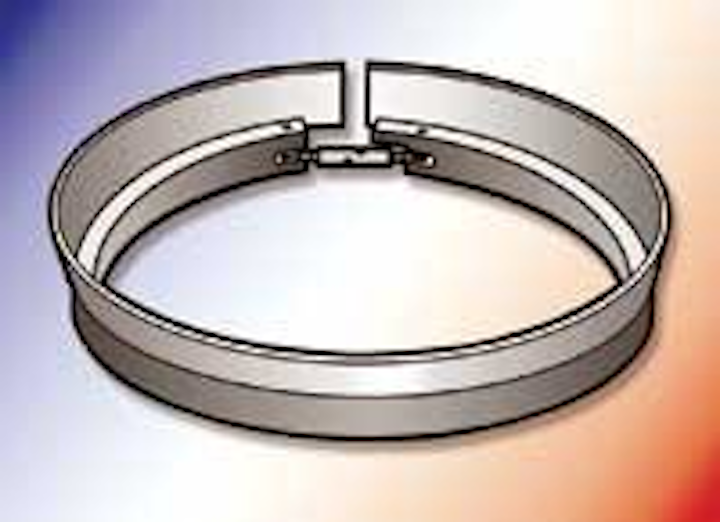 Manhole riser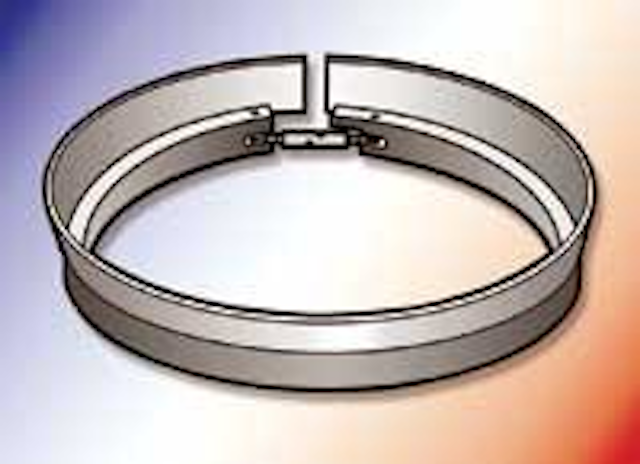 Click here to enlarge image
American Highway Products' Manhole riser has a pivoted turnbuckle linkage ensures a pressed in bearing fit when installed. This pressed in fit enables installation before paving the road. The riser's Pivoted Linkage will contract and expand the riser ½", giving a full 1" diametric variance, thus allowing the flexibility to work on different diameter frames. The risers start at ¾" rise and go up in ¼" increments. This method saves time and money to adjust the utilities to grade. The riser is DOT approved in most states.
American Highway Products Ltd.
Bolivar, OH Tel: 888-272-2397 Web: www.ahp1.com
Joint restraints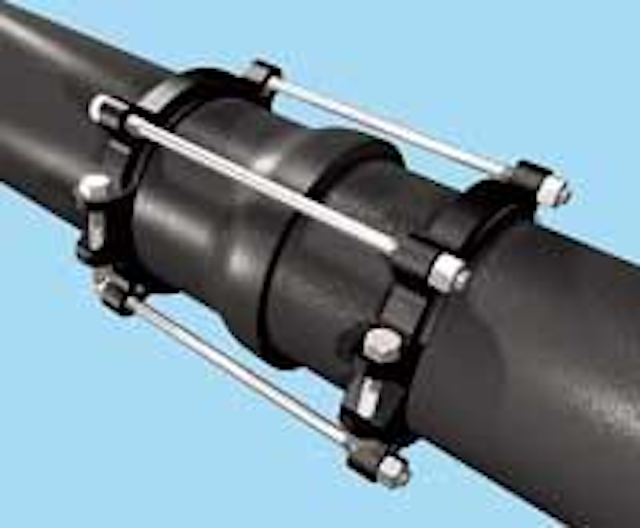 Click here to enlarge image
EBAA Iron has developed the Tru-Dual™ Bell Restraint Harness, the first joint restraint system that works on both ductile iron pipe and PVC C900 pipe. The system is a split, serrated restraint for push-on pipe bells in sizes ranging from 4" through 12". It can be used for both types of pipe on either water or wastewater pipeline projects subject to hydrostatic pressure and tested in accordance with either AWWA C600 or ASTM D2774.
EBAA Iron Sales Inc.
Eastland, TX
Tel: 800-433-1716
Web: www.ebaa.com
Mixing system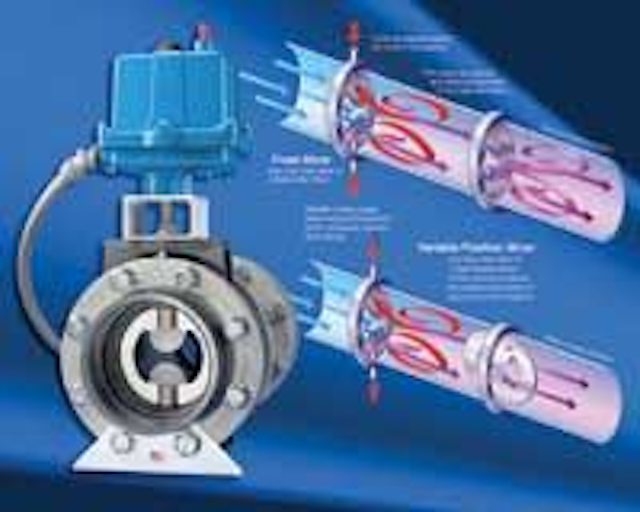 Click here to enlarge image
A new variable flow static mixer that is suitable for any fluid handling system and optimizes mixing while minimizing head loss is being introduced by Westfall Manufacturing. The Model 2900 Variable Flow Static Mixer uses two in-line wafer type mixers: one fixed and one variable that adjusts incrementally to adapt to changing flow conditions. Featuring automatic modulation to maintain 3 psi, regardless of flow rate, the static mixer flattens head loss at maximum flow, while providing consistent mixing over a 20:1 turndown ratio. Available in sizes from 3/8" to 120" I.D., the fixed mixer has a 0.9 Beta ratio and the variable mixer has a 0.7 Beta ratio. Separated by a distance equal to two pipe diameters; as the flow velocity increases, the variable mixer opens to reduce excessive head loss.
Westfall Manufacturing Co.
Bristol, RI
Tel: 888-928-3747
Web: www.westfallmfg.com
Electrochemical meters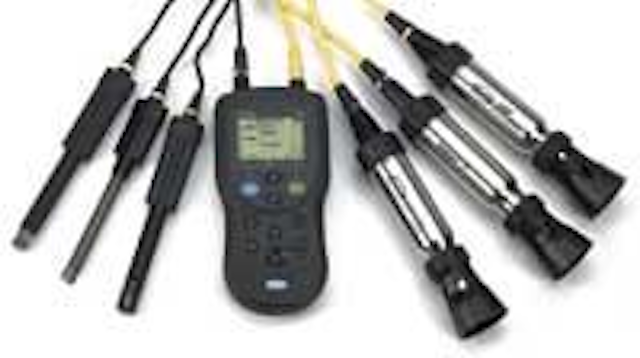 Click here to enlarge image
Hach has introduced the HQd-series of portable electrochemical meters and IntelliCAL™ probes with "plug and play" digital technology. The HQd-series can take up to two simultaneous measurements of pH, conductivity, LDO®, and ORP with a single meter. It is the first instrument for field and laboratory use that does not require the user to predetermine parameters. Users can buy any probes needed now and add more later. The meters have an intuitive user interface with guided calibration, reducing the chance for calibration errors and making it simple for users of varying skill levels. Dual-input, multi-parameter HQ40d portable meters accept any combination of probes and also have PC/printer connectivity. Also available are the HQ30d single-input, multi-parameter meters, as well as single-input, single-parameter portable meters for pH or conductivity.
Hach Co.
Loveland, CO
Tel: 800-227-4224
Web: www.hach.com
Lift station controller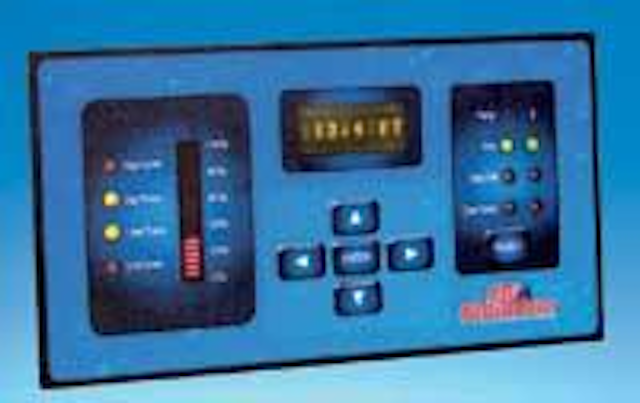 Click here to enlarge image
The SP6R-LSC Lift Station Controller, available from SJE-Rhombus Controls, is a microprocessor-based controller which monitors the level in a wet well via a submersible pressure transducer or any other device with a 4-20 mA signal output. The controller displays level set points, pump run time, pump cycle count and actual level. It also provides pump alternation and has a simulation feature. The controller can be configured for pump down or pump up applications. Four programmable relay outputs are rated at 10A at 240 vAC: two for pump starter run commands, a low level alarm and a high level alarm. The 20 segment scalable bar graph displays the level of the wet well. The LED display has eight alpha-numeric characteristics for process value display and program parameters.
SJE-Rhombus Controls
Detroit Lakes, MN
Tel: 888-342-5753
Web: www.sjerhombus.com
Data recorder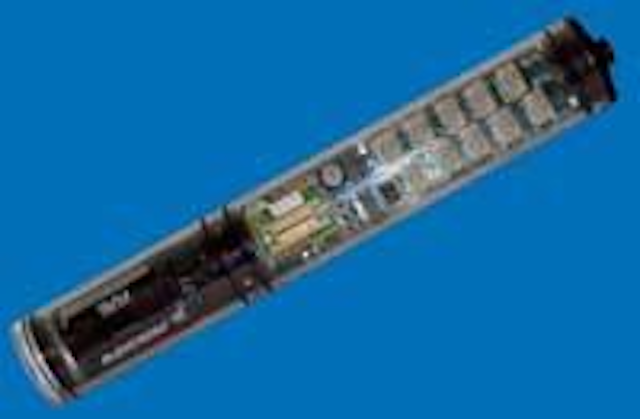 Click here to enlarge image
The Cord-XL Dual Channel Electronic Chart Recorder is the latest remote monitoring unit from Rohrback Cosasco Systems. The electronic chart recording device is used to simultaneously monitor and record DC or AC voltages on two electrically isolated input channels. Many other types of signals (such as 4-20 mA transducers) can also be monitored by converting those signals to a voltage value. The recorder can monitor and graph input voltages in real time with recording speed ranges from as fast as 10 readings per second to as low as 1 reading per hour. The memory capacity of the unit allows up to 1,080,000 readings to be stored and is sufficient for 12.5 days of chart recording, on one channel, at a rate of one reading per second. The standard recorder communicates with a computer using a standard RS232 serial connection. As an option, it can be provided with a Bluetooth™ Communication Module that provides a wireless connection with a computer up to 10 meters away.
Rohrback Cosasco Systems Inc.
Santa Fe Springs, CA
Tel: 800-635-6898
Web: www.rohrbackcosasco.com
Power winches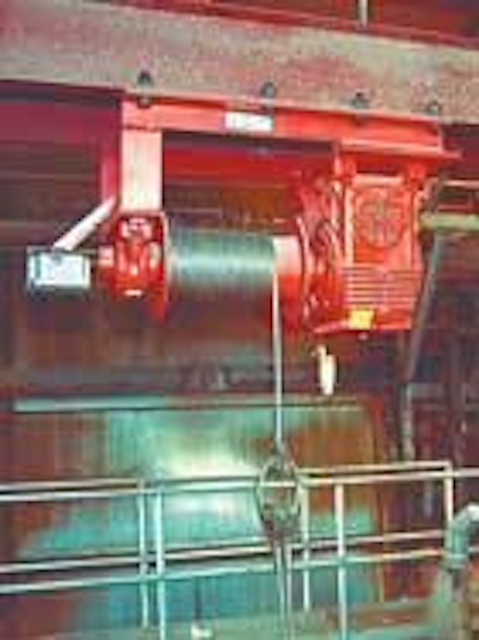 Click here to enlarge image
Thern power winches can be mounted to an overhead beam, replacing overhead hoists traditionally used for raising and cleaning pivoting filter screens. The winches are available in a range of sizes and types and mounting, making them suitable for use in filter installations of every design. For explosive or highly corrosive conditions, special rated motors and controls are available. Drums are easily modified with grooving for even wire rope spooling, or lengthened for longer lifts. Limit switches can be added to prevent over-travel in both directions. Electronic overload sensors can help avoid damage to equipment. Standard motor brakes provide complete control of lifting and lowering operations.
Thern Inc.
Winona, MN
Tel: 800-843-7648
Web: www.thern.com