Resource Spotlight
Collection of books, etc. dealing with water issues.
Feb 1st, 2016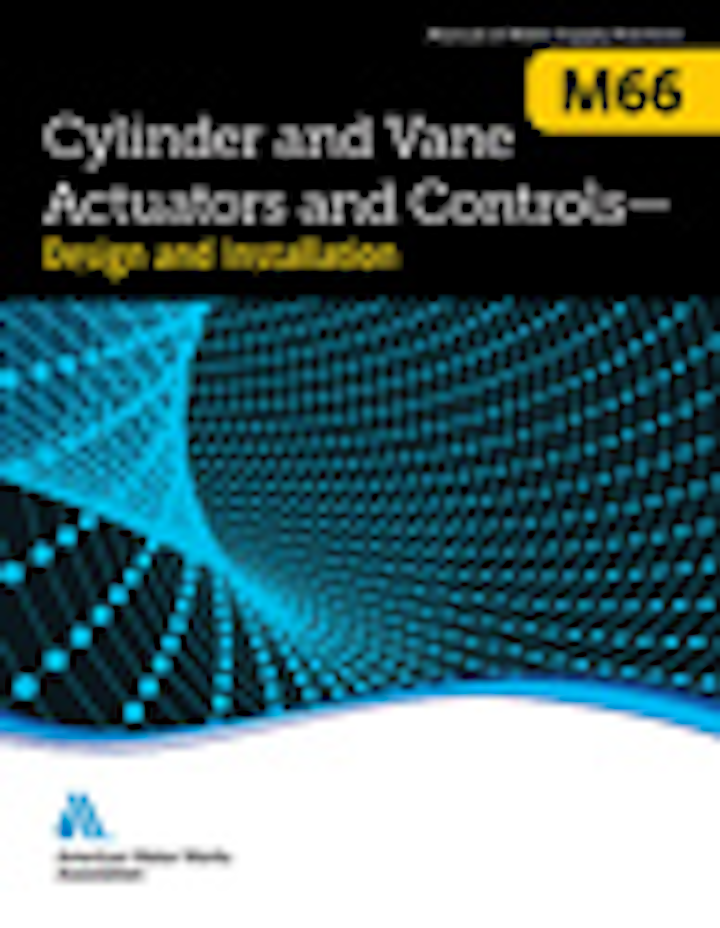 Power actuator manual
The newest manual from the American Water Works Association, M66 Cylinder and Vane Actuators and Controls - Design and Installation, is now available and provides valuable information on the design and installation of hydraulic and pneumatic power actuators. Intended to be a resource for operators, engineers and utility supervisors during the startup process and troubleshooting in the field, the manual details how various power actuators are constructed and operated given specific parameters. It also covers how to install, control and maintain power actuators and how to select the best style for application.
American Water Works Association
Choose No. 240 on Reader Service Card
Regional basin study
The Bureau of Reclamation has released the Southeast California Regional Basin Study, which evaluates options to resolve water supply and demand imbalances within the Borrego, Coachella and Imperial Valleys in southeastern California in the face of uncertainty due to climate change. Reclamation partnered with the Borrego Water District to develop the study, with contribution from the Coachella Valley Water District, Imperial Irrigation District, San Diego County Water Authority and other interested regional stakeholders. Among other findings, the study noted that the Borrego subarea aquifer, which is recharged solely by groundwater, may be depleted in 50 years.
U.S. Bureau of Reclamation
Grit cost calculator
The Cost of Grit Calculator from Hydro International has been developed as a universal online resource. It draws on real-world data collected from operating plants to predict the likely savings to treatment plant efficiency that can be gained for any operator installing a high-performance grit removal system, using the guiding principles of Advanced Grit Management®. Having set the operating plant capacity and the preferred equipment lifetime cost into the system, users can input estimated or known costs of their downstream plant maintenance activities. These include the periodic cleanout of grit basins, aeration basins, or anaerobic digester tanks, for example, as well as replacement and refurbishment costs for equipment such as pumps, centrifuges or membranes.
Hydro International
Updated brochure
HOBAS Pipe USA has issued a completely updated 72-page product brochure covering its centrifugally cast, fiberglass reinforced, polymer mortar pipe. It includes guide specifications, joint details, the manufacturing process and more. Updated charts and design guidelines for HOBAS' 126-inch pipe are now included. Installation guidelines are included for direct bury, sliplining, jacking and aboveground projects. It also includes general configurations of standard HOBAS Pipe USA fittings, although almost any mitered fitting can be constructed. HOBAS is manufactured in sizes from 18 to 126 inches in pressure and non-pressure classes.
HOBAS Pipe
Pump video
TACMINA USA Corporation, the provider of Smoothflow diaphragm metering pumps and solutions, has released a new video that presents an overview of its new North American corporate facility located in Schaumburg, Ill. In addition to providing a brief overview of TACMINA's rich history and pump design accomplishments, the video also reviews the unique features and benefits of incorporating Smoothflow Pumps into fluid and liquid transfer pumping applications. Smoothflow is a proprietary pump technology designed by TACMINA Corporation JAPAN that features metering pumps with automatic correction of discharge volume.
TACMINA USA Corporation
New standards
The National Electrical Manufacturers Association (NEMA) published NEMA ICS 61800-6 TR-2015 Adjustable Speed Electrical Power Drive Systems, Part 6: Guide for Determination of Types of Load Duty and Corresponding Current Ratings. This standard explains how to determine the types of load duty and related current ratings for an adjustable speed drive. This new guide was developed by the NEMA Adjustable Speed Drives Subcommittee for the Industrial Automation Control Products and Systems Section, and provides clarification to users for application of NEMA member products for industries such as heating and air-conditioning, industrial automation, and machinery.
National Electrical Manufacturers Association
New website
Dragflow, a recognized leader in the production and marketing of submersible dredge pumps and dredging systems, has completely renewed the company website. Visitors to the website will now be able to find the information that they need more easily, including dictating exact specifications to Dragflow engineers who will then design the perfect solution for their needs.
Dragflow
More WaterWorld Current Issue Articles
More WaterWorld Archives Issue Articles