PRODUCTS & SERVICES—PIPE TOOLS & SUPPLIES
Pearpoint's P494 camera is now available with a 40X Digital Zoom Pan and Tilt Color camera head option for inspection in lines 8'' and larger in diameter.
Oct 1st, 2004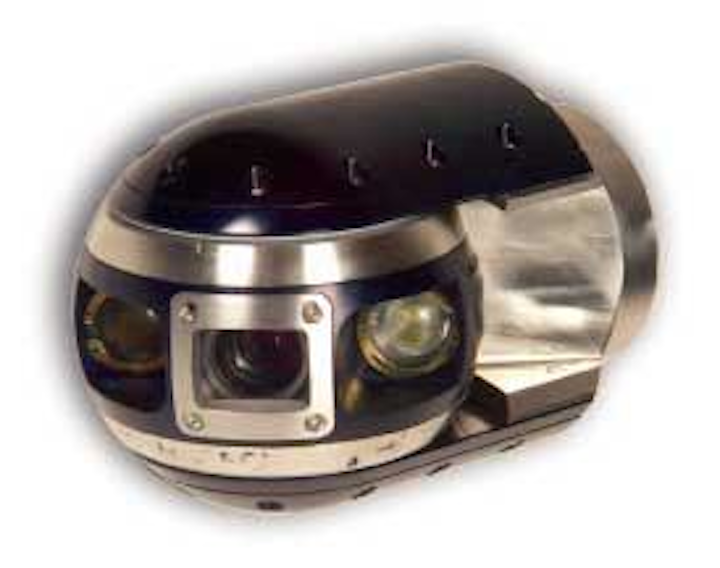 Digital zoom camera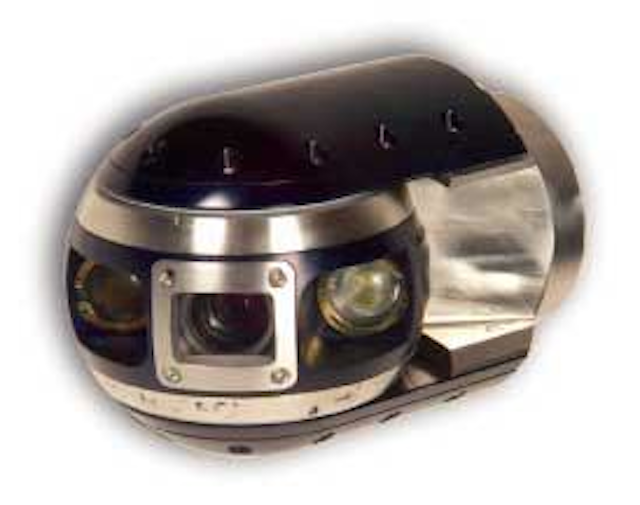 Click here to enlarge image
Pearpoint's P494 camera is now available with a 40X Digital Zoom Pan and Tilt Color camera head option for inspection in lines 8'' and larger in diameter. The new zoom camera technology provides optimum clarity and the ability to capture the smallest details during mainline and lateral inspections. It is especially helpful when surveying large (48'' and up) diameter pipe and for viewing past large obstacles.
Pearpoint
Thousand Palms, CA
Tel: 800-688-8094
Web: www.pearpoint.com
Retrained joint pipe
U.S. Pipe's TR Flex Restrained Joint Pipe is approved for use in applications using horizontal directional drilling (HDD). The pipe features the strength of ductile iron combined with a restrained joint. Pullback forces are typically no greater than with other pipe materials, and the segmented joints don't require a large insertion pit. Pulling heads are now available from U.S. Pipe.
U.S. Pipe and Foundry Company
Birmingham, AL
Tel: 866-347-7473
Web: www.uspipe.com
Pipe dolly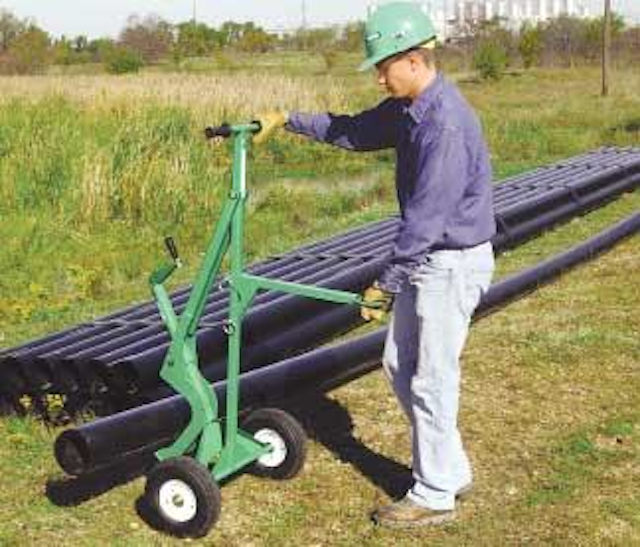 Click here to enlarge image
The McElroy PolyPorter is a hand-operated tool used much like a dolly and is intended for pipe up to 8'' in diameter. The price is comparable to a pipe stand and serves the same purpose but also offers the added benefit of being a lifting device. The product is made of all steel construction with a corrosion resistant coating.
McElroy Manufacturing Inc.
Tulsa, OK
Tel: 918-836-8611
Web: www.mcelroy.com
Aluminum pipe fittings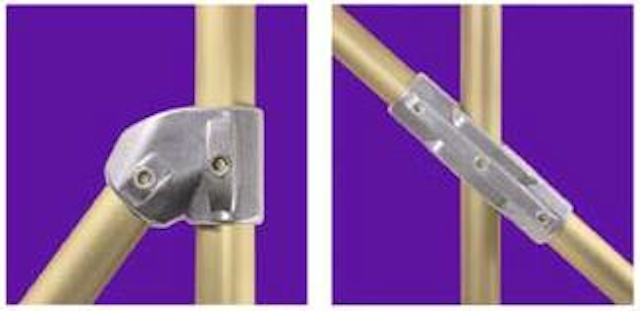 Click here to enlarge image
Kee Industrial Products has announced the addition of two new fittings, models L29 and L30, to its line of Kee Lite® slip-on aluminum pipe fittings. The new fittings are angled and adjustable for use in the construction of stair rails and other safety railings, and are available to fit standard pipe Size 7 and Size 8 for 1 1/4'' and 1 1/2'' diameter pipe respectively.
Kee Industrial Products Inc.
Buffalo, NY
Tel: 800-851-5181
Web: www.KeeLite.com
Inside drop system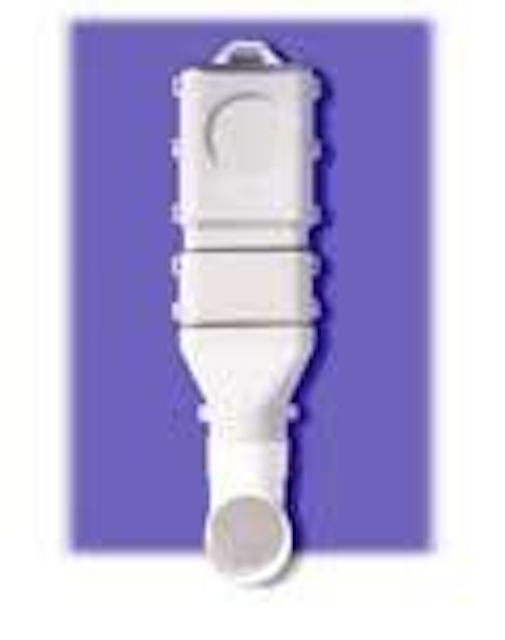 Click here to enlarge image
IntraFlow™ from Royal Environmental is a patented, low-profile inside drop system that saves installation time, reduces excavation costs and eliminates maintenance issues. The system protrudes a mere 7'' from the manhole wall for safer, easier accessibility. Its contour shape handles high-volume inflow and accommodates up to 12'' pipe.
Royal Environmental Systems Inc.
Stacy, MN
Tel: 800-817-3240
Web: www.royalenterprises.net
Instrument assembly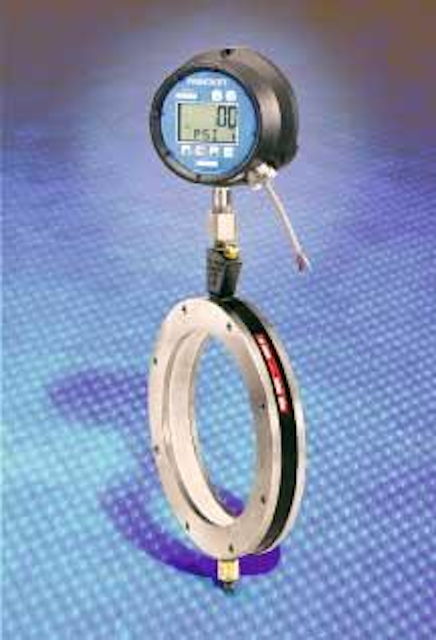 Click here to enlarge image
The Ashcroft® multi-function instrument assembly from Dresser Instruments has a feature-rich digital gauge with local pressure indication; one or two SPDT switches; a 4-20 mA output signal; min/max feature; and a weatherproof case to IP65. The unit is mounted on a flow-through isolation ring that has a built-in needle valve to dampen pulsation and allows the process to be locked–out for safe removal of the instrument for recalibration.
Dresser Instruments
Stratford, CT
Tel: 800-328-8258
Web: www.ashcroft.com
Plastic-lined pipe
Edlon offers plastic-lined pipe and fittings designed for use with chemicals. These products provide excellent high-temperature corrosion resistance to most chemicals and can reduce the buildup of deposits on pipe walls. The plastic-lined metal systems are available in sizes from 1/2'' to 144''. Any lined pipe system is available with the following liner materials: PTFE, PFA, ETFE, ECTFE, PVDF, Polypropylene and Polyethylene. The company's product line also includes ball check and spring check valves, sample valves and flush bottom valves, dual and secondary containment systems, jacketed pipe & fittings, high-purity systems and large-diameter pipe and vessels.
Edlon Inc.
Avondale, PA
Tel: 800-753-3566
Web: www.edlon.com
Pipe survey software
PipeLogix, a company specializing in the development of turn-key pipe survey reporting systems, has added Lateral Survey to its flexidata pipe survey reporting software. This new reporting feature is available at no additional charge with both the Full Reporting and Lite Reporting Licenses. The lateral survey form function is available for launch from either a mainline survey or an individual lateral survey. When launched from a mainline survey, the lateral survey form is automatically pre-filled with key detail for the CCTV inspector. The survey is also linked to the mainline survey for viewing of each inspection.
Pipelogix
Palm Desert, CA
Tel: 866-299-3150
Web: www.flexi-data.com
Fusion machine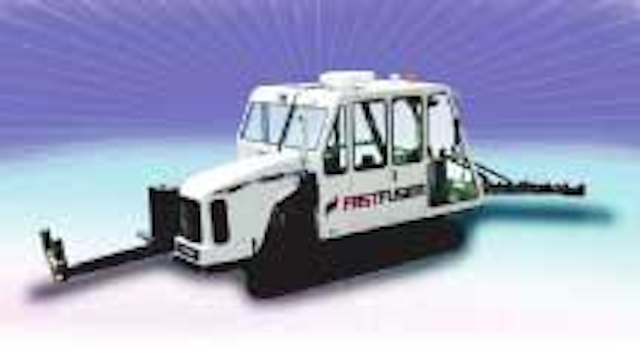 Click here to enlarge image
ISCO Industries has become the exclusive distributor for the Fast Fusion™ MobileFusion Trac 20 machine. The new machine incorporates mobility, efficient pipe handling, and a patented enhanced cooling system to increase the production capacity and number of fusion welds per hour – by up to 50% over conventional fusion methods. The 18,500 lb. self-propelled machine features a specially designed climate-controlled cab mounted on an interchangeable rubber or steel tracked undercarriage.
ISCO Industries
Louisville, KY
Tel: 800-345-4726
Web: www.isco-pipe.com
Water quality monitoring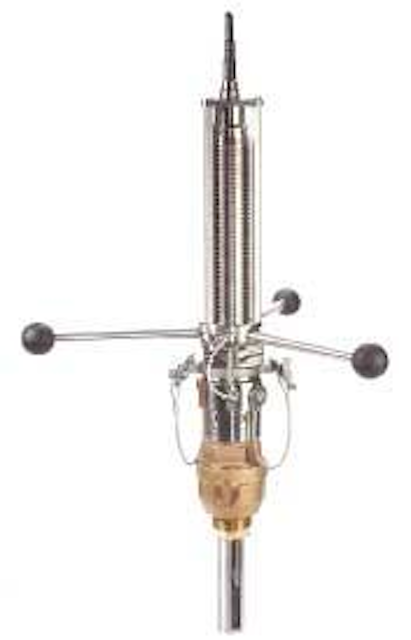 Click here to enlarge image
Hach has introduced the new PipeSonde In-Pipe Probe, a sonde-type, multi-parameter system applying established technology to long-term monitoring of finished water in distribution mains. As such, it complements the Hach Water Distribution Monitoring Panel (WDMP) and extends the distribution network surveillance strategy of any water system. Hydrolab® technology continuously measures pH, conductivity, turbidity, temperature, ORP, dissolved oxygen (DO) and line pressure, and digital output in several protocols seams with typical data communication systems.
Hach Co.
Loveland, CO
Tel: 800-227-4224
Web: www.hach.com
Expansion joints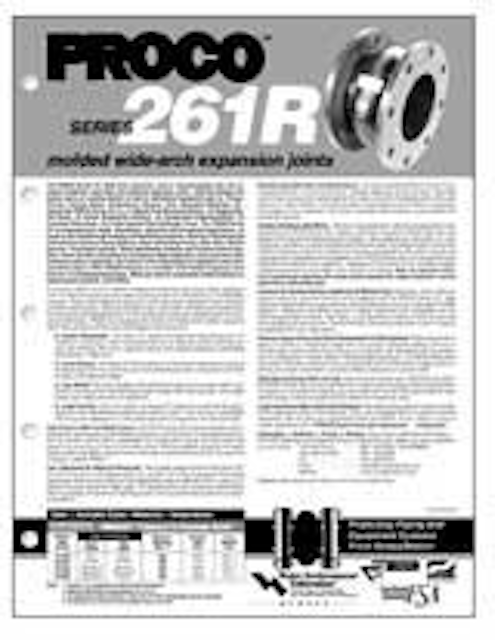 Click here to enlarge image
The Proco Style 261R is an elastomeric expansion joint specifically designed for plastic and FRP piping systems. Traditional spool-type or spherical-type expansion joints are too rigid and offer too much resistance to be used with thermoplastic, fluorplastic or FRP pipe. The new joint offers low spring rates and greater movements.
Proco Products
Stockton, CA
Tel: 800-344-3246
Web: www.procoproducts.com
Line stopping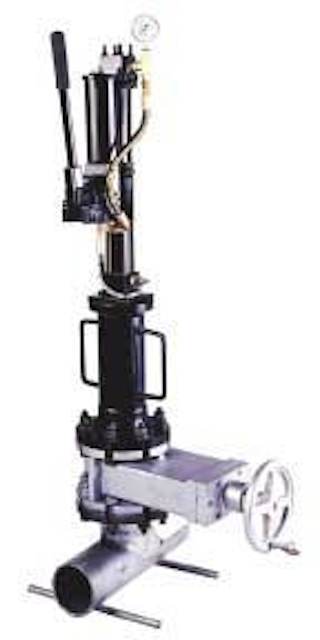 Click here to enlarge image
Insta-Dam eliminates major service disruptions and shutdowns of critical water, wastewater and gas distribution systems. The line stopping system isolates pipes ranging in size from 3/4'' to 4'' for repair or replacement. It is suitable for cast iron, asbestos cement, steel pit cast, ductile iron and plastic pipe. 65% faster than conventional line stopping methods, the system is rated to 100 psi and provides 95% to 100% flow stoppage at the point of repair.
Severn Trent Services
Alsip, IL
Tel: 800-538-7867
Web: www.severntrentservices.com
Encapsulating coupling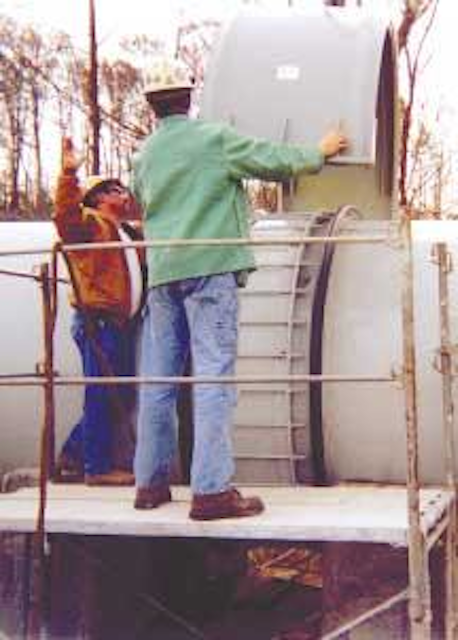 Click here to enlarge image
Victaulic Depend-O-Lok now offers a bolted, split-sleeve, two-segment encapsulating coupling to enclose failing pipeline joints without removing the failed joint, moving the pipe or taking the system off-line. Unlike traditional methods of repairing leaking bell and spigot joints or leaking couplings, the encapsulating coupling does not require draining the line, moving or removing sections of pipe, or replacing the leaking joints or couplings with new pipe or couplings.
Victaulic Depend-O-Lok Inc.
Easton, PA
Tel: 610-559-3300
Web: www.victaulic.com
Pipe penetration seals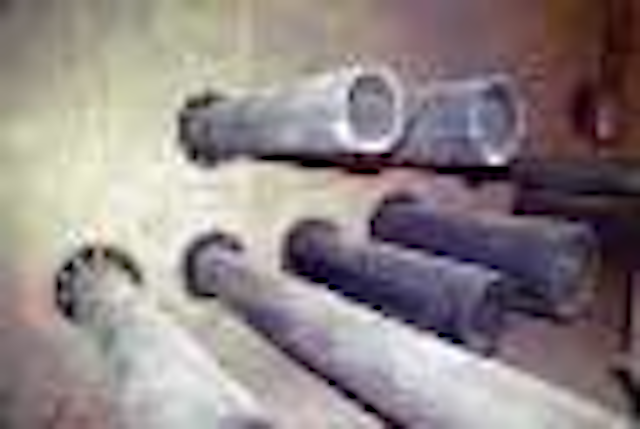 Click here to enlarge image
Link-Seal® modular seals in combination with the Century-Line Sleeves are designed for use as a permanent pipe penetration seal when penetrating a concrete wall, floor or ceiling. Improved rubber formulations, pressure plates and a proprietary coating on standard carbon steel hardware reinforces quality. For extreme conditions, the modular seals use 316 stainless steel hardware.
PSI-Thunderline/Link-Seal®
Houston, TX
Tel: 800-423-2410
Web: www.linkseal.com
PVC pipe liner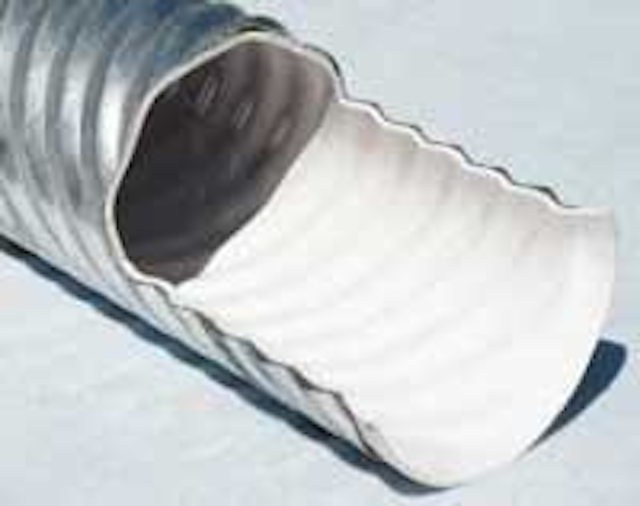 Click here to enlarge image
Ultraliner PVC Alloy Pipeliner has sufficient material stiffness to provide full independent structural integrity when installed in 4–24'' pipelines. The tight-fitting liner has high impact strength, a high degree of dimensional stability, offers abrasion and chemical resistance, and the ability to relieve high levels of stress without structurally compromising the material. Through its "blow molding" installation process, the liner will conform to the shape of existing pipelines, including size transitions, bends, offset joints, dips, protruding taps, and other irregularities.
Ultraliner Inc.
Oxford, AL
Tel: 205-831-5515
Web: www.Ultraliner.com
Fiberglass reinforced pipe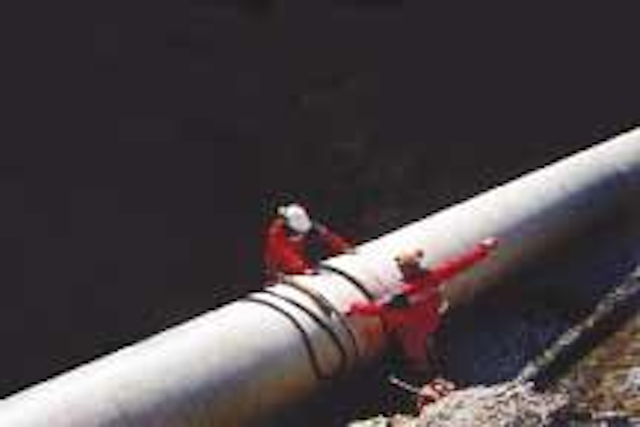 Click here to enlarge image
Amitech USA offers Flowtite Fiberglass Reinforced Pipe and Meyer Polycrete Pipe and Structures, two piping systems for sanitary sewers, industrial sewers, storm and raw water transmission lines for both new construction and rehabilitation projects. Flowtite Pipe is produced by a continuously advancing mandrel process and is manufactured in accordance with ASTM D3262, ASTM D3517 and ASTM D3754. Immune to most corrosive elements, it is ideal for water supply systems.
Amitech USA
Zachary, LA
Tel: 217-590-2645
Web: www.amitechusa.com
Polymer mortar pipe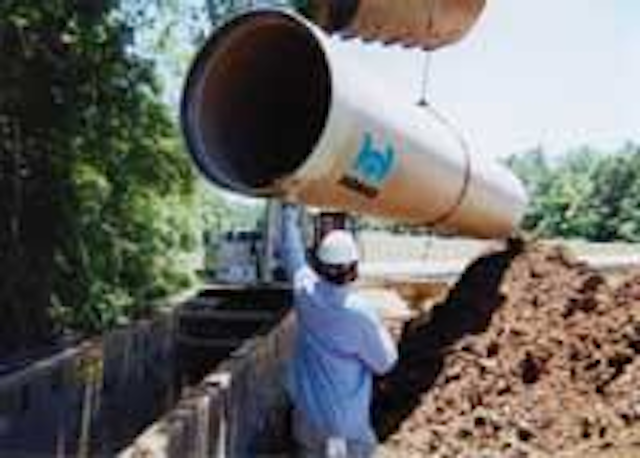 Click here to enlarge image
Many U.S. municipalities have installed Hobas pipe in new construction and rehab for critical applications, and its use is growing. The pipe is ideal for open cut, sliplining, jacking, microtunneling and above ground installation. The centrifugally cast, fiberglass-reinforced, polymer mortar pipe is inherently corrosion resistant.
Hobas Pipe USA
Houston, TX
Tel: 800-856-7473
Web: www.hobaspipe.com