Probes Provide Mapping of Pipeline Infrastructure
A new mapping technology features intelligent, self-contained probes that can provide XYZ centerline mapping of pipeline infrastructure.
Mar 1st, 2007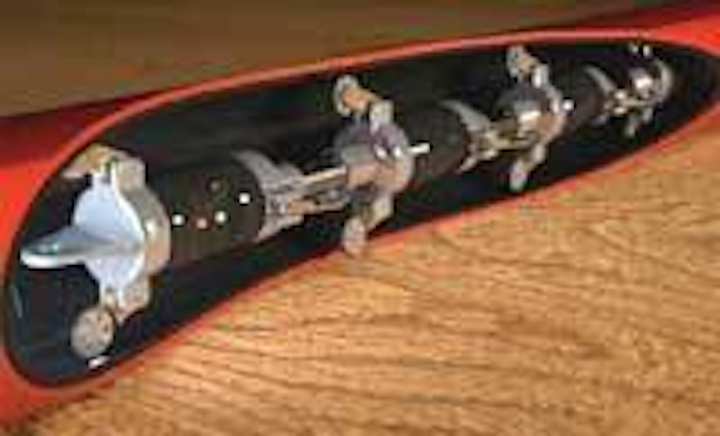 A new mapping technology features intelligent, self-contained probes that can provide XYZ centerline mapping of pipeline infrastructure. Information collected by the probes can then be seamlessly integrated into most three-dimensional GIS or CAD platforms.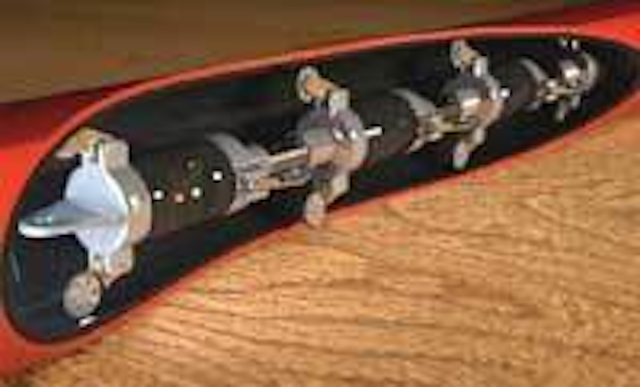 Click here to enlarge image
Geospatial Corp. recently introduced the new system, which features DuctRunner Smart ProbeTM technologies. The probes feature multiple gyroscopic inertial measurement units (IMUs) that can measure 800 angular and linear velocity changes per second in the X, Y, and Z axes as the unit moves through a pipeline.
The probes operate "un-tethered," which means there is no requirement for a communication cable. Since all data is stored within the probes, there are no depth limitations. They can map most pipelines with a high degree of positional accuracy by establishing reference points with known geographical coordinates and GPS data at the start and end of the run, and on very long runs at known intervals between the two.
They allow for the digital mapping of pipelines as small as 2" to as large as 48" in diameter. The probes are designed in numerous body styles, some of which permit the negotiation of extremely tight (90 degree) bends. Custom body styles are specifically designed for potable water pipelines and others for small fiber optic/telecommunications conduit.
The probes are ideal for the location and digital mapping of water pipelines, gravity sewers, pressure sewers (force mains), telecommunication conduits, oil & gas distribution pipelines, environmental pipelines and most industrial pipelines.
Acquired data can be stored on a laptop PC or immediately viewed and evaluated in the field. If required, digital "plan and profile" sectional drawings of the pipeline can be produced, overlaid on the existing plan view of the site and printed immediately in the field. Alternatively, this digital data can be transferred via the Internet to any location in the world to be evaluated by associated decision-makers or stored and entered into the appropriate GIS/CAD database by the program administrator for future reference and use.
The data can be used to create accurate "as-built" three-dimensional drawings of new pipelines installed using either (HDD) horizontal directional drilling or conventional "open cut" methods. Not only are the "as-built" drawings accurate and quick to produce, they seamlessly integrate into AutoCAD and most other major GIS databases.
The company's profile mapping technologies can also provide a detailed "bending radius analysis" of the installed pipeline and detect installation errors which may lead to premature pipeline failure due to over-stressing of the pipeline. By implementing a program which provides several centerline profiles over a fixed period of time, pipeline settling and deflection can be determined.
During pipeline condition assessment and rehabilitation programs of gravity sewers, the probes can provide not only the invert coordinates of each of the sewer lines, but can provide accurate profiles showing any "bellies" or "settling" of the sewer line. These damaged sections can then be rehabilitated via spot repair methodologies prior to relining.
In addition to its DuctRunner mapping systems, the company's multi-disciplined team consists of construction professionals, engineers, GIS/IT specialists, project managers and estimators. Its field service technicians can provide data collection and mapping solutions to municipalities and utilities worldwide.
The company also provides related pipeline services such as "non-destructive excavation" technologies which allow the company to excavate and expose underground utilities of all types without damaging the pipeline or surrounding utilities. Other services include pipeline video inspection, pipeline cleaning and post inspection pipeline evaluation.
For more information visit the Geospatial Corp. website at www.geospatialcorporation.com.