Giving Pipeline Leakage the "K"O in South Korea
South Korean water supplier K-water has done an exemplary job of maintaining its nation-wide pipeline system, which totals about 5000 kilometres. Jon Boon and Youngpyo Jo explain how an acoustic leak detection and inline video system adopted helped toreduce non-revenue water across the network.
Jan 1st, 2013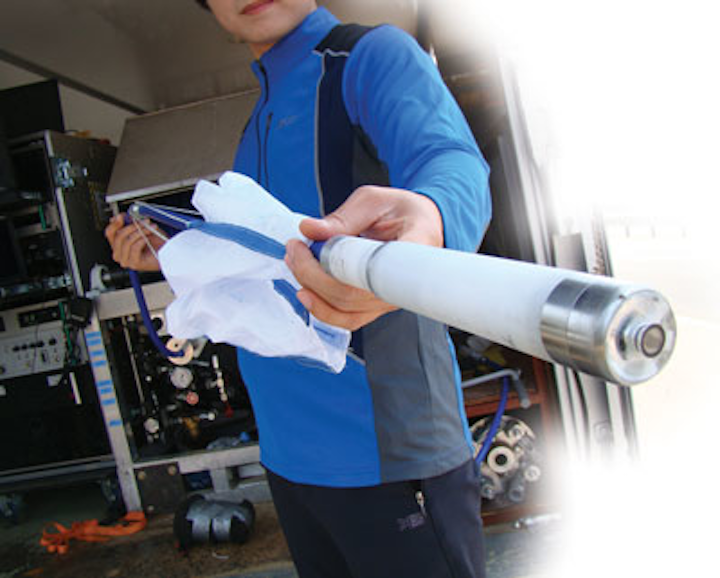 South Korean water supplier K-water has done an exemplary job of maintaining its nation-wide pipeline system, which totals about 5000 kilometres. Jon Boon and Youngpyo Jo explain how an acoustic leak detection and inline video system adopted helped toreduce non-revenue water across the network.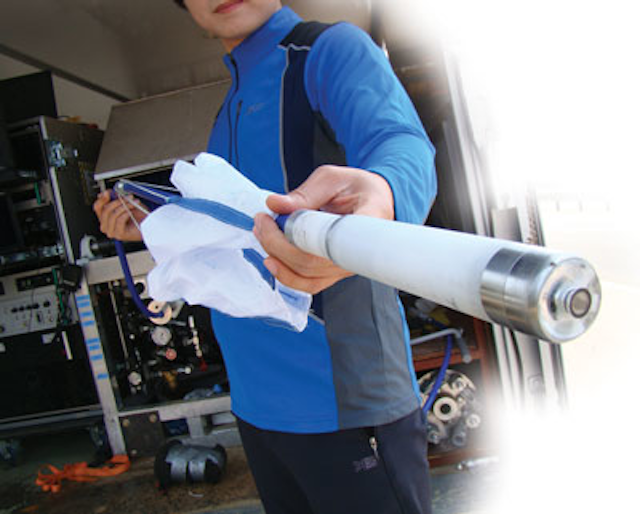 An operator holds the A/V sensor and drag chute while preparing the tool for insertion
Non-Revenue Water (NRW) has been one of the biggest challenges for water utilities, with some seeing levels upwards of 50% across Asia. According to the Asian Development Bank this equates to around 29 million cubic meters of water lost in Asia each year at a value of $9 billion in revenue.
Another obstacle is the effective management of water services infrastructure and maximizing capital budgets. With pipelines reaching the end of their useful life, utilities must make difficult fiscal decisions regarding replacement and rehabilitation of their infrastructure.
K-water, the national bulk water utility in South Korea, supplies water across the country. Its system controls everything from collection, treatment and pumping to maintenance, inspection and rehabilitation of the nation-wide pipeline system. The pipes in these critical bulk trunk mains are primarily large-diameter (greater than 2000 mm), and supply water to many of the smaller cities across Korea.
Large cities, such as Incheon or Jeonju, are responsible for their own collection, treatment and distribution. In addition to supplying treated water to these small cities, many have contracted K-water to manage and maintain their distribution systems as they battle the challenges of ageing infrastructure.
K-water has done an exemplary job of maintaining its nation-wide pipeline system, which totals about 5000 kilometres, as well as helping smaller cities with their critical infrastructure management through individual contracts. While K-water's critical trunk mains have a very low NRW, usually around 2%, many of its clients suffer from high levels of NRW as their pipeline infrastructure ages and begins to leak.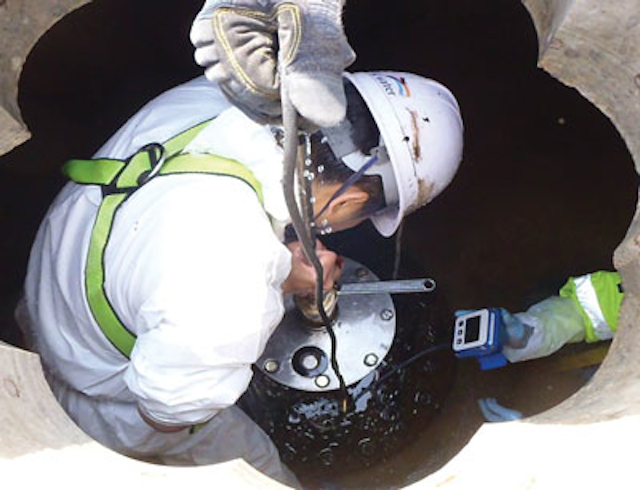 K-water operators measure the flow rate at a Sahara insertion tap
To address large-diameter leaks and ageing systems, K-water adopted a tethered system with acoustic leak detection and inline video – called Sahara® from Pure Technologies. While many utilities around the world use this tool for large-diameter leak detection, K-water instead chose to use it as a complete condition assessment tool to provide information on its pipelines and accurate location of leaks.
The tool is non-destructive and is pulled by the flow of water by a small drag chute. When the sensor is inserted into a tap, it remains tethered to the surface to allow for immediate checking of suspected leaks and gas pockets, internal pipe wall conditions and pipeline features by winching the sensor back and forth from the surface. The sensor is also tracked at ground level by a staff member, allowing for precise spot markings for excavations.
The utility is now able to use the system as a complete condition assessment tool by; inspecting the pipelines it owns and operates for leaks and gas pockets; viewing the internal condition of pipes and comparing the results with an existing database of pipeline engineering information on failure risk; and exploring its complex pipeline network for unknown features and connections, as well as pipeline expansion options.
Nor is it just leakage management that presents a challenge in South Korea. Operating with a national mandate and several stakeholders, K-water faces a number of logistical challenges with its pipeline infrastructure.
One challenge is population density; South Korea is roughly 2% of the size of Canada with almost double the population, meaning large, densely populated regions rely on K-water for consistent water service. A failure or service interruption to a critical trunk main could be disastrous K-water's credibility with customers.
South Korea is also a very mountainous region, meaning pipelines supplying water throughout the country often pass through areas that are difficult to inspect using traditional methods. In addition to the landscape, many of K-water's large diameter pipelines are buried deep in the ground, making excavation projects complex and expensive to complete.
K-water was searching for a large-diameter leak detection tool for its critical trunk mains. After approaching the Water Research Centre (WRc) in London, WRc recommended a Canadian company called Pressure Pipe Inspection Company (PPIC), who offered a tethered condition assessment system that provided inline video of the pipeline and leak detection in two separate inspections.
K-water had high interest in the video component, since it would allow them to compare actual pipeline conditions with their extensive pipeline engineering knowledge, allowing for quality condition assessment and failure prevention.
At the time, the system was being trialed in the Philippines through a training and rental program with Maynilad Water Services (MWS) to reduce NRW in Manila. Through the MWS project, Pure Technologies was able to develop the technology to include both acoustic leak detection and inline video in one sensor and deployment to streamline the efforts in Manila.
Because of the technological development of Sahara to include both leak detection and inline video in one inspection, K-water and Pure were able to come to an agreement where K-water would purchase the technology and be trained as operators, with Pure providing the training, troubleshooting, maintenance and materials after the sale in a 'Sahara Knowledge Transfer Program.'
Pure and K-water completed a test run of the system in October and November 2011. The inspection covered about 1.5 kilometres of 800-mm steel pipe in Tongyeong City, South Korea and was successful in finding seven leaks of various sizes. The estimated water loss from these leaks was about 261,048 m3 per year. Tongyeong City was picked as a test run location because it had a high NRW, around 40%, increasing the likelihood of leaks which would help K-water speed up their NRW target and practice identifying leaks in a real situation. Tongyeong City has set its long-term NRW target at 20% in its contract with K-water.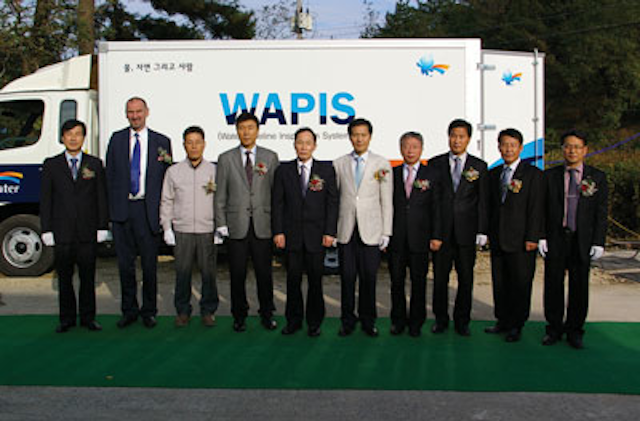 K-water executives at the opening ceremony for the deployment of Sahara
K-water returned to the same pipeline in Tongyeong City and inspected two portions (1 kilometre total) of 800-mm steel pipeline that were not covered in the training inspections. These inspections were successful in finding three leaks varying in size, with an estimated total water loss of 89,352 m3 per year. K-water has since repaired all of these leaks. While leaks are often a preliminary indicator of pipeline failure, that is not always the case. Internal delamination, cracking, pitting and corrosion do not necessarily produce leaks and are often indicators that steel pipe will eventually fail. Because K-water has collected and tested pipe section samples from failed areas of their pipelines, they have built up knowledge of what a near-failing pipe looks like. By combining this knowledge with actual internal video of a pipeline, and they are able to effectively understand the risk associated with specific pipe sections and create a baseline condition of their pipeline to help better understand their system.
Also, since Korea's landscape is mountainous and many of the pipelines are deeply buried, excavation can be extremely time consuming and costly. The accuracy of the tool has allowed K-water to estimate if the water savings from repairing a difficultly-located leak are less than the cost of excavation before making the decision. By precisely identifying leak locations and providing video that helps K-water understand the risk associated with pipe sections, the tool has helped K-water to minimize service interruption.
The system is also effective in South Korea because of its accuracy. During the training inspections, K-water was able to locate pinhole leaks as close as 5-cm above and below the actual leak location – meaning service disruption, excavation and repair times were minimal. In K-water's subsequent inspection of the same pipeline in Tongyeong City, they were able to excavate and repair all three identified leaks in 5.5 hours each during the night (three separate repairs), causing little disruption to customers.
K-water's 2012 program plans to inspect about 52 kilometers of pipeline for leaks and gas pockets on both its own national pipelines and in its client municipalities. Inspections are carried out based on a priority list developed by K-water.
As of September 2012, K-water has inspected 21 kilometres of pipeline alone, finding 21 leaks of various sizes. Including the second portion of its training program, 25 total kilometres have been inspected in 2012, locating 22 leaks. K-water has inspected both its own pipelines as well the regional pipelines that it operates and has covered pipes with diameters as small as 150-mm and as large as 2300-mm, with most pipe being either steel, ductile iron or cast iron pipe. After locating a leak, K-water makes a fiscally-motivated decision on whether to repair the leak by comparing the estimated value of water lost from and the cost to excavate and repair.
Author's note: Jon Boon is general manager for Pure Technologies (China) and Youngpyo Jo is systems engineer. For more information, email: Jon.boon@puretechltd.com.