UAE to harness collected rainfall
Rainfall in early January resulted in the collection of more than 97 million gallons of rainwater from various dams and barriers located across the country, especially in the northern region of the United Arab Emirates (UAE), according to Ministry of Environment and Water.
Jan 1st, 2016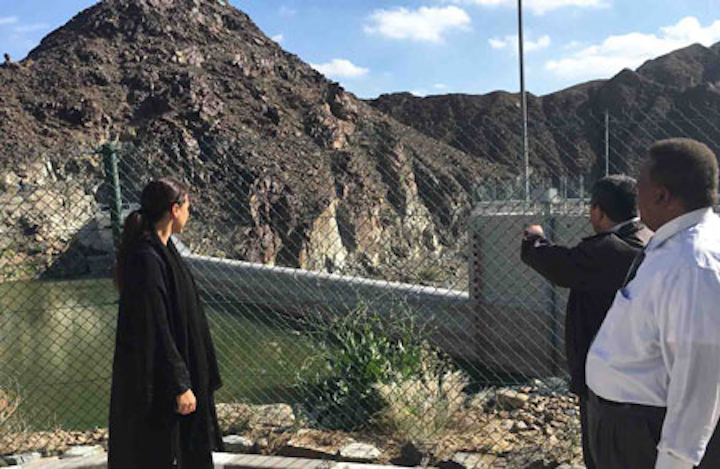 UAE to harness collected rainfall
Rainfall in early January resulted in the collection of more than 97 million gallons of rainwater from various dams and barriers located across the country, especially in the northern region of the United Arab Emirates (UAE), according to Ministry of Environment and Water.
The downpour was experienced all over the country, particularly in the northern region of Ras Al Khaimah and the inclined areas of Al Tawyeen, Naheela, Al Beeah, Qada'a, Ghalila and Shaam.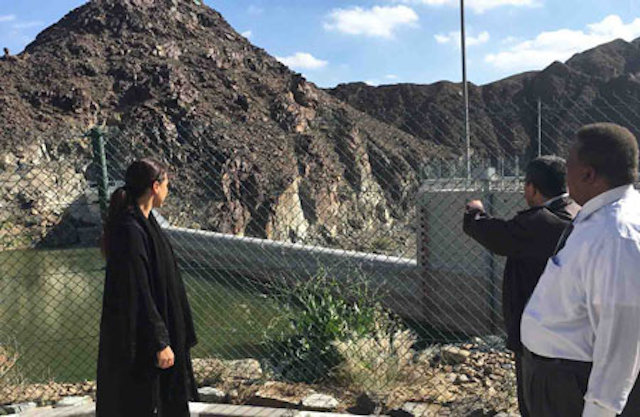 H.E. Engineer Mariam Mohammed Saeed Hareb, assistant undersecretary of water resources and nature conservation affairs, Ministry of Environment and Water, led a group of dam management consultants and engineers from the Ministry to inspect the dams and barriers where the rainwater was collected.
The conserved amount of water across six dams in the northern region of Ras Al Khaimah reached around 425,000 cubic meters. Rain also showered heavily in the eastern region in Sakamkam Valley in Fujairah, harvesting a total of 15,000 cubic meters. Collectively, the total amount of water collected in the dams reached around 440,000 cubic meters.
The move is part of the Ministry's implementation of an operational plan to administer, monitor and operate dams and barriers based on technical standards and requirements that the Ministry has adopted in line with international best practices in the continuous monitoring of dams.
Triple contract win for H2O Innovation in north america/Canada
H2O Innovation has been awarded two contracts in Canada and one new contract in the US, bringing its total sales backlog to a record high of $50.8m.
The first project was awarded by Englishman River Water Service and consists of the design, manufacture and commissioning of a two stage ultrafiltration (UF) system with a total of five (5) trains to treat water from the Englishman River. Once completed, the system will produce 16,000 m3/day of potable water for the City of Parksville, in British Columbia. Furthermore, the system is expandable to 48,000 m3/day to meet current and future demands of the city.
The second award is for the pre-selection for supply of a new six trains UF system to treat tertiary effluent from the Valencia Water Reclamation Plant of the Sanitation Districts of Los Angeles County. This system will also be designed with the FiberFlex skid and will produce up to 38,989 m3/day of water to be reused in agricultural applications.
The third contract awarded is for the design, manufacture and commissioning of a 30 to 60 m3/day wastewater treatment system for the national historic site of Lower Fort Garry in Manitoba. This system will use the biological Bio-Wheel process to treat municipal wastewater and provide nutrient removal.
Electrochemical desalination plant to be demonstrated in Singapore
Singapore's national water agency PUB has contracted Evoqua Water Technologies to build a new 2270 m3/day desalination demonstration facility in Tuas, Singapore.
With support from the Singapore Economic Development Board (EDB), through the TechPioneer piloting programme, Evoqua will design and construct an adjacent one feed plant with the planning phase beginning this month.
The new desalination plant will use Evoqua's Nexed electrochemical desalination module technology.
Electrodialysis is a membrane process in which ions are transported through selective ion permeable membranes from one solution to another, under the influence of an electrical potential gradient. Alternating ion selective membranes (anionic and cationic) can be configured to create separated streams of purified and concentrated water.
Staged increases in flow rate will be achieved through 2017 after the first 90 m3/hr feed flow system is installed in mid-2016. The Nexed module technology includes tuneable dissolved solids removal capability, which Evoqua said will allow "new options for significantly reduced energy use, costs and facility footprint".
Harry Seah, chief technology officer, PUB, said: "R&D is vital as we continue to ensure a sustainable water supply for the future. With rising energy costs, we are looking into ways to reduce the energy consumed during desalination."
Ron Keating, CEO of Evoqua Water Technologies, said: "We think of this technology as a 'de-salting engine' and can be applied to a wide range of uses, including sea and brackish water."
New York awards contract for drainage master plan
Consultancy Parsons Brinckerhoff has been awarded a contract to develop a drainage master plan for a 40-square-mile area in Orange County, New York.
The Town of Blooming Grove and adjacent Villages were among the 102 storm-affected communities across New York selected to participate in the NY Rising Community Reconstruction (NYRCR) Program announced by Gov. Andrew M. Cuomo in April 2013.
As part of the program, the Town of Blooming Grove developed a plan that identified the most critical needs and impacts from recent major storms, and highlighted potential solutions to bolster future resiliency, increase safety and quality of life and create incentives for economic growth.
The town has been allotted up to $3 million in funds from the U.S. Department of Housing and Urban Development Community Development Block Grant-Disaster Recovery (CDBG-DR) program for implementation of eligible projects identified in its preliminary plan.
Parsons Brinckerhoff performed the inspection and survey of over 300 assets including dams, levees, floodwalls, bridges, culverts and buildings located in the floodplain. The firm also developed comprehensive hydrologic and hydraulic analyses of all local waterways, lakes and drainage systems, including analysis of the critical storm water issues affecting residents; and identified and analysed locations throughout the watershed.
Flood mitigation measures currently being analysed include: increasing flood storage capacities; developing comprehensive lake management plans based on precipitation forecasts; dam removal; upgrading bridges and culverts; building flood protection structures in strategic locations; improving engineered storm water systems and management practices and decoupling storm water systems and rivers during significant floods.
Bairds Malt's plant reduces bod load by 90% after bio-filter upgrade
The Pencaitland Maltings Plant near Edinburgh, one of five plants operated by major UK maltster Bairds Malt, is now using bio-filters treating an effluent flow of 550 m3/day.
With an annual malt production capacity of 47,000 tonnes, the majority destined for the distilling industry, the Pencaitland Maltings Plant uses significant quantities of water in the steeping and germination processes.
Designed by ACWA Services, part of the ACWA Group, the system was designed to reduce BOD (Biological Oxygen Demand) load by more than 90%, which has directly reduced the plant's trade effluent charges.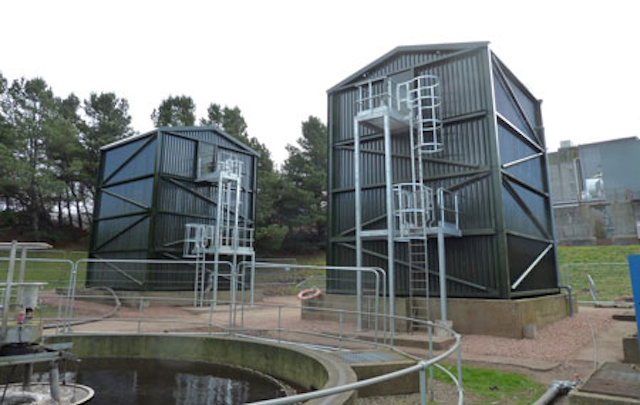 ACWA Services was responsible as principal contractor for all aspects of the project, including the decommissioning and demolition of the existing biofilters, which had reached the end of their useful life and the design, supply, installation and commissioning of the new bio-filtration solution.
This incorporated two identical bio-filters complete with structured media and effluent distribution systems, ensuring the effluent is evenly distributed through the bio-filters to promote biological growth and hence effective treatment, recirculation pumps, together with electrical and minor civil works. The project was completed in eight months.
Ensuring the Pencaitland plant remained fully operational while the wastewater biofilters were replaced was a key challenge, the company said. This was achieved by installing a temporary Submerged Aerated Filter SAF unit to operate in parallel with the existing biofilters.
Peter Brewer from ACWA Services, said: "Wastewater bio-filtration solutions to reduce trade effluent loads from production processes are crucial to a range of industries to minimise their environmental impact, ensure compliance and reduce costs."
Spain's water vulnerability linked to climate change
Climate change is hitting Spain hard with new estimates suggesting available water resources have fallen by 20% over the past 25 years.
A report from Spanish NGO Ecologistas en Acción analysed how water resources have changed in the country.
A combination of reduced rainfall, together with higher temperatures have contributed to an average reduction in water availability.
The Segura basin was referenced, which has suffered a 38% reduction, followed by the Mediterranean basin.
With 80% of water in Spain used for crop irrigation, the NGO warned that demand will continue to grow as allocated land for farming increases.
Ecologistas en Acción said that to rebalance the situation, the areas that need irrigated would need to be reduced, from more than 4 million hectares, to a maximum of 3-3.2 million hectares.
This adjustment would have to be accompanied by a substantial reduction in the emission of greenhouse gases, it added.
More Water & WasteWater International Current Issue Articles
More Water & WasteWater International Archives Issue Articles