PRODUCTS & SERVICES Pipe & Related Products
All-Bend®, available from Image Components, is a two-piece rigid PVC or ABS elbow that can be cut and assembled to any angle between 22 1/2 degrees...
Jul 1st, 2004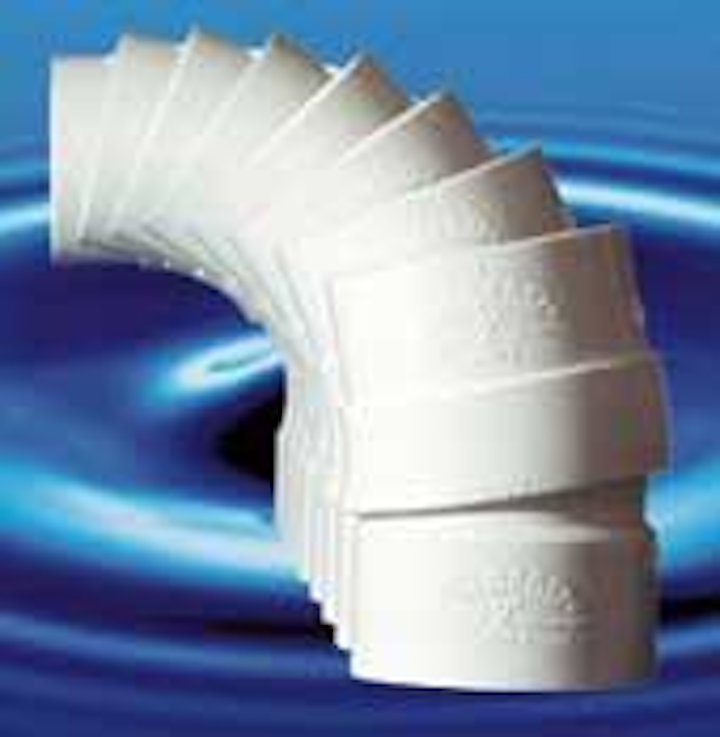 Adjustable pipe elbow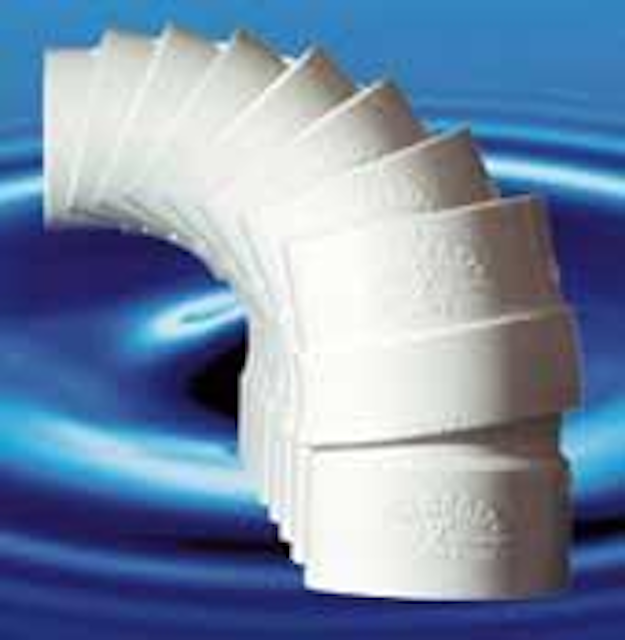 Click here to enlarge image
All-Bend®, available from Image Components, is a two-piece rigid PVC or ABS elbow that can be cut and assembled to any angle between 22 1/2 degrees and 90 degrees smaller angles for DWV). The elbows are available in four sizes, 1 1/2'', 2'', 3'' and 4''. They meet ASTM standards for Schedule 40 pressure applications and potable water (PVC). The fittings simplify custom angle joints; two can be combined for custom offsets. Joints are made with standard solvents and cements.
Image Components, Inc.
Philadelphia, PA
Tel: 888-255-2363
Web: www.allbend.com
Pipe coupling system
Click here to enlarge image
The new AWWA-compliant Gruvlok® pipe coupling system, from Anvil International, allows grooved ductile iron piping to be installed in substantially less time than conventional threaded or flanged connections and is engineered to comply with ANSI/AWWA C606. Use of the system reduces installation and maintenance time, and allows pipes and equipment to be rotated a full 360 degrees at each coupling, or removed without having to disturb other parts of the system.
Anvil International, Inc.
Portsmouth, NH
Tel: 603-422-8000
Web: www.anvilintl.com
CPVC products
Corzan™ Industrial Systems – comprised of chlorinated polyvinyl chloride (CPVC) pipe, sheet, duct, fittings and valves – are resistant to highly corrosive fluids in a wide range of environments. By replacing conventional metallic systems with CPVC, engineers can extend system service life and reduce maintenance, while minimizing process life cycle costs. CPVC pipe will never pit or scale. In addition, it is inert to most mineral acids, bases, salts and aliphatic hydrocarbons and compares favorably to other non-metals in these chemical environments.
Noveon IP Holdings Corp.
Cleveland, OH
Tel: 888-234-2436
Web: www.corzancpvc.com
Pipe inspection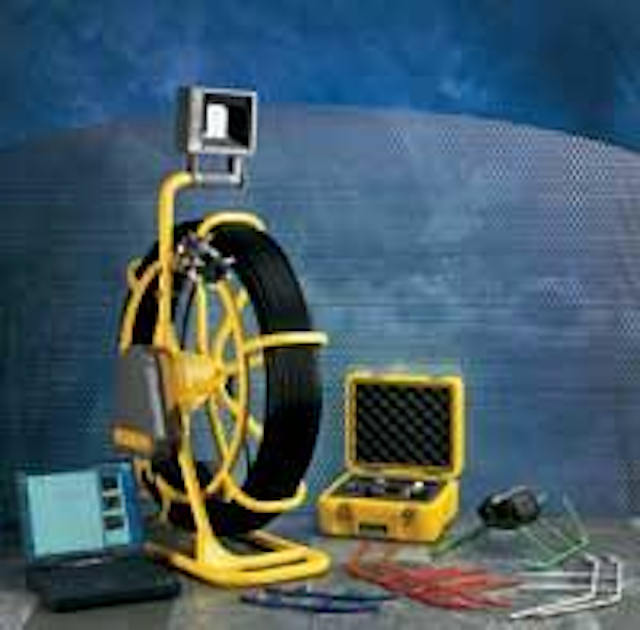 Click here to enlarge image
Pearpoint offers a fully integrated pipeline inspection system that features an auto-uprighting color camera, coiler running 500 feet of rod, built in integral electronic rod counter, video in/ out connectors, sonde, on-screen text overlay for annotation of survey findings and QWERTY keyboard built into the monitor case. The system is constructed of rust-proof cast/welded aluminum and Approved, Labeled & Listed for use in Class I, Div 1, Gas Groups C&D, T3 environments.
Pearpoint, Inc.
Thousand Palms, CA
Tel: 800-688-8094
Web: www.pearpoint.com
Mechanical joint restraints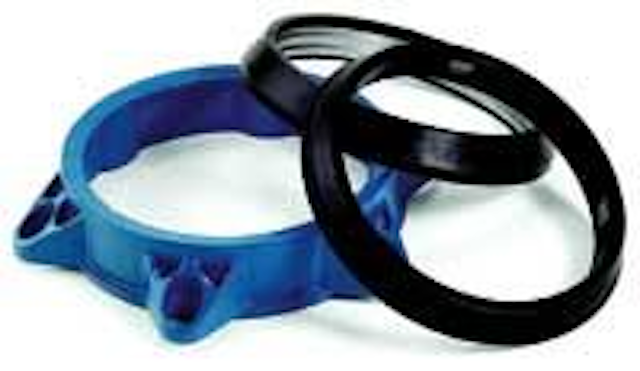 Click here to enlarge image
U.S. Pipe offers the new MJ Field Lok® System, which features a new gasket designed to be a direct replacement for a standard mechanical joint gasket. While the standard MJ gasket only provides sealing, the new gasket provides both sealing and joint restraint. The Series DI Gasket is for ductile iron pipe, and the Series PV Gasket is for use on PVC pipe. The system also includes a new gland, which is generally as light as an AWWA C153 gland, but with the strength and rigidity of an AWWA C110 full body gland.
U.S. Pipe
Birmingham, AL
Tel: 866-347-7473
Web: www.mjfieldlok.com
Pipe joint lubricant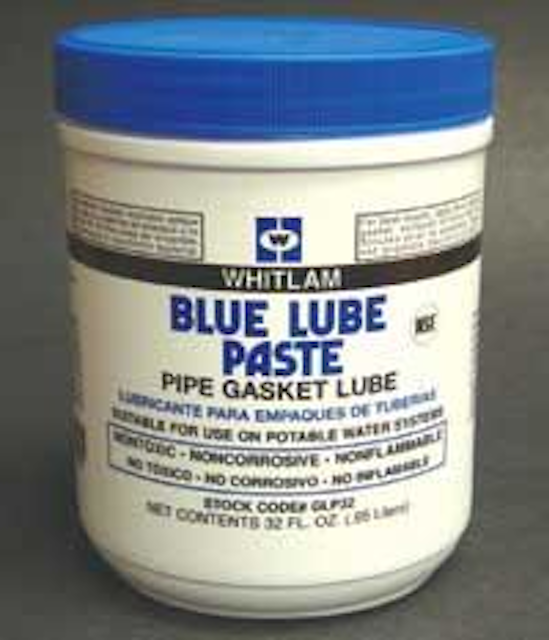 Click here to enlarge image
Blue Lube Gasket Lube Paste is a water-based lubricant for all rubber and plastic gaskets used in mechanical pipe couplings. The lubricant has been specially formulated to prevent turbidity, taste, and/or odor problems in new water main installations. It completely flushes out of the system, is odorless and cleans up easily. The lubricant will not promote bacterial growth and is safe for use on all metal and plastic pipes. Blue Lube is both NSF Standard 14 and NSF Standard 61 approved.
J.C. Whitlam Manufacturing
Wadsworth, OH
Tel: 800-321-8358
Line stopping system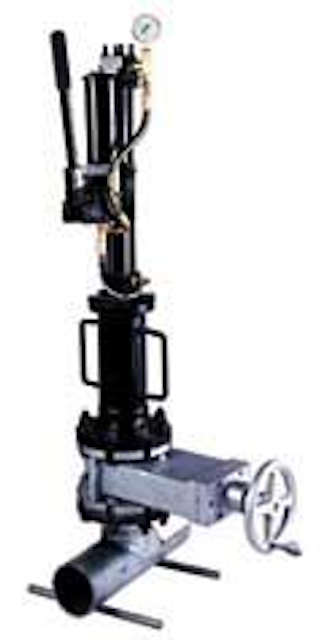 Click here to enlarge image
The Insta-Dam™ Hydra-Stop modular line stopping system, available from Severn Trent Services, eliminates major service disruptions and shutdowns of critical water, wastewater and gas distribution systems. The system isolates pipes ranging in size from 3/4'' to 4'' for repair or replacement. Suitable for cast iron, asbestos cement, steel pit cast, ductile iron and plastic pipe, the stopper is suitable for use by small plumbing contractors to large industrial and mechanical contractors.
Severn Trent Services
Alsip, IL
Tel: 800-538-7867
Web: www.severntrentservices.com
Corrosion detection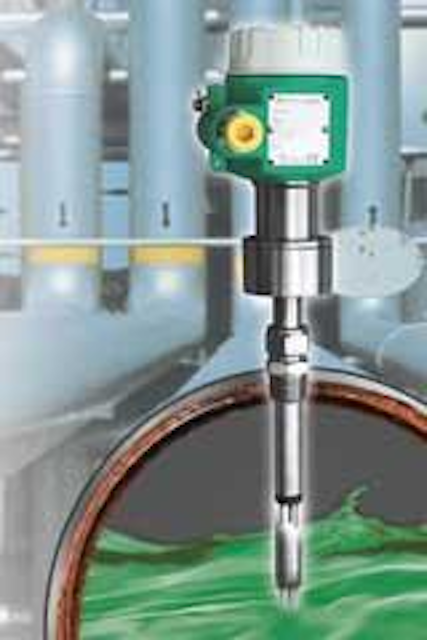 Click here to enlarge image
Pepperl+Fuchs introduces new CorrTran® Corrosion Detection Transmitters. These rugged transmitters feature a two-wire loop powered 4-20 mA signal with HART protocol for real-time monitoring. Through these signals, general corrosion or pitting of pipe or vessels can be detected. The transmitters can be located in both general purpose and hazardous locations and are suitable for direct or remote mounting.
Pepperl+Fuchs
Twinsburg, OH
Tel: 330-486-0002
Web: www.am.pepperl-fuchs.com
Encapsulating coupling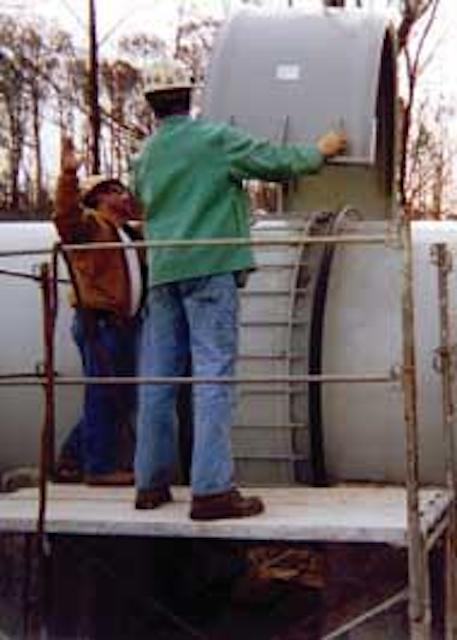 Click here to enlarge image
Victaulic Depend-O-Lok now offers a bolted, split-sleeve, two-segment encapsulating coupling to enclose failing pipeline joints without removing the failed joint, moving the pipe or taking the system off-line. Unlike traditional methods of repairing leaking bell and spigot joints or leaking couplings, the encapsulating coupling does not require draining the line, moving or removing sections of pipe, or replacing the leaking joints or couplings with new pipe or couplings.
Victaulic Depend-O-Lok Inc.
Easton, PA
Tel: 800-742-5842
Web: www.victaulic.com
Base elbow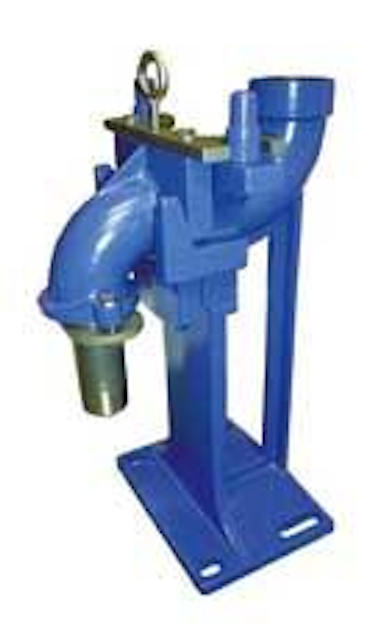 Click here to enlarge image
Conery Mfg. has announced the release of the new Base Elbow Lift Out Assembly. The elbow was specifically designed for quick installation and removal of most vertical discharge pumps up to 3 HP. The base was engineered for strength and durability using ductile cast iron, and a blue powder coated finish for corrosion resistance. Other design features are: a female threaded discharge, guide rail pins designed to accept either .75'' or 1'' guide rail pipes, and the universal stainless steel pump adapters are compatible with 1.25'' or 2'' pump attachments.
Conery Mfg. Inc.
Ashland, OH
Tel: 419-289-1444
Web: www.conerymfg.com
Utility saw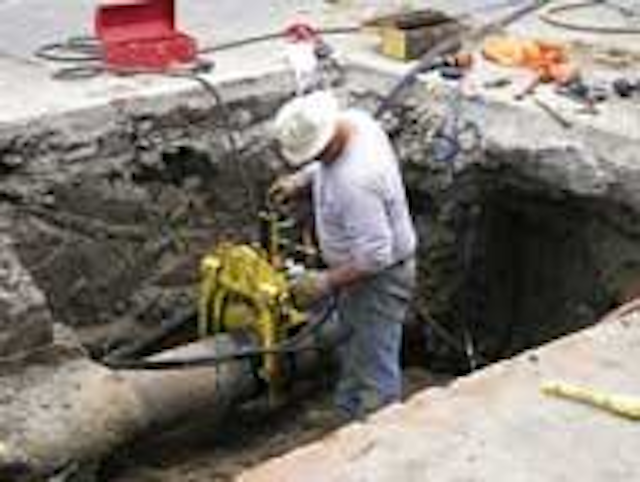 Click here to enlarge image
E.H. Wachs offers a new "Utility Saw" for 2'' through 12'' cast and ductile iron pipe. The "Super C" saw provides efficient cold cutting operation and features a compact design and large cutting range. Setup time is under 5 minutes. A chain vise clamps the Guillotine Saw to the pipe. The "V"-saddle base assures square cuts at right angles and the saw can be mounted in any position around the pipe. It works equally well on vertical and horizontal piping.
E.H. Wachs Co.
Wheeling, IL
Tel: 800-922-1407
Web: www.wachsco.com
Directional drilling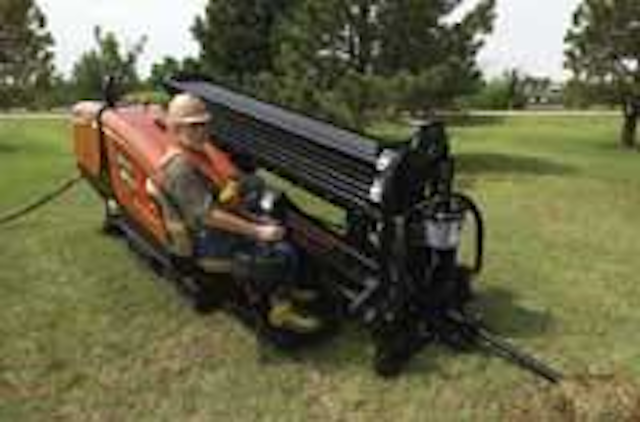 Click here to enlarge image
The new Ditch Witch® JT1220 Mach 1 compact directional drilling system, offered by The Charles Machine Works, features a 12,000-pound (53 kN) horizontal directional drilling (HDD) machine that produces less than 100 dBA of noise. Minimal noise allows contractors to work longer hours in congested commercial and residential areas. The system also features an innovative pipeloader design and maneuverable undercarriage system.
Charles Machine Works, Inc.
Perry, OK
Tel: 800-654-6481
Web: www.ditchwitch.com
Pipe couplings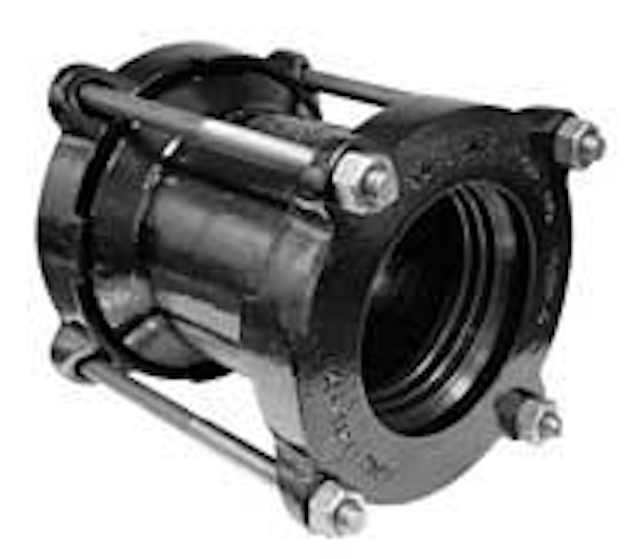 Click here to enlarge image
The five nominal sizes of the Ford Ultra-Flex ductile iron wide range coupling fit all domestic pipe sizes from 3.96'' to 14.38''. The couplings feature a convenient stab fitting. Just a few turns with a single deep-well socket and the gasket seats completely. They have a 250 psi water pressure rating. The couplings also feature HSLA fasteners and specially designed Buna-N pre-lubricated gaskets.
Ford Meter Box Co.
Wabash, IN
Tel: 260-563-3171
Web: www.fordmeterbox.com
Pipe Fusion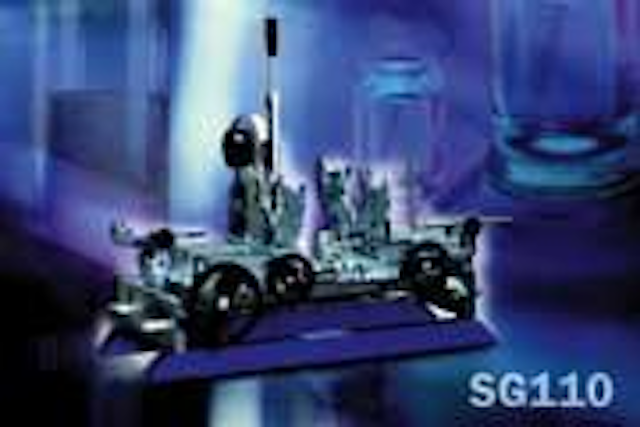 Click here to enlarge image
George Fischer has introduced a new portable fusion machine with self-aligning capabilities. The SG110 Socket Fusion Machine features prismatic clamping devices that work in conjunction with a v-shaped pipe support platen area to align pipe, fittings and couplings. The new machine provides improved joining accuracy on a distortion-free machine bed while minimizing extra steps typically required for material alignment.
George Fischer, Inc.
Tustin, CA
Tel: 800-854-4090
Web: www.us.piping.georgefischer.com
Polymer mortar pipe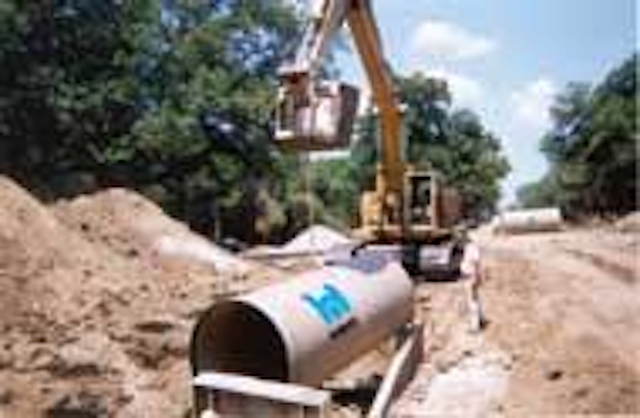 Click here to enlarge image
Hobas centrifugally cast, fiberglass reinforced, polymer mortar pipe is widely used in new construction and rehab. Key applications are sanitary sewers (gravity and force mains), potable water and corrosive environments. Although corrosion resistance is a major benefit, the pipe is specified for its superior hydraulics, light weight, high strength, and ease of installation. Installation methods include direct bury, microtunneling/ jacking, sliplining, tunnel lining and aboveground. Sizes range from 18'' to 110''.
Hobas Pipe USA
Houston, TX
Tel: 800-856-7473
PE pipe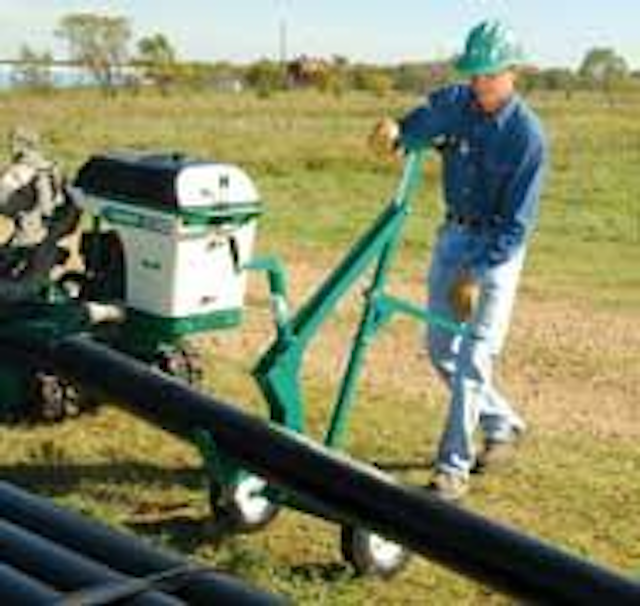 Click here to enlarge image
The new PolyPorter, offered by McElroy Manufacturing, is designed to aid in the lifting and moving of polyethylene pipe. It can also serves as a pipe stand. The unit is equipped with pneumatic tires for ease of maneuverability over rocky terrain and a roller allows pipe to traverse easily through the hook-arm. A screw jack raises and lowers the porter to level pipe with the fusion machine. It is a hand-operated tool used much like a dolly and is intended for pipe up to 8'' in diameter.
McElroy Manufacturing Inc.
Tulsa, OK
Tel: 918-836-8611
Web: www.mcelroymfg.com
Squeeze-off tool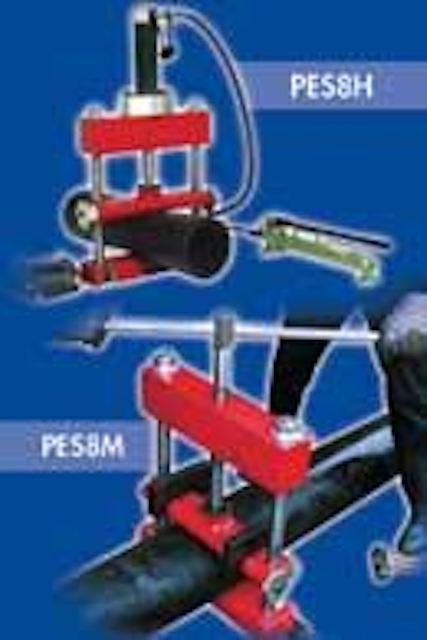 Click here to enlarge image
The Reed PES8 Squeeze-Off Tool compresses 3" to 8" diameter polyethylene (PE) plastic tube/pipe to stop the flow of water or gas. When used properly, the pipe will return to its original shape and normal flow rates. These tools reduce man hours spent looking for buried shut off valves, reduce waste of water or gas and enable crews to get service restored quicker. The PES8M manual tool develops a clamping force by requiring an operator to turn a screw with a handle. The PES8H hydraulic tool uses a pump and cylinder for clamping.
Reed Mfg. Co.
Erie, PA
Tel: 800-666-3691
Web: www.reedmfgco.com
Urethane coatings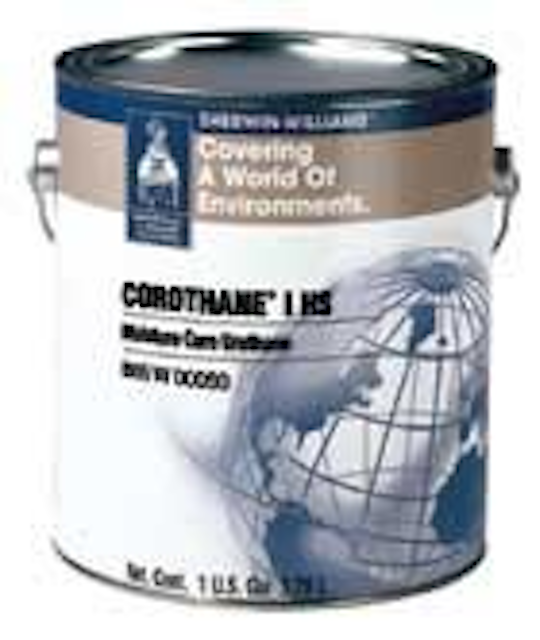 Click here to enlarge image
Sherwin-Williams' Corothane® I HS is a VOC-compliant, single-component urethane coating with the performance of a two-part urethane. It cuts preparation time, and has superior adhesion to even marginally prepared surfaces. In addition, the aliphatic product extends the application window with its ability to be applied at humidity up to 99% and temperatures down to 20ºF, with no dew point restrictions.
Sherwin-Williams Ind. and Marine Coatings
Cleveland, OH
Tel: 800-524-5979
Web: www.sherwin-williams.com
Pipe wrench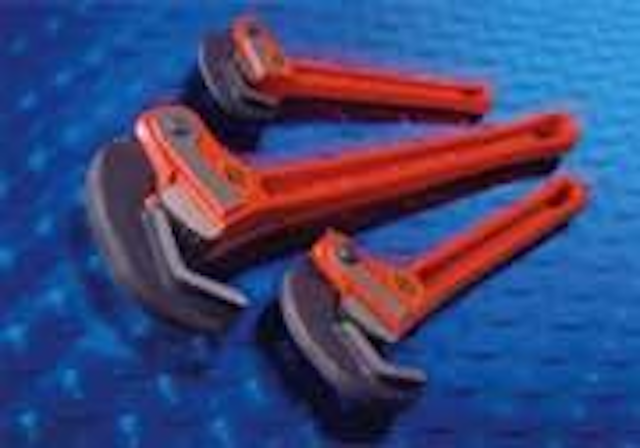 Click here to enlarge image
Ridge Tool has recently added three new Rapidgrip™ wrench sizes. The wrench is a heavy-duty, self-adjusting pipe wrench that is designed for one-handed operation with a rapid ratcheting action. The company added a 10", 14" and 18" to replace its current 12" model. The wrench's spring-loaded hook jaw design adjusts to any size work surface and its aggressive, patented tooth design ensures a secure grip.
Ridge Tool Co.
Elyria, OH
Tel: 800-769-7743
Web: www.ridgid.com
Pipe, structures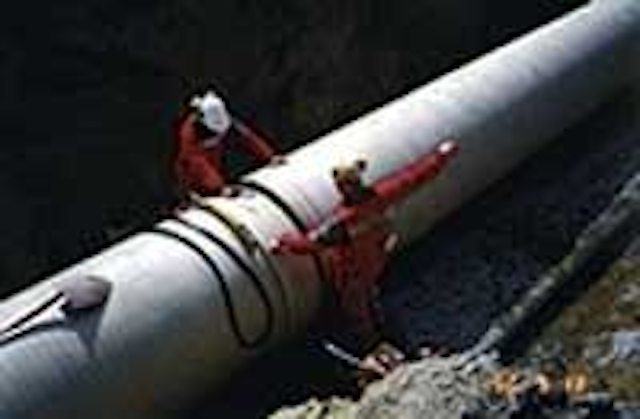 Click here to enlarge image
Amitech USA now offers Flowtite and Meyer Polycrete pipe and structures. Flowtite is a fiberglass-reinforced pipe designed for aggressive sanitary sewer, water, and industrial environments. With over 30 million feet installed worldwide, it's a strong, lightweight, corrosion-resistant product that provides excellent hydraulic characteristics. Flowtite is available in 12''-96'' diameters. Meyer Polycrete is suitable for microtunneling and pipe jacking applications.
Amitech USA Ltd.
Zachary, LA
Tel: 217-590-2645
Web: www.amitechusa.com
Pipe cutting
Click here to enlarge image
The PipeMaster, available from Wheeler-Rex, is a portable self-propelled machine for cutting 6''-48'' CI, DI, and steel pipes. It includes a cutting head with internal gears which operate the driving wheels and spin the shaft, which turns the cutting blade. An external operating lever controls the start/stop drive wheel's operation. The cutting blades are fully enclosed for safety with either diamond plated edge or tungsten carbide tips.
Wheeler-Rex
Ashtabula, OH
Tel: 800-321-7950
Web: www.wheelerrex.com
Ratchet wrenches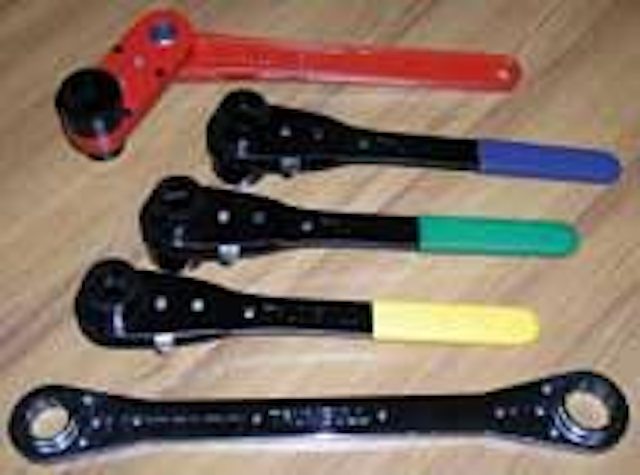 Click here to enlarge image
Trumbull Industries offers three styles of wrenches to fit virtually every size required for clamps, couplings, saddles and mechanical joints. The newest version fits Hymax® & MaxiFit™ Couplings. All styles work on long bolts or all-thread. The red, 1 1/16'' x 1 1/4'', adjustable handle double socket wrench works in confined areas. Its enclosed mechanism uses a reversing lever. The double socket wrench uses a lever to reverse and is available in three sizes: 11/16" x 11/4", 11/8" x 15/16", and 7/8" x 3/4".
Trumbull Industries
Youngstown, OH
Tel: 330-799-3333
Web: www.trumbull-mfg.com
Liquid epoxy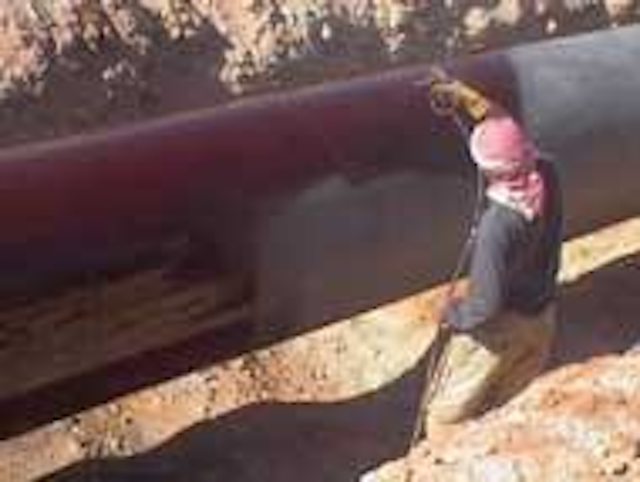 Click here to enlarge image
A new high-temperature liquid epoxy that provides excellent cathodic disbondment resistance for pipeline and industrial applications with surface operating temperatures up to 212° F is now available from Tyco Adhesives' Corrosion Protection Group. Named R100, the new product is the latest addition to the company's Powercrete brand. It was specially formulated to meet market demands for a 100 percent solids (no VOC) primary corrosion coating that can be built in one pass to a minimum of 40 mils without sags or icicles.
Tyco Adhesives
Norwood, MA
Tel: 800-248-0149
Web: www.tycocpg.com
Moisture-cured primer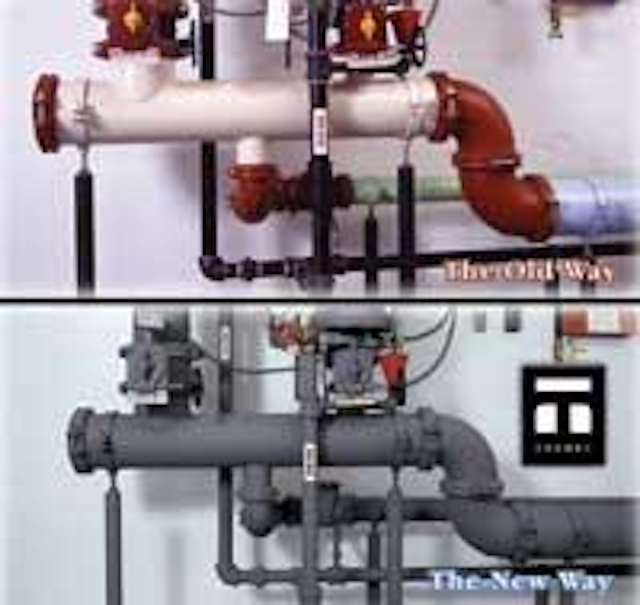 Click here to enlarge image
Series 1 PurplePrime from Tnemec is a superior performance primer developed for immersion and non-immersion environments in water and wastewater facilities. Its unique purple color provides for easy visual confirmation of application and selected topcoat offerings allow for simplified specification writing. The single-component, moisture-cured primer is substrate tolerant and provides triple corrosion protection.
Tnemec Co., Inc.
Kansas City, MO
Tel: 800-863-6321
Web: www.tnemec.com