Insertion Magmeter Improves Accuracy for Semiconductor Company
An Arizona semiconductor manufacturer was able to benefit by switching to insertion magmeters to better control the quality of water used too support its fabrication processes.
Jul 1st, 2005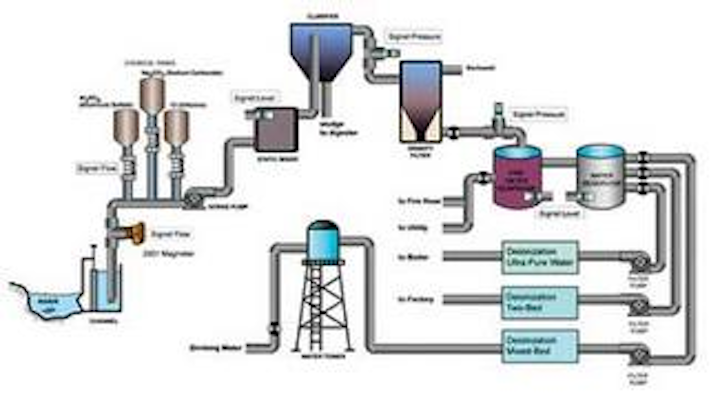 An Arizona semiconductor manufacturer was able to benefit by switching to insertion magmeters to better control the quality of water used too support its fabrication processes.
Figure 1. Industrial water treatment application.
Click here to enlarge image
Microchip Technology Inc., based in Tempe, Ariz., focuses its resources on delivering innovative semiconductor products to the global embedded control marketplace. This facility recently retrofit a paddlewheel installation on its soft water distribution system with a new insertion magmeter from George Fischer Signet Inc., immediately experiencing improved flow measurement accuracy.
According to principal facility engineer Ken Hain, when Microchip installed its soft water distribution system, it used the Signet Rotor-X low-flow, insertion-type paddlewheel sensors for the pre- and post-softener flow measurements. This system was installed in September 2004 and is still running.
"Even though these paddlewheel sensors were the low-flow style, they did not provide the required performance under low flow conditions," explains Hain. "Likewise, the pre- and post-softener readings did not agree when the system wasn't performing a regeneration and we accounted for the 3-gpm filter flush to waste."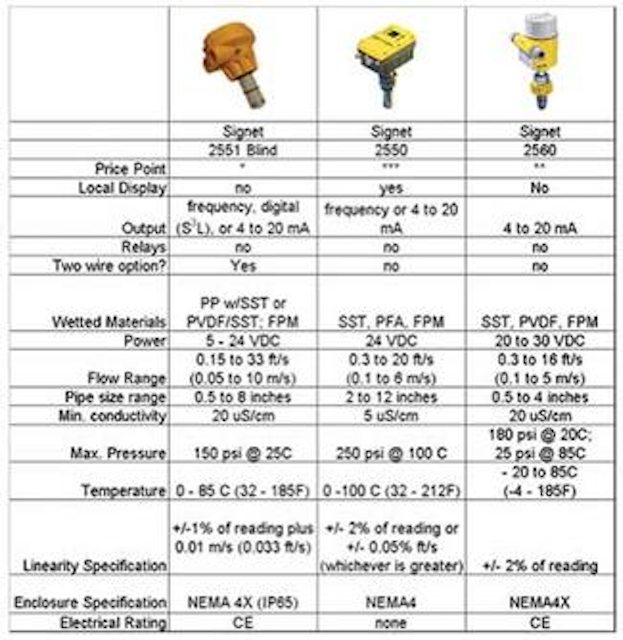 Table 1. A comparison of insertion magmeters.
Click here to enlarge image
Searching for improved performance, Microchip agreed to evaluate the Signet 2551 Magmeter in August 2004. The installation was easy due to the fact that the magmeters were installed in the same saddle installation fittings as the paddlewheel flow sensors. Likewise, the magmeter sensor connected to the existing Signet 8900 Multi-Parameter Controller. "There was no problem in wiring and interfacing the magmeter with the controller," says Hain.
Improved Readings
The magmeter is an insertion style electromagnetic flow sensor especially intended for conductive fluid applications that contain particles, solids and fibers. Designed with no moving parts to wear or foul, it provides a wide dynamic flow range of 0.15 to 33 ft/s (0.05 to 10 m/s). Repeatability is ±0.5% of reading, even in extremely dirty fluids and superior linearity of ±1% reading provides excellent performance.
The combination of the magmeter and the multi-channel controlling instrument led Hain to notice a more accurate reading than he had previously experienced with a paddlewheel sensor.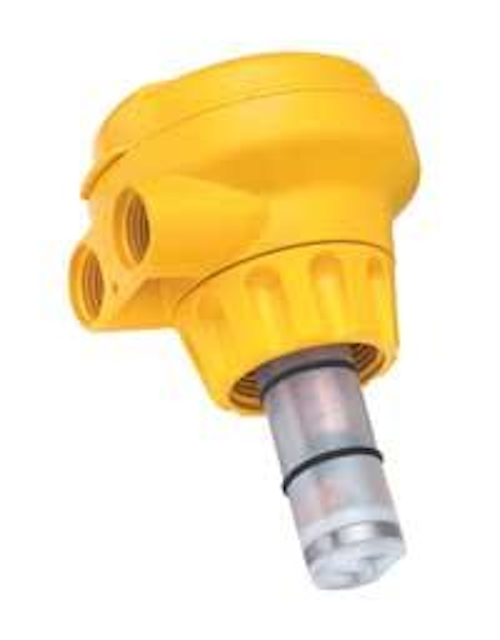 Click here to enlarge image
"After we went through the conditioning, we compared the pre- and post-softener readings without regeneration," says Hain. "The two readings were very close and they agreed with our projected usage based on the end-user's requirements."
Signet 2551 Magmeter and installation at Microchip Technology Inc. in Tempe, Ariz.
Click here to enlarge image
Another benefit was reduced downtime. The paddlewheel rotors occasionally wore out, therefore the system had to be shut down to replace the pins and rotors. The magmeter allows the company to keep running without parts wearing out. It plans on replacing all of the paddlewheels with magmeters when budgets allow.
Conclusion
With no moving parts and corrosion-resistant materials, the magmeter sensors should provide long-term reliability and minimal maintenance for some time to come. IWW
About the Author: Linda Meyers is product manager for George Fischer Signet Inc., a provider of instrumentation and sensors for fluid measurement solutions based in El Monte, Calif. The collective George Fischer product offering includes plastic pipes, fittings, valves, actuators, rotameters, fusion machines, secondary containment, tank linings, heat exchangers, custom products, sensors and instrumentation for industrial process control. Contact: 626-571-2770 or signet.ps@georgfischer.com.
---
COMPANY NEWS
The New York Power Authority has commissioned Waitsfield, Vt.'s Northern Power Systems, a subsidiary of Distributed Energy Systems Corp., to design and install a 165-kilowatt power generation system for the New York City Department of Environmental Protection at its Owl's Head Wastewater Treatment Facility in Brooklyn, N.Y.
The EPA Office of Water, launched a new on-line Watershed Discussion Board, as part of its second webcast on the topic. This forum offers watershed protection practitioners, stakeholders and citizens a platform to exchange ideas, so that innovative solutions and ideas can be easily shared in (near) real-time cyberspace. Visit: www.epa.gov/owow/watershed/forum/forum.html and join in.
Alcoa is investing $330 million at its Warrick Power Plant in Newburgh, Ind., to increase environmental performance and power efficiency, lower costs and further secure long-term, low-cost power for its smelter and related downstream business there. Plans include installation of scrubbers on all four operating units, boiler modifications to provide greater fuel flexibility, and installation of new and improved coal handling facilities for increased efficiency. It's expected the total $400 million invesment through 2010 will result in a 98% reduction in SO2 and an 8 million gallon wastewater reduction.