WaterWorld Weekly Newscast, Oct 1, 2018
A transcript of the WaterWorld Weekly Newscast for October 1, 2018.
Oct 1st, 2018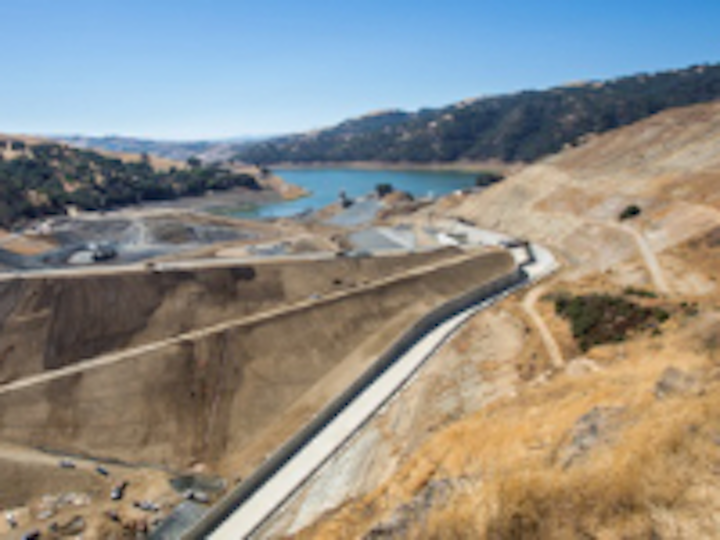 Liquid metal discovery turns toxic water drinkable; Construction completed on Calaveras Dam replacement; N.J. American Water completes $37M flood protection project; NRWA names Steve Fletcher 'Man of the Year'; Man threatens water workers with gun
The following is a transcript of the WaterWorld Weekly Newscast for October 1, 2018.
Hi, I'm Angela Godwin for WaterWorld magazine, bringing you water and wastewater news headlines for the week of October 1. Coming up...
Liquid metal discovery to make toxic water safe, drinkable
SFPUC completes construction of Calaveras Dam replacemen
New Jersey American Water completes $37M flood protection project
NRWA names Steve Fletcher 'Man of the Year
Property owner threatens water workers with gun
Breakthrough research from UNSW Sydney and RMIT Melbourne could help one tenth of the planet's population get affordable access to clean drinking water.
By adding aluminum to the core of liquid gallium at room temperature, the scientists were able to quickly produce layers of aluminum oxide. From those, they developed aluminum oxide nanofilters.
Lead and other heavy metals are attracted to the aluminum oxide as the water passes through the billions of porous layers, turning water contaminated with heavy metals into safe drinking water in a matter of minutes.
Furthermore, the aluminum oxide nanofilters can be cheaply produced from a fixed amount of liquid metal gallium -- for as little as 10 cents, according to the researchers -- using virtually no energy.
The researchers believe the low-cost technology could be put to good use in places where levels of heavy metal ions in the water are well beyond safe human consumption.
The San Francisco Public Utilities Commission announced that the replacement dam at Calaveras Reservoir has reached its full height of 220 feet, marking a major milestone in the Calaveras Dam Replacement Project.
Since 2001, reservoir levels behind the 93-year-old Calaveras Dam have been reduced to 40 percent of its 31-billion-gallon capacity due to seismic concerns.
[Video cut in]
The new dam, located directly adjacent to the old dam, has been built to withstand a 7.25 magnitude earthquake on the nearby Calaveras Fault.
Constructed like a seven-layer cake turned on its side, the new dam is composed of seven zones of different materials.
It took two years to construct.
Crews still need to construct access roads, automate instrumentation and controls, restore the site, and place rock slope protection before the overall project is complete, which is expected to happen in spring of next year.
But in the meantime, with the dam now at full height, the SFPUC will begin refilling the reservoir this winter.
New Jersey American Water recently celebrated the completion of a significant, long-term flood protection project at its Raritan-Millstone Water Treatment Plant.
The entire floodwall system at the plant has now been raised by four feet to an elevation of 48 feet, which will provide flood protection from storm events up to 500-year recurring frequency.
The earthen berms in the northeast and west have also been raised and widened, additional reinforced concrete flood walls have been constructed, new flood gates have been installed and drainage mechanisms have been improved.
The $37 million project will help ensure the water supply at the plant is protected from the increased risk of flooding during extreme weather events while maintaining a sustainable water supply for more than 1 million people in the central New Jersey region.
Steve Fletcher was named the National Rural Water Association's Man of the Year during an awards ceremony at the recent WaterPro Conference in Fort Worth, Texas.
The award recognizes loyalty, dedication and outstanding contributions to the Rural Water cause.
Fletcher is committed to ensuring the success of small water systems. We spoke with him in 2017 -- take a look.
[Video cut in]
Since 1981, Fletcher has been the manager and operator of the Washington County Water Company in southern Illinois and has served as president of the NRWA board since 2016.
A man in Mart, Texas, was arrested after threatening water utility workers with a gun and firing shots into the air as they attempted to repair a broken water line.
One worker took cover; two others fled. Nobody was injured in the confrontation.
Deputies responded to the scene and the property owner surrendered without incident.
He later said that he did not remember firing shots.
The suspect was charged with three counts of terroristic threat and one count of deadly conduct.
For WaterWorld magazine, I'm Angela Godwin. Thanks for watching.