Enterprise GIS Performance Software Improves Water Utility Productivity
The Honolulu Board of Water Supply (HBWS) have made GIS a part of an overall enterprise business plan.
Dec 1st, 2008
By Doran J. Geise
The Honolulu Board of Water Supply (HBWS) have made GIS a part of an overall enterprise business plan. Since 2001, the utility has gone from a largely manual internal information management process to automated web-based systems and software. This successful transition has included implementation of a Computerized Maintenance Management System (CMMS) with mobile GIS capability using IBM Maximo®, and ESRI ArcGIS®.
This case study focuses on how the HBWS is addressing two challenges in overall enterprise GIS management and value creation for the water utility:
Enterprise GIS Performance: In today's complex IT environment, every IT professional knows that it is not a question of if, but when applications fail or performance lags. Internet and intranet GIS applications are no exception. GIS is now a mission-critical and real-time information system where map and data service interruption or poor performance directly affects productivity and customer service levels.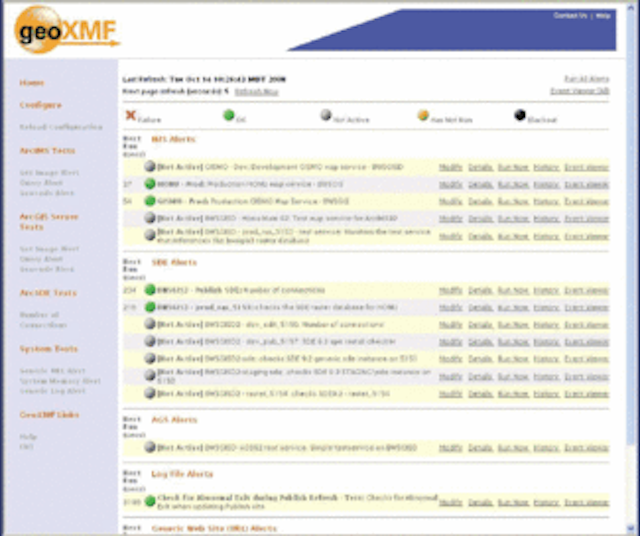 HBWS's XMF Alerter Main Performance Management page
Click here to enlarge image
Enterprise GIS Search: GIS has grown from a back-room data development and mapping tool used only by GIS specialists to an agency-wide information management and delivery system integrating seamlessly with other mainstream data management systems. Yet, access to GIS for executive and manager decision-making, communication, and broad use is still limited by a software interface that can be time-consuming and difficult for novices to work with, thereby limiting its value to the enterprise.
In 2008, HBWS worked with geoXMF to implement two software products to improve in these two areas. The software installed was geoXMF's Alerter and Accelerator.
GIS Performance Management
With XMF Alerter the HBWS maintains round-the-clock and real-time enterprise GIS performance monitoring and alerting. The software allows HBWS GIS managers to proactively manage their ArcGIS services to maintain high up-time so service levels are not interrupted and data quality is insured. If performance tolerances are exceeded, GIS managers are notified via email, cell phone text message and desktop display. The software also compiles performance history and displays a graphic history so that managers can take steps to improve long-term GIS performance.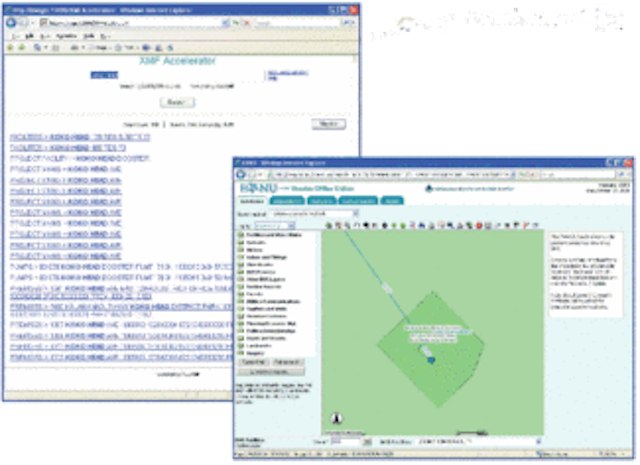 Example XMF Accelerator search results showing hyper-links based on search terms.
Click here to enlarge image
"XMF Alerter has really helped us improve our up-time for HONU, our enterprise website system," said Ellen Hirayama, HBWS GIS Manager. "HBWS has 600 employees and nearly one third of those use HONU regularly. HONU is critical to everyday work processes so a service interruption or performance problem directly impacts productivity and our ability to complete work on time. XMF Alerter has improved our response time when our map services experience an interruption, thereby increasing the users' confidence in the GIS system."
HBWS staff needs access to data 24/7/365. The work management system (MAXIMO) contains a fully integrated mapping component. HBWS staff uses that system to map new work orders to water system assets by selecting a feature, such as a water main, and to help plan/schedule work by looking at how the work orders are arranged on the map – i.e. what's the most efficient route/schedule to get the work done. So, if the GIS service is interrupted, it affects the planners' ability to create new work orders and to plan and schedule work for the field crews.
"Especially in emergency situations, XMF Alerter has helped us insure quick response and good decisions," Hirayama said.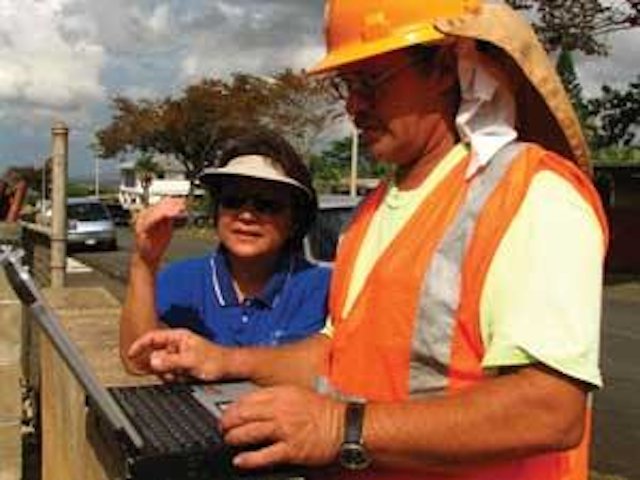 HBWS' Mobile Asset Notebook (MANO) has brought GIS and up-to-date asset and work order information to the field.
Click here to enlarge image
null
GIS Search
HBWS engineers and field workers communicate throughout the workday to answer infrastructure location, condition, maintenance and engineering questions. Rapid access to mapping and map-based links to other information improves communication and decision-making. HBWS recently conducted a limited deployment of XMF Accelerator to provide simplified access to GIS information.
The software features a simple search box, increases the speed of response and offers flexibility of search terms and keywords. Initial testing of the software has resulted in time savings to access water utility GIS data. An enterprise-wide rollout is planned in the upcoming months.
"As a manager, I need information to make decisions. They are not earth-shattering decisions, but day-to-day decisions that help our organization, infrastructure and services run more smoothly." Hirayama said. "So I need to access a lot of different data ASAP. XMF Accelerator really helps me do that."
The software will foster more collaborative decision-making between the main office and the field, she said.
"With XMF Accelerator, I and the field person I'm talking with can very quickly map the exact same asset in seconds and discuss what needs to be done referencing the same data. This will allow us to make more informed construction or maintenance decisions in the field."
The software is also helping HBWS with QA/QC. Hirayama frequently checks updated datasets for redundant features like meter IDs.
"Because Accelerator brings up a list of hyper-links that meet my exact search terms I can quickly find redundancy errors in the SDE database," she said. WW
About the Author:

Doran Geise is a partner in geoXMF LLC (Longmont, CO). He has 22 years of experience in remote sensing and geographic information systems integration for oil/gas, wireless telecom, mining, environmental analysis and enterprise GIS applications. He can be reached via email at dgeise@geoxmf.com.