New Products
Philadelphia Mixing Solutions has introduced Momentous Flow™, the next generation mixing technology for anaerobic digestion.
Dec 1st, 2008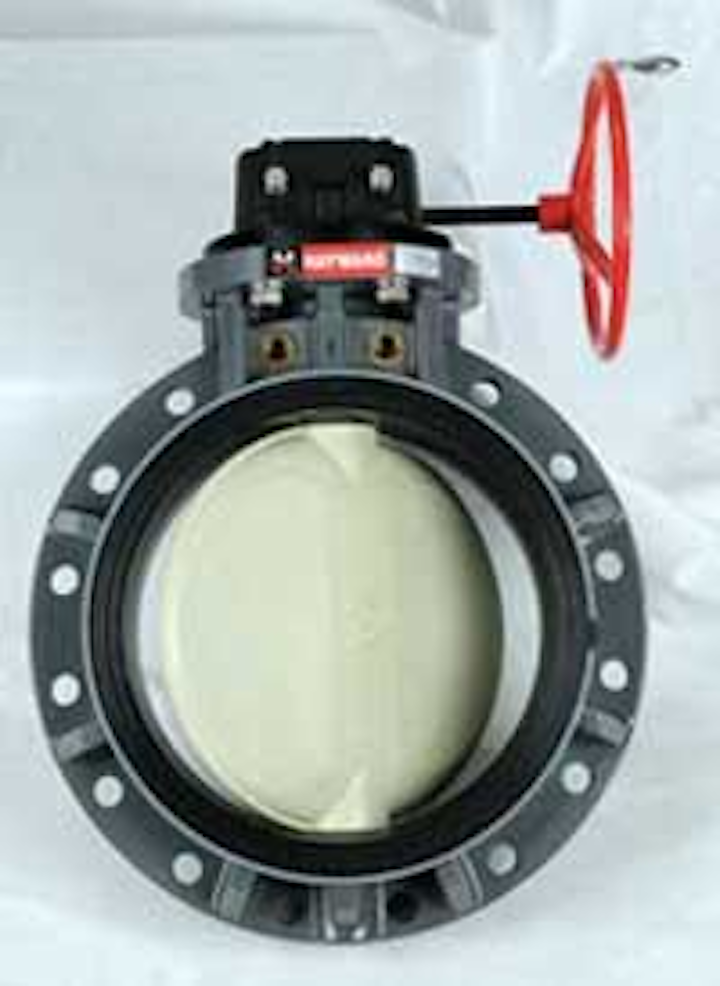 Digester mixing
Philadelphia Mixing Solutions has introduced Momentous Flow™, the next generation mixing technology for anaerobic digestion. Compared to standard and egg digester technologies, this mixing system offers faster installation, lower operating and maintenance costs, and efficient generation of reusable energy from methane capture. The system uses a single Z/T = 3.0 axial impeller and no baffles in the upper part of the vessel to create centrifugal force. That force pushes membrane methane bubbles from anaerobic digestion to the center of rotation, where they quickly coalesce and escape from the liquid into a collection cap.
Philadelphia Mixing Solutions
Palmyra, PA
Web: www.philamixers.com
Circle No. 243 on Reader Service Card
Butterfly valves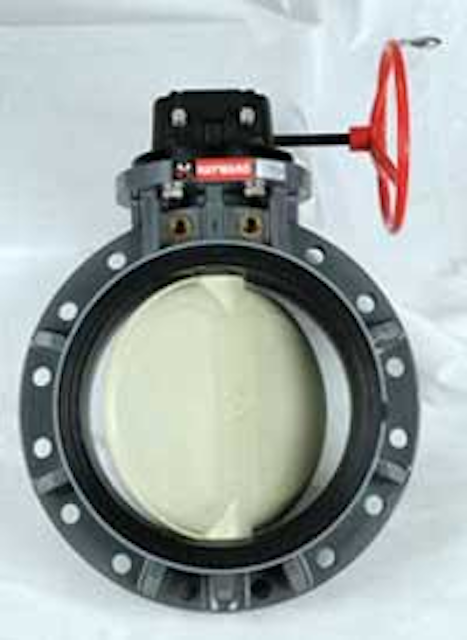 Click here to enlarge image
Hayward Flow Control Systems now offers a new line of butterfly valves designed to replace metal valves in a variety of industrial piping systems. Designed for long-term performance and flexibility, BYB Series Industrial Butterfly Valves feature a rugged, one-piece plastic body that can stand up to high flow rates and elevated stress conditions. Lever operated BYB valves are available in 2" - 8" PVC, CPVC, PPL, and PVDF bodies with CPVC, PPL, and PVDF discs. The 14" - 24" sizes are available in the same body and disc materials and feature a high torque gear box. Options include gear boxes on the smaller sizes, stainless steel lugs on all sizes, and electric or pneumatic actuation.
Hayward Flow Control Systems
Clemmons, NC
Tel: 888-429-4635
Web: www.haywardflowcontrol.com
Circle No. 245 on Reader Service Card
Automation software
Schneider Electric North America has announced that it will integrate Citect industrial automation software into its complete automation and control solutions offering. The integration will encompass Citect's field operations (sales, professional services and training) team with that of its parent company to further strengthen both companies' ability to provide best-in-class SCADA, HMI and MES solutions and services. The change will further accelerate the development of the Citect® software suite. Citect was acquired by Schneider Electric in 2006.
Schneider Electric
Tel: 847-397-2600
Web: www.schneider-electric.com
Circle No. 246 on Reader Service Card
Biosolids drying
Eisenmann recently introduced the Pyrobustor™ system for the thermal treatment of biosolids from municipal water and wastewater treatment plants. The two-stage process uses pyrolysis in a proprietary rotary drum followed by a post combustion system. Biosolids, sludge and other organic waste is pyrolytically transformed into an energy-rich gas. The residual non-volatile ash encapsulates minerals and metals, if present, into a stable inert form that permits disposal in landfills as a non-hazardous material. Depending on local market needs, the ash can also be used as filler for road construction, concrete products or similar applications.
Eisenmann Corp.
Crystal Lakes, IL
Tel: 815-477-3232
Circle No. 244 on Reader Service Card
Sewer design software
Bentley Systems has released SewerCAD V8 XM Edition, a tool for sewer design and rehabilitation. The modeling software can help engineers cost-effectively evaluate capacity, size pipes, select pumps, and identify the locations of potential overflows, and is particularly suited for systems that are a mix of gravity and pressure flow. Included in the new release are advanced thematic mapping, configurable element symbology, and improved utilities that allow users to convert and integrate data from CAD, GIS, and other data stores.
Bentley Systems Inc.
Exton, PA
Tel: 610-321-6493
Web: www.bentley.com
Circle No. 247 on Reader Service Card
Enterprise software
GE Fanuc Intelligent Platforms, a unit of GE Enterprise Solutions, has released its vertical solution pack for the Water Industry. The Water Solution Pack 2008 delivers new tools and functionality for Proficy® HMI/SCADA – iFIX customers with the addition of an extensive industry-specific dynamo library, NERC-recommended security features, and tighter integration with OPS Systems' Water/Wastewater reporting software. iFIX 5.0 is a next-generation visualization, control and real-time information management system with features such as enhanced failover, integrated historian, and new trend charts.
GE Fanuc Intelligent Platforms
Charlottesville, VA
Web: www.gefanuc.com
Circle No. 248 on Reader Service Card
Modeling software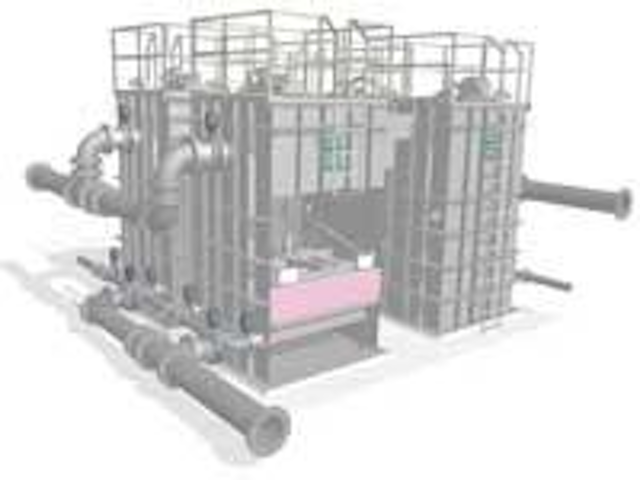 Click here to enlarge image
Schlumberger Water Services has released Visual MODFLOW 3D-Builder, an add-on module designed to work in combination with the Visual MODFLOW flow and contaminant transport modeling simulation software program. The 3D version provides its users with advanced capabilities for building conceptual models within a unified modeling environment that is completely independent of the numerical grid. With the software, users are able to build a conceptual model of the groundwater system, prior to the simulation.
Schlumberger Water Services
Waterloo, Canada
Tel: 519-746-1798
Web: www.swstechnology.com/software
Circle No. 249 on Reader Service Card
Stormwater retention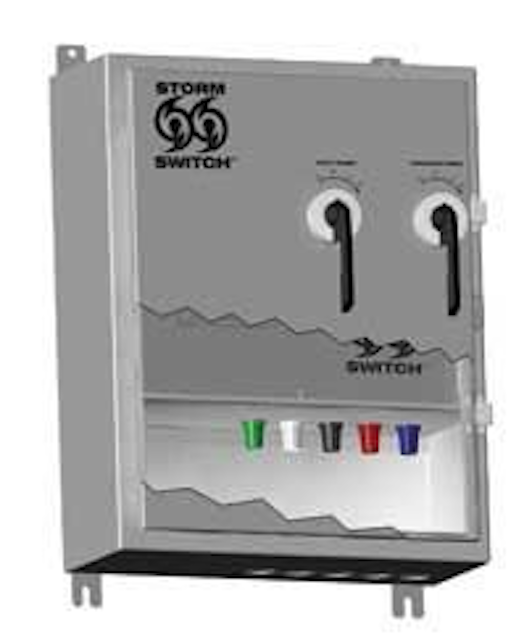 Click here to enlarge image
CONTECH Construction Products has introduced the ChamberMaxx system, a corrugated, open-bottom plastic arch system for the retention of stormwater runoff. The below-grade system maximizes available land for development, and can support traffic loading for installation under parking lots and roadways. The chambers are injection molded using structurally efficient and corrosive-resistant polypropylene resin, and are designed to exceed HS-20 / HS-25 live loads in accordance with AASHTO (Section 12) LRFD design specifications for stormwater chambers.
CONTECH Construction Products Inc.
West Chester, OH
Tel: 800-338-1122
Web: www.contech-cpi.com
Circle No. 258 on Reader Service Card
Generator
Click here to enlarge image
The Bi-Fuel™ generator from Generac® Power Systems produces a run time that is three times greater than that of a diesel-only generator. The generator operates on 30 percent diesel gas and 70 percent natural gas, which means minimal on-site diesel fuel storage and lower particulate and nitrogen oxide emissions, making this product ideal for wastewater treatment facilities. The generator's engine also provides built-in redundancy, as the engine controls will automatically direct the unit.
Generac Power Systems
Waukesha, WI
Tel: 888-436-3722
Web: www.generac.com
Circle No. 251 on Reader Service Card
Mobile software
TerraGo Mobile is a geospatial mobile application designed specifically for non-GIS users. Compatible with Windows Mobile 5 and 6 operating systems, the solution delivers interactive, intelligent maps and images in geo-enabled PDF format directly to personnel in the field. The system allows non-GIS experts in the field to interact with and add intelligence (photos, video, audio, comments and completed forms) to geo-registered maps and images directly from their mobile device.
TerraGo Technologies
Atlanta, GA
Web: www.terragotech.com.
Circle No. 250 on Reader Service Card
Street sweepers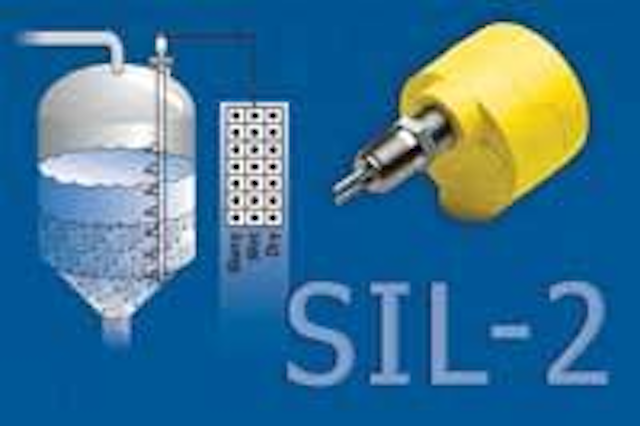 Click here to enlarge image
Elgin Sweeper has introduced a version of its Pelican® three-wheel broom sweeper that may be powered by either compressed natural gas (CNG), liquefied natural gas (LNG), or liquefied petroleum gas (LPG) – also known as propane. The alternative fuel, single-engine Pelican is powered by the ultra-low emissions Cummins B5.9-195G engine that is certified to U.S. EPA and CARB standards and Euro V and EEV.
Elgin Sweeper
Elgin, IL
Tel: 847-741-5370
Web: www.elginsweeper.com
Circle No. 257 on Reader Service Card
Compressed air controller
Click here to enlarge image
Kaeser has expanded its Flow Controller line. The controllers can create more effective storage by accumulating compressed air in the receivers and delivering only the air needed for production. With two new models, the line now handles system capacities for 250 to 12,600 scfm. The controllers rapidly respond to fluctuating demand and actively maintain constant system pressure downstream. More stable air pressure helps eliminate artificial demand and substantially reduces air losses through leaks.
Kaeser Compressors Inc.
Tel: 800-777-7873
Web: www.kaeser.com
Circle No. 255 on Reader Service Card
Venturi flow meter
A new series of corrosion-resistant, 48" diameter venturi flow meters are designed for the air handling systems at sewage treatment plants. The Westfall 2350 Series Venturi Flow Meter features epoxy vinyl ester construction, with a 1" thick stainless steel throat and 1-¼" thick 316L SS full-face 48" flange. Custom built to meet specific sewage treatment air handling system requirements, this corrosion-resistant venturi flow meter has no moving parts and is designed for a 50,000 SCFM rate of flow. Easily installed between ANSI flanges, the meter has a short laying length design and provides low permanent pressure loss. Other materials of construction and sizes can be supplied for piping from ¾" to 120" O.D.
Westfall Manufacturing Co.
Bristol, RI
Tel: 888-928-3747
Web: www.westfallmfg.com
Circle No. 252 on Reader Service Card
Project management software
Envista, a provider of web-based software for infrastructure project coordination, has announced a new version of its product that allows utilities and government agencies to share and coordinate construction and maintenance project schedules online. Envista 1.1 is designed for utility companies, municipalities, or government agencies undertaking large, multi-year Infrastructure Replacement Programs (IRPs) to renew aging facilities such as pipelines and roadways. The new version offers increased performance and a wide range of new features for enhanced navigation, filtering and sorting project data, generating notification threads and auto notifications, as well as full support for the Firefox 3 web browser.
Envista Corp.
Beverly, MA
Tel: 978-232-6300
Web: www.envista.com
Circle No. 256 on Reader Service Card
Positive displacement pump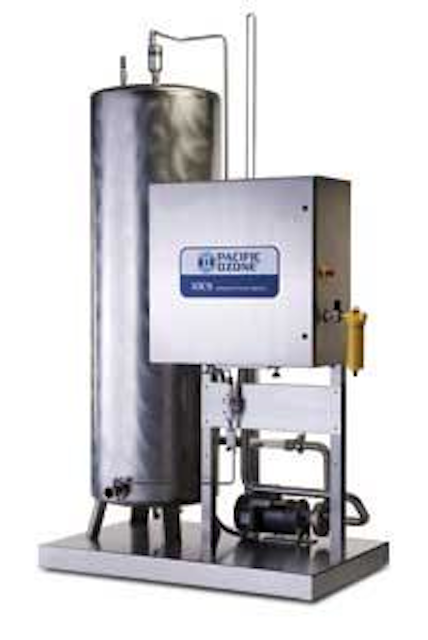 Click here to enlarge image
The Moyno® 1000 positive displacement pump is engineered for operation in a variety of services including shear sensitive chemical feeds, lime, polymer metering and slurries. The pin-type universal joint is sealed and lubricated. Standard flange, close-coupled and open throat hopper models are available. A key feature of the pump is a two-piece drive shaft which allows easy assembly, maintenance, and mechanical seal access. This drive shaft configuration eliminates the need for complete pump disassembly when servicing the mechanical seal.
Moyno Inc.
Springfield, OH
Tel: 877-486-6966
Web: www.moyno.com
Circle No. 254 on Reader Service Card
Service suite
The Ventyx Service Suite solution for enterprise workforce management provides a complete infrastructure to efficiently plan, schedule, and execute all types of field work. The system automates the service workflow end-to-end—from scheduling and optimization of order assignment, to dissemination of work to the field, order processing, and performance measurement. Its dynamic schedule optimization ensures the right technician arrives at the right place and time.
Ventyx
Tel: 770-989-4188
Web: www.ventyx.com
Circle No. 253 on Reader Service Card