Company Offers Flexible Restraint Pipe in 48" Diameter
American Cast Iron Pipe Co. now manufactures its Flex-Ring Joint ductile iron pipe in sizes up to 48 inches in diameter.
May 1st, 2008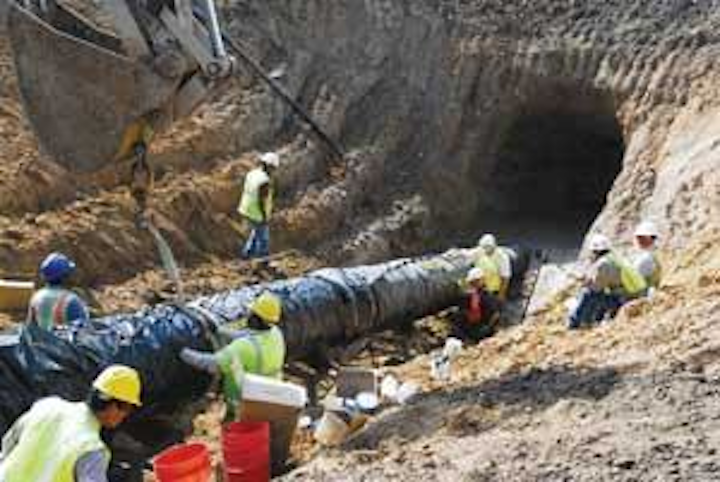 American Cast Iron Pipe Co. now manufactures its Flex-Ring Joint ductile iron pipe in sizes up to 48 inches in diameter. Designed for a working pressure up to 250 psi, the pipe features a boltless, glandless joint that provides flexible restraint against endwise separation from thrust. It is suited for difficult installation environments and offers simplified, on-site assembly.
The advantages of the flexible joint pipe were apparent in Columbus, GA, during an installation that crossed Upatoi Creek as part of enhancements to the water infrastructure at Fort Benning.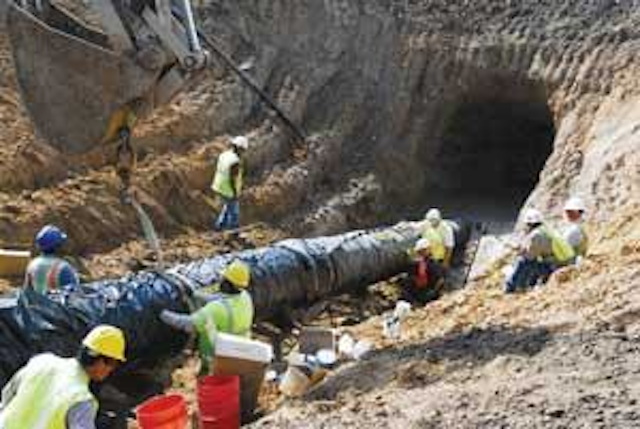 Flex-Ring Joint ductile iron pipe was used recently in a project involving horizontal directional drilling under a river.
Click here to enlarge image
"Its generous joint deflection gave us thrust restraint without having to use thrust blocks on the creek crossing," said Steve Davis, director of engineering for the Columbus Water Works. "It would have been difficult to install thrust blocks in those variable wet conditions, and the Flex-Ring minimizes the risks of our having to go back on this crossing for repairs or maintenance in the future."
The pipe also presented advantages for contractor T Lowell Construction of Castle Rock, CO, during construction of a pipeline in a mountainous area within a national forest near Pagosa Springs. There, flexible restraint from 30- and 36-inch Flex-Ring pipe was used through a particularly constrained portion of the pipeline alignment that followed (and replaced) an existing open-cut ditch that followed contours in the forest with numerous close-quarter bends.
"Pipe for that portion of the project was shop-fabricated to match the exact alignment provided in the design," said Tim Lowell II, project manager for T Lowell Construction. "That was a customized application of the product, and it was a much more cost- and time-effective solution compared with typical field cuts, mechanical joints and" other restraint systems.
In a different and increasingly popular kind of application, the pipe also lends itself to horizontal directional drilling (HDD) installations. At a recent HDD project in Pasco County, FL, 960 feet of the pipe was installed, making the job the world's longest HDD project involving large-diameter ductile iron pipe.
"The 20-foot lengths of pipe simplified the installation, allowing us to work efficiently within a small workspace," said Dan Smolik, project manager for the general contractor, Garney Companies.
"And the push-on method of assembly was very simple and efficient," he said. "We were able to assemble around twice the footage of pipe in one day compared with HDPE used with this application."
For more information about American Flex-Ring Joint ductile iron pipe, visit www.acipco.com/adip.