Project Uses Light-Weight Pipe in Pressure Application
Jacksonville, Fla., has one of the top sports-entertainment complexes in the country that includes Alltel Stadium, the city's new Veterans Memorial Arena and The Baseball Grounds of Jacksonville.
Nov 1st, 2005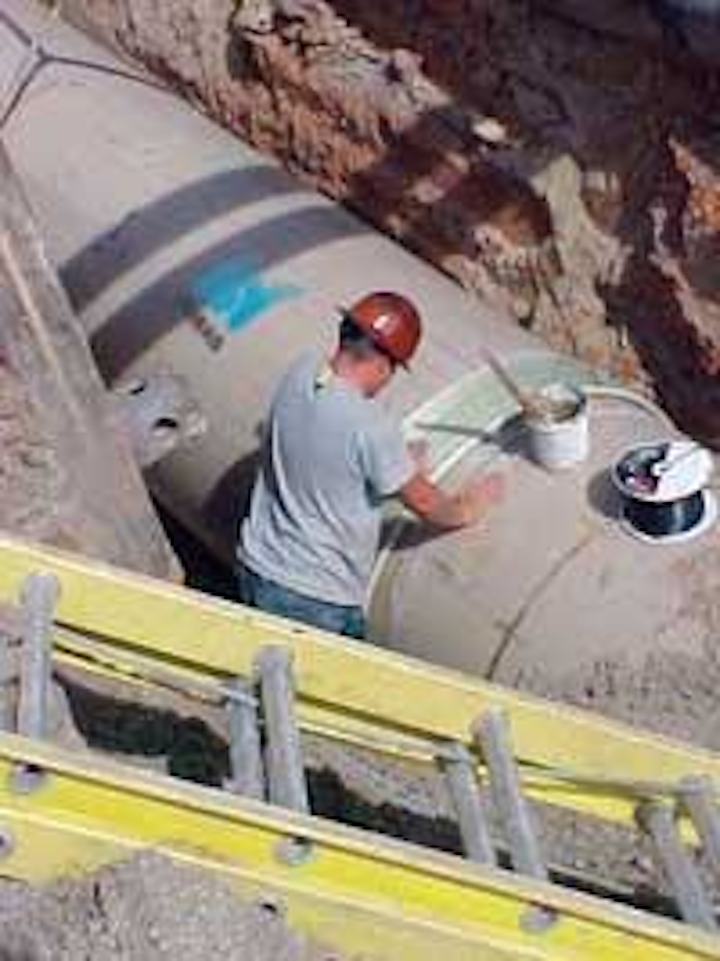 Jacksonville, Fla., has one of the top sports-entertainment complexes in the country that includes Alltel Stadium, the city's new Veterans Memorial Arena and The Baseball Grounds of Jacksonville. The arena and the minor-league ballpark are the elements of a major construction program that helped make Jacksonville's downtown area so vibrant. But both had to be completed in time for Super Bowl XXXIX that was played on February 6, 2005, in Alltel Stadium, the former Gator Bowl.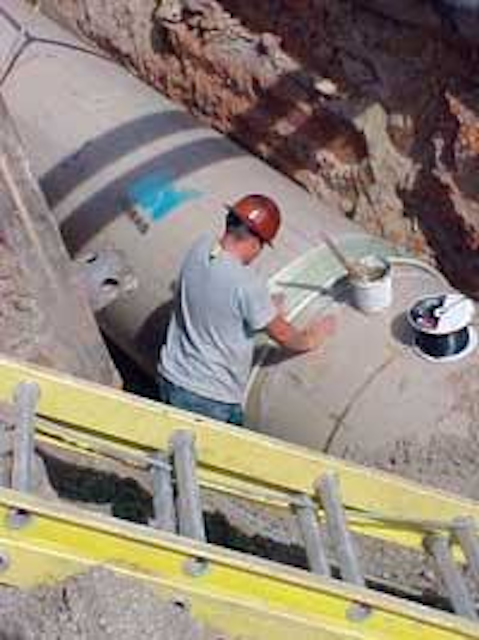 A vegetable based lubricant helps make push together assembly quick and easy.
Click here to enlarge image
Before the arena could be built, JEA, the City of Jacksonville Utility Department, which is responsible for infrastructure and utilities, had some major tasks to accomplish. They had to relocate Duval Street and the associated large diameter trunk sewer force main that ran under it to make room for the new construction.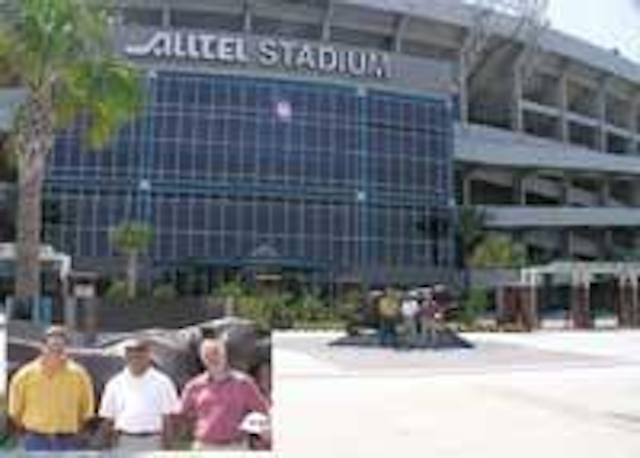 Chris Blank, Norman Francis and Allan Boree, (left to right) in front of the new Alltel Stadium, a major feature fo the area served by the new Hobas sewers.
Click here to enlarge image
Investigation revealed an aging ductile iron sewer that was severely deteriorated and leaking under A. Philip Randolph Blvd., right where the ballpark and arena would be built. The solution was the Arena Deep Utilities and related projects that included the Duval Street realignment and replacement of the large diameter sewer force main under A. Philip Randolph Blvd.
Initially, the project included replacement of approximately 2,000 linear feet of 48-inch sewer force main, which was needed for the Duval Street realignment. The JEA then added 3,000 linear feet of pipe to replace the deteriorated ductile iron sewer under A. Philip Randolph Blvd.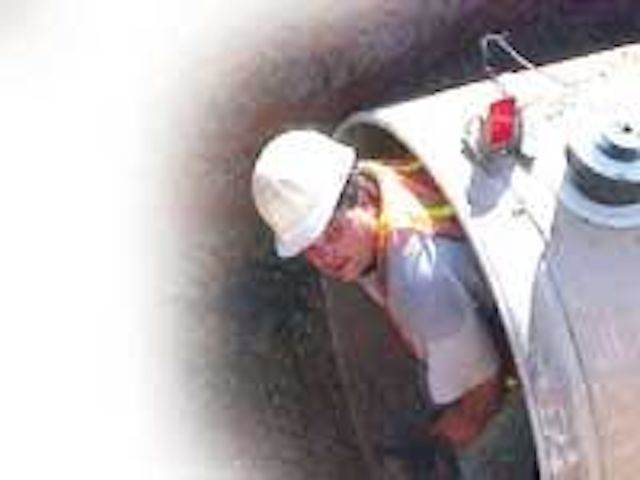 A worker can easily enter a 48-inch pipe for inspection.
Click here to enlarge image
JEA used to stand for Jacksonville Electric Authority, but as its scope was expanded, it became simply "JEA." Its electric system serves more than 360,000 customers in Jacksonville and parts of three adjacent counties. Its water system serves more than 240,000 water customers and 186,000 sewer customers, or more than 80 percent of all water and sewer utility customers in its service area.
Allan Boree P.E., W & S standards engineer, who served as design engineer, and Norman Francis, field engineer, both represented JEA on the project. Chris Blank was project manager for J. B. Coxwell Contracting Inc.
Blank outlined the project, "There were two phases. In the first, we moved Duval Street 75 to 100 yards to accommodate the new Baseball Grounds and the Jacksonville Veterans Memorial Arena. Then, we had to rebuild the existing roadways around the other three sides to accommodate it. Until we dug up the old Duval Street sewer, we didn't realize that its top was almost corroded through."
Hobas Pipe was selected for the project.
"This was the second project for which we had used Hobas in a force main," Boree said. "We had used it before on a 54 inch sewer force main project and on many gravity sewer applications from 66 inch up to 84 inch, much of it for sliplining. "
Blank said the pipe was attractive because of its light weight and the ability to handle the 20-foot sections with lighter equipment.
"I used mainly a medium size Caterpillar excavator. The excavation was only eight to nine feet deep and the line required only three to five feet of cover. The Hobas joints provided easy push-together assembly and installation was simple in the crushed rock embedment," he said.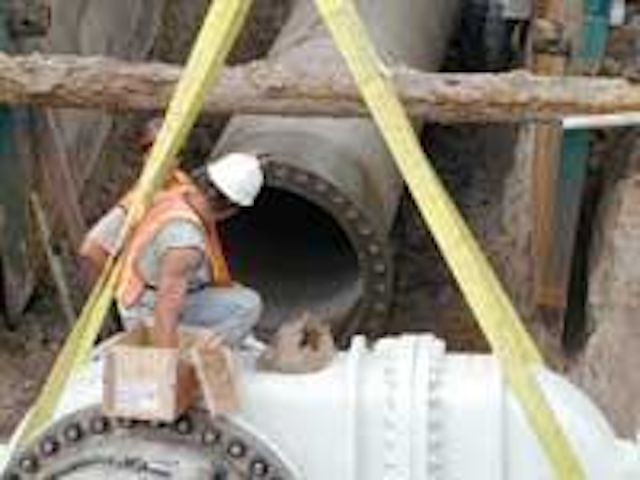 Fiberglass flagged connections made it easy to connect Hobas pipes to the valves.
Click here to enlarge image
The contractor generally encountered relatively uniform subsurface conditions that consisted mainly of fine sand often with silt or clay. The groundwater table was high, varying from two to seven feet below the surface.
"Everything went along smoothly so we could install 300 feet a day without any problems, including several direction changes, which required bends," Francis said. "We also had 48 inch diameter valves to permit isolating a section for future taps. Hobas supplied mitered fittings for the bends and pipes with flanged connections that mated perfectly with the valves.
The pipe for the project was 48-inch nominal diameter, 36-psi minimum pipe stiffness, 100-psi nominal pressure class. Although nominally 48 inch, the ID was oversized at 48.9 inches with an OD of 50.8 inches. While rated at 100 psi, the pipe has an initial burst in excess of 400 psi, providing a short-term safety factor of at least four.
"After we got it all in, we tied it all together, pressure tested it and it has been working ever since. We haven't had any problems. Our goal was to do it right the first time because we didn't have time to dig up streets to correct mistakes, and that's exactly the result we got," Francis said.
JEA has been so pleased with the performance of the product in sliplining and direct bury that only centrifugally cast fiberglass pipes like Hobas are among the acceptable products for gravity applications. Now, Hobas has been added to the Jacksonville JEA specifications for 24-inch and larger pressure mains.
Hobas pipe is manufactured in sizes from 18 inches to 110 inches in pressure and non-pressure classes. For more information, please contact Hobas at 800-856-7473, 281-821-2200 or e-mail at info@hobaspipe.com. Facts are also available at www.hobaspipe.com.