NEW PRODUCTS
Getac Inc. has introduced its newest rugged portable notebook computer. Running on Intel's 1.4 GHz Dothan LV Processor, the MobileForce(tm) M220 is a laptop computer...
Feb 1st, 2005
Ruggedized laptop
Getac Inc. has introduced its newest rugged portable notebook computer. Running on Intel's 1.4 GHz Dothan LV Processor, the MobileForce(tm) M220 is a laptop computer that meets standards set by the military for extreme use and is suitable for most mobile workforce applications. The laptop is designed to handle dust and water jet spray from any direction. It can survive three-foot drops and operate in temperatures from -4 to +130° F. It includes a versatile Bay 1 that can accommodate an optical drive, or a second battery.
Getac Inc.
Lake Forest, CA
Tel: 949-699-2888
Web: www.getac.com
Water monitoring
The Mini Analyzer, available from Stevens Water Monitoring, is designed for long-term deployment where continuous, unattended analysis is needed. The computer-controlled system automatically pumps water samples through tubes to the sensor. Once the sensor analysis is complete, the analyzer self-purges the sensors and the water collection tubes. The unit can be configured to measure pH, conductivity, DO, ORP, turbidity, total reactive phosphorous, nitrate, ammonia or ammonium.
Stevens Water Monitoring Inc.
Portland, OR
Tel: 800-452-5272
Web: www.stevenswater.com
Tile lining
Fused cast basalt and alumina ceramic linings from Abresist(r) provide extended life for dust collecting equipment, especially cyclones, by providing an abrasion and corrosion resistant lining. Custom engineered linings, available with a variety of installation methods and adhesives, are designed to maintain the internal configuration critical to successful operation of the units. The non-porous tile linings are made in thicknesses from 1/8" to 3", depending on the severity of the abrasion and the diameter of the cyclone.
Abresist Corp.
Urbana, IN
Tel: 800-348-0717
Web: www.abresist.com
Double wall tanks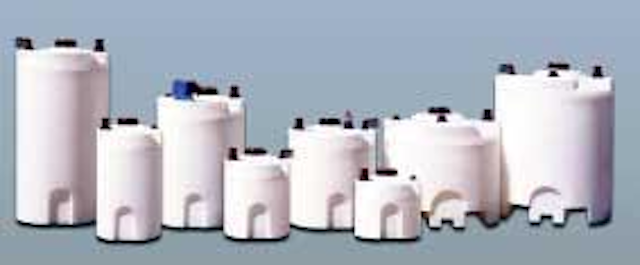 Click here to enlarge image
Assmann Corp. has expanded its line of double wall tanks to include smaller tanks at 20, 40, 65, 85, 120, and 165 gallon units, in addition to the 150 and 250 gallon units introduced in 2003. The tanks are designed for storing hazardous and corrosive chemicals inside or outside. The company's IMT system consists of a primary inner tank and a secondary outer tank.
Assmann Corp.
Garrett, IN
Tel: 888-357-3181
Web: www.assmann-usa.com
Vortex shedding flowmeter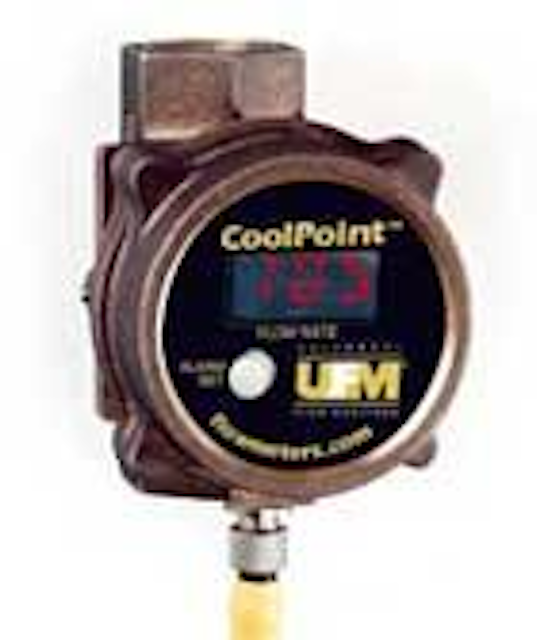 Click here to enlarge image
Universal Flow Monitors has introduced an improved Coolpoint(tm) vortex shedding flowmeter for measuring and monitoring water flows. The meter is used to measure flow rate in dilution water and similar water treatment applications. Totalizing capability is a new feature of the flowmeter. It now has a scaled pulse output as a standard selectable option. This scaled pulse output increases the meter's ability to measure, monitor and control the total amount of liquid used in a process.
Universal Flow Monitors Inc.
Hazel Park, MI
Tel: 248-542-9635
Web: www.flowmeters.com
Wireless systems
Data-Linc has expanded its product offering with the introduction of the PlantLinc wireless system. The system is design to provide shorter range communications up to four miles. It is available in two models, the PlantLinc 5000 Industrial Wireless Serial Modem and the PlantLinc 580 Wireless I/O Extender. The serial modem provides wireless RS232 connectivity for serial devices such as PLCs or RTUs in point-to-point or multi-point configurations.
Data-Linc Group
Bellevue, WA
Tel: 678-513-8031
Web: www.data-linc.com
Hydrant cover
The Hydrant Hat(tm) is designed to keep snow, ice and rain off fire hydrants. The plastic structure is manufactured in two parts which snap together to form one unit at the time of application. A patented "flexible finger" base secures the unit to the hydrant, yet allows for simple removal when the hydrant is needed. The hydrant cover is designed with a 26 inch base tapering to a 20 inch top, and stands 42" high. Its construction allows for the attachment of a reflective flag to the upper section, for deep snow conditions.
Hydrant Hat LLC
Ashtabula, OH
Tel: 800-506-4399
Web: www.hydrant-hat.com
Flow simulator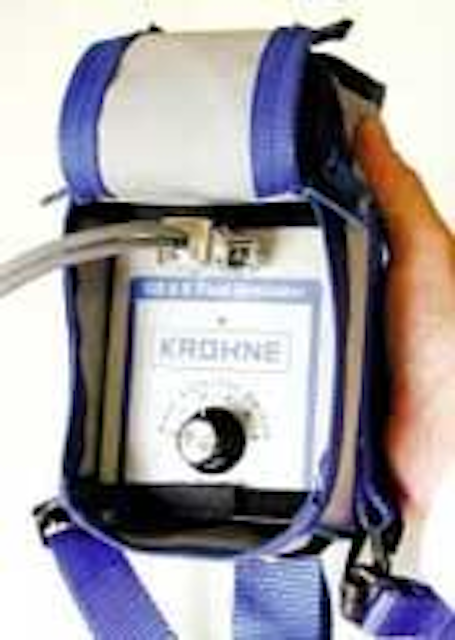 Click here to enlarge image
Krohne has introduced its new GS 8 B calibrated flow simulator. Replacing the meter flow tube, it provides calibrated feedback to the electromagnetic meter converter, simulating specific calibrated flow conditions. This portable device allows quick verification of the company's flowmeter converters.
Krohne Inc.
Peabody, MA
Tel: 800-356-9464
Web: www.krohne.com
Corrosion detection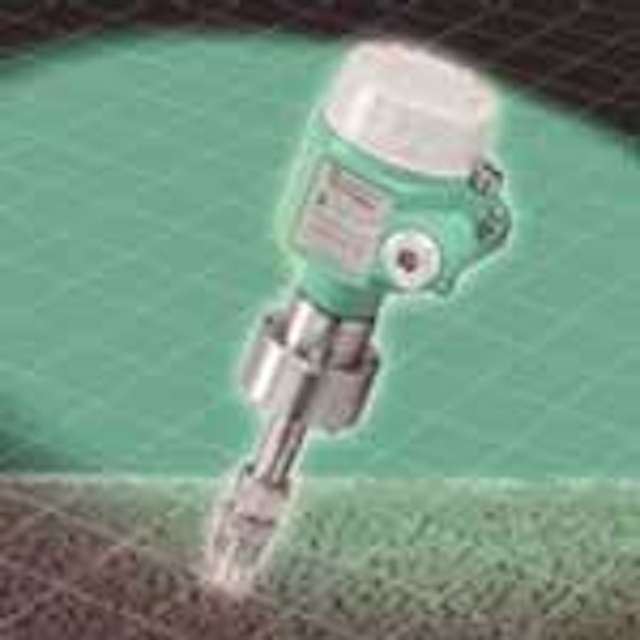 Click here to enlarge image
Pepperl+Fuchs' CorrTran(tm) Corrosion Detection Transmitters are now available to satisfy Class I, Division 2 hazardous location applications. The transmitters allow users to monitor online the effectiveness of their corrosion inhibitors, and to detect and correct corrosion issues. Their low-power design allows mounting directly within a Division 2 hazardous location.
Pepperl+Fuchs
Twinsburg, OH
Tel: 330-486-0002
Web: www.am.pepperl-fuchs.com
Level transducer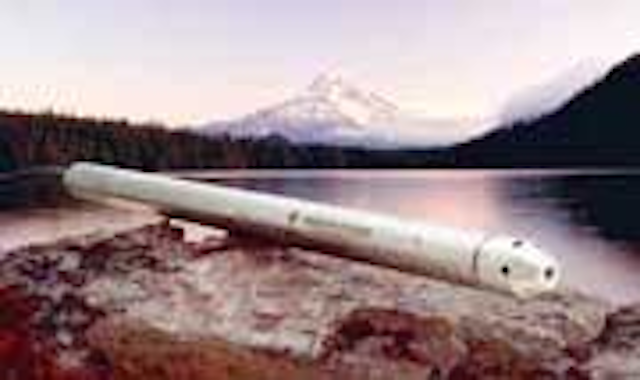 Click here to enlarge image
Pressure Systems has introduced a new submersible KPSI(tm) level transducer that includes internal data logging functionality. The Series 550 waterMONITOR is specifically designed for measuring water levels with +0.05% FS Total Error Band (TEB) accuracy in environmental and land management applications such as ground water, surface water, and open channel level measurement.
Pressure Systems Inc.
Hampton, VA
Tel: 800-328-3665
Web: www.pressuresystems.com
Containment piping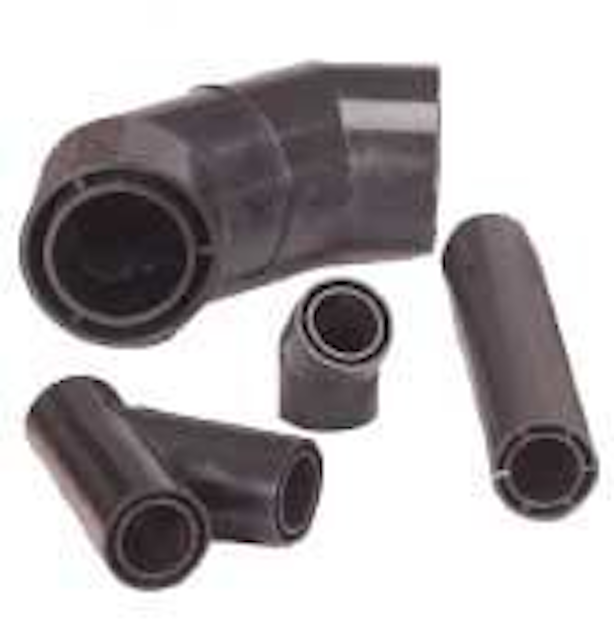 Click here to enlarge image
Asahi/America has introduced the Poly-Flo(r) Unitary Double Containment Piping System for Chloramination. Its polypropylene construction is ideally suited for the transport of aqueous ammonia used in new water treatment disinfection processes. The double contained piping system is as easy to install as a single wall pipe system due to its unitary construction design. The piping is offered in sizes 1x2, 2x3, and 4x6, and is available with low point leak detection probes and monitoring station.
Asahi/America Inc.
Malden, MA
Tel: 781-321-5409
Web: www.asahi-america.com
Pressure gauges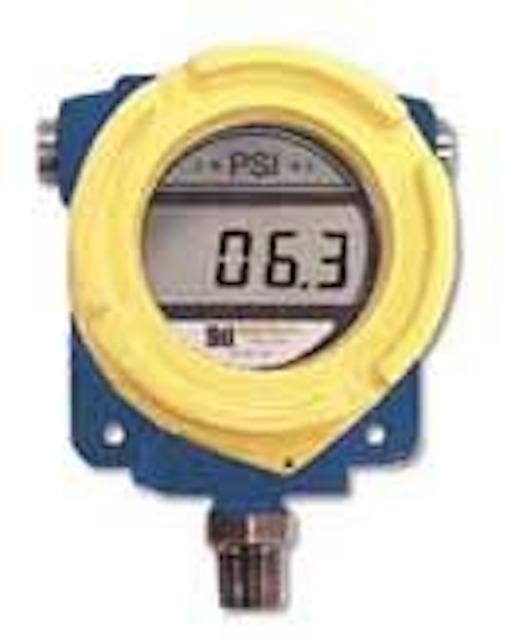 Click here to enlarge image
Scientific Technologies' PG-3000 Digital Pressure Gauges are now cCSAus Class 1 Division 1 approved for use in hazardous locations. They are suited for use in harsh application environments where conventional devices fail to provide reliable performance. Standard pressure ranges are available from vacuum to 500 psi and 0 up to 10,000 psi. This model is also qualified with an optional swivel pressure fitting with a flush mount sensor designed for applications that might otherwise plug a recessed pressure port.
Scientific Technologies Inc.
Logan,UT
Tel: 888-349-7098
Web: www.stiapg.com
Secure key storage
GE's Security business has introduced the new TRAC-Tube intelligent key storage device, which helps secure unattended, standalone access points. Applications include any type of unattended facility that would benefit from a secure key storage system. The tube holds up to two keys and access cards, and provides an audit trail on users. It is accessed and powered by a TRACkey. The stainless steel tube recesses into a wall with a minimum thickness of seven inches and is secured with mortar, cement or epoxy.
GE Infrastructure, Security
Austin, TX
Tel: 714-427-2004
Web: www.gesecurity.com
Filter underdrain
USFilter has re-engineered its Multicrete II(tm) monolithic concrete filter underdrain system used in water and wastewater filters. The new design increases the underdrain system's strength and simplifies the installation process. To ensure the underdrain is capable of resisting higher pressures and better handling of cyclic loading, the underdrain form was re-engineered to increase allowable floor thickness.
USFilter Corp., a Siemens company
Warrendale, PA
Tel: 847-706-6947
Web: www.usfilter.com
Modeling software
The latest release of Wallingford Software's InfoWorks hydraulic modeling suite includes two new features - the Open Data Export Center and the 3D Viewer. The Open Data Export Center offers a choice of formats for model outputs - MapInfo, ArcView and more - to match the functionality of the existing Open Data Import Center. The 3D Viewer enables any 3D image, whether an asset such as a manhole or a terrain model, to be examined from all perspectives.
Wallingford Software Inc.
Fort Worth, TX
Tel: 817-370-2425
www.wallingfordsoftware.com
Radio frequency filters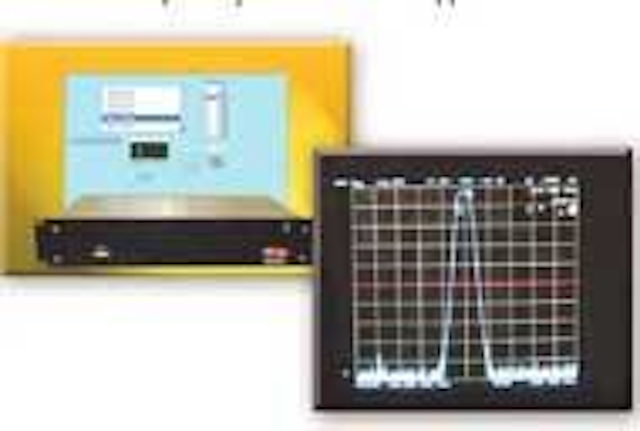 Click here to enlarge image
Bartley Machine & Manufacturing has released a new line of active band-pass filters known as the "Ultra-Q Filter." The filters are designed to eliminate all adjacent channel RF interference within specified VHF, UHF, 800 MHz and 900 MHz frequency bands. As more and more people use wireless communications, the available spectrum becomes increasingly clogged with traffic, creating interference on adjacent channels, with the end result being the inability to send and receive critical information.
Bartley Machine & Manufacturing Co.
Amesbury, MA
Tel: 978-388-0085
Web: www.ultraqfilter.com
Metering pump
Watson-Marlow Bredel offers its 624 U/RE pump, which is ideal for metering ferric chloride. The pump can help increase pressure and flow rate capabilities. It offers high vacuum lift, dry priming capability and no possibility of back-flow. The pump has twin rollers providing flow rates ranging from 0.05 l/min to 12.0 l/min. Maintenance can be performed in one minute with snap-fit LoadSure(tm) elements. The pump offers manual speed control, remote switching options and a digital speed display.
Watson-Marlow Bredel Pumps
Tel: 800-282-8823
Web: www.wmbpumps.com
Filter press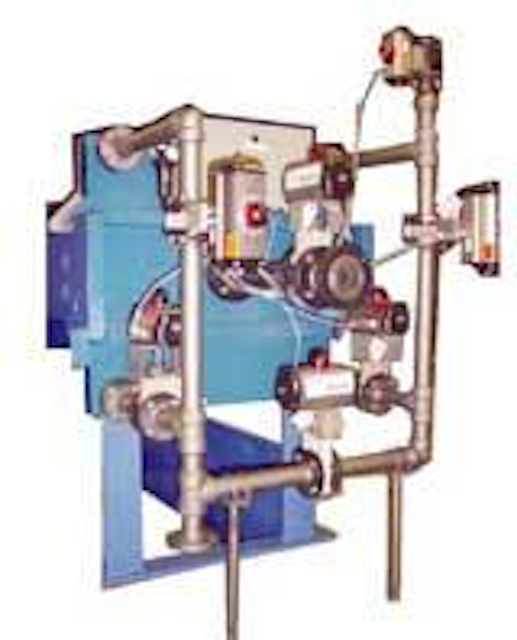 Click here to enlarge image
The new ErtelAlsop EA Series filter press incorporates all the features of the company's stainless steel presses, without the cost. EA Series presses include full thickness and height, tee-slotted, steel sidebars with stainless wear strips. Slide heads ride on full size roller and bearing assemblies. Skid shoes and pads are not used on any EA Series press. Its closure systems incorporate the very latest in hydraulics and control technology.
ErtelAlsop
Kingston, NY
Tel: 800-553-7835
Web: www.ertelalsop.com
Static mixers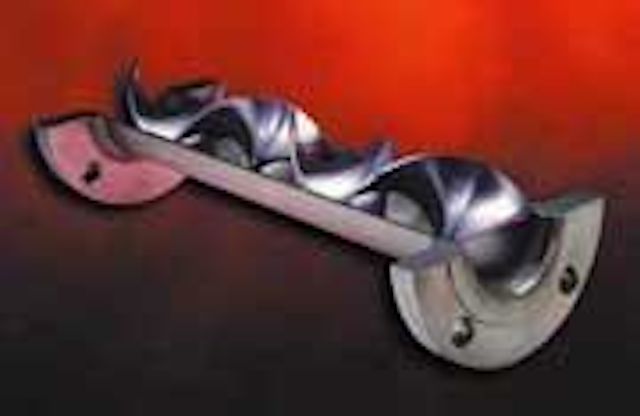 Click here to enlarge image
Kenics(r) KM Series Static Mixers from Chemineer feature a patented helical mixing element which produces complete radial mixing and flow division for any combination of liquids, gases or solids. The smooth element geometry results in efficient mixing of miscible fluids in laminar or turbulent flow and dispersion of immiscible fluids or gases while producing very low pressure drop. The static mixers have no moving parts and require no external power or regular maintenance.
Chemineer, Inc.
Dayton, OH
Tel: 937-454-3200
Web: www.chemineer.com
Tertiary filters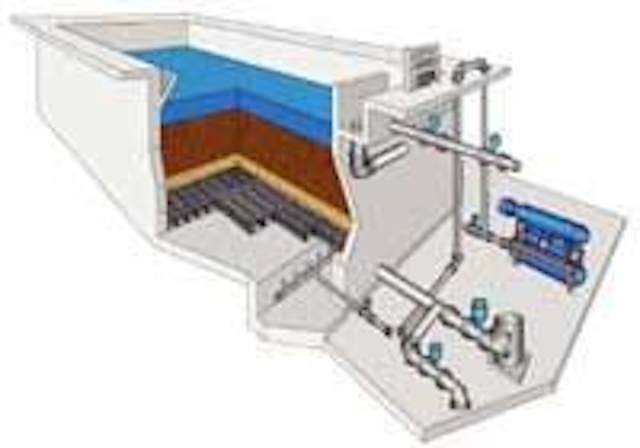 Click here to enlarge image
Each Leopold tertiary filter is designed and engineered to achieve the specific performance requirements of individual wastewater treatment plants. The company's manufacturing facility provides all components for a complete tertiary treatment system including the Universal(r) Type S(r) or Type SL(r) underdrain, the Engineered Filter Media(r) products, fiberglass products and filter controls.
F.B. Leopold Company, Inc.
Zelienople, PA
Tel: 724-452-6300
Web; www.fbleopold.com
Scrubber media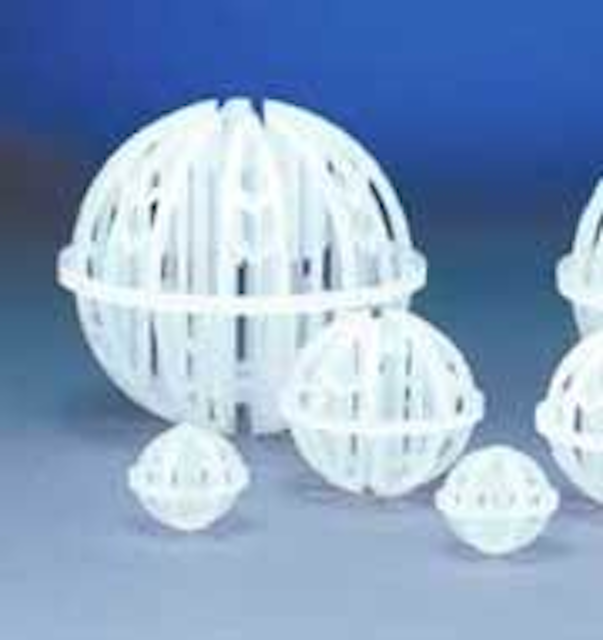 Click here to enlarge image
Jaeger Tri-Packs(r) are hollow, spherical packings constructed of a unique network of ribs, struts, and drip rods. Their geometry provides the optimum balance between open area and surface area - and are suitable for all types of scrubbing and stripping applications. Available in four nominal sizes, 1", 1 1 1/4", 2" and 3 1Ú2", and in numerous thermoplastic resin choices, there is a size and material available for numerous applications.
Jaeger Products, Inc.
Houston, TX
Tel: 800-678-0345
Web: www.jaeger.com
Water test kits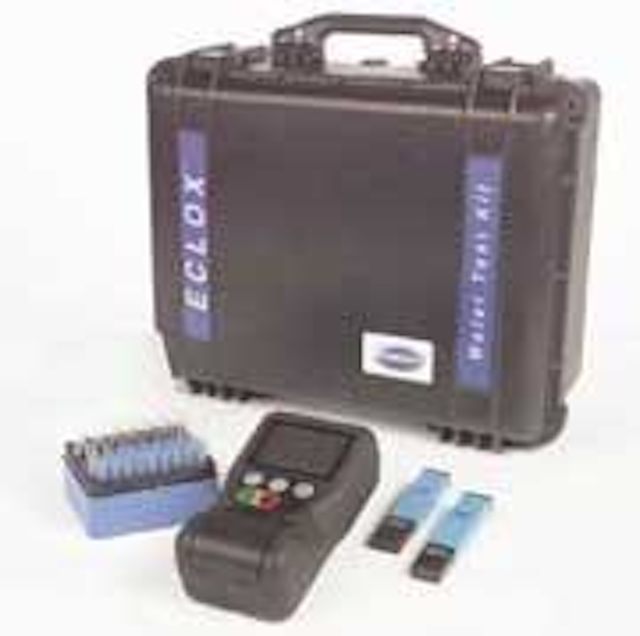 Click here to enlarge image
Hach Homeland Security Technologies now combines the Eclox(tm) chemiluminescence toxicity method with streamlined Hach water quality tests, creating a new field test kit targeting the recommendations of the USEPA in its emergency response protocols. The Eclox Water Test Kit also serves environmental monitoring and mapping, industrial site evaluation, and wastewater collection monitoring.
Hach Homeland Security Technologies
Loveland, CO
Tel: 800-604-3493
Web: www.hach.com
Self-cleaning filters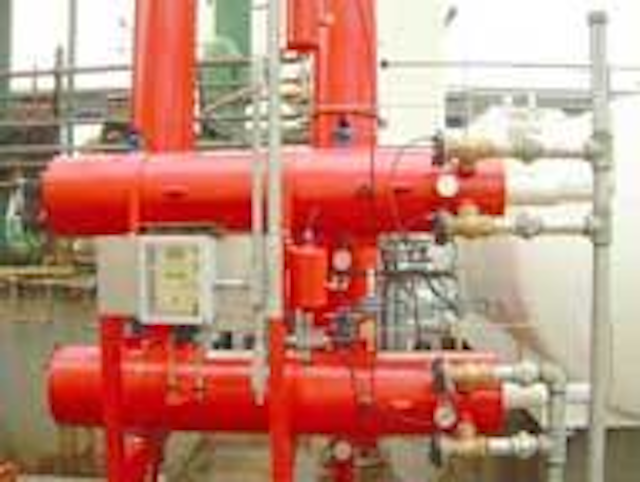 Click here to enlarge image
Orival filters are automatic, maintenance free and do not require power. They have been extensively used in municipal applications, using wastewater for pump seal protection, heat exchangers, air compressors, and irrigation. They feature stainless steel construction, are available in 1"-24" sizes and can flow 10-12,000 gpm.
Orival Inc.
Englewood, NJ
Tel: 800-567-9767
Web: www.orival.com
Compressor system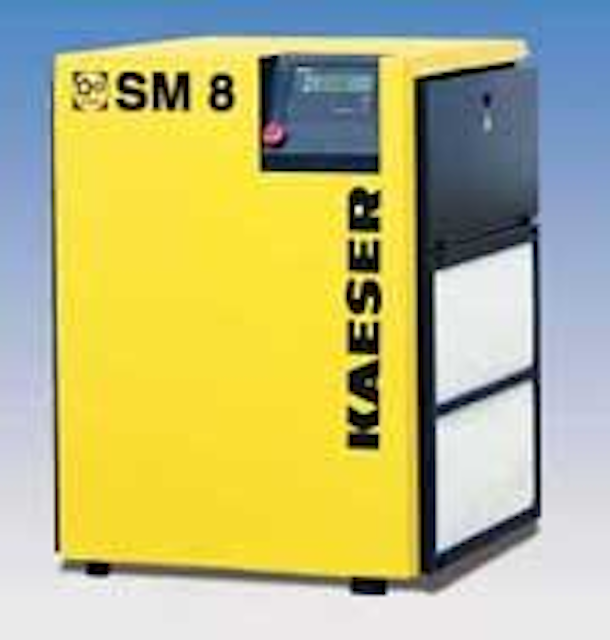 Click here to enlarge image
Kaeser has updated its SM Series 7.5 and 10 hp rotary screw compressor with the new Sigma Control Basic system. The SCB provides simple, reliable controls with consistent pressure control. A display provides operating status information as well as service and maintenance indicators. The SM series compressors feature the proprietary Sigma Profile airend, providing more air with less electrical consumption and offering pressures to 205 psig.
Kaeser Compressors Inc.
Fredericksburg, VA
Tel: 800-777-7873
Web: www.kaeser.com