Worked Up: Wringing the Jobs out of Water
How investment in water and wastewater infrastructure is not just good for public health and well-being - it's good for the economy
Apr 1st, 2013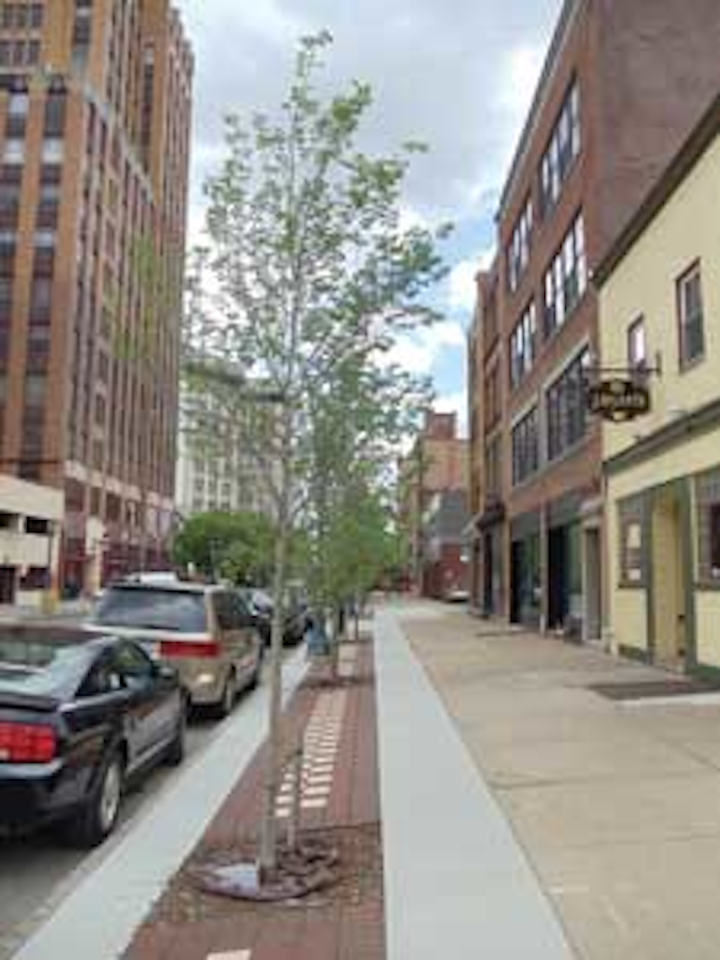 How investment in water and wastewater infrastructure is not just good for public health and well-being - it's good for the economy
When you consider current state of water and wastewater infrastructure in the United States, the statistics are nothing short of astounding. Our massive underground distribution and collection networks are failing, resulting in 240,000 breaks annually. Sewer overflows send 860 billion gallons of untreated sewage into our waterways every year. And, with some 16% of treated drinking water never making it to our taps, we're losing approximately 7 billion gallons of water every day.
The urgency around upgrading and expanding our water and wastewater systems is growing - but so is the price tag. The U.S. Conference of Mayors estimates it will cost us between $2.5 and $4.3 trillion over the next 20 years (2009-2028).
There are myriad reasons to make the needed investment in water and wastewater infrastructure a priority: reducing water waste, safeguarding public health, and saving billions of dollars in non-revenue water loss. But equally compelling is the economic benefit of modern, healthy water and wastewater infrastructure.
A 2009 report from the Clean Water Council, coordinated by the National Utility Contractors Association (NUCA), demonstrated that water, sewer and stormwater management projects add significant value to the local economy. Specifically, it found that for every $1 billion invested in water and wastewater infrastructure, more than 26,000 jobs are created. That same investment results in total national output (i.e., demand for products and services in all industries) of between $2.87 and $3.46 billion.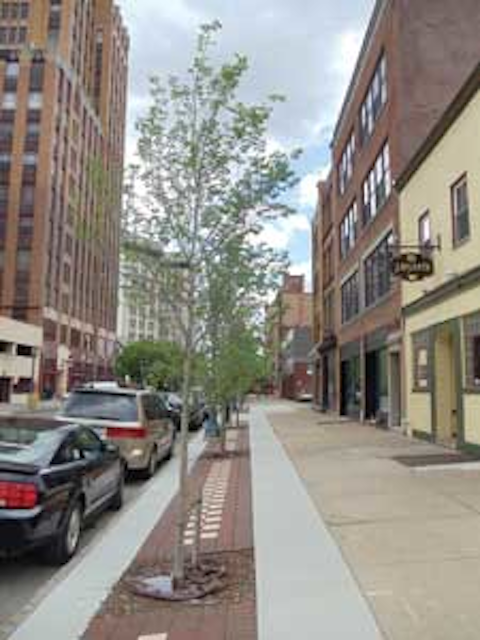 Tree plantings are important to Syracuse's green infrastructure stormwater management strategy because they will contribute to the capturing of the 250 million gallons of rain annually. Photo courtesy of Save the Rain.
The U.S Department of Commerce's Bureau of Economic Analysis further found that each job created in the local water and wastewater industry creates 3.68 jobs in the national economy, illustrating the far-reaching consequences of investing in water and wastewater infrastructure. The report noted that each public dollar spent yields $2.62 dollars in economic output in other industries.
The U.S. Conference of Mayors further noted that for $1 of public investment, private long-term Gross Domestic Product (GDP) output is increased by $6.35.
"Water infrastructure investment means jobs and it's got to be a top priority," said Amanda Waters, Government Affairs Counsel for the Water Environment Federation (WEF). This is the overarching message of WEF's Water for Jobs Campaign launched last fall. "We're trying to bring the water sector together in an outreach effort to send a clear message to congress," she said.
That's not an easy task. "There are so many different reports and so many organizations that are looking at this," she said. A key goal of Water for Jobs is to create a comprehensive website that compiles in one place the most recent and relevant resources to help water utilities make their cases.
Long-term, Waters envisions the site having a tool or calculator that could help a water utility quantify its capital budget in terms of its impact on the local economy - including job creation.
"That would help locally with justifying rate increases," she explained, "but it would also help those faced with a state, local or regional issue trying to make a case to congress."
Municipal public works projects are an essential part of a stable economy, she pointed out. "Showing that they are job creators not only gives them the respect they deserve but also justifies investment needs in order to ensure reliable systems of drinking water delivery and wastewater treatment."
RAINING JOBS?
Under the larger umbrella of drinking water and wastewater infrastructure, the stormwater sector is a niche where advocacy group Green For All sees significant job potential.
The organization's 2011 report "Water Works: Rebuilding Infrastructure, Creating Jobs, Greening the Environment" looked at a portion of U.S. EPA's 2008 Clean Water Needs Survey pertaining to capital needs for pipes, pipe repair, combined sewer overflow (CSO) mitigation, and stormwater management. They determined that this segment represented $188.4 billion in investment need.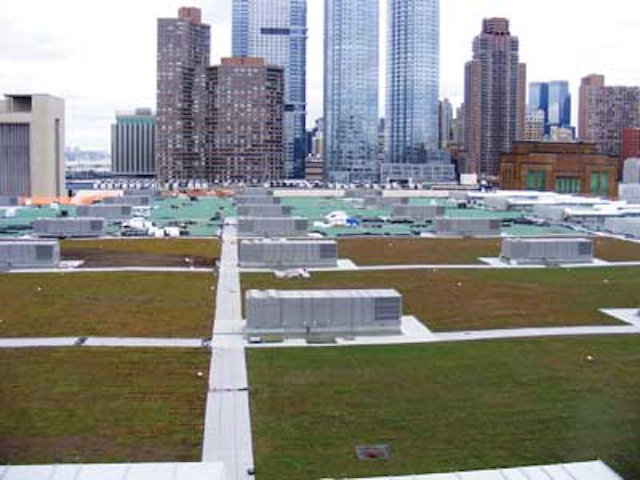 Green infrastructure sprouts across urban landscapes. A green roof atop New York City's Jacob K. Javits Convention Center will prevent approximately 6.8 million gallons of stormwater runoff annually. Photo courtesy of Xero Flor America.
The report found that if that investment were spread out over five years, it would generate $265.6 billion in economic activity (i.e., GDP growth) and create nearly 1.9 million direct, indirect, and induced jobs.
"There's enormous potential for jobs in the stormwater sector," said Jeremy Hays, Chief Strategist for State and Local Initiatives at Green For All and a lead author of the study. "And that's just if we fix the stuff that's broken now, that's keeping cities and regions from being in compliance with the Clean Water Act."
The report examined the types of jobs that would be created in the stormwater sector and found that most of them do not require advanced degrees. In fact, most require only a high school diploma with some post-secondary education or training, opening up job opportunities with "family supporting wages" for middle-skilled workers.
Some of the occupations identified in the report include pipelayers, plumbers, construction laborers, machinists, and water and wastewater treatment system operators.
"We're really focused on trying to create jobs that are accessible to people that have struggled to find middle class employment," Hays said. "And some of this green infrastructure employment is just that."
A comparable example, Hays suggested, is landscaping. "The median wage for a landscaper is about $18/hour," he said. "It's not something you could retire on but it's much better than minimum wage and it represents a really firm stepping stone on a pathway to a middle class career."
The report acknowledges that landscaping is indeed most closely associated with green infrastructure but notes that this field presents some challenges: low wages, limited benefits, and frequent employment violations. It is, however, a very accessible field to workers with low levels of education and training. The report suggests the key will be developing "well structured pathways to careers with associated education and training programs, skill certifications, and bargaining power for workers in the marketplace."
A good example can be found in Syracuse, NY. Onondaga County's "Save the Rain" program is a nationally recognized stormwater management plan intended to reduce pollution to Onondaga Lake and its tributaries through the use of green infrastructure. In its first year (2011), more than 60 projects were implemented - including a 60,000-square-foot green roof atop the Onondaga County Convention Center.
Complementing Onondaga County's ambitious plan is a robust environmental certification program developed by the State University of New York's College of Environmental Science and Forestry (SUNY-ESF). The Green Train Landscaping & Urban Ecology (GLUE) Workforce Training Program provides the knowledge and skills necessary for employment in the field of green infrastructure. It addresses two of Syracuse's critical concerns - poverty and sustainable development - by simultaneously training a local underemployed workforce and enhancing the urban landscape with environmentally conscious renovation.
Hays said, "The key questions are: How can we make the upgrades to our infrastructure that need to be made? How can we green our communities in the process? And how can we create economic opportunity for folks hit hardest by the recession and struggling to find their way into the middle class? We think green infrastructure represents that opportunity."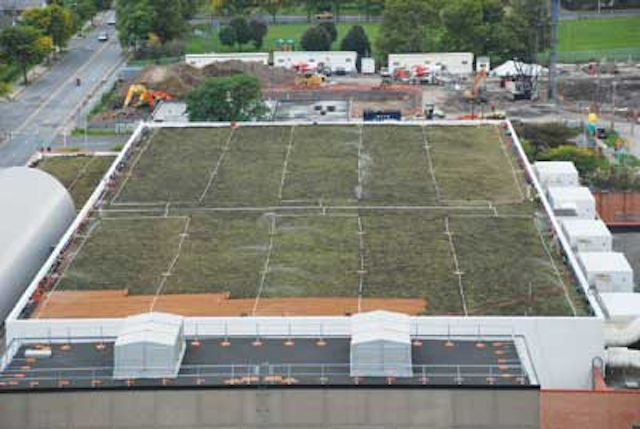 As part of Onondaga County's Save the Rain program, a 60,000-square-foot green roof atop the Onondaga County Convention Center will capture an estimated 1 million gallons of stormwater annually.
Hays acknowledged that things are tough in Washington right now. But despite water infrastructure spending cuts and sequester restrictions, Green For All believes now is the time to invest: it would create jobs at a time when we desperately need them; interest rates are at historic lows; and the economic downturn has rendered construction projects less costly.
In fact, the report suggests that delaying investment in water infrastructure until the economy has recovered would diminish the overall positive impact. Labor costs would be higher, the cost of financing would be higher, and with more available work and less competition, the costs of the projects themselves would be higher.
"We made the case in our report that this is the best time, right now, to get good job creation out of this," said Hays. But ultimately, it's not a discretionary spending item, he said. "We have a hole in our roof; we can either put a bucket under it and leave it for our grandkids to fix or we can get on the job and fix it now."
With more cities across the country - cities like Philadelphia, Seattle, Cincinnati, New York, Milwaukee, Portland, OR, Washington, DC, and Kansas City (see page 20) - adopting green infrastructure as a core component of their stormwater management strategies, Hays is encouraged.
"There's a lot of green infrastructure slated, already committed and funded," he said. "We're seeing more and more utility districts integrating it into the way they do business."
Ultimately, though, investment in water and wastewater infrastructure must become a national priority. Waters is optimistic that Congress is starting to get the message. "The Transportation and Infrastructure Committee's very first hearing in the 113th Congress was on the federal role in infrastructure," she pointed out. "While they focused a lot on transportation, water/wastewater/stormwater certainly did come up."
In her opinion, despite the widely lamented gridlock on the Hill, there seems to be a real understanding amongst the committee's members of the link between our economic vitality and the need to keep our infrastructure upgraded and competitive with the rest of the world.
---
By the Numbers
650 average number of water main breaks every day
16% percentage of treated drinking water lost on the way to taps
3.68 number of jobs created in the national economy for every one job in water and wastewater
26,000 number of jobs created for every $1 billion invested
---
Direct jobs Represents employment opportunities in industries, such as construction and utility sectors, that implement the actual work on projects
Indirect jobs Represents employment opportunities in sectors, such as manufacturing, that equipment and machinery to the direct industries
Induced jobs Represents employment opportunities created when income earned by newly hired workers and firms is spent throughout the economy
More WaterWorld Issue Articles
WaterWorld Articles Archives