Information Sharing: Conference to Focus on Industry Challenges
The municipal water industry is faced with a huge variety of challenges in this time of tight budgets, aging infrastructure, a graying workforce and increasingly tough regulations. These topics and more will be the focus of discussion at the American Water Works Association's annual meeting, ACE13, to be held June 9-13 in Denver, CO.
May 1st, 2013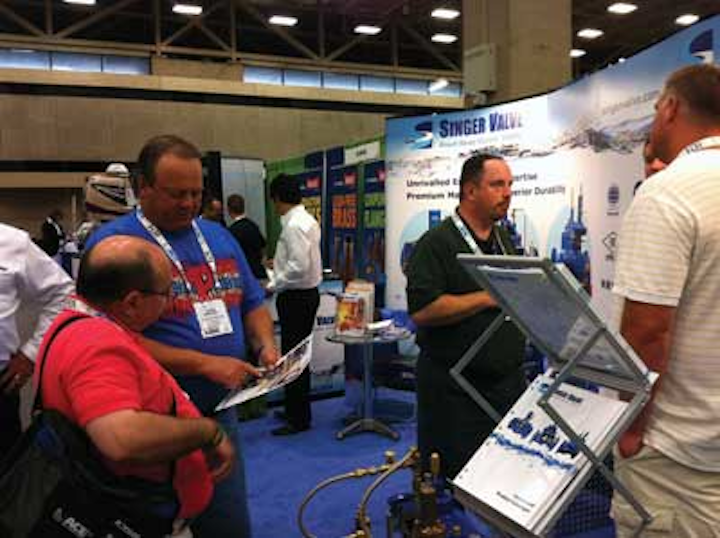 By James Laughlin, WaterWorld Editor
The municipal water industry is faced with a huge variety of challenges in this time of tight budgets, aging infrastructure, a graying workforce and increasingly tough regulations. Customers expect more from their water utility but are reluctant to pay more, often voicing loud protests when rates are raised.
These topics and more will be the focus of discussion at the American Water Works Association's annual meeting, ACE13, to be held June 9-13 in Denver, Colo.
The ACE13 professional program presents solutions to water sector challenges in more than 17 defined tracks. The conference agenda includes more than 900 expert presenters, covering everything from sustainability, conservation and water efficiency, legislative and regulatory issues, residuals challenges, water resources management, infrastructure maintenance to public affairs and more.
More than 500 service providers will exhibit at ACE13, showcasing innovative products and services for all aspects of the water industry for everything from pipes to valves, meters to hydrants, engineering services to tank-related companies, membrane filtration systems to laboratory equipment, and security to wastewater. Exhibitors will offer expert insight and hands-on understanding within their booth space and in the new Roundtable Solution Sessions.
"This year we organized our entire technical program in such a way that we are presenting the solutions to today's water utility challenges," said Cynthia Lane, Director of Engineering and Technical Services at AWWA. "We are not just focused on drinking water utilities; these are solutions that can be used by any water utility."
While the conference will cover virtually every aspect of water, this year's event will have a few reoccurring themes:
Communicating the value of water to customers and stakeholders
Solving infrastructure challenges
Core regulatory concerns for the water market
New and innovative water treatment processes
Communication
A session on Monday afternoon will include advertising agencies discussing the campaigns that they developed on behalf of water utilities and other organizations. They will talk about how their messaging campaigns were created and the type of impact they had.
"We also have a full session on Tuesday developed by our public affairs committee that will talk about how you communicate issues to your stakeholders and what are the different methods that have worked for other groups," Lane said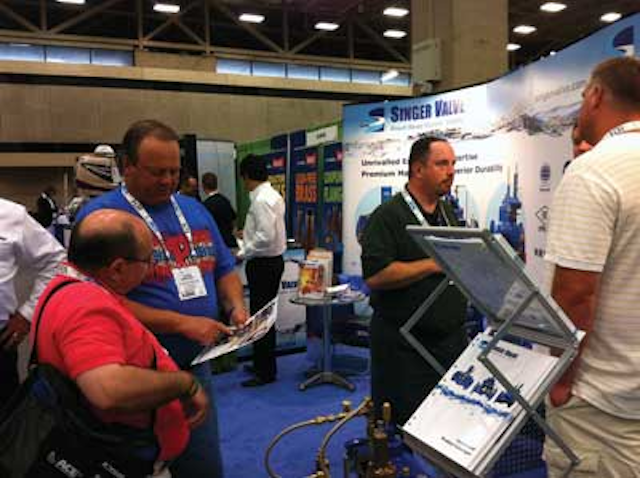 Communication sessions will delve into "how you manage your digital campaigns in such a way that you can communicate the extreme importance of water and generate a relationship with your stakeholders, so when you go to ask for rate increases or ask for a major commitment from your stakeholders, they trust you and buy in to what you recommend," Lane said.
She noted that a lot of utilities are developing extensive websites and are switching over to email for communicating with their customers.
"How do you make that transition from what we have traditionally done, which was very much mail-based, to the online component?" Lane said. "Whether that's for bills or important messaging campaigns, the way we communicate is changing."
Sample sessions include:
MON01 - Got Water? Creating Advertising Campaigns That Get Noticed
TUE01 - A Comprehensive Guide to Communicating Special Issues to Stakeholders
TUE18 - Engaging Stakeholders through Social Media and Digital Communications
WED16 - Value of Water Campaigns: Lessons Learned
Infrastructure challenges
Utilities across the country are faced with the challenges of aging infrastructure. Financing, alternative project delivery and asset management will all be in the spotlight at ACE13
"We have two entire tracks dedicated to capital projects and asset management," Lane said. "Those touch on how you actually manage your infrastructure - how you can gain a better idea of what you have to replace - so that you can set up the correct funding mechanism to replace that infrastructure when it phases out."
Tuesday morning will include sessions that focus specifically on distribution asset management. Another session on Wednesday morning looks specifically at pipeline projects.
Sample sessions include:
TUE09 - Successful Approaches to Strategic Financial Planning and Rate Setting
WED07 - Creative Solutions to Water System Challenges
THU04 - Project Delivery - Alternatives, Challenges, and Successes
Core regulatory concerns, including EPA's lead free regulation, will be a primary focus.
"We also have a session focused on the current regulator climate, including what's going on with the Total Coliform Rule, and what's going on with some of the new EPA contaminant regulations that are coming out," Lane said. "On Thursday morning we have a discussion on drinking water and public health that features people from the U.S. Centers for Disease Control and Prevention talking about some of the work they are doing and how some of the microbial impacts may trigger regulations down the road."
Sample sessions include:
TUE02 - Regulatory Retrospectives
TUE19 - Regulatory Update: What's Happening Now
WED01 - Regulatory Compliance Issues
WED18 - No-Lead 2013: What You Need to Know
Treatment technologies
A host of new technologies will be on display at ACE13. One big challenge, however, is the slow pace of adoption for new treatment systems. A session on Monday will discuss overcoming challenges to innovation in the water industry.
"The session will look at how we can innovate and develop new technologies and also comply with EPA regulations," Lane said. "We have several tracks dedicated to advanced treatment concepts and new treatment technologies using biological filtration and biological treatment processes, which is becoming a newer treatment technology being considered by utilities and regulators across the U.S."
Sample sessions include:
TUE16 - Exploring Advanced Treatment Concepts: GAC, Biological Filtration and Membranes
TUE31 - Finding the Edges of Biological Treatment
WED13 - Desal and Membrane Technology Challenges and Solutions
WED34 - Biological Treatment - Novel Sustainable Solutions for Contaminant Mineralization WW
---
Communication Key to Stakeholder Education
Communicating with your customers is key in this age of rising water rates and aging infrastructure. While email, digital media and websites are all new methods of communicating with customers, traditional face-to-face meetings with community groups are still one of the most effective ways of engaging stakeholders, said Greg Flores, Vice President of Communications and External Relations for the San Antonio Water System.
"We rely very heavily on grass-roots communication," Flores said of his utility. "We will physically go out and speak to neighborhood associations, homeowner associations, go out directly to the rate payer and insure that they understand what we are asking for and what the need is."
Flores will moderate a session on Tuesday morning at ACE13 titled, A Comprehensive Guide to Communicating Special Issues to Stakeholders. The session will feature speakers from San Diego, Denver, Orange County, and the Central Arizona project discussing lessons they've learned in relationship building with customers.
San Antonio Water System (SAWS) is nationally known for the work that it has done on water conservation. SAWS has the nation's largest direct recycle water system and one of the nation's largest aquifer storage and recovery systems. In February, the district passed a rate increase to help build a desalination plant.
While the water bill may be the lowest household bill when compared to gas, electric and cable, customers often object when rates are increased, Flores said. Informing customers about the need for those increases takes a multi-faceted approach to communication.
"We use a lot of different mediums in terms of newsletters, e-newsletters, Facebook, Twitter, traditional advertising like billboards, and other kinds of PR events in the community," Flores said.
Still the grass roots approach can be very effective, despite the amount of work involved.
"It takes a lot of manpower to be able to get out and touch every neighborhood association in the city and explain what's happening and mitigate those loud voices of resistance," Flores said
"We go out and proactively try to earn a license to operate from our community," he said. "If we can help them understand what the need is, what the investment is, nine times out of 10 they will support it even if it means pulling a little more out of their pocket. That's what gives us our license to operate."
During Tuesday's session, speakers will discuss examples of how to effectively reach different stakeholder audiences based on their specific needs and interests. Topics include:
Helping Customers To Do More With Less, presented by Darcy M. Burke, Municipal Water District of Orange County.
Consistent Community Relationship Building Fosters Long-Term Support, presented by Mitch Basefsky of the Central Arizona Project.
More Than Toilet-To-Tap: Conducting Outreach For San Diego's Water Purification Demonstration Project, presented by Marsi A. Steirer, San Diego Public Utilities Department.
Bridging The Divide Through Youth Education, presented by Rob Buirgy, Denver Water.
The Forgotten Utility Audience: Employees, presented by Sabrina A. Hall, Denver Water.
Customers and Clients, Critiques and Concerns: Toward a Paradigm for Policy Analytic Success, presented by Joshua Joseph, CH2M HILL.
More WaterWorld Issue Articles
WaterWorld Articles Archives