Weathering the Storm: Cities Swamped by CSO/SSO Consent Decrees
WaterWorld interviews Bob Woodhouse, Wet Weather Practice Leader at MWH Global, to learn his thoughts on the challenges of addressing combined and separate system overflows today and looking ahead over the next few years.
Feb 1st, 2013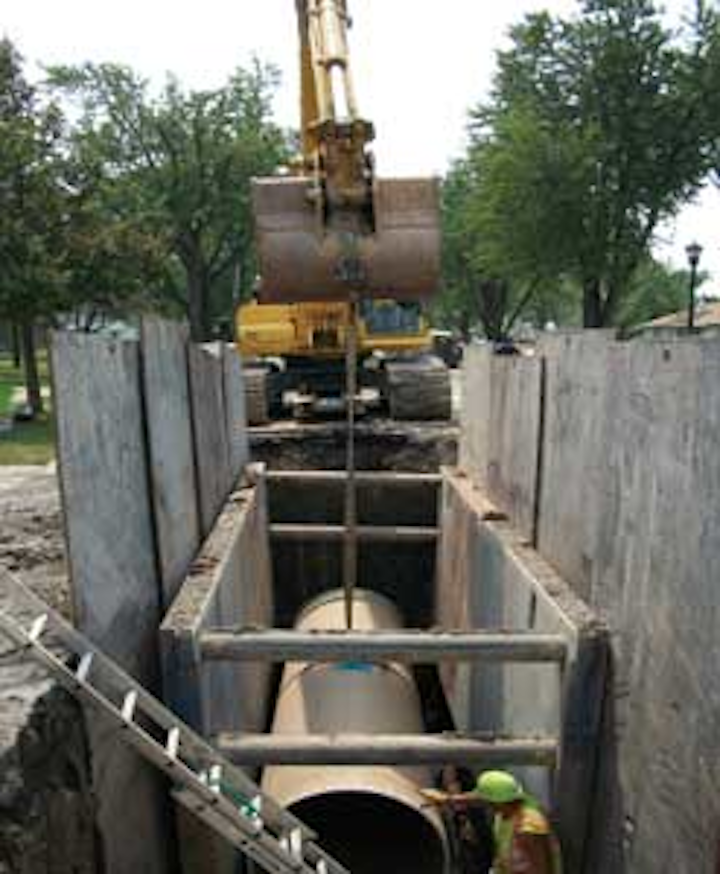 Bob Woodhouse, Wet Weather Practice Leader at MWH Global, shares his thoughts on the challenges of addressing combined and separate system overflows today and looking ahead over the next few years.
Utilities large and small across the country are facing a growing challenge in meeting compliance issues related to combined sewer and separate sewer overflows. Many cities are faced with multi-million dollar CSO/SSO consent decrees while at the same time struggling with aging infrastructure and falling tax revenues.
To gain a better feel for how the consulting community views the issues facing utilities and what the future holds, WaterWorld interviewed Bob Woodhouse, Wet Weather Practice Leader at MWH Global, to get his thoughts on the challenges he sees in the industry today and looking ahead over the next few years.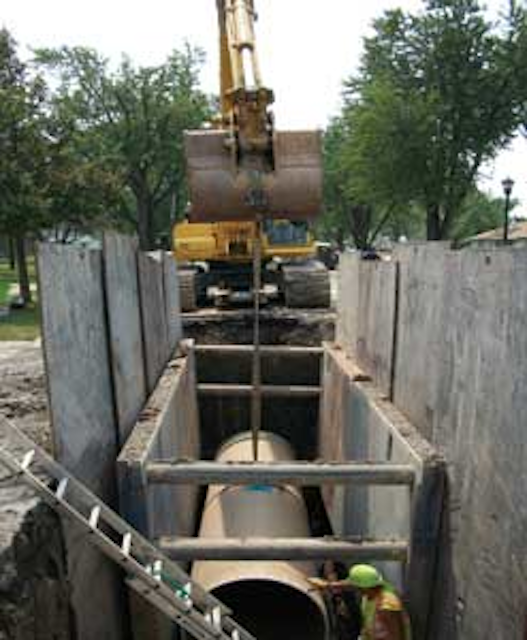 The Town of Tonawanda, NY, has been challenged recently to address its Sanitary Sewer Overflows. In 2006, a major collapse occurred on the Parker-Fries Interceptor that required a costly repair and could have resulted in significant basement backups.This major interceptor became the first project in the Town's complex and cost-intensive program to address the poor overall condition of its sewers.The comprehensive plan in­ cluded considerations of the existing interceptor alignment, utility conflicts, Parker Pump Station operation, subsurface geotechnical conditions and impacts to the residents. Hobas pipe was specified on the project, which included both direct-bury and pipe-jacking applications.
WW: What do you see as the challenges in the municipal water market regarding CSO/ SSO compliance issues?
WOODHOUSE: Affordability is the number one issue in every city. The needs are signifcant in water, wastewater and stormwater - not to mention roads, bridges, libraries, police stations, fre stations, etc.
The key challenges I foresee in the industry today are:
Consent decrees that create unbalanced capital improvement plans that prioritize work on wastewater systems over other important utility systems in need of attention, including stormwater and water systems; and consent decrees that prioritize investment in relatively advanced wastewater treatment processes, i.e., gray infrastructure capital upgrades, the water quality cost-effectiveness of which has not been fully vetted.
High profle asset failures due to deteriorating infrastructure and the lack of funds to take preventive actions.
The upcoming "retirement cliff" that most utilities will face in the next 5+ years. As they lose experienced, knowledgeable staff, utilities need to ensure retention of the knowledge and skills of current staff needed to continue to provide services and comply with regulatory requirements (including consent decrees).
Increased ser vice expectations by ratepayers and other stakeholders. As an example, Atlanta's customers are expecting higher levels of service based on the high rates they are paying - in terms of responsiveness to address ser vice issues as well as a growing expectation that "fooding issues" are part of the utility's responsibility.

WW: Do you see the pace of enforcement slowing or accelerating over the next few years?

WOODHOUSE: I think that the enforcement and the development of alternative options for CSO/SSO control will continue for the foreseeable future and at least the next four years. Although it appears as though the intention of the EPA will be to maintain or increase enforcement, the reality will be determined by federal budget decisions.

The enforcement agencies are strapped for funds just like the utilities are, so they are unlikely to be able to signifcantly accelerate enforcement activities in the near term. I've sensed a trend to try to push more enforcement activities to the state level, but again the funding/staffng is probably not available at the state level.

Enforcement actions are frequently driven by NGOs (non-government organizations, such as environmental groups) that force action through the courts, resulting in consent decrees in lieu of ongoing lawsuits. The pressure from those outside groups is likely to increase unless a utility can maintain an excellent track record of compliance and coordination with these important stakeholders. Given funding constraints, that will be increasingly challenging for most utilities.

The combined total cost of the water, storm and sewage utility systems are still not within the EPA's Affordability Analysis. This will be a challenge in the next few years as EPA has indicated that they wish to focus on Clean Water Act issues and to not include drinking water in the analysis. The US Conference of Mayors and other local and state government associations will argue strongly that EPA must re-examine out of date guidelines such as the 1997 affordability criteria and framework.

It is unlikely that the enforcement pace can increase without any substantial economic aid to cities and operating agencies. With rare exception these entities are fnancially strapped and, in the current economic situation, increasing rates is practically, if not politically, impossible.

WW: Do you see the pace of CSO/ SSO-related construction accelerating or slowing?

WOODHOUSE: We have seen construction slow over the past three years as owners delay projects due to affordability and funding issues. As a result, some utilities have requested schedule adjustments on enforcement driven projects, and construction in many areas has slowed to address only critically needed projects. We see encouraging signs that construction pace will improve, but in this slowly recovering economy, construction activity is likely to lag another year.

In most areas, communities are staying on track with current projects. However, even with projects that have defned consent decree schedules, the challenges of continually changing economic funding could slow their implementation.

A quicker construction pace will depend on economic recovery and the political will to proceed with sewer and other infrastructure projects. With limited funds, utilities are unlikely to tackle big CSO or SSO issues unless they need to invest in large wet weather capital projects per a consent decree (or similar compliance document).

I think one of the real challenges for a utility is garnering the political backing to undertake the large projects. With limited funds that most cities see today, investing in large CSO/SSO projects is a hard sell to the citizens and ratepayers.

WW: Funding is an obvious challenge in addressing CSO/SSO issues. Are you seeing anything new or innovative in the way projects are funded? Any trends?

WOODHOUSE: There are no easy answers to funding. Agencies fund projects either with debt or with equity. The good news is that municipal debt rates are at historic lows and those who can borrow the money face the lowest costs we've seen in a very long time. Equity, of course, comes primarily from rate payers. Unless agencies are already generating sizable margins or are working with established reserves, the implications of funding large CSO/SSO projects include raising rates, sometimes substantially. Agencies face challenges there, including issues of affordability for their communities. Right now, deferral of spending will be the politically acceptable choice - unless spending is required by a court order.

Mostly, implementation of these types of projects is going to require agencies to take a hard look at their fnancial plans, engage with their rate payers about the importance of these projects and the responsibilities to pay, and to prepare rates that match the need with community objectives. We are seeing an increase in public/private partnerships as owners continue to search for innovative ways to fund projects. Although there are numerous ways these can be structured, one way in which MWH has found success is through Energy Savings Performance type contracts.

More stormwater districts are being formed to fund stormwater projects under Municipal Separate Storm Sewer Systems (MS4s). The creation of stormwater districts can provide a mechanism to secure needed dedicated funds to address issues in the stormwater utility systems. However even this approach requires ratepayer support for what they perceive as yet another fee.

WW: Are you seeing any new trends in treatment or system design that could help cities reduce the cost of addressing CSO/ SSO issues?

WOODHOUSE: Utilities need to take a hard look at system maintenance as part of the overall approach to reducing discharges. For example, a good grease program can lead to signifcant improvements. A comprehensive CMOM approach may help to identify cost-effective solutions in addition to simple capacity relief and sewer rehabilitation projects.

In Atlanta, recent analysis showed that the majority of the remaining SSO spills are due to maintenance needs rather than capacity issues. That argues for slowing down the rate of capital expenditure and investing in better inspection and maintenance activities to most cost-effectively reduce discharges. Along the same lines, MWH has helped craft public outreach and education programs related to keeping grease out of the system and education for ratepayer on the upkeep of private laterals.

Utilities will need to continue to look for ways to free up money by effciency gains elsewhere in the operation. I think this is equivalent to making the best allocation of the 'equity' portion of the fnances. At a high level, all the revenue collected is used for operations, projects and/or debt service. So if operating effciencies can be gained, then more money can go toward projects without further impact to the ratepayers. Along those lines, MWH assesses business processes to identify opportunities for streamlining and operational improvements. This may involve investments in technology improvements (such as computerized maintenance management systems [CMMS] and data warehousing), in addition to green and gray infrastructure.

For separate sewer systems, the most cost-effective approach is still fnding that right mix of Infltration and Inflow (I/I) removal and capacity improvements. The big challenge continues to be how to achieve necessary I/I reduction without getting into the private lateral systems where a good majority of the flow originates.

For combined sewer systems, the traditional solution is still storage and treatment. However, the opportunity to employ both green and gray solutions is taking shape for many cities. The challenge then becomes how you fnd the optimum mix of green and gray infrastructure to meet the long-terms needs of the community for regulatory compliance and to demonstrate that you are spending precious funds wisely in a manner that provides the highest overall beneft to the community. I believe green/gray solutions provide opportunities for reducing costs and providing a better environment for the community under the triple bottom line (TBL) evaluation process.

MWH is leading the industry with the use of Integrated Catchment Modeling (ICM), which is an effective tool in understanding the tradeoffs of various combinations of green and gray infrastructure. This includes evaluation of low impact green solutions, evaluating centralized versus decentralized scenarios, and infrastructure risk management approaches for investment prioritization.

And fnally, local governments need to look at code requirements and other policies related to development. For example, some utilities require that developers pay 'impact fees' and hold the stormwater runoff and release it slowly, rather than having the utility take on the whole cost of dealing with increased flows to the system. This is one option that has been used to reduce discharges in a cost-effective manner.
---
Working to End CSO Discharges: Facility to Treat Peak Wet Weather Flows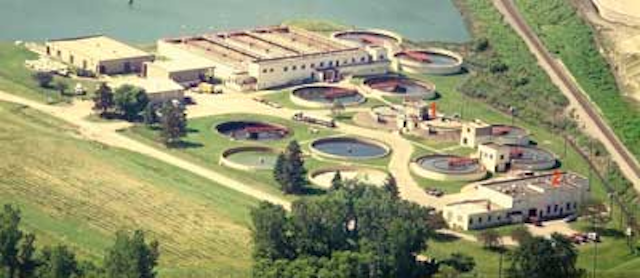 The City of Fremont water pollution control facility will be upgraded and expanded to handle peak wet weather flows.
Among the cities struggling with CSO issues is the City of Fremont, OH. The city has just awarded a $57 million contract for the construction of a 24 mgd treatment plant to capture the vast majority of flows during large storm events.
MWH Constructors will provide preconstruction and construction manager-at-risk (CMAR) services to build a new Fremont Water Pollution Control Center (WPCC) in what will be the largest public project ever undertaken by the city.
The existing wastewater collection system was built in 1949 and is a combined sewer overflow (CSO) system that conveys dry weather flow to the wastewater plant at approximately 6 mgd. The current plant is sized to effectively process the dry weather flow, but during wet weather events the combined raw sewage and stormwater is greater than the collection system and plant capacities. The result is overflows into the Sandusky River, which has important recreational value to the community and is a spawning area for Lake Erie Walleye game fish.
Construction is scheduled to begin this spring with a completion date of December 2015.
Jeff Lamson, superintendent at the Fremont wastewater facility, said the project is the first phase of a 20-year plan to prevent combined sewer overflows.
"We are building a facility that will peak at 24 mgd for wet weather events to reduce the number of CSOs. Whether that will completely eliminate them or not, we don't know. Once we have it operational EPA has given us a two-year period of time to study the situation. Then, if we still need to do additional work, we will have a couple options. One is to build a 36 mgd high rate treatment system. Or we might be able to use some existing tanks for equalization basins."
To help finance the construction project, Fremont has had to raise wastewater rates substantially, with increases of 16% and 13% in the last two years and similar increases planned for the next couple years, said Mayor Jim Ellis.
"Unfortunately, we as a community did not begin raising rates in years past to anticipate the costs of these improvements," he said. The recent increases "haven't put our rates off the scale in terms of the average for the state of Ohio or cities of our size, but it gave major sticker shock to our customers."
The city's aging sewer system includes some brick sewers and is in need of renovation. The combination of having to finance sewer system repairs plus meet CSO rules will be a struggle for the community, where the median household income is about 20 percent less than the state average.
"We would like to back off the rate increases, but at the same time we need to build up our reserve in case we have to spend more money on CSO compliance and also to rehabilitate the system," Ellis said. "If we can avoid spending $40 or $50 million after we spend $55 to $60 million doing the plant improvements and a bypass, hopefully we will go back into an era of cost-of-living type increases for our system."
Despite the challenges, Ellis said the citizens of Fremont want to be good stewards of the environment. The health of the river is important to the city both environmentally and economically.
"The good news is that EPA appears to be recognizing that their approach to the CSO issue hasn't been working as well as it could have. The information we are getting is that they really want to develop more partnerships with communities to address the issues," Ellis said. "We are certainly spending enough money that they see we are serious about getting a handle on the problem."
http://www.waterworld.com/index/current-issue.html">More WaterWorld Current Issue Articles http://www.waterworld.com/index/Past_Issues.html">More WaterWorld Archives Issue Articles