System Provides Automated Wide Area Surveillance for Water Agencies
Traditional systems available for water agencies in electronic security have typically included passive devices such as closed circuit TV with tape or digital recorders, perimeter fence intrusion systems and motion detection sensors.
Nov 1st, 2006
Traditional systems available for water agencies in electronic security have typically included passive devices such as closed circuit TV with tape or digital recorders, perimeter fence intrusion systems and motion detection sensors.
New technology from PureTech Systems Inc. allows wide area surveillance systems to convert cameras into smart sensors that can detect, track and classify objects in specific regions created around the critical infrastructure being protected. The company's PureActivTM system uses advanced algorithms to minimize the number of false alarms from changing lighting conditions, wind induced camera movement and objects that are of no interest (i.e. tree branches and leaves). The system also can automatically steer one or more cameras to the location of a perimeter breach identified by a fence intrusion detection system.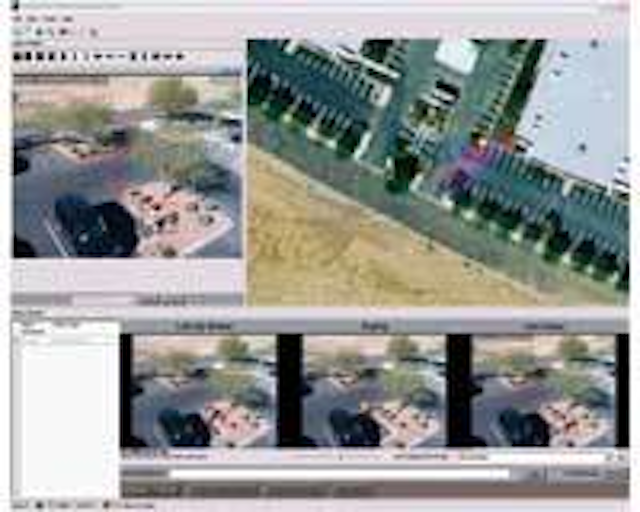 PureActiv Object tracking in both video and map space
Click here to enlarge image
At a utility's SCADA control and monitoring center, the operator reacting to an audible alarm is presented with a GIS-based site map with the precise location of the alarm; a still image of the alarm event, a recorded video clip of the alarm event, live camera views, and pre-determined response instructions. The software includes video analytics that automatically detect, classify and track the object until the operator takes manual control of the camera.
The system has had a successful pilot test at a water utility in the Southwest. Because of security concerns, the utility asked that its name not be used. After the pilot, additional facilities and functions were added to the system. A water treatment plant was added that included more than 50 cameras and several different integrated perimeter systems, covering over a four mile perimeter.
The PureActiv Wide Area Surveillance System provides a number of features and benefits that directly address the security needs of water agencies. Some of these features include:
Object Detection, Classification and Tracking -
This system allows for detection of moving objects of significance while ignoring motion due to changes in lighting and weather conditions. After an object is detected, the software is able to determine if it is a human, car, truck or of another object type or class.
By classifying the object, the system is able to track only the objects that present a security risk and command pan-tilt-zoom (PTZ) cameras to follow them. In addition, rules can be pre-configured to detect particular activities such as classified objects moving in a specific direction, crossing into or out of a detection zone, speeding, loitering, and left behind objects, while ignoring objects that do not meet the specified criteria.
Geographical Map Presentation -
Because water utilities typically have their assets distributed over wide geographic areas, a geographic mapping technology is used to provide a comprehensive common operating picture that includes the location and position of facilities, critical assets, surveillance equipment, cameras and their fields of view, real-time object tracks, and alarms right on the map. This provides the operators a "real world" perspective of the sites under surveillance.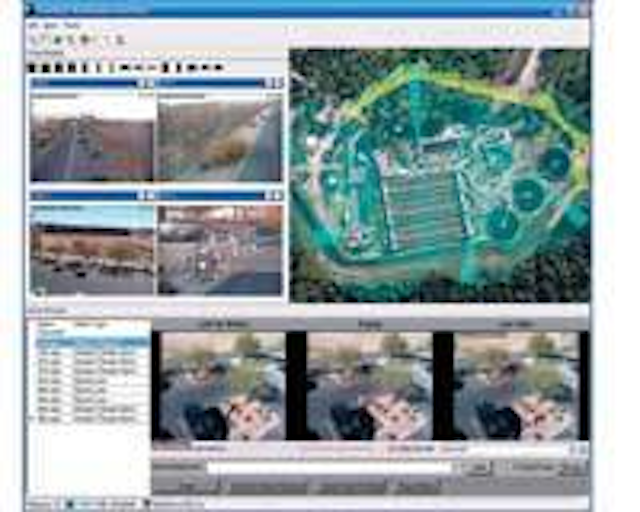 Example Layout showing camera coverage.
Click here to enlarge image
In addition, an "interactive" GIS layer allows security personnel to steer one or more cameras to a precise geographic locations by simply pointing and clicking on the GIS map. These systems can be integrated with existing GIS databases that may already be in use by the water agency.
Automated Camera Steering -
The system can automatically position cameras to look directly at the point of intrusion, without requiring camera preset programming or relay contacts between the camera and the sensor. This feature allows security personnel to respond to the situation and not be burdened with manually tracking the intrusion.
Fence Intrusion Detection -
The system can be linked to fence intrusion systems, such as Southwest Microwave's Intrepid Micropoint. It pinpoints intrusions on the GIS map and integrates with the automated camera features to automatically position one or more cameras to look at a point of intrusion.
Scalable Video Distribution -
A single operating picture provided by the GIS enables centralized access to all video camera feeds from multiple sites, eliminating the need for operators to determine which remote server to access to view live or recorded video. Operators simply click on the camera located on the map that they need to view.
The system distributes video using standard IP networking protocols. This allows operators to view video using any device that has an IP network connection, including browser enabled and hand held computers.
Video Authentication -
To ensure that recorded video is unaltered, a state-of-the-art algorithm is used to generate a secure digital signature for every frame of video. The feature also allows for the video to be admissible in court proceedings.
Automated Security Policy Response -
The system incorporates an automated response feature that allows security managers to configure the system to execute their policies including first responder instructions and automated responses to particular events. This assures that the security operator and any system that is integrated takes the proper course of action.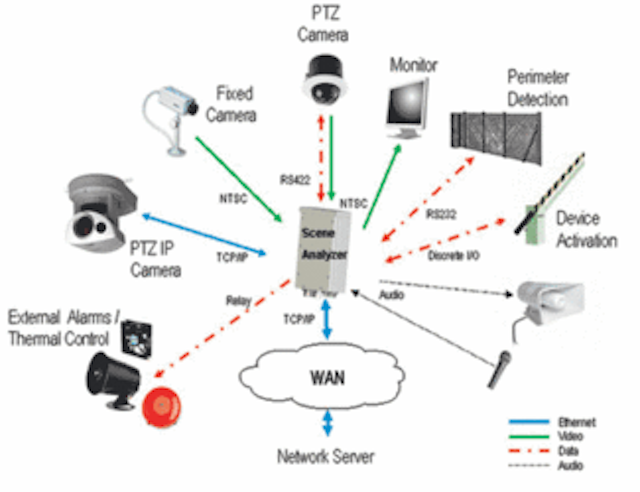 Typical Control and Command Interfaces.
Click here to enlarge image
The alarm notification feature allows security mangers to define a contact hierarchy. If personnel or systems that are contacted are unresponsive, the alarm escalates up the hierarchy until the alarm is properly acknowledged. In addition, the system can be configured to take specific actions such as turn lights on or off, lock doors or gates, sound an audible alarm, dial 911, place a synthesized voice call to a cell phone or run a user developed program.
Open Architecture --
The PureActiv system is designed to be integrated with other systems. It also includes a centralized graphic network configuration tool which can be used to configure the operation of the entire system from any desk top location.
For more information on the system, and how a wide area surveillance system might be used to protect water infrastructure, visit the PureTech website. A white paper is available at: www.puretechsystems.com/html/whitepaper.htm