PRODUCT SHOWCASE
Sensus Metering System has released its newest handheld Automatic Meter Reading unit, the AR5000 series.
Sep 1st, 2006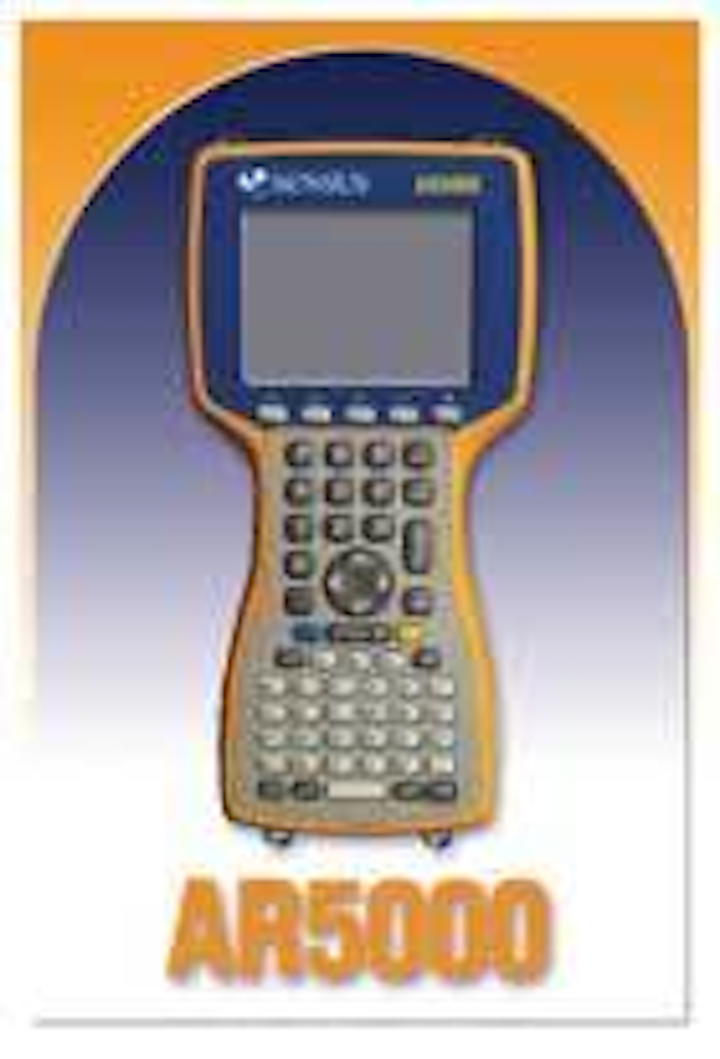 AMR handheld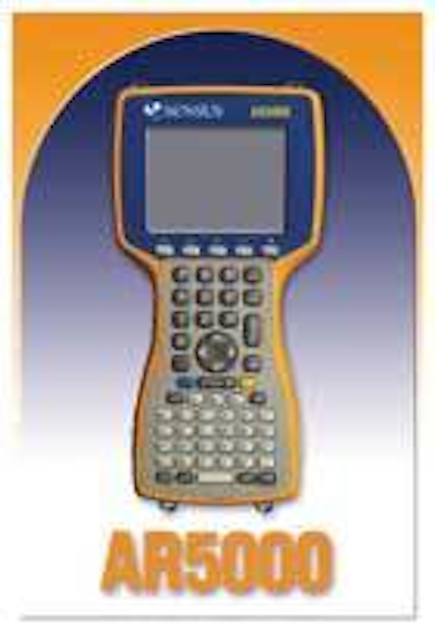 Click here to enlarge image
Sensus Metering System has released its newest handheld Automatic Meter Reading unit, the AR5000 series. Bigger and faster than industry-leading handhelds, the new series offers a lineup of features bundled together in a lighter package that is scaleable, with a built-in capacity to accept additional programming applications. The series includes the AR5001 and the AR5002. The AR5001 unit accepts data manually, via an expanded keypad section, or electronically, through both cable-connected and RF TouchRead System reading guns. When used with a reading gun, the handheld automatically stores readings from Sensus or compatible absolute encoders. The AR5002 model offers all of the same benefits, but adds the capability of reading and programming Sensus RadioRead MXUs.
Sensus Metering Systems
Pittsburgh, PA Tel: 724-439-7850 Web: www.sensus.com
Level transducers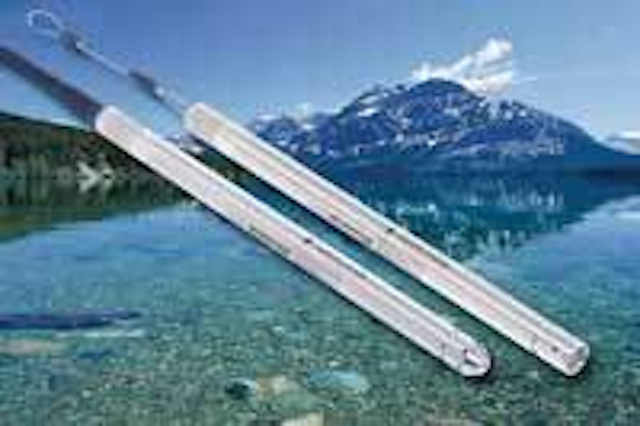 Click here to enlarge image
Pressure Systems now offers its waterMonitor submersible datalogging level transducer in an absolute reference pressure format. The sealed reference design simplifies maintenance, since no vent tube or associated desiccant filter is required to guard against moisture incursion, making them ideal for a wide range of groundwater and surface water applications. In addition, a specialized configuration of this transducer, the baroMonitor, has been developed to collect corresponding barometric (atmospheric) pressure readings that compensate for errors in the absolute level measurements induced by changing barometric pressure.
Pressure Systems
Hampton, VA
Tel: 800-678-7226
Web: www.pressuresystems.com
Priming valves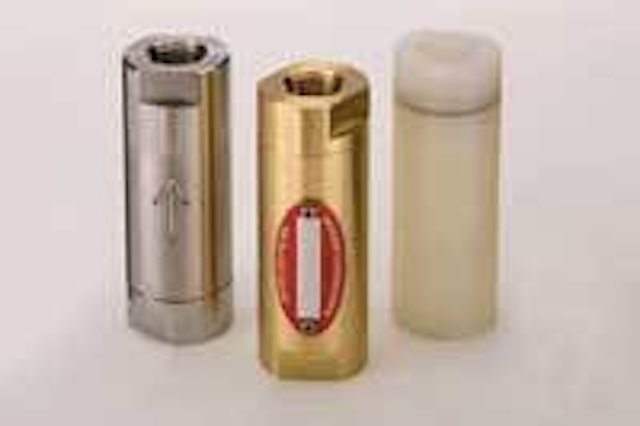 Click here to enlarge image
Wanner Engineering's C80 Series Airbleed Priming Valves automatically open to allow F/G-20 through D/G-12 Series Hydra-Cell pumps to self-prime by relieving the system of trapped vapors or air rather than compressing the gas and causing pump airlock. The valves then automatically close to provide immediate full system pressure. The valves are available in a variety of materials of construction and mount horizontally or vertically to satisfy various application requirements. They are designed for operation in systems with a minimum discharge pressure of 75 psi, and are tested to handle pressure up to 2500 psi.
Wanner Engineering Inc.
Minneapolis, MN
Tel: 612-332-5681
Web: www.hydra-cell.com
Level switches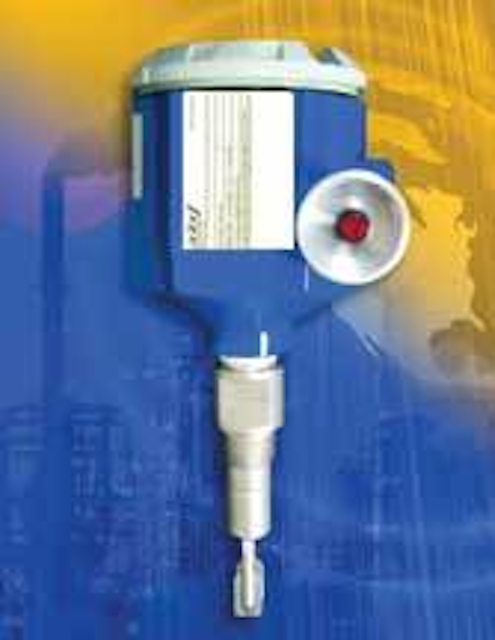 Click here to enlarge image
K-TEK has introduced the new Resonator™ line of Vibrating Liquid Level Switches. Created for use in a variety of chemical applications, including high viscosity environments to 20,000 cP, the product family includes the RS80 Vibrating Liquid Level Switch and the RS85 Multi-Option Vibrating Liquid Level Switch. Both devices are based on a tuning fork design. The RS85 also provides the industry's widest selection of probe materials; this makes the switch immune to coating or build-up and ensures accurate, repeatable operation, whether measuring water, thick lubricants, or sticky slurries. The Resonator features a one-step, external calibration process. The microprocessor-based design keeps the sensor in a resonant state as it changes from dry to wet or wet to dry conditions. This resonant frequency is unaffected by coating or build-up on the probe, allowing the level switch to make measurements without concern for specific gravity, dielectric constant, or mounting position of the sensor.
K-TEK
Prairieville, LA
Tel: 225-673-6100
Web: www.ktekcorp.com
Condensate filtration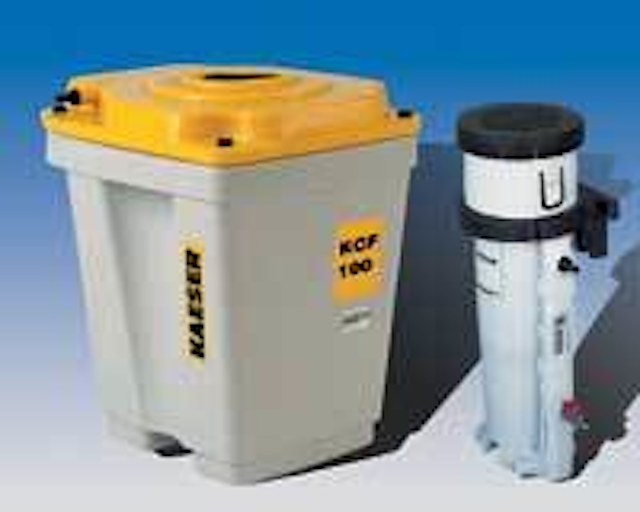 Click here to enlarge image
Compressed air condensate disposal is a major environmental concern. This oil/water mixture is classified as hazardous waste and cannot be discharged into municipal wastewater systems unless the oil and contaminants are removed. The Kaeser Condensate Filter (KCF) is designed to filter out oil and other contaminants making the water safe for disposal. The key to the KCF function is the three-stage, self-contained plastic filter cartridge, which is convenient for replacement and disposal. The unit requires no electricity and little maintenance. It is designed to handle most compressor lubricants and is available in two sizes. The KCF-20 is designed for flows of approximately 100 cfm, while the KCF-100 will handle flows up to 500 cfm. For larger flows, simply connect multiple KCF units together with an optional Flow Splitter.
Kaeser Compressors Inc.
Tel: 800-777-7873
Web: www.kaeser.com
Water security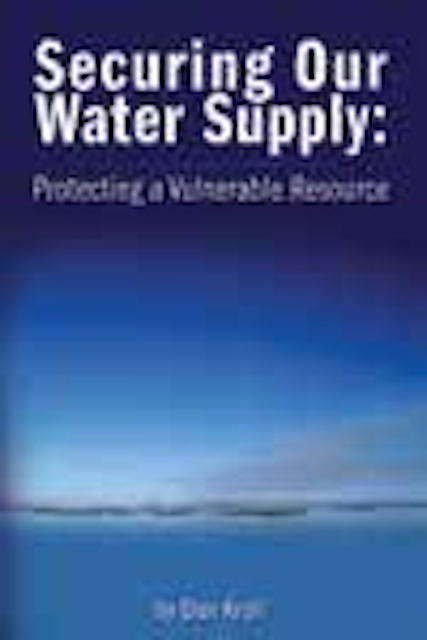 Click here to enlarge image
PennWell, the publisher of WaterWorld Magazine, has released the book Securing Our Water Supply: Protecting a Vulnerable Resource, written by Dan Kroll. The 200-page hardcover book provides a unique look at protecting all types of water facilities, equipment, assets and the general population. Kroll presents a basic primer of the threats to water infrastructure and the steps to prevent such an event. Benefits for readers: An understanding of the vulnerabilities in the water supply; countermeasures to prevent and respond to an attack on a water facility; and considerations for accidental or naturally occurring water contamination.
PennWell Corp.
Tulsa, OK
Tel: 800-752-9764
Web: www.pennwellbooks.com
Vane pump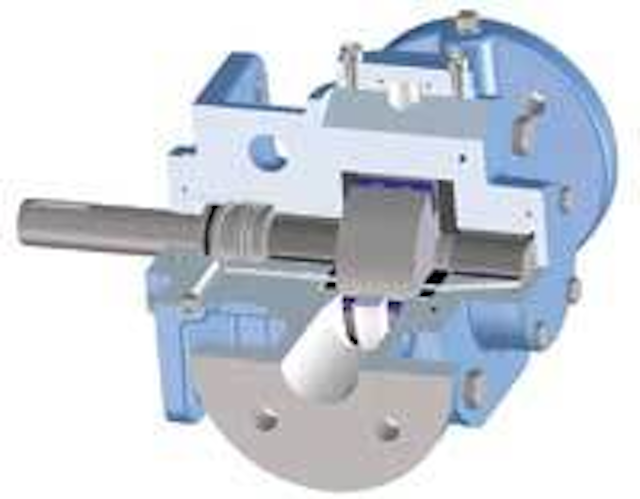 Click here to enlarge image
Viking Pump recently introduced its LVP series stainless steel Vane Pump. With 200 psi thin liquid capability, and capacities up to 200 gpm, the new pumps are designed for thin, corrosive liquids at higher pressures than other positive displacement pumps. The pumps are designed to minimize life-cycle costs, and their stainless steel casing is surface-hardened to 62 Rockwell C, reducing casing and vane wear. The standard chrome oxide coated shaft and silicon carbide bushings are extremely hard and long-lasting, and their PEEK® vanes offer high strength, low friction for less wear, and broad chemical compatibility. Draining and vane or seal replacement can be completed without removing the pump from its system.
Viking Pump, a Unit of IDEX Corp.
Cedar Falls, IA
Tel: 319-266-1741
Web: www.vikingpump.com
Electronic locks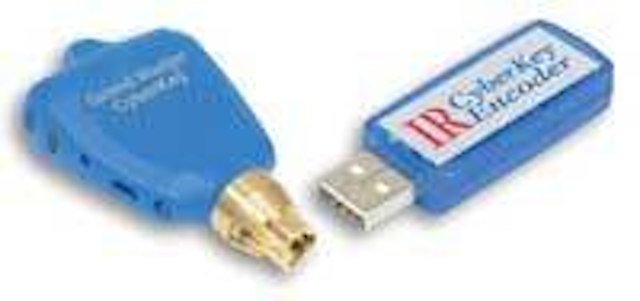 Click here to enlarge image
Videx announces CyberLock EntryPoint™ and CyberAudit-Web® Lite. EntryPoint is a hardware-only system that requires no programming software. It is ideal for companies that need a simple electronic lock system with cylinders that cannot be picked, and keys that cannot be duplicated. CyberAudit-Web Lite is designed for EntryPoint users that want to add the ability to set access schedules and view an audit trail from the locks and keys. EntryPoint is comprised of CyberLocks, CyberKeys, and a Grand Master key. The Grand Master contains a unique family code. It is used to program locks with this unique code by touching the front of the CyberLocks. CyberKeys are programmed with the family code by infrared communication between the Grand Master and the CyberKey.
Videx Inc.
Corvallis, OR Tel: 541-758- 0521 Web: www.videx.com