Project Restores Vital Water Supply Resource
By the end of the 20th century, it was obvious that bold action was needed to reverse the decades-old decline of the Sparta Aquifier...
May 1st, 2006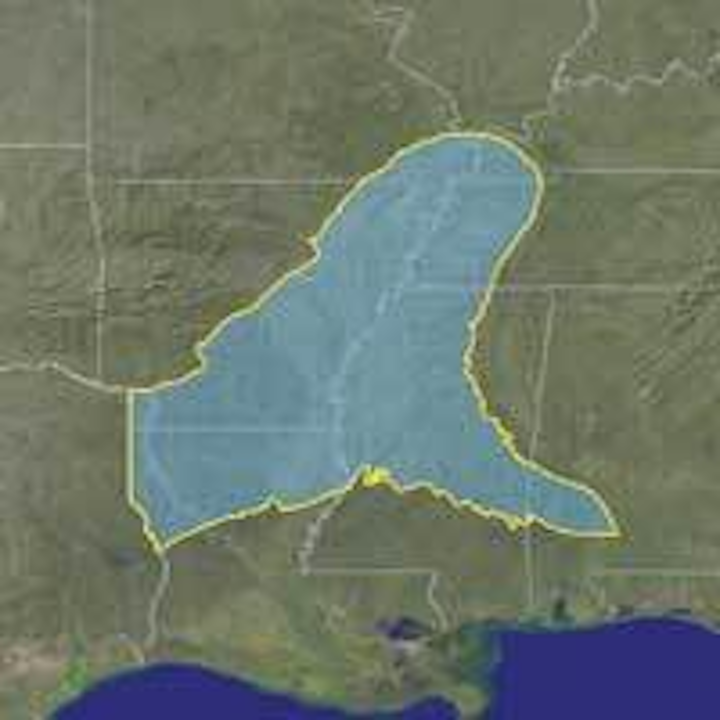 By the end of the 20th century, it was obvious that bold action was needed to reverse the decades-old decline of the Sparta Aquifer in south-central Arkansas and north-central Louisiana. As the primary water resource for all residents and businesses in the region, the aquifer was being depleted at an alarming rate, averaging 4.2 feet per year. By early 1999, the Sparta Aquifer water level had dropped to 180 feet below sea level and water quality was declining due to increased intrusion of saltwater.
The Sparta Aquifer works like a sponge, holding water in a gigantic subterranean expanse of porous sandstone. It covers thousands of square miles bounded roughly by the southern tip of Illinois, western Tennessee, central Louisiana and eastern Texas. The aquifer runs beneath roughly half of Arkansas in a line running from the northeastern to southwestern corners of the state.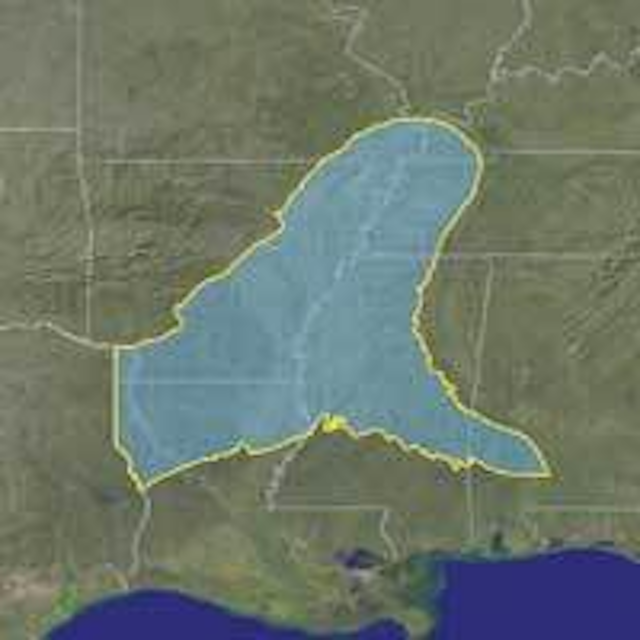 Click here to enlarge image
By the 1990s, the aquifer's lowest point of decline was centered in Union County, Ark., a relatively large population center in the south-central region of the state, just north of the Louisiana line. The problem was brought to light in 1996 when the Arkansas Soil & Water Conservation Commission (now the Arkansas Natural Resources Commission) gave Union County and four other adjoining counties a "critical ground water designation" after monitoring the regional water level sink rates. That finding was mirrored by the United States Geological Survey in a recommendation that consumption be reduced by a staggering 72 percent, or 14 mgd, in order to stabilize and conserve the Sparta Aquifer.
Recognizing the urgency of the problem, a coalition of Union County businesses, interest groups, legislators, and residents set to work. They focused their efforts on drafting a proposal that was passed into law in 1999 by the Arkansas Legislature enabling the creation of groundwater conservation boards with authority to take action to address aquifer depletion in "critical groundwater areas."
With seven municipalities, 22 rural water associations and 11 major industries, Union County was one of the heaviest users of Sparta water and consequently became the first to form a conservation board. In one of its first actions, the 11-member county board implemented a conservation surcharge of $0.24 per 1,000 gallons of water pumped from the Sparta. Proceeds from the conservation surcharge were used to fund a Master Plan to save the aquifer.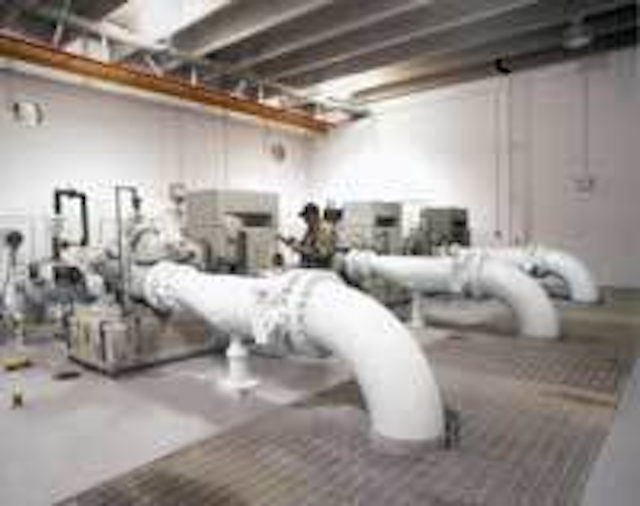 Booster pump station located near El Dorado, Ark.
Click here to enlarge image
Burns & McDonnell was engaged to formulate the Master Plan. Adding to the sense of urgency was regulatory approval of construction of a 2,205-megawatt (MW) gas-fired power generating facility in Union County. When completed, the power plant would approximately double water usage in the county.
The plan analyzed the feasibility of five options:
• Building facilities for aquifer storage and recovery;
• Building a dam and surface water reservoir within one of five area watersheds;
• Treating and reusing wastewater;
• Conservation of groundwater use;
• Building infrastructure to draw water from the Ouachita River.
The options of building facilities for aquifer storage and recovery and building a dam and reservoir system were dismissed as impractical for various reasons. Reservoir construction, for example, would have required high costs for land acquisition and construction, special permitting, and a project duration spanning many years.
Metering station with Lion Oil Refinery in background.
Click here to enlarge image
The option of treating and reusing wastewater for human consumption was dismissed because of perception issues. Water conservation would not result in sufficient reduction in groundwater use.
Likewise, the option of treating Ouachita River water to potable standards was hampered by the high cost of treatment, along with perception issues. The Ouachita River watershed contains large tracts of swamp land with decaying vegetation resulting in extremely high levels of organics in the river water. Bench scale testing of treatment methods determined enhanced coagulation followed by nanofiltration would be required to produce potable water.
Proposed Solution
So, Burns & McDonnell proposed a variation of the surface water option to the Union County Water Conservation Board. It called for removal of the power plant and other large industrial users from the aquifer by building a network of transmission lines, pump stations and treatment basins for water drawn from the Ouachita River. That water would not be filtered, but treated only for industrial use. By using the river as a source of raw water limited to non-potable industrial use, the municipalities and water districts could continue to use the Sparta groundwater. The cost of treatment of the Ouachita River water for future potable use could be delayed or eliminated if conversion of the industrial users to non-potable river water proved successful in recovery of the groundwater.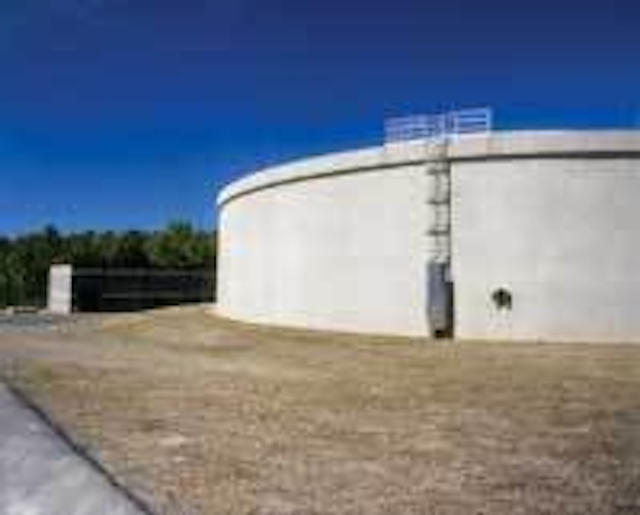 Storage tank and booster pump station in Union County.
Click here to enlarge image
Although some state and federal grant funds were obtained, local funding would be required for 90 percent of the $65 million project. Realizing this, a coalition of business and civic leaders united behind a proposed 1-cent sales tax to fund aquifer restoration. The effort was successful in February 2002, when Union County residents approved the sales tax by a 62-to-38 percent margin.
Phase 1 of the plan called for construction of a 65 mgd intake from the Ouachita River, industrial water treatment plant, pump station and five miles of 48-inch transmission main to serve the new power generating plant. Water treatment was limited to clarification and disinfection at the settling facility. The treated water would be pumped to the power plant and on to a storage tank/booster pump station located near El Dorado, where it would be pumped further to serve three more large industrial users.
Design and permit considerations included state roadway crossings, railroad crossings, lake crossings and wetland construction issues. Most of the pipeline alignment followed existing rights-of-way and easements for overhead power lines to minimize environmental impacts. Construction in wetland areas was closely monitored with insitu material segregated and replaced within the same strata after pipe was laid. Temporary fill material was allowed in construction but was removed within 90 days in order to prevent permanent damage to the wetland and ensure minimal disturbance.
Phase 1 was completed in 2002, with the power plant's owners, Union Power Partners, paying the $52 million cost of building the water infrastructure to the plant site. The Union County Water Conservation Board reimbursed $14 million of those costs to the power plant owners, however, to cover the incremental cost of increasing capacity of the water supply infrastructure. After that reimbursement, Union Power Partners deeded the entire $52 million facility to Union County, making it the largest gift in county history.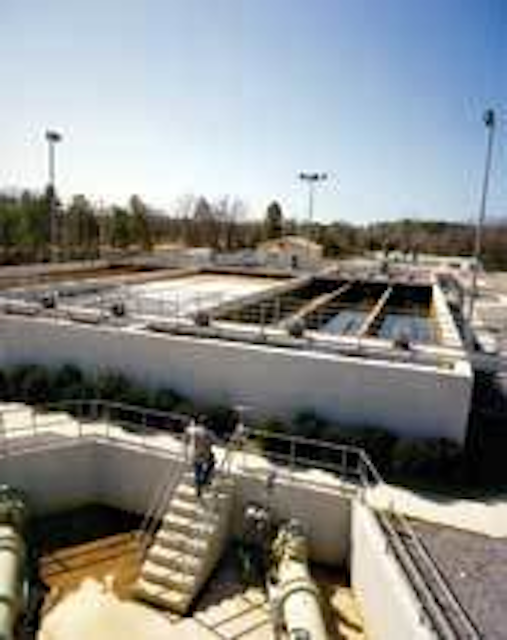 The project involved construction of a 32.5 mgd water treatment plant.
Click here to enlarge image
Under Phase 2 of the Burns & McDonnell plan, three additional large industrial water users were connected to the surface water supply. Phase 2 of the project included construction of a 14-mile transmission pipeline from the power plant with sizes ranging from 16 to 36 inches. Also included in Phase 2 construction was a 3 million gallon reservoir and 17 mgd pumping station. Lion Oil, the first industrial customer, converted in December 2004. El Dorado Chemical was next, converting in February 2005, and Chemtura Central Plant (formerly Great Lakes Chemical) converted in September 2005.
As part of the project, the U.S. Environmental Protection Agency (EPA) in 2002 granted $1 million to the Union County Water Conservation Board to assist in funding the Sparta Aquifer Recovery Study. Burns & McDonnell was retained to complete that five-year study, concluding in 2007. Project work to date has included installation of three new monitoring wells, automated and manual water level monitoring at various locations throughout Union County and northern Louisiana, water quality monitoring, development of a public website and submitting bi-annual reports to the EPA.
Project results have been better than expected. Removal of the three industrial customers reduced aquifer water consumption by 6 mgd and has triggered immediate recovery of aquifer water levels. To date, aquifer water levels have risen 8.2 feet overall, and in central Union County, where the greatest depletion rates were recorded, levels have risen nearly 11 feet.
The unexpected success has paid other dividends to Union County residents. The Union County Water Conservation Board has been able to pay off $23 million in construction bonds three years early and on December 31, 2005, rescinded the 1-cent county sales tax.
Future phases of the master plan include further extensive monitoring of groundwater levels and water quality. The new water treatment, pumping and transmission infrastructure were constructed with additional capacity available if the need arises to take additional industrial users off the groundwater system or if a new industry locates in Union County that needs significant water supply. However, that step and some portions of the master plan, including construction of a membrane treatment plant near the existing storage tank, may not be required if aquifer recovery rates continue at current levels.
About the Authors:
Robert Reynolds serves in a volunteer capacity as president of the Union County Water Conservation Board and is manager of Shuler Drilling Co., an independent oil and gas company in El Dorado, Ark. David Oligschlaeger, P.E., is manager of the water supply practice for Burns & McDonnell in Kansas City, MO