Missouri Tank Wins Award
Caldwell Tanks, Inc. was awarded the 2005 Steel Tank of the Year Award by the Steel Tank Institute/Steel Plate Fabricators Association (STI/SPFA)...
May 1st, 2006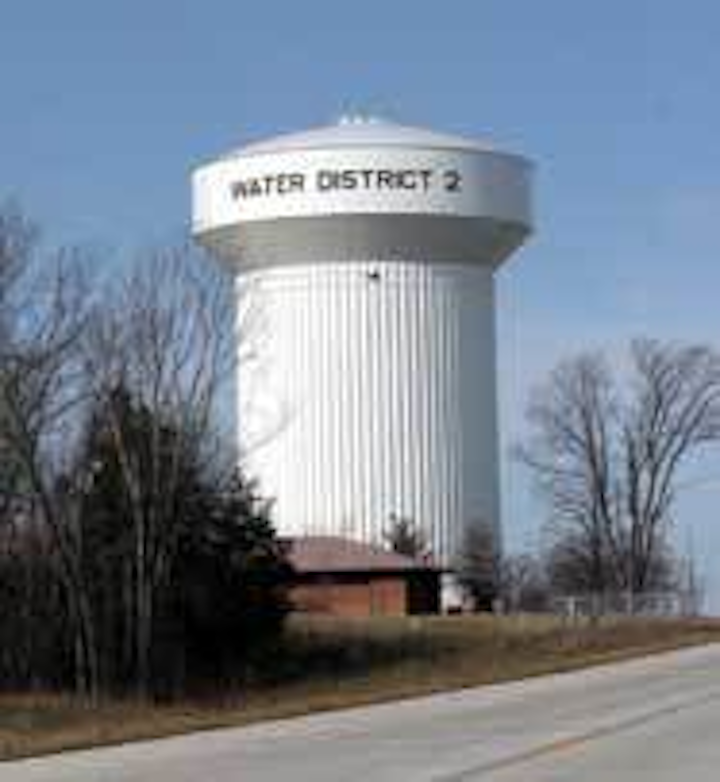 Caldwell Tanks, Inc. was awarded the 2005 Steel Tank of the Year Award by the Steel Tank Institute/Steel Plate Fabricators Association (STI/SPFA) for an elevated water storage tank in O'Fallon, MO.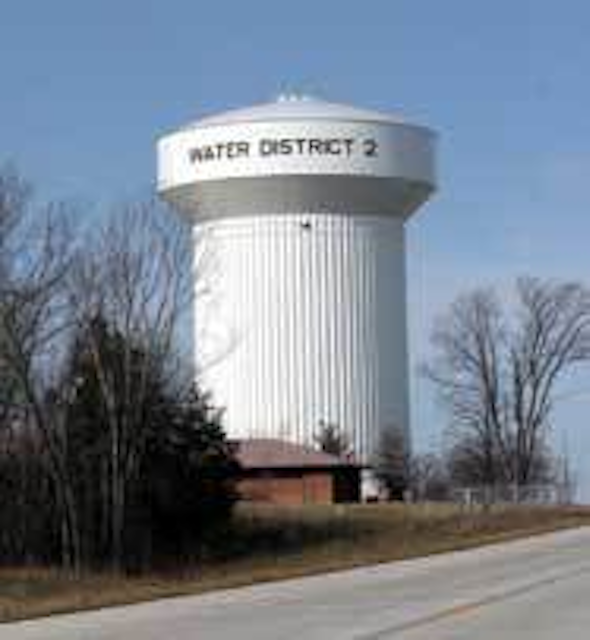 Click here to enlarge image
The all-steel fluted column elevated water tank in O'Fallon was completed in December 2005. The tank is 120 feet in diameter, the diameter of the supporting column is 90 feet and the tank stands 180 feet high and holds 3,000,000 gallons of water. It is located on the south side of U.S. 40 near the intersection of State Highway N in O'Fallon, approximately 35 miles west of St. Louis.
"The O'Fallon water tank contains approximately 1,200 tons of steel and is in proximity to the New Madrid Fault in Southeastern Missouri. This created huge challenges in the engineering of the structure. The enormous potential lateral load is accounted for at every point on the structure. The bedrock subsurface and accelerated schedule added to the complexity of this project. This tank demonstrates the advantageous qualities of steel, no matter the size," said Kevin Gallagher, P.E., Vice President of Sales at Caldwell Tanks, Louisville, KY.
Company Acquires Water Systems
With the acquisition of four more water systems in Pennsylvania, Texas and North Carolina, Aqua America closed a total of seven transactions in the first quarter 2006.
At the end of March, the company's Pennsylvania subsidiary acquired the water system serving the Stonecroft Village development in Marion Township, Berks County, where the first phase of this age-restricted community is under construction. Stonecroft Village will house more than 400 residents expected when the development reaches build-out. Under the agreement, Aqua Pennsylvania paid for the construction of a new water treatment facility.
Aqua Texas Inc. completed the purchase of the water system in the Shell Shores/Cedar Bay residential development. Located southeast of Dallas near Tyler in Smith County, the system currently serves more than 760 residents, with approximately 1,200 residents expected at build-out. The company plans to interconnect the Shell Shores/Cedar Bay system with its adjacent Eagles Bluff water system.
In North Carolina, the company acquired the Hooper's Valley Water Company, which serves approximately 200 residents near Hendersonville in Henderson County. Since October 2005, the company has been operating the troubled water system at the request of North Carolina Utilities Commission (NCUC) officials. The company repaired a number of large leaks in the system and plans to invest an additional $200,000 for needed improvements in the distribution system, which is eligible for recovery under a special program established by the NCUC for troubled systems.