PRODUCTS & SERVICES: PIPE MAINTENANCE
Sauereisen manufactures sealants, corrosion barriers and substrate repair materials for the protection and restoration of wastewater infrastructure.
Mar 1st, 2006
Sealants, corrosion control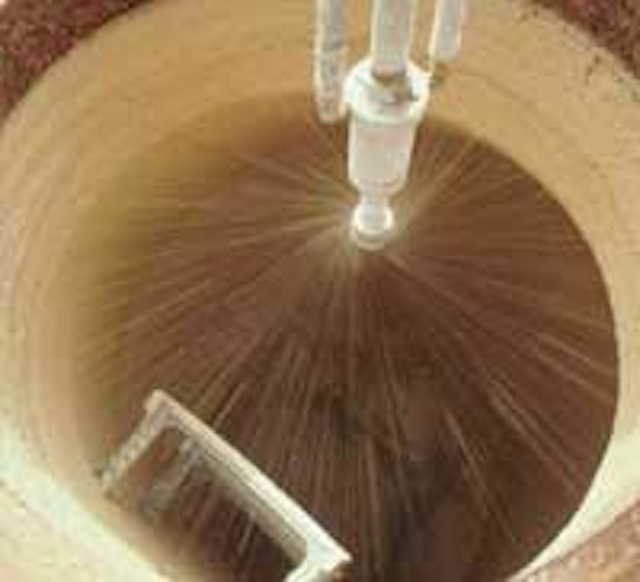 Click here to enlarge image
Sauereisen manufactures sealants, corrosion barriers and substrate repair materials for the protection and restoration of wastewater infrastructure. From collection systems to treatment facilities, the company offers materials to resist acidic environments and to prevent water inflow and infiltration. These products accommodate both rehab and preventive maintenance.
Sauereisen
Pittsburgh, PA Tel: 412-963-0303 Web: www.sauereisen.com
Flexible Connectors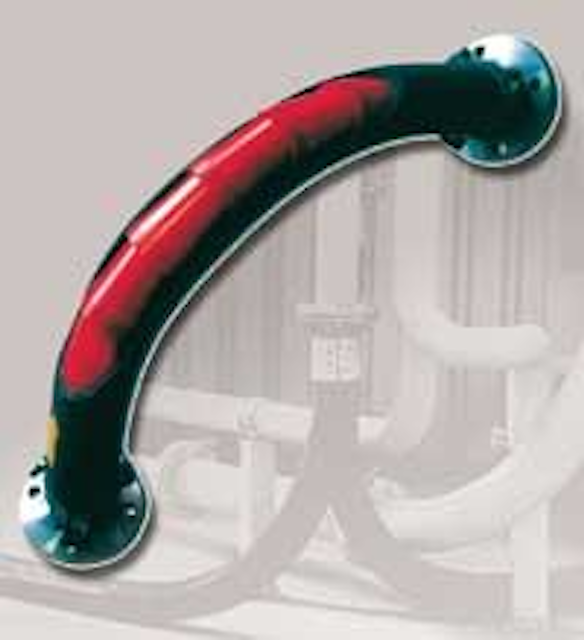 Click here to enlarge image
Abresist's Kalflex flexible and wear resistant pipe system is designed to connect structural components that move due to vibration, thermal expansion, or as a result of intended movement. The flexible connectors can be integrated into existing pipe systems using normal flanging and coupling connections and work well in pneumatic conveying equipment.
Abresist Corp.
Urbana, IN
Tel: 800-348-0717 Web: www.abresist.com
Plastic, metal pipe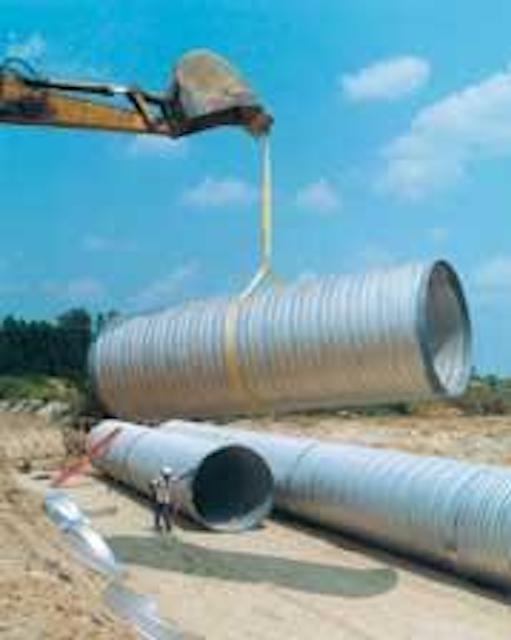 Click here to enlarge image
Contech Construction Products provides a range of plastic and corrugated metal piping suitable for use in both initial development and rehabilitation of existing structures and sites. Its UltraFlo® corrugated metal pipe has exterior box corrugations that permit hydraulic flow equivalent to concrete pipe, yet provides the structural properties needed to manage HS 20 and HS 25 vehicular loadings.
Contech Construction Products
West Chester, OH
Tel: 800-338-1122
Web: www.contech-cpi.com
Joint restraints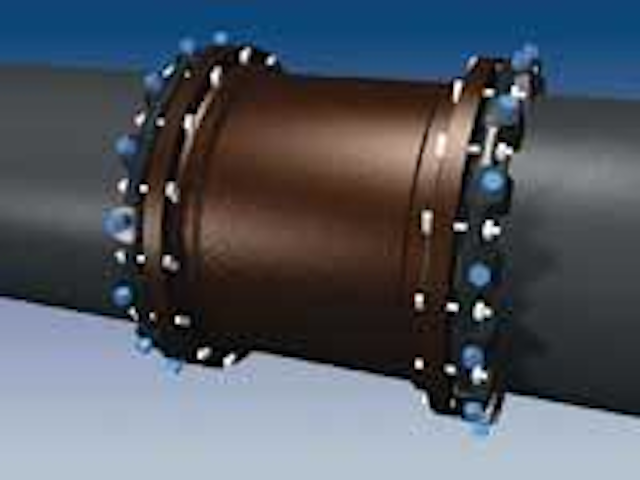 Click here to enlarge image
EBAA Iron offers the Series 1100 Megalug® Joint Restraints for ductile iron pipe. Available in sizes 3" through 48", the restraints are appropriate above or below ground for almost any application, including valves, hydrants and pipe. The Series 2000PV Megalug for PVC is an economical method of restraining PVC pipe to mechanical joints and is available in sizes 3" to 36".
EBAA Iron Sales Inc.
Eastland, TX
Tel: 800-433-1716
Web: www.ebaa.com
Grinders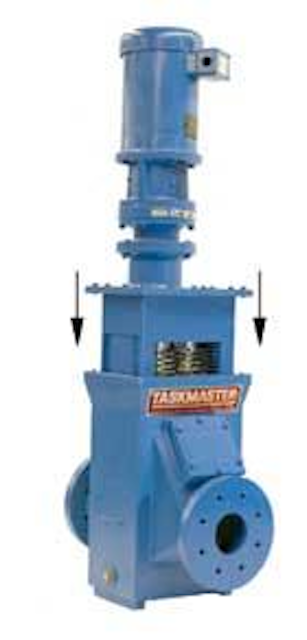 Click here to enlarge image
Taskmaster™ 8500 series inline grinders from Franklin Miller reduce sewage and sludge solids to fine particles directly in pipeline systems. Along with innovative Cutter Cartridge technology, these grinders now feature a "drop-in" housing. This design allows for simplified removal of the cutter mechanism for periodic maintenance without sacrificing unit strength.
Franklin Miller Inc.
Livingston, NJ
Tel: 800-932-0599
Web: www.franklinmiller.com
Pipe gaskets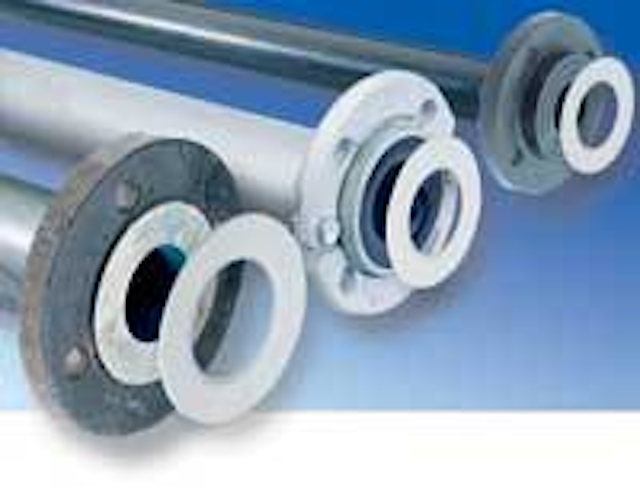 Click here to enlarge image
GORE™ Universal Pipe Gaskets allow maintenance engineers to standardize their gasket applications across steel, glass-lined steel, and FRP systems − wherever a non-metallic gasket can be used. Unaffected by even the most aggressive chemicals, the gaskets are designed to conform to irregular surfaces and protect flanges.
W. L. Gore & Associates Inc.
Elkton, MD Tel: 800-654-4229 Web: www.gore.com/sealants
Spherical connectors
Click here to enlarge image
Proco Products' Style 240/242 is a rubber expansion joint suitable for use in wastewater treatment systems. Its spherical arch allows fluid to flow smoothly in sludge and slurry lines without sediment build-up in the arch, and its pressure/temperature capability makes it a perfect match for all equipment used in blower lines.
Proco Products Inc.
Tel: 800-344-3246 Web: www.procoproducts.com
Lining systems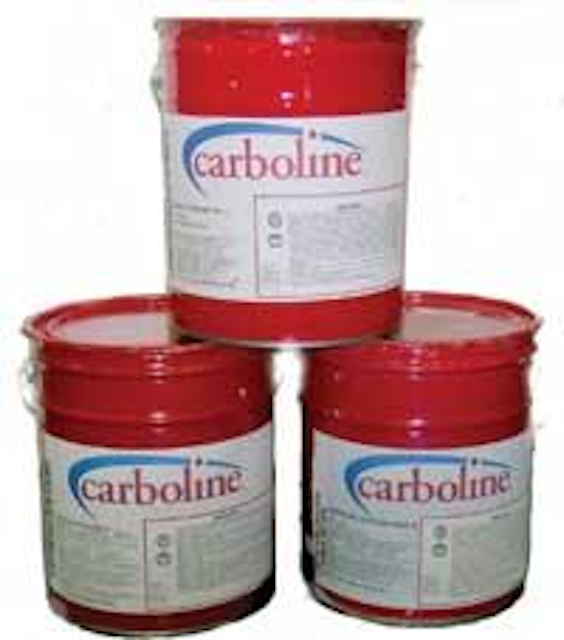 Click here to enlarge image
Carboline Company, a supplier of coatings and linings, has introduced two new linings for water and wastewater immersion applications. Carboguard 691 and Plasite 4500 are both single-coat, high-build epoxies with extremely fast cure and dry-to-handle times. Both products have been certified for potable water applications as single-coat systems.
Carboline Co.
St. Louis, MO
Tel: 800-848-4645
Web: www.carboline.com
Data management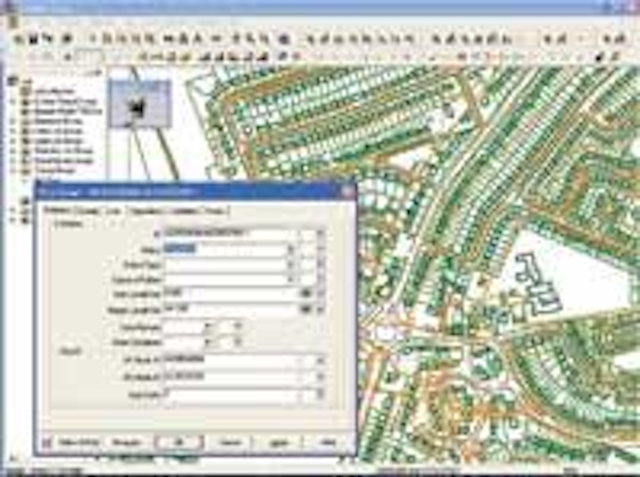 Click here to enlarge image
Wallingford Software has released Version 3.5 of InfoNet, an asset and data management system for the water industry, covering water supply, water distribution, wastewater collection, sewers and storm water networks. The software allows water companies to store, validate, review, clean, edit, analyze and report on all their infrastructure asset data held in a single database, to improve both planning and operational decision-making.
Wallingford Software
Fort Worth, TX
Tel: 817-370-2425
Web: www.wallingfordsoftware.com
Directional drilling system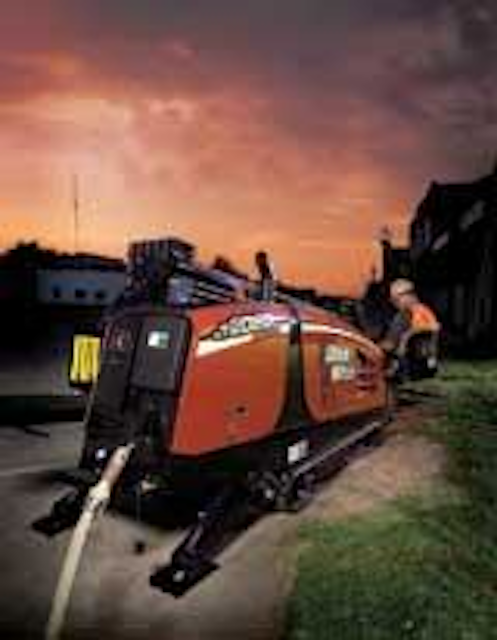 Click here to enlarge image
Ditch Witch® has released its latest horizontal directional drilling system, the JT2020 Mach 1. Designed with extensive customer input, each machine comes standard with turf- and asphalt-friendly rubber tracks. It features independent stabilizers and a simple anchoring system that enables quick setup and the ability to secure the drill frame on uneven terrain.
Ditch Witch
Perry, OK
Tel: 800-654-6481
Web: www.ditchwitch.com
Pipeline coating system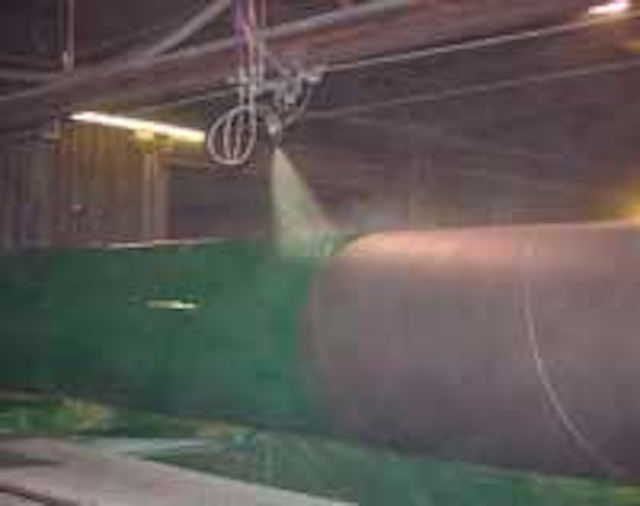 Click here to enlarge image
Chemline's Chemthane 2261 spray-applied polyurethane system is specifically engineered to protect steel pipes against corrosion. This 100% solids (zero VOC) two-component polyurethane can be applied directly to the substrate in coating thicknesses from 40-60 mils without an additional primer. The coating has a Shore D hardness of 75.
Chemline
St. Louis, MO Tel: 314-664-2230 Web: www.chemline.net
Root control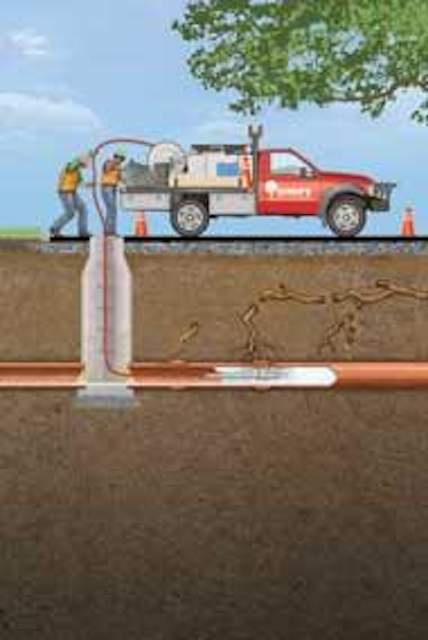 Click here to enlarge image
Duke's Root Control Service helps control sewer line root problems. Over 2,000 municipalities have used the service in more than 70 million feet of sewer pipe. The company applies EPA registered products that kill tree roots without harming above ground vegetation. The material is injected as a foam, from manhole-to-manhole, killing all roots on contact and also inhibiting re-growth for three to five years.
Duke's Root Control Inc.
Syracuse, NY Tel: 800-447-6687 Web: www.dukes.com
Line stopping system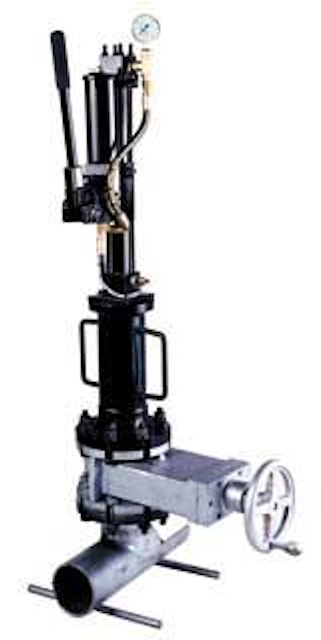 Click here to enlarge image
Severn Trent Services' Insta-Dam® Modular Line Stopping System isolates pipes ranging in size from ¾" to 4" for repair or replacement, limiting service disruptions and shutdowns of critical water and wastewater systems. Suitable for all types of pipe, the line stopping system is rated to 100 psi and provides 95% to 100% flow stoppage at the point of repair.
Severn Trent Services
Alsip, IL
Tel: 800-538-7867
Web: www.severntrentservices.com
Joint sealing system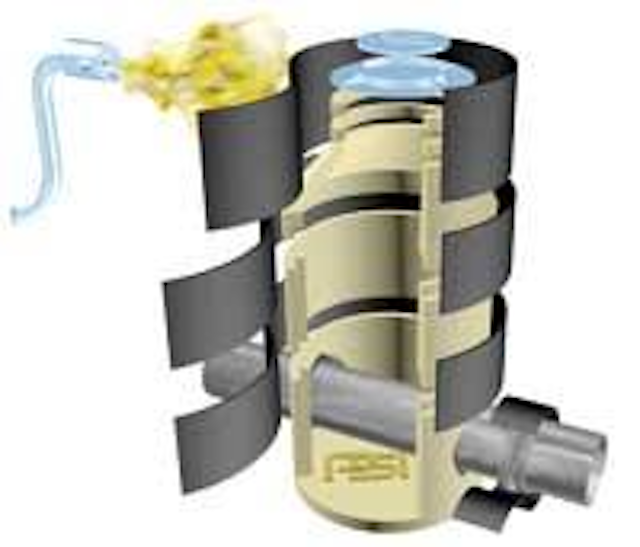 Click here to enlarge image
The Riser-Wrap™ seal is a two-layer system designed for corrosion and sealing protection on encapsulating manholes and pipelines. It is designed to seal joints against ground water infiltration, and is tolerant of soil stress, UV and freeze-thaw conditions. The first layer is a visco-elastic adhesive liquid sealant.
Pipeline Seal & Insulator, Inc.
Houston, TX
Tel: 800-423-2410
Web: www.riserwrap.com
Ductile iron pipe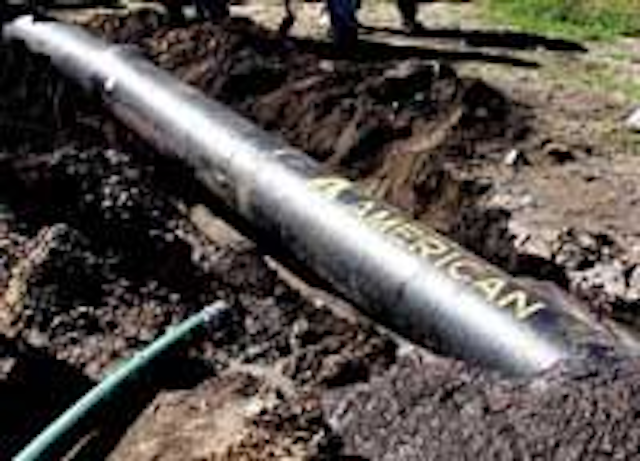 Click here to enlarge image
American Ductile Iron Pipe promotes the use of ductile iron pipe for several trenchless technology installation methods, including pipe bursting and horizontal directional drilling (HDD). The company is responsible for the development of "bell-less" MT Push Pipe and GS Push Pipe used for pipe bursting, micro-tunneling, or slip-lining.
American Ductile Iron Pipe
Tel: 800-442-2347
Web: www.acipco.com/adip
Hydrant tagging system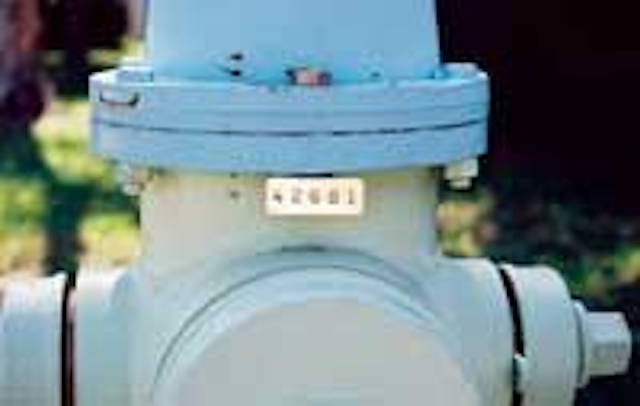 Click here to enlarge image
Assured Flow's Hydra-Tag is a custom tagging system for hydrants. This durable identification system is made from corrosion resistant brass. Steel stamps are available for custom numbering or lettering. The tags attach securely to bolts on hydrants for a virtually tamper proof installation.
Assured Flow Sales Inc.
Sarasota, FL
Tel: 800-388-0678
Web: www.gradelok.com
Coating system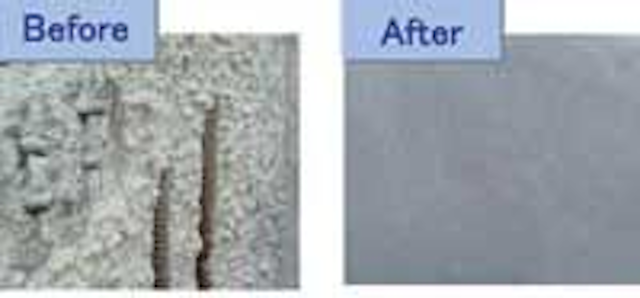 Click here to enlarge image
A.W. Chesterton has developed a coating system using two advanced composite technologies: ARC 791 Polymer Quartz Composite and ARC S1HB Reinforced Composite. ARC 791 is an all purpose quartz-reinforced composite for most concrete repairs and chemical containment. It is generally used to repair and upgrade concrete surfaces or used as a replacement for acid resistant tiles, epoxy mortars, fiberglass, and other overlayments. ARC S1HB is a composite lining formulated to protect concrete surfaces from corrosion and chemical attack. It allows for uniform coverage over rough surfaces and yields excellent barrier properties for long-term corrosion and chemical resistance in immersion exposures. The 100% solids, seamless protection system can be used to protect wet wells, junction boxes, manholes and pipes that suffer from the effects of H2S corrosion and abrasion and damaging impacts from objects which access these systems.
A.W. Chesterton Co.
Groveland, MA
Tel: 978-469-6448
Web: www.chesterton.com
Polymer mortar pipe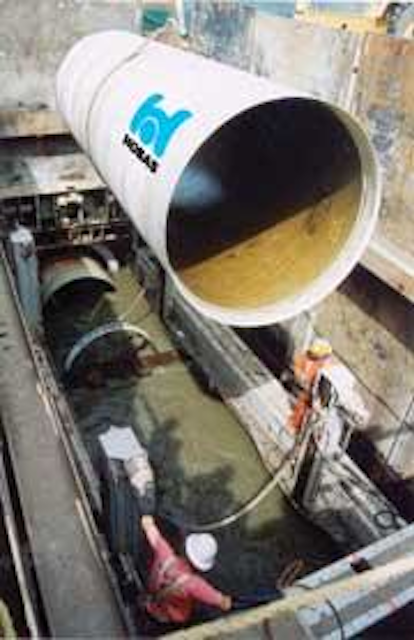 Click here to enlarge image
Hobas pipe is used in new construction and rehab for critical installations. Key applications are sewers, force mains, industrial effluents, most corrosive environments, wastewater and potable water. It is ideal for sliplining, jacking, microtunneling, tunnels, casings, direct bury and above ground.
Hobas Pipe USA
Houston, TX
Tel: 800-856-7473
Web: www.hobaspipe.com
Portable pipeline inspection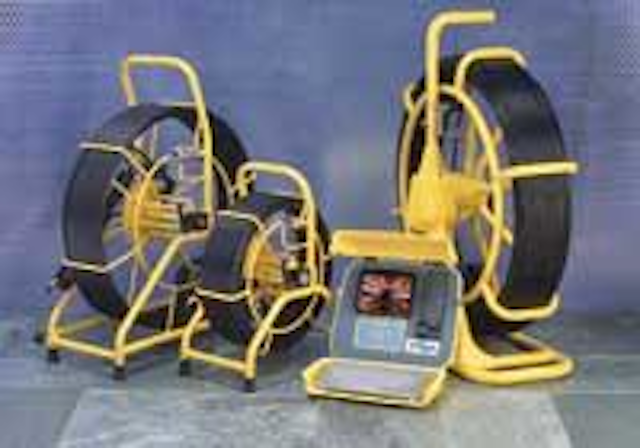 Click here to enlarge image
Pearpoint has developed a new series of portable inspection systems for residential, small commercial and basic municipal applications in pipes ranging from 1 ¼"-8" in diameter and up to 500' in length. Available in multiple feature-loaded basic configurations with numerous options, the P330 flexiprobe® series provides the freedom to create a system suited to the user's requirements. Features include: weatherproofed command center with anti-glare TFT-LCD screen for digital video viewing, optional digital video recording and image storage on industry standard CompactFlash card, composite video output connector for external recording devices, choice of two interchangeable color cameras (including self-leveling) with white LED lighting and sapphire lens.
Pearpoint Inc.
Thousand Palms, CA
Tel: 800-688-8094
Web: www.pearpoint.com
Leak detection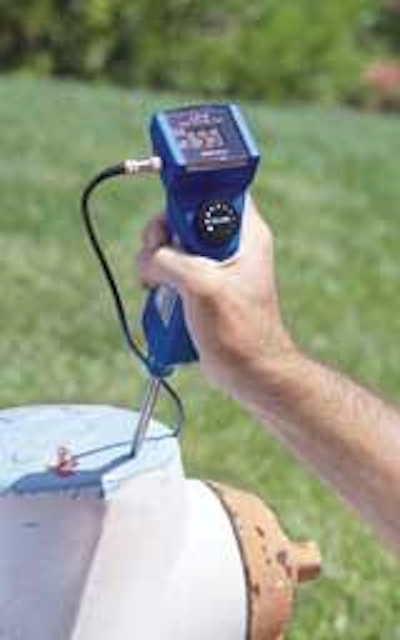 Click here to enlarge image
The new LD-8 Leak Survey tool from SubSurface Leak Detection is designed to listen for water leaks at meters, hydrants and valves. With the short contact rod, do a quick "hydrant survey" by listening for water leaks at hydrants only. With the 40" or the 60" contact rod, do a thorough leak survey by listening at water meters for service line leaks and at valves in the street for leaks on the mains.
SubSurface Leak Detection Inc.
San Jose, CA
Tel: 408-249-4673
Web: www.subsurfaceleak.com
Piping system software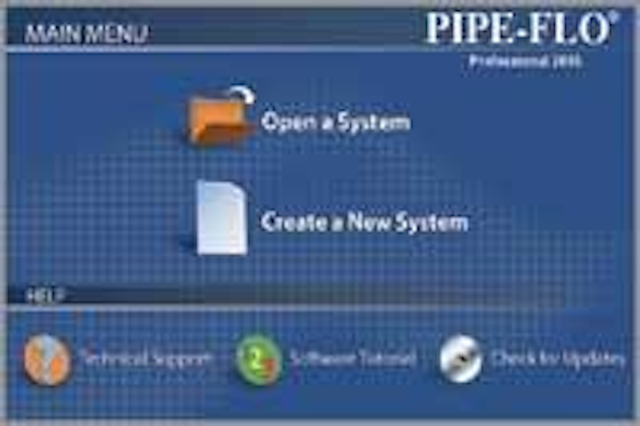 Click here to enlarge image
Engineered Software, a provider of software used to design and simulate the operation of fluid piping systems, offers Pipe-Flo Professional 2005 and Pipe-Flo Overtime. Professional 2005 allows users to visualize their systems in a familiar format, calculate system operations, communicate the design with others and access supporting documents in electronic format.
Engineered Software Inc.
Lacey, WA
Tel: 360-412-0702
Web: www.eng-software.com