PRODUCTS & SERVICES — TANKS & STRUCTURES
Easy-Lift Package Lift Stations from Yeomans Chicago are appropriate for municipal wastewater collection, industrial waste, subdivisions, commercial properties, recreational areas and similar sources of wastewater flows.
Jul 1st, 2004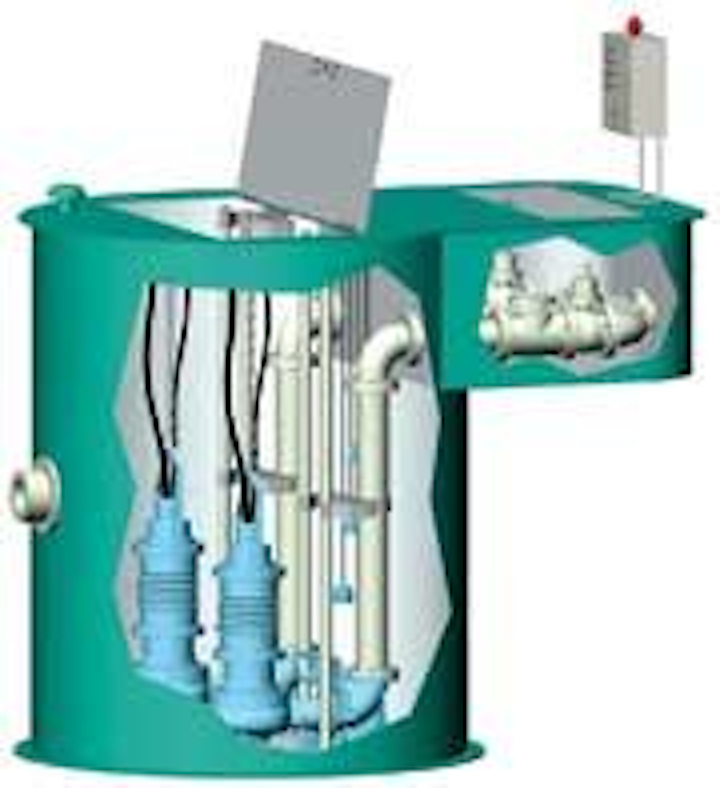 Package lift stations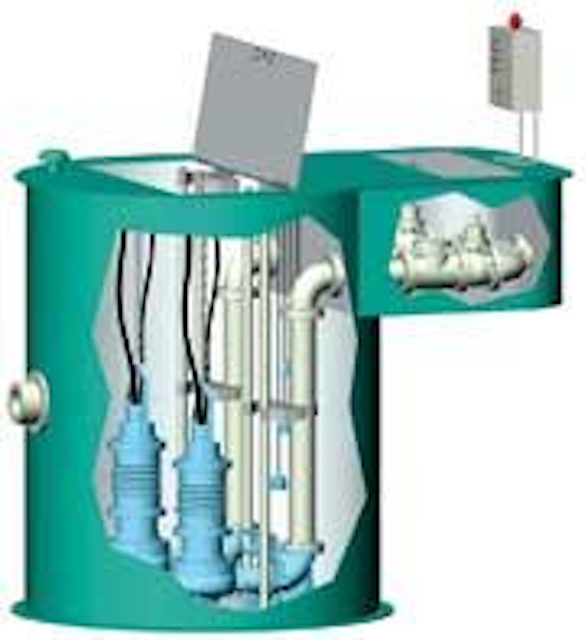 Click here to enlarge image
Easy-Lift Package Lift Stations from Yeomans Chicago are appropriate for municipal wastewater collection, industrial waste, subdivisions, commercial properties, recreational areas and similar sources of wastewater flows. The pre-engineered fiberglass basin system includes factory-installed pipes, valves and fittings to reduce field installation costs and assure system compatibility of all components. Standard simplex and duplex arrangements are available with pump sizes up to 40 hp. State of-the-art control panels provide simplicity of operation.
Yeomans Chicago Corp.
Aurora, IL
Tel: 630-236-5500
Web: www.yccpump.com
Safety railings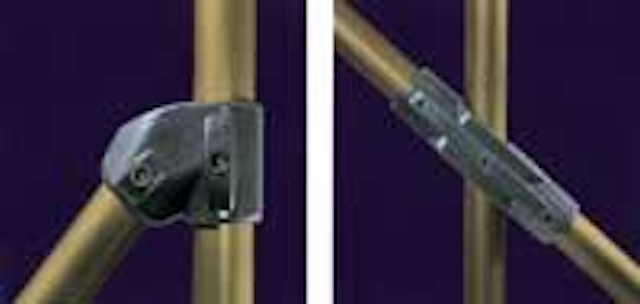 Click here to enlarge image
Kee Industrial Products has announced the addition of two new fittings, models L29 and L30, to its line of Kee Lite® slip-on aluminum pipe fittings. The new fittings are angled and adjustable for use in the construction of stair rails and other safety railings, and are available to fit standard pipe Size 7 and Size 8 for 1 1/4'' and 1 1/2'' diameter pipe, respectively. Model L29 is most frequently used for struts and braces.
Kee Industrial Products Inc.
Buffalo, NY
Tel: 716-896-4949
Web: www.keelite.com
Stormwater tanks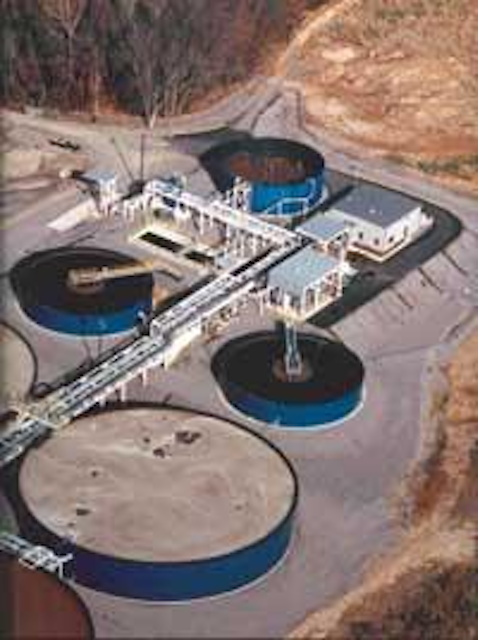 Click here to enlarge image
Fisher Tank offers custom-fabricated tanks that can be used to retain and treat stormwater, which has become an increasing concern at locations with overloaded storm sewers or ponds. The tanks are designed and fabricated to the customer's specifications at the manufacturer's plant and then transported by truck to the customer site. Field crews weld the sections together, assembling and testing the complete tank, often in a week or less. The steel tanks can have capacities from 20,000 gallons to as high as 10 million gallons.
Fisher Tank Co.
Chester, PA
Tel: 610-494-7200
Web: www.fishertank.com
Prestressed concrete tanks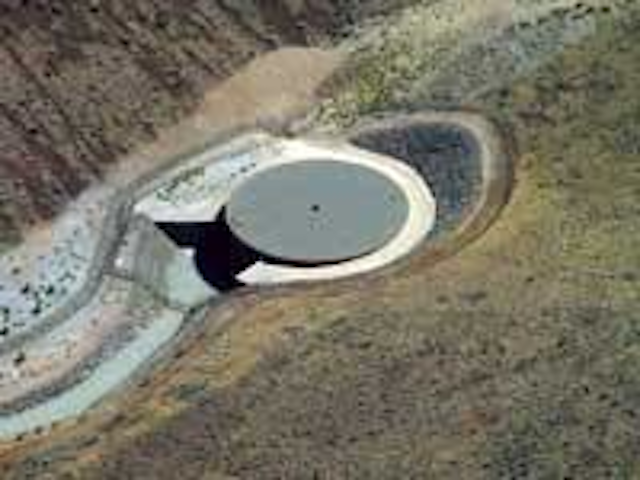 Click here to enlarge image
DYK Inc. is a manufacturer of prestressed concrete liquid storage tanks. The company has extensive combined expertise in the design, prestressing and construction of buried or architecturally enhanced water and wastewater storage tanks. The company's engineering and planning produces stronger, more attractive tanks with greater seismic reliability and a longer lifespan. Over the past 40 years, the company has worked with clients in well-known municipal and private facilities worldwide to complete the storage of nearly 3 billion gallons of liquid storage in individual tank sizes ranging from 80,000 gallons to 35 million gallons.
DYK Inc.
El Cajon, CA
Phone: 800-227-8181
Web: www.dyk.com
Manhole cleaning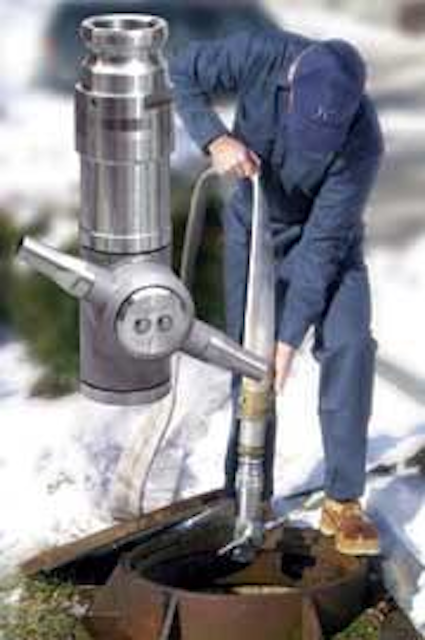 Click here to enlarge image
The Gamajet 8 rotary cleaning machine can be lowered through any manhole to completely clean the inside of virtually any size wet well, holding tank or lift station. Personnel remain safely above ground throughout the cleaning operation. The fluid driven impingement cleaning machine directs a powerful cleaning stream in a 360 degree pattern for 100% cleaning. Weighing less than 15 lbs. the unit is easily maneuvered into position.
Gamajet Cleaning Systems Inc.
Devault, PA
Tel: 610-408-9940
Web: www.gamajet.com
Tank covers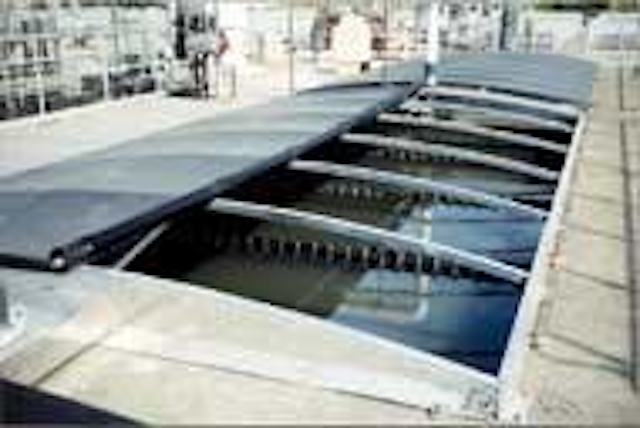 Click here to enlarge image
GTI's structurally supported cover system consists of a sheet of high strength, UV-protected, coated fabric tensioned across a series of low profile aluminum arches which span a tank opening. Applications include odor control, blocking sunlight, temperature control, or preventing debris from entering the tank. The fabric cover is sufficiently air tight to allow a ventilation system to function, yet it can be detached on three sides and retracted to expose the tank contents for inspection or maintenance.
Geomembrane Technologies Inc.
Fredericton, NB Canada
Tel: 506-452-7304
Web: www.gti.ca
Fiberglass tanks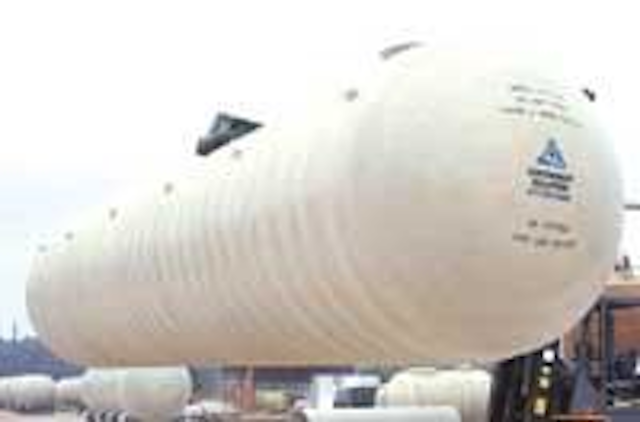 Click here to enlarge image
Containment Solutions specializes in the manufacture of underground fiberglass storage tanks (500 - 50,000 gallons) designed with rust-resistant fiberglass for long term containment of potable and non-potable water storage. The company's tanks can be supplied with a NSF61 certified liner for storage of potable water. The tanks are also an excellent choice for rainwater, irrigation water, fire protection, and septic.
Containment Solutions Inc.
Conroe, TX
Tel: 936-756-7731
Web: www.containmentsolutions.com
Containment systems
The new VariTank containment system has been engineered to fit virtually any space or location. The unit's modular components hand-carry through doorways, windows and walkways for assembly into square, rectilinear, L, S, or T shapes. Available capacities range from 500 to 100,000 gallons. The tanks are constructed of 6'3'' high by 3'6'' wide galvanized steel modules that are bolted together with ordinary hand tools. A choice of chemical resistant flexible membrane liners includes XR-5, PVC, HDPE or polypropylene. The tanks can be used for water treatment chemicals, potable and wastewater applications.
ModuTank Inc.
Long Island City, NY
Tel: 918-392-1112
Web: www.modutank.com
Pavement cleaning
Click here to enlarge image
Acera-Solv, available from Micro-Bac International, uses compounds produced naturally by microorganisms to remove oil leaks from concrete and asphalt surfaces, with none of the environmental and safety issues of chemical solvents, surfactants and degreasers. Because they are so safe and are naturally occurring, the EPA has chosen not to regulate Micro-Bac's microbial products.
Micro-Bac, International, Inc.
Round Rock, TX
Tel: 877-559-1800
Web: www.micro-bac.com
Container handling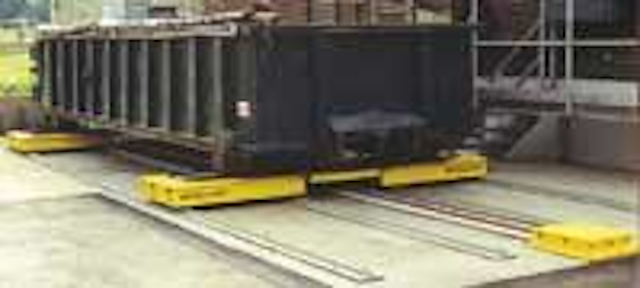 Click here to enlarge image
Cordell Mfg. has introduced the Dumpster-Veyor Patented Container Handling System. The system allows plant operators to move roll-off containers forward and reverse under a fixed filling source in order to fill the container evenly throughout their length. The system is operated from a push button control center rated for NEMA 4x or NEMA 7 environments.
Cordell Mfg.
Chalfont, PA
Tel: 215-822-9345
Web: www.cordellmfg.com
Concrete tanks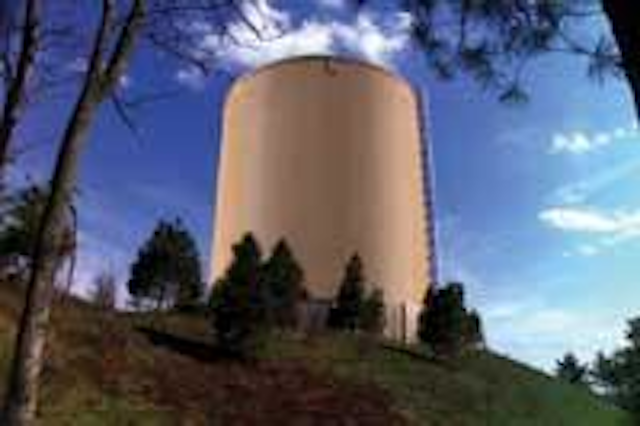 Click here to enlarge image
Preload has completed the construction of a 1.7 MG prestressed concrete water storage tank for the town of Manchester-By-The-Sea, MA. The tank measures 60' ID x 78' SWD, and incorporates a clear-span dome roof. Built to the AWWA D110, Type III Standard for Circular Wire-Wound Prestressed Concrete Water Tanks, Preload tanks require no routine maintenance or repainting and provide a long service life. Consulting engineer on the project was Earth Tech, Concord, MA.
Preload Inc.
Hauppauge, NY
Tel: 888-773-5623
Web: www.preload.com
Epoxy coatings
HippoPoxy, available from M.A.B. Paints, is a 100% solids epoxy designed for potable water tanks. It has been specially formulated for application with no solvent thus eliminating future solvent contamination of drinkable water. It can be applied by a plural component spray gun or traditional airless spray pump without thinning in a one coat application.
M.A.B. Paints
Broomall, PA
Tel: 800-622-1899
Web: www.mabpaints.com
Tanks, domes
Aquastore® glass-fused-to-steel tanks from Engineered Storage Products are virtually maintenance free. The company's coatings can withstand the harshest of elements and do not require periodic repainting. The tanks' bolted fabrication allows for future capacity expansion and simplifies erection. The company also offers the Aquastore Aluminum Geodesic Dome. The lightweight domes resist corrosive vapors from wastewater treatment, and can be added to newly-assembled tanks or retrofitted to existing steel or concrete tanks.
Engineered Storage Products Co.
DeKalb, IL
Tel: 815-756-1551
Web: www.aquastore.com
Basin cleaning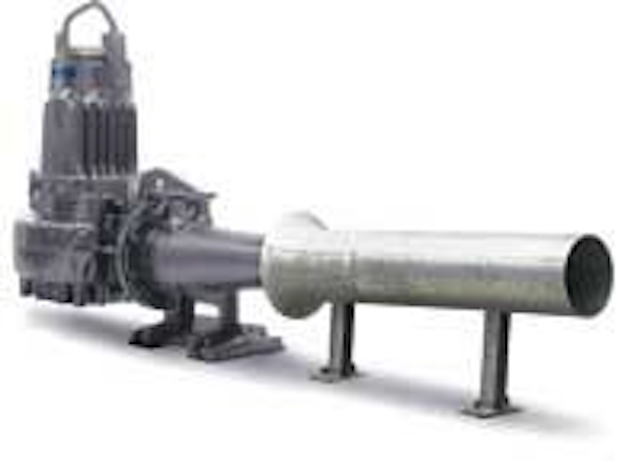 Click here to enlarge image
A new mixing and flushing unit for cleaning retention basins has been introduced by ITT Flygt. Designated as the Flygt Hydroejector, the unit acts as a mixer when water levels are high, keeping solids in suspension so they can be readily pumped away. When basin water levels are low, the unit automatically becomes a flushing device, with water discharged through the ejector pipe in a powerful jet which removes organic matter from the basin floor and walls.
ITT Flygt Corp.
Trumbull, CT
Tel: 203-380-4700
Web: www.flygtus.com
Package lift stations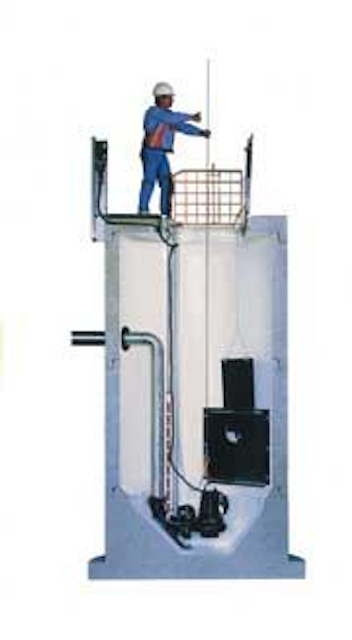 Click here to enlarge image
Romtec Utilities offers a free planning tool for wastewater and stormwater lift stations. As part of its complimentary design and engineering services, the company offers a one-page questionnaire that gathers the basic information needed to size and quote the lift station. Those who fill out the questionnaire receive AutoCAD drawings, a summary materials specification and a detailed quotation.
Romtec Utilities Inc.
Roseburg, OR
Tel: 541-496-3541
Web: www.romtecutilities.com
Tank, pump system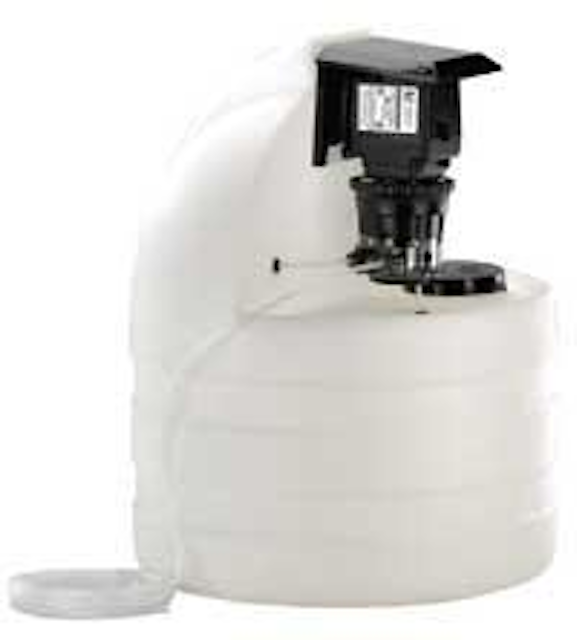 Click here to enlarge image
G.H. Stenner offers the STS series 30-gallon combination tank and pumping system featuring the company's peristaltic metering pumps. The systems are completely assembled at the factory and shipped ready for installation and start up. The tank is available in UV resistant gray or natural and constructed of polyethylene for indoor or outdoor applications. Features include a large fill opening and lid with a locking tab plus incremental level indicators.
G.H. Stenner & Company, Inc.
Jacksonville, FL
Tel: 800-683-2378
Web: www.stenner.com
Tank coating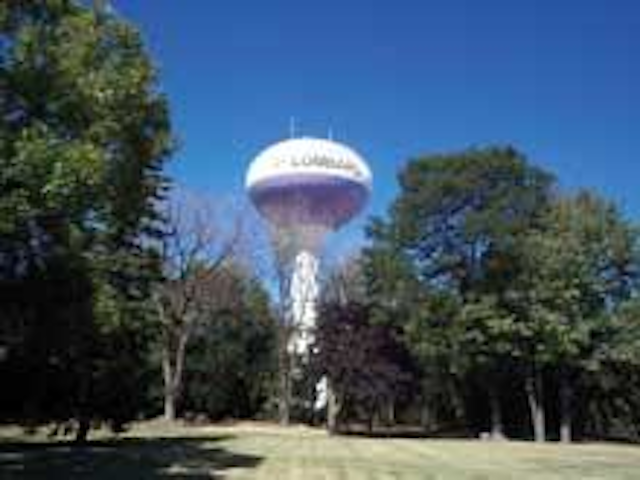 Click here to enlarge image
Tnemec has available an exterior finish coating for water tanks called Series 700 HydroFlon. The coating features a 20+-year life expectancy and superior gloss and color retention. A two-component fluoropolymer, the coating can be brushed, rolled, or sprayed. It offers 60 percent volume solids, excellent coverage rates and exceptional UV and salt water protection. The coating was used recently on the waterspheroid in Lombard, IL.
Tnemec Company, Inc.
Kansas City, MO
Tel: 800-863-6321
Web: www.tnemec.com