PRODUCTS & SERVICES—PUMPS
SEW-Eurodrive has announced the launch its new Version 1.2.0 PT Pilot® for Pumps drive selection software designed specifically for the pump industry.
Oct 1st, 2004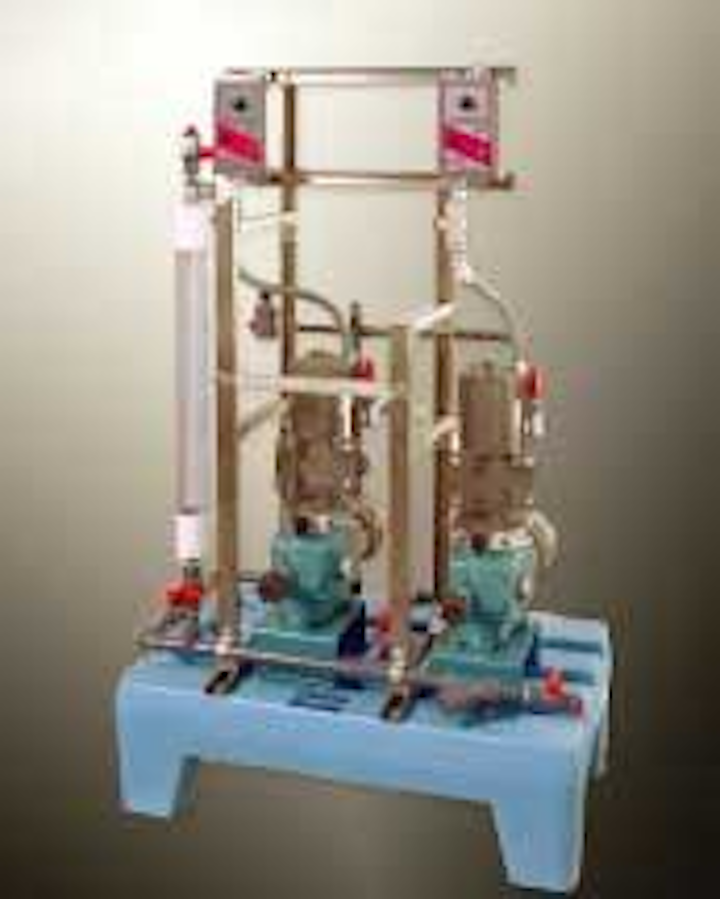 Drive selection software
SEW-Eurodrive has announced the launch its new Version 1.2.0 PT Pilot® for Pumps drive selection software designed specifically for the pump industry. Some of the features of this improved version include information on inline gearing for any application that benefits from an inline gear reducer or gearmotor. The software requires no prior knowledge of SEW products. Fingertip access to all options are available for specific units.
SEW-Eurodrive
Lyman, SC
Tel: 864-906-7394
Web: www.seweurodrive.com
Dosing system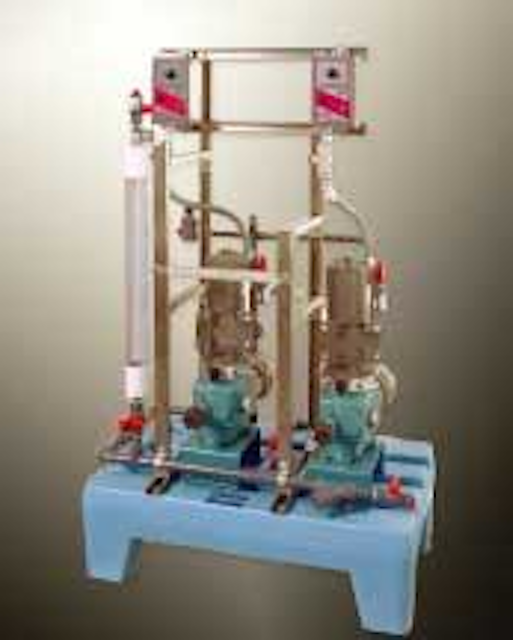 Click here to enlarge image
Severn Trent Services has introduced the new PDS™ (Precision Dosing System) Series H, a pre-assembled and pre-wired packaged system specifically designed for injecting sodium hypochlorite for the disinfection of water and wastewater. The system incorporates an automatic de-gas vent valve, designed for use with chemicals like sodium hypochlorite that off-gas.
Severn Trent Services
Fort Washington, PA
Tel: 215-997-3760
Web: www.severntrentservices.com
Rotary lobe blowers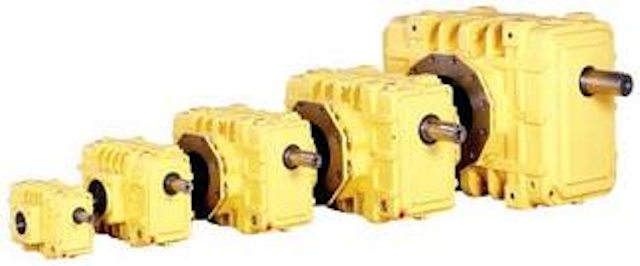 Click here to enlarge image
Kaeser Compressors offers a complete line of positive displacement rotary lobe blowers. Its proprietary Omega blowers provide flows to 4,500 icfm at pressures to 15 psig and vacuum to 15'' Hg. These blowers are available with a range of nominal gear diameters and feature flanged inlet and outlet ports. Omega blowers can be purchased as bare blowers in a variety of drive shaft configurations, or in a number of complete blower packages such as the Omega-paK and the Com-paK Plus design.
Kaeser Compressors Inc.
Fredericksburg, VA
Tel: 800-777-7873
Web: www.kaeser.com
Progressing cavity pumps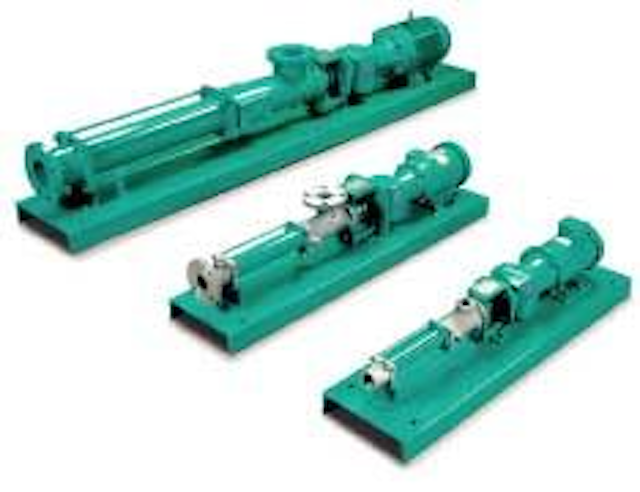 Click here to enlarge image
To meet the demanding needs of various processing plants and applications, Netzsch Nemo® offers a variety of custom configured progressing cavity pumping solutions ranging in size from the smallest metering pumps to high volume pumps. Every pump in the line can be assembled using a modular system.
Netzsch Inc.
Exton, PA
Tel: 610-363-8010
Web: www.netzschusa.com
Double disc pump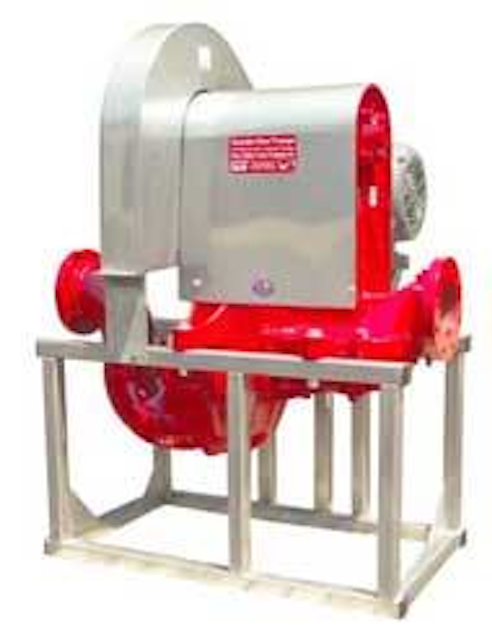 Click here to enlarge image
The New 6'' Simplex Double Disc® pump from Penn Valley provides flow rates to 500 gpm with pressures to 100 ft TDH. The pump replaces the duplex and triplex designs previously offered. Features of the 6'' pump include hinged housings and two-piece suction neck for ease of maintenance.
Penn Valley Pump Co. Inc.
Warrington, PA
Tel: 215-343-8750
Web: www.pennvalleypump.com
Pump controller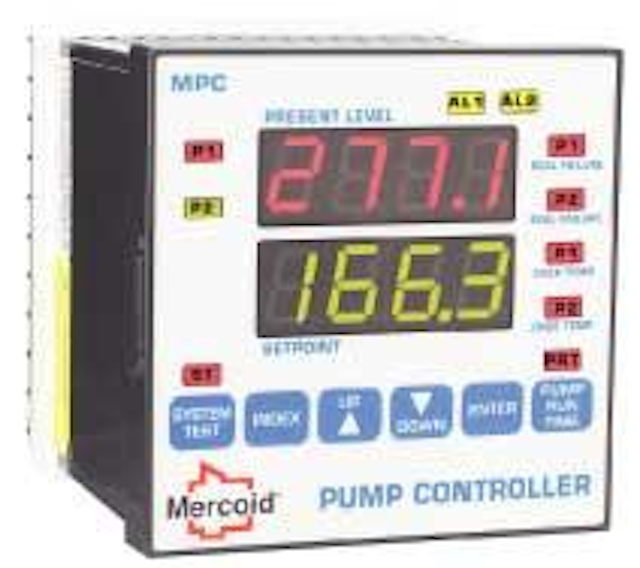 Click here to enlarge image
Control, monitor, and protect pump operations with the new Series MPC Pump Controller from the Mercoid Division of Dwyer Instruments Inc. The controller provides one or two pump control with built-in alternation; pump over-heating protection; pump seal failure monitoring; and pump run time indication in a standard 1/4 DIN package.
Dwyer Instruments Inc.
Michigan City, IN
Tel: 219-879-8000
Web: www.dwyer-inst.com
Centrifugal pumps
A-C Pump, an ITT Industries company, is providing a series of vortex type centrifugal pumps that eliminate the clogging problems often encountered with conventional centrifugal pumps. They are perfect for handling sludges and slurries containing large solids, entrained air and fibrous/stringy material. The pumps can handle spherical solids up to 10''. Features include a recessed, non-clog impeller and a back pull-out design for easy access. Also available in a vertical drypit model.
A-C Pump
Seneca Falls, NY
Tel: 800-734-7867
Web: www.acpump.com
Dosing Pumps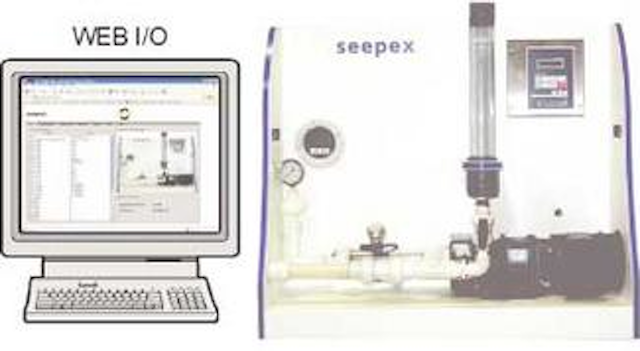 Click here to enlarge image
seepex progressive cavity pumps are available in packaged skids. Flows range from 1 cc/min to 20 gpm on standard skids. 1000:1, constant torque turndown is now available through advanced AC motor technology. The skids can deliver thin to highly viscous liquids as well as corrosive and solid laden chemicals.
seepex Inc.
Enon, OH
Tel: 800-695-3659
Web: www.seepex.com
Vertical turbine pumps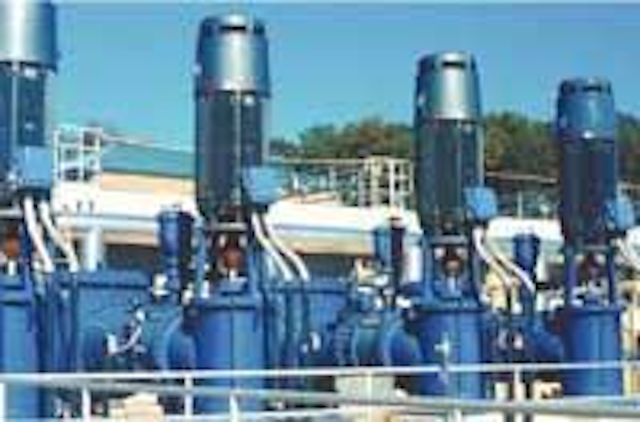 Click here to enlarge image
Patterson's vertical turbine pumps employ the latest design concepts and engineering technology in producing efficient pumps that are adaptable in a variety of applications. They can be staged as necessary to meet desired pressure requirements. Non-fire pump application capacities are from 500 to 7,000 gpm, with up to 700 ft. TDH.
Patterson Pump Co.
Toccoa, GA
Tel: 706-886-2101
Web: www.pattersonpumps.com
Process mixing system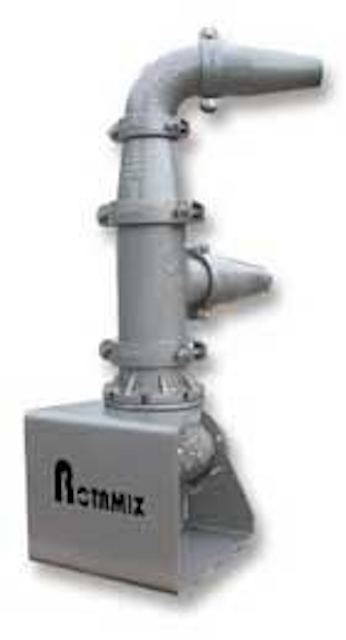 Click here to enlarge image
Vaughan's Rotamix® process mixing system incorporates the combination of heavy-duty nozzle assemblies with the company's chopper pumps. The system creates dual-zone mixing and a vertical-axis vortex, assuring uniform mixing velocities and eliminating "dead spots", without the need for adjustments or moving parts within the vessel. Nozzle barrels are heat treated cast ductile iron with up to 1" wall thickness for long life.
Vaughan Co. Inc.
Montesano, WA
Tel: 888-249-2467
Web: www.rotamix.com
RO pump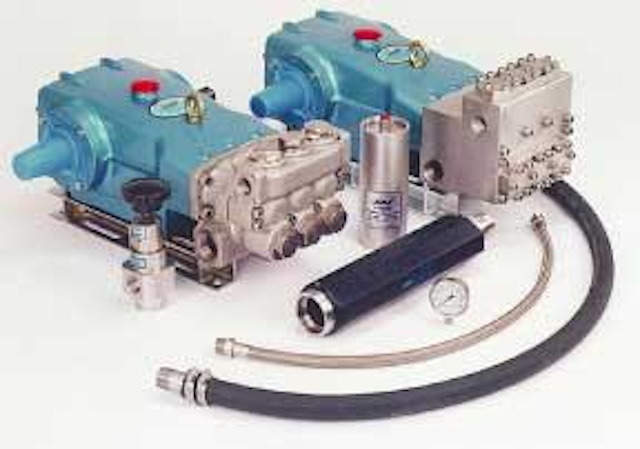 Click here to enlarge image
The 35 Frame Cat Pump is suitable for use in reverse osmosis systems. Its 36 gpm performance meets the demands of the medium sized RO systems and by adding multiple pumps, it can handle systems up to 200-300 gpm. The standard 316SS liquid end construction is available with a cast head model 3531 or a block-style head model 3831. Optional Duplex SS heads are available on the block-style for added corrosion resistance.
Cat Pumps
Minneapolis, MN
Tel: 763-785-5715
Web: www.catpumps.com
Test tees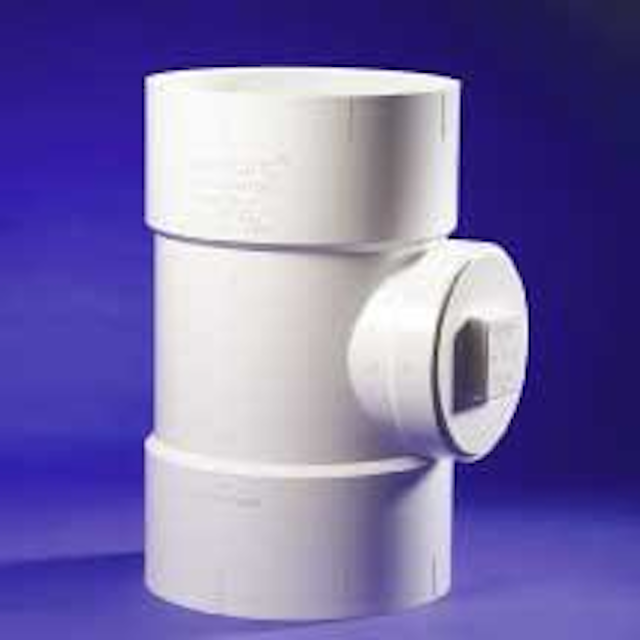 Click here to enlarge image
Charlotte Pipe has added more configurations to its line of 10'' and 12'' PVC DWV large diameter injection-molded fittings, including new Test Tees. Many engineers and contractors prefer molded fittings over fabricated fittings because they offer greater structural integrity and fewer failures in the field. The company's molded Test Tee fittings are very compact and therefore fit better into tight spaces.
Charlotte Pipe and Foundry
Charlotte, NC
Tel: 800-438-6091
Web: www.charlottepipe.com
Sewage pumps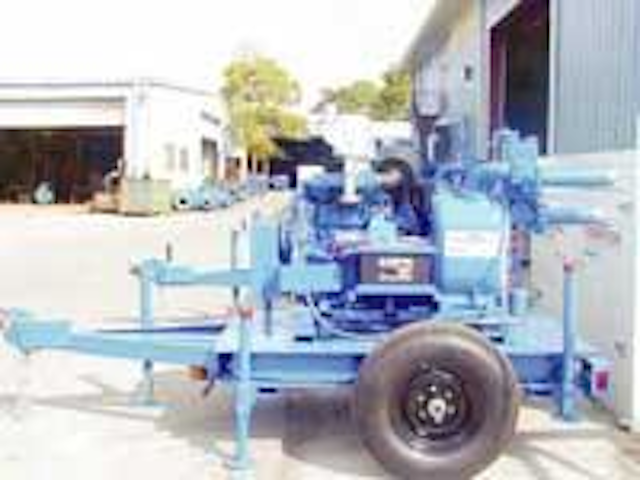 Click here to enlarge image
Thompson Pump has added a new series of pumps to its line of construction and public works pumps. The ST Series is a new line of self-priming centrifugal sewage pumps from Varisco Pumps which have been specifically designed for use in sewage applications. Available in 3'', 4'', 6'' and 8'', the series can handle up to 3'' solids. The pumps will discharge in flows of up to 1,500 gpm, and at heads of up to 120 ft.
Thompson Pump & Manufacturing
Port Orange, FL
Tel: 800-767-7310
Web: www.thompsonpump.com
DC drive package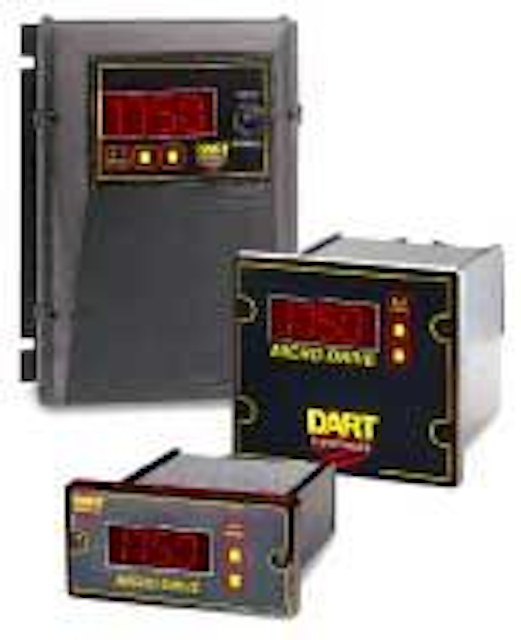 Click here to enlarge image
The Dart Controls digital MD Series of closed-loop DC drives for chemical metering pump applications is available with an isolated 4-20mA input/output modular option board. Customers get the DC motor drive, 4-20mA input/output, digital display, and relay outputs for pump running and fault alarms. Custom faceplate artwork is available also.
Dart Controls Inc.
Zionsville, IN
Tel: 317-873-5211
Web: www.dartcontrols.com
Cantilever FRP pumps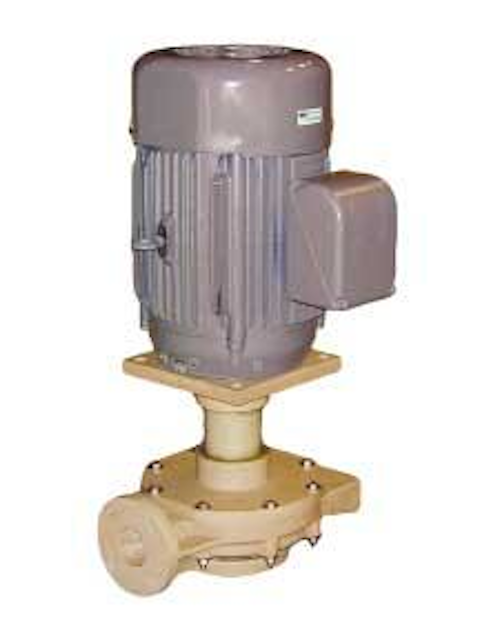 Click here to enlarge image
Fybroc's 7530 Series close coupled cantilever pump is a corrosion resistant pump suitable for handling acids, bleaches, brine and wastewater. The pump is available in five sizes with flows to 600 gpm and heads to 230 feet TDH. It is a choice for use on odor control scrubber systems. Features include FRP components, 316 stainless steel shaft, no submerged bearings and a vapor seal with leakoff.
Fybroc Div., Met-Pro Corp.
Telford, PA
Tel: 215-723-8155
Metering pumps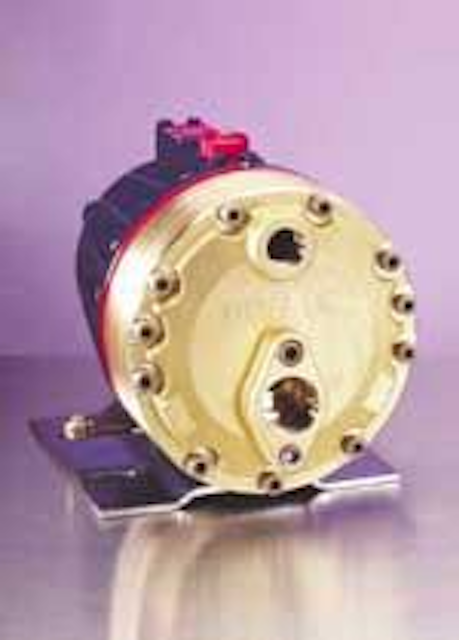 Click here to enlarge image
Hydra-Cell Industrial Pumps, Wanner Engineering Inc., has introduced its H25 Metering Series Industrial Pumps. These hydraulically balanced diaphragm pumps are engineered to pump tough solutions at up to 1200 gpm, while providing ±1% steady state accuracy with a 10:1 turndown ratio. The series requires less horsepower than most pumps of comparable size and capabilities. Their rugged design can operate at 1000 psi, but they can also meter with the same degree of accuracy at 50 psi.
Hydra-Cell Industrial Pumps, Wanner Engineering Inc.
Minneapolis, MN
Tel: 612-332-5681
Web: www.hydra-cell.com
Severe duty pumps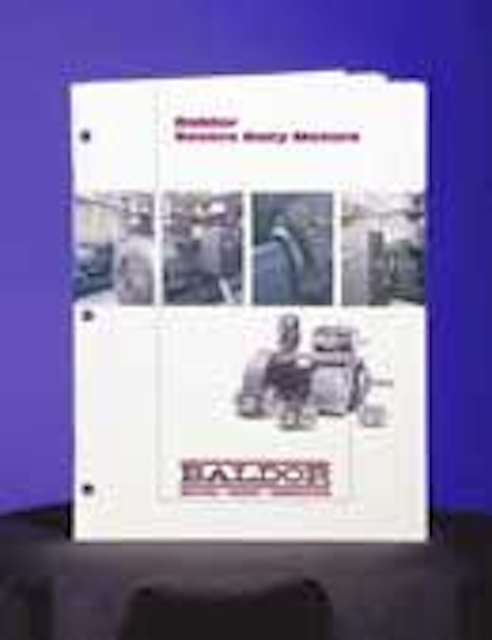 Click here to enlarge image
Baldor Electric has a new 40-page, four-color brochure on its line of Severe Duty Motors. Motors designed for the rugged conditions of heavy process industries are available in 1/2 - 1500 hp. The motors are available in both high and Super-E® premium efficiencies with choice of base or C-face mounting. The motor family also includes IEEE 841-2001 Super-E Premium Efficient, Dirty Duty®, Dirty Duty® Washdown, Quarry and Crusher Duty, Explosion-Proof and P-Base Vertical Pump motors. Baldor Super-E motors meet or exceed NEMA Premium® efficiency.
Baldor Electric Co.
Fort Smith, AR
Tel: 800-828-4920
Web: www.baldor.com
Sump pump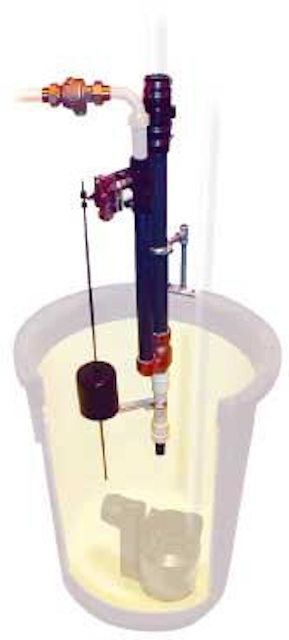 Click here to enlarge image
A.Y. McDonald offers the Guardian® Emergency Back Up Water Powered Sump Pump, Model 747H20. The pump is designed to protect property during power outages or sump pump failure. Designed for dewatering, it has a discharge size of 1 1/4'' PVC Sch. 80 (IPS) and an inlet size of 1'' FIP threads. Pressure range is 29-90 psi. It is made of brass and PVC for corrosion resistance and features the company's Hydro Drive system. The pump is designed for intermittent or continuous use.
A.Y. McDonald Mfg. Co.
Dubuque, IA
Tel: 800-292-2737
Web: www.aymcdonald.com
Pressure sensor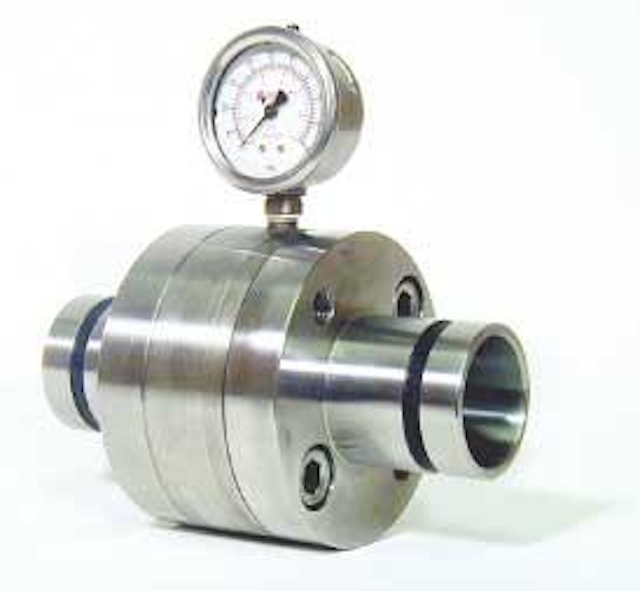 Click here to enlarge image
Red Valve has introduced the Series 43 Pressure Sensor with grooved ends for grooved-end piping systems. The sensor is particularly suited to pump protection applications, such as a blockage downstream of a pump that would cause pressure to buildup in the pump housing. A pressure switch connection to the pressure sensor will automatically stop the pump and protect the housing.
Red Valve Co. Inc.
Carnegie, PA
Tel: 412-279-0044
Web: www.redvalve.com
Peristaltic pump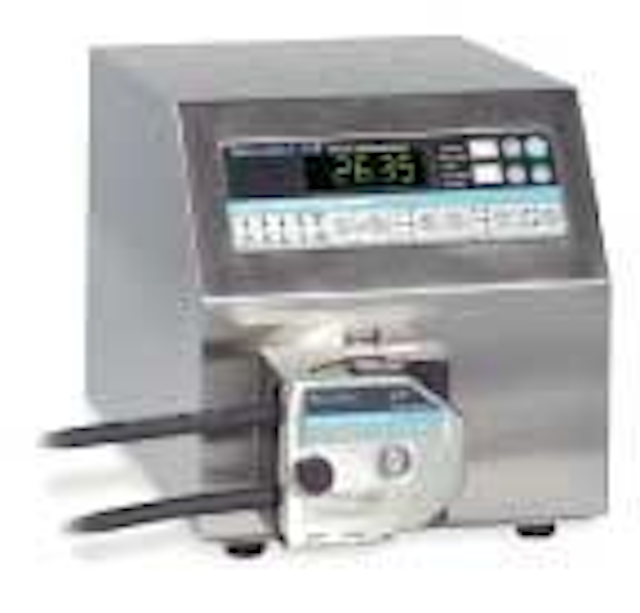 Click here to enlarge image
Cole-Parmer has introduced a new digital peristaltic tubing pump drive, the L/S® 07575-00. This stainless steel drive is suited for pH control, sampling, process analysis, and chemical injection/feed applications in harsh environments. The drive is IP66 (NEMA 4X) rated, and features a fully sealed 316 stainless steel housing that is easy to clean and resistant to commonly used cleaning and sanitizing solutions.
Cole-Parmer Instrument Co.
Vernon Hills, IL
Tel: 800-323-4340
Web: www.coleparmer.com
Improved pump inlet flow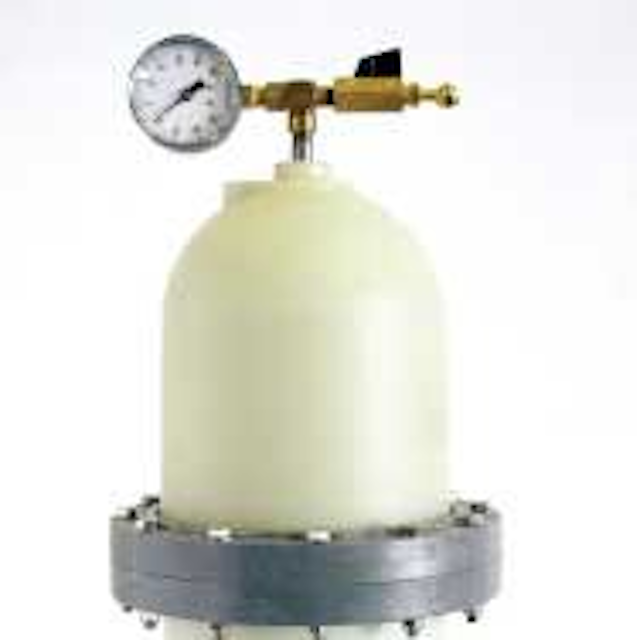 Click here to enlarge image
Since 1976, Blacoh has optimized the discharge side of pumping systems to remove virtually all hydraulic shock, enhancing all-around performance and reliability of fluid flow. Its patented "J" Model inlet stabilizer can further maximizes a pumping system. The stabilizer was designed specifically for the inlet side of all pumps and improves inlet flow conditions, insuring adequate flow into the pump and extending the service life of inlet system components. The new stabilizer features a unique control unit designed so a positive pressure charge or a vacuum can be set in the stabilizer.
Blacoh Fluid Control
Riverside, CA
Tel: 800-603-7867
Custom pumping systems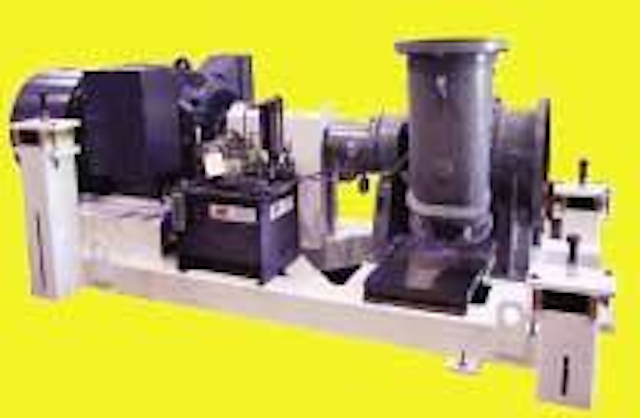 Click here to enlarge image
Morris Pumps offers an expanded line of heavy-duty engineered pumps for municipal sewage, sludge and slurries. High capacity ratings and large solids handling provide coverage for a wide range of performance and application requirements. Custom design of high-head pumping systems is routinely provided as are special materials of construction and unique mounting arrangements.
Morris Pumps
Aurora, IL
Tel: 630-236-6900
Web: www.morrispumps.com
Metering Pump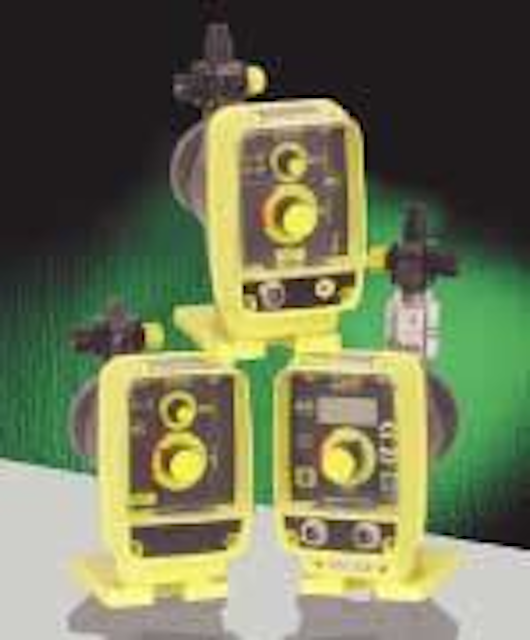 Click here to enlarge image
LMI Milton Roy has redesigned its Series A pump. Maintaining the same size footprint of previous models, the newly redesigned housing improves the drive's heat transfer properties, as it generates heat farther away from the electronic components to maintain the long-term integrity of the PC Board. Electrical connector attachments have been repositioned to the front of the pump for easy access.
LMI Milton Roy
Ivyland, PA
Tel: 215-293-0401
Web: www.lmipumps.com
Diaphragm pumps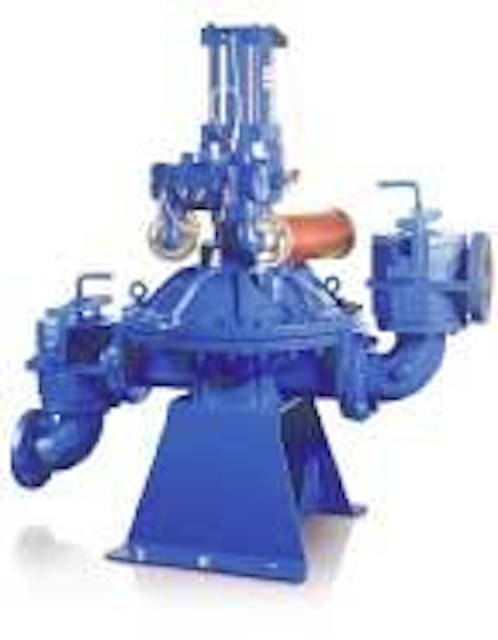 Click here to enlarge image
Gorman-Rupp has announced a new line of Ramparts integrated control (iC) air-driven diaphragm pumps. These pumps are designed for handling heavy sludge and slurries. The pumps have the following features: run-dry capabilities without damage; infinitely variable flow controls; corrosive, abrasive, viscous and shear-sensitive media handling abilities, and protection from damage due to operation against closed valves.
Gorman-Rupp Co.
Mansfield, OH
Tel: 419-755-1011
Web: www.gormanrupp.com
Dosing pump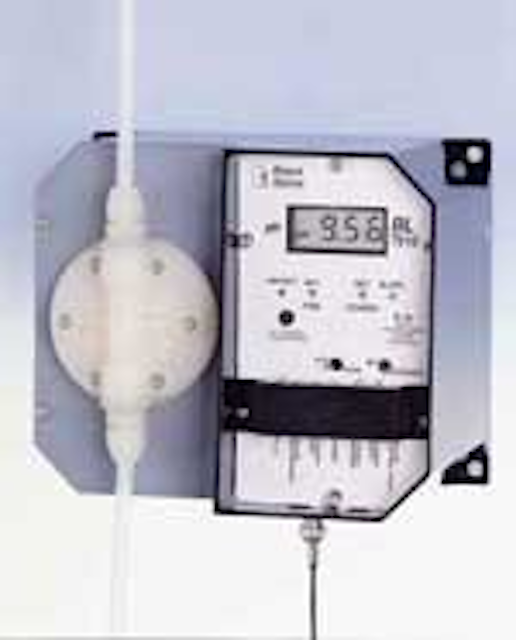 Click here to enlarge image
Hanna Instruments produces the Blackstone pH Controller & Chemical Dosing Pump. The BL 7916 features accurate regulation, proportional dosing, plus recorder and alarm signals in one unit. The system is housed in a fiber-reinforced polypropylene casing that is IP65 rated and resists corrosion caused by most chemicals. The pump strokes at the maximum rate when the measured value deviates by more than 1.5 pH from the set value.
Hanna Instruments, Laboratory & Ind. Div.
Ann Arbor, MI
Tel: 800-504-2662
Web: www.hannainst.com
Seal-less pumps
The Sethco Division of Met-Pro has added to its magnetic drive, self priming, seal-less pump series. New models are now equipped with a 3, 5 or 7.5 HP motor for flows to 212 gpm and 100 TDH. Materials of construction are either polypropylene/PVDF or high temperature PVDF. Other features include run dry capability and no metal contact with the solution being pumped.
Sethco Div., Met-Pro Corp.
Hauppauge, NY
Tel: 631-435-0530
Web: www.sethco.com
Pressure sewers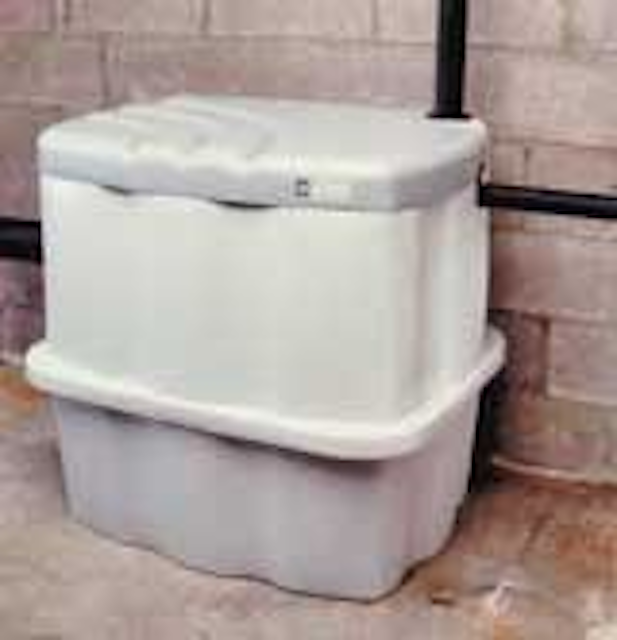 Click here to enlarge image
E/One provides low pressure sewer system technology. The E/One IDU provides residential wastewater storage, grinding and pumping functions, then the homestead wastewater is driven through small-diameter sewer pipes (1 1/4'' to 3'' versus 8'' to 24'' for gravity systems) that are buried just below the frost line and follow the contours of any type of landscape (flat, wet, rocky and hilly).
Environment One Corp.
Niskayuna, NY
Tel: 518-346-6161
Web: www.eone.com
Submersible pumps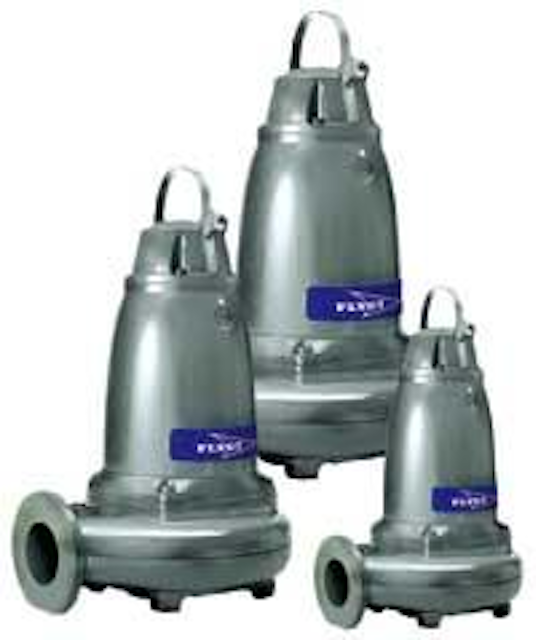 Click here to enlarge image
ITT Flygt has announced the release of a complete mid-range N-pump series. These pumps are equipped with the company's self-cleaning, solids-handling N-impeller that delivers sustained high-efficiency. They can be used in wet-pit, vertical and horizontal dry-pit and portable installations.
ITT Flygt Corp.
Trumbull, CT
Tel: 203-380-4826
Web: www.flygtus.com
Flow conditioners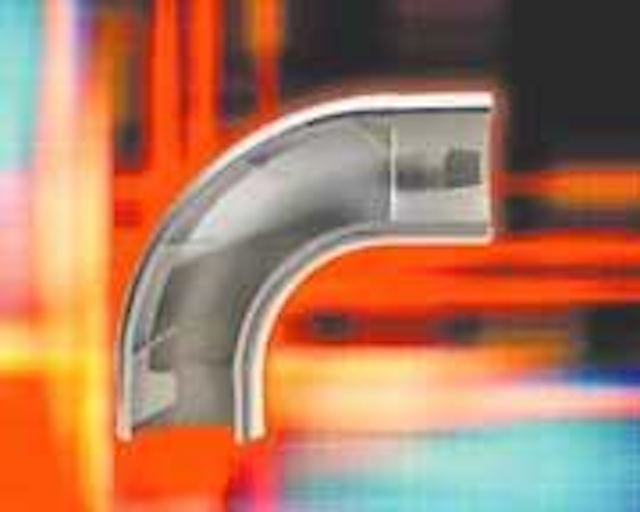 Click here to enlarge image
Vorel 90-Degree Elbow Flow Conditioners from the Vortab Co. increase pump performance and reduce pump maintenance by eliminating cavitation and improving flow profiles leading into pumps. No added space is taken up in installation as the elbow replaces the last remaining upstream elbow in the line. Pipeline elbows located upstream from pumps create undesirable process media swirl and other asymmetrical flow conditions that damage pumps.
Vortab Co.
San Marcos, CA
Tel: 800-854-9959
Web: www.vortab.com
Vortex pumps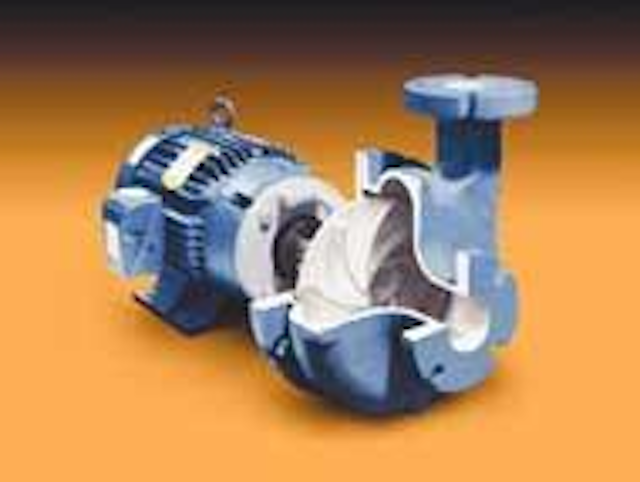 Click here to enlarge image
Vertiflo's Series 1500 and 1600 horizontal end suction vortex pumps are finding new uses in solids handling industries. For applications in sewage treatment plants on primary and secondary sludge of 6% solids and less, these pumps provide an economical option to progressive cavity pumps. The base-mounted 1500 pumps are designed for use with any T frame motor or with virtually any type of drive, and the close-coupled 1600 pumps use any NEMA Standard JP Shaft Motor.
Vertiflo Pump Co.
Cincinnati, OH
Tel: 513-530-0888
Web: vertiflopump.com
Mag drive pump
Click here to enlarge image
Hayward Industrial Products has expanded its line of pumps for the water and wastewater treatment industries with the introduction of the Webster Series R, all plastic magnetic drive pump. The pump features a patented design and rugged construction and is backed by an extended two year warranty. Since the process fluid never comes in contact with metal, the pumps will never fail due to rust or corrosion.
Hayward Industrial Products Co.
Elizabeth, NJ
Tel: 908-351-5400
Web: www.haywardindustrial.com
Laser alignment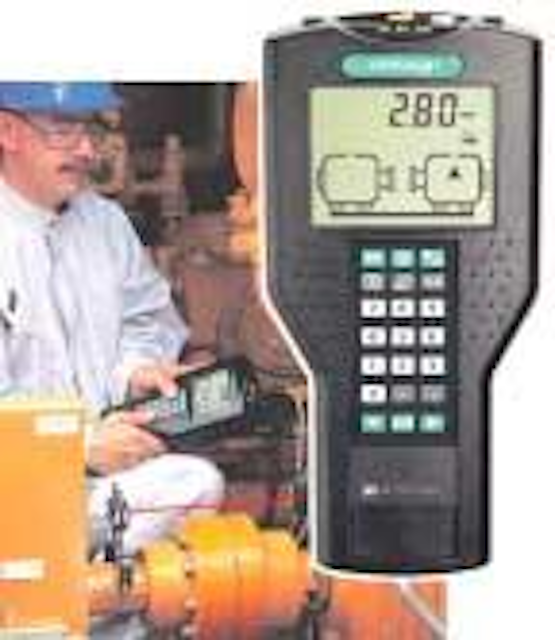 Click here to enlarge image
Optalign® Plus Series, a laser shaft alignment system available from Ludeca, was developed under an innovative modular concept that allows the customer to design his own device, acquiring the exact features needed. The series allows the user to simply add more capabilities as job demands grow or when the budget allows. Well aligned couplings reduce bearing and seal damage, minimize energy loss, and reduce production downtime.
Ludeca Inc.
Miami, FL
Tel: 305-591-8935
Web: www.ludeca.com
Vortex pumps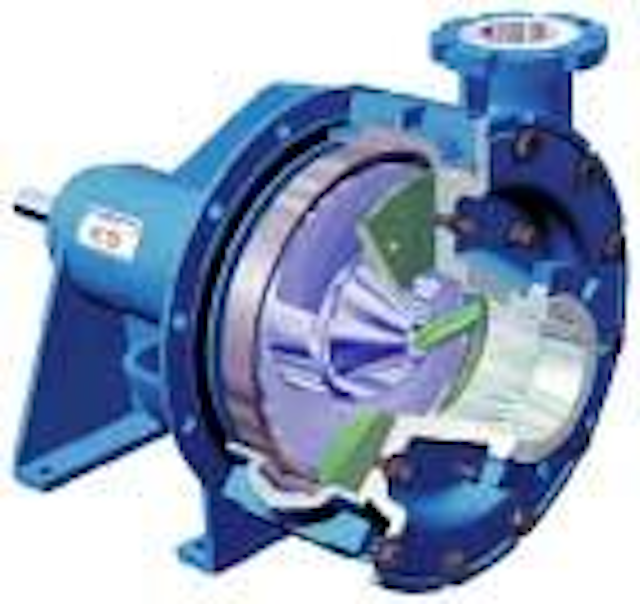 Click here to enlarge image
Fairbanks Morse Pump offers the Vortex and C-Chop™ Chopper Pumps. The hard metal vortex pumps handle flows from 50-3000 gpm, and heads to 200 ft using a fully recessed impeller, and are ideally suited for grit applications with higher concentrations of solids and sludge. The company offers information on how operators can upgrade their vortex pump with the company's interchangeable and backward-compatible Chopper Pump retrofit.
Fairbanks Morse Pump Co.
Kansas City, KS
Tel: 913-371-5000
Web: www.fmpump.com
Strainers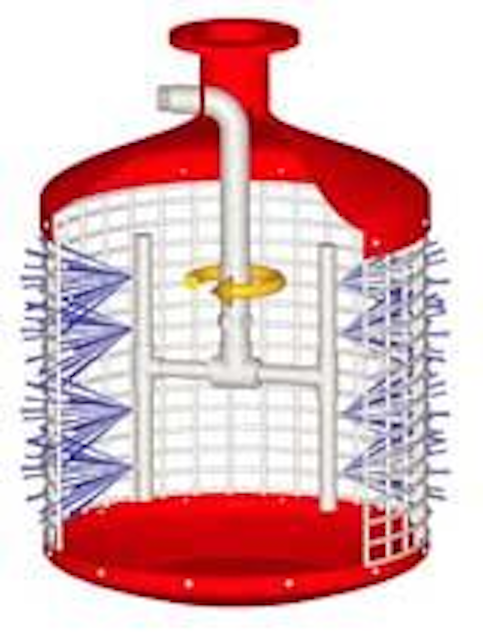 Click here to enlarge image
Designed for installation on the pump suction line, the ORS series strainer provides protection for pumps and other equipment by removing large particles before they enter the system. The strainer cleans itself continuously to ensure debris free water to the system. Units are available in 4'' through 16'' line size to handle flow rates up to 5,300 gpm. They are available with 1200 or 2500 micron screen. Units can be installed in parallel to handle any flow rate.
Orival Inc.
Englewood, NJ
Tel: 800-567-9767
Web: www.orival.com
Grinder pump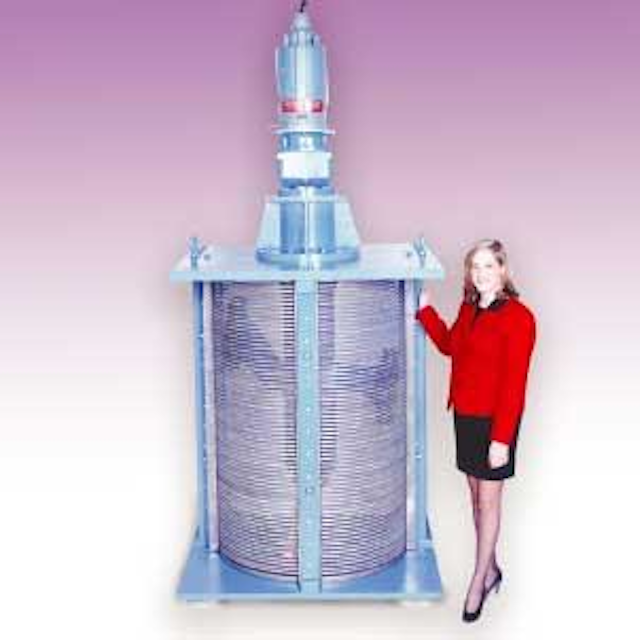 Click here to enlarge image
The Dimminutor®, available from Franklin Miller, offers automatic screening and disintegrating of wastewater solids in straight through channels and wet wells. The unit reduces plastics, wood, rags and other solids to fine bits, enhancing plant operation and improving the reliability of pumps and other downstream equipment. The grinder employs a continuously rotating design with high torque.
Franklin Miller Inc.
Livingston, NJ
Tel: 973-535-9200
Web: www.franklinmiller.com
Peristaltic pump
Watson-Marlow Bredel has introduced its all new 520 Du peristaltic pump. Designed to handle the corrosive fluids with accurate metering performance, the pump is ideal for environmental processing applications. It is equipped with a high-torque microprocessor controlled drive ensuring a higher range of flow rates up to 875,000:1 turn down ratio.
Watson-Marlow Bredel Pumps
Tel: 800-282-8823
Web: www.wmbpumps.com
Centrifugal pumps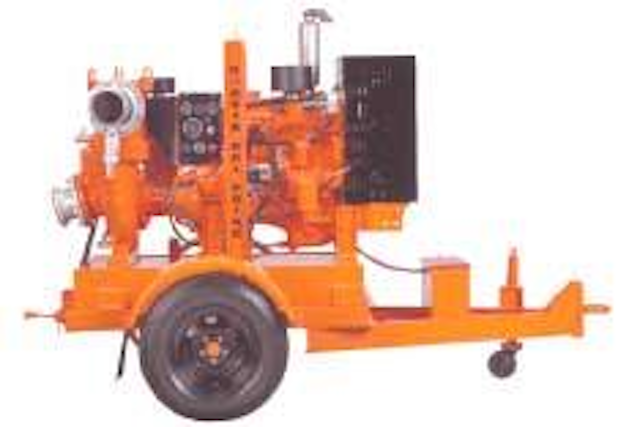 Click here to enlarge image
The Godwin Dri-Prime® – an automatic self-priming centrifugal pumpset available in sizes from 2'' to 16'' – has been proven in emergency and planned municipal applications including sewer bypass, domestic water boosting, storm water dewatering, and standby backup pumping for lift stations. With maximum flows to 10,000 gpm, heads to 600 ft and solids handling to 5'' in diameter, the pump features automatic self-priming to 28 ft of suction lift and dry-running capabilities.
Godwin Pumps
Bridgeport, NJ
Tel: 856-467-3636
Web: www.godwinpumps.com
Sludge pump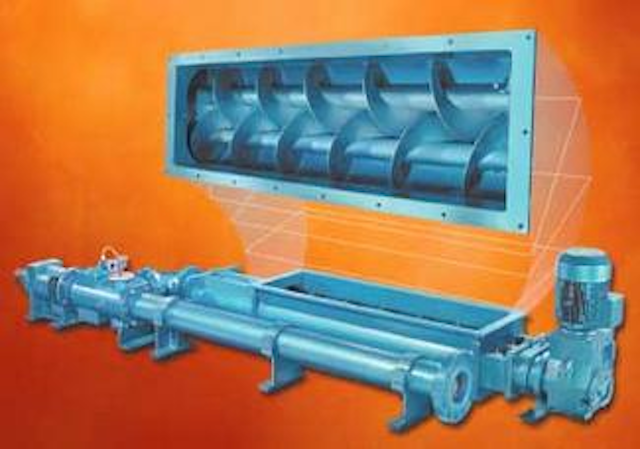 Click here to enlarge image
The new Moyno® 2000 HS System is an alternative to piston pumps and open conveyors for dewatered sludge transfer in municipal wastewater treatment. It features an integral hopper with a twin-screw auger feeder and Moyno G4 progressing cavity pump that handles semi-dry, high solids content, dewatered sludge.
Moyno Inc.
Springfield, OH
Tel: 877-486-6966
Web: www.moyno.com