Liner Pipe Halts Sewer Infiltration; Preserves Property in Prominent Community
Sequoyah Hills, one of Knoxville's historic and distinguished communities, has an older infrastructure requiring periodic attention.
Apr 1st, 2004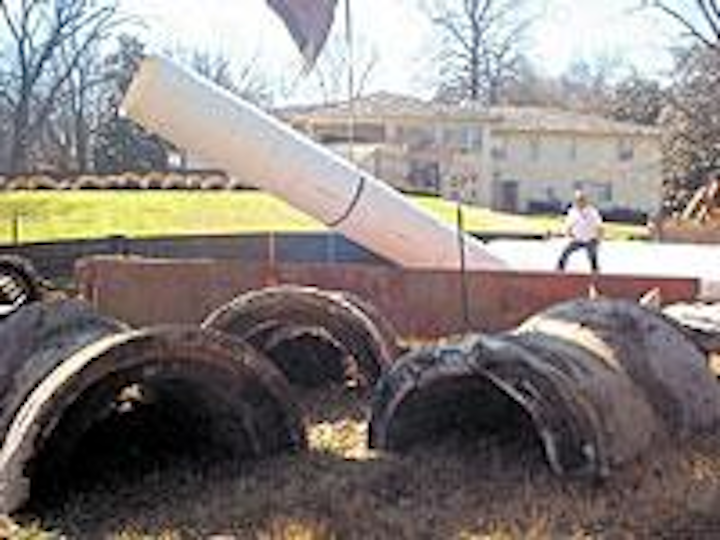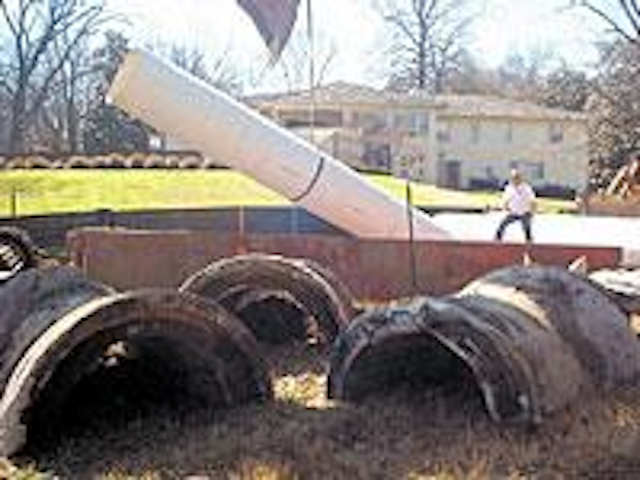 Inserting the liner pipe in the Knoxville project required only four excavations totaling 160 linear feet along the 3,459-foot line.
Click here to enlarge image
Sequoyah Hills, one of Knoxville's historic and distinguished communities, has an older infrastructure requiring periodic attention. However, the unusual placement of some utilities, restricted access caused by bordering waterways, heavily wooded terrain and meandering roads often conspire to complicate design and construction.
Many properties in the southern part of Sequoyah Hills abut the Tennessee River. Houses are set deep within their waterfront lots with boathouses, gazebos, docks and walkways extending to water's edge. This carefully nurtured section of the community, renowned for its forested hills and stone shoreline bluffs, became a source of concern when groundwater infiltration into its older sanitary sewer resulted in significant overload at a downstream pump station during wet weather. Infiltration into the existing sewer was caused by degradation of the 50-year-old masonry joints.
"Working space and access restrictions eliminated some usual rehabilitation methods from consideration," said Julie Childers, P.E., Project Engineer with the Knoxville Utilities Board (KUB). "After weighing all remaining options, we decided that segmental sliplining was the best process for this project since it permits small insertion pits and needs less equipment. Also, since individual liner pipe sections can be supplied in short lengths, they are easy to handle in tight quarters."
The sliplining process involves inserting new pipe into a deteriorated sewer to restore hydraulic properties, structural characteristics or to stop infiltration.
KUB employed Consoer Townsend Envirodyne Engineers, Inc., of Nashville, TN, for site analysis, planning and design. The first phase focused on a section involving 2,380 feet of 36" and 1,079 feet of 33" concrete pipe, plus several 6" service connections.
Material and installation specifications permitted alternative types of segmental liner pipe: fiberglass reinforced pipe (FRP) and several profile-wall PVC pipes, all with bell-and-gasket joints. The specified nominal diameters were 30" and 27" liner pipes for the existing 36" and 33" pipes respectively. The rehabilitation contract was awarded to American Excavators of Columbia, TN, whose winning bid was based on Contech Construction Products' A2 PVC Liner Pipe.
"Another benefit of segmental sliplining is that it need not interfere with flow in the existing line while work progresses. With most other relining or rehabilitation processes, service must be interrupted and bypass lines are required for the duration of the project," said Paul Stonecipher, P.E., Design Engineer for Consoer Townsend Envirodyne Engineers, Inc..
"Uninterrupted flow also aids installation of the slipliner pipe by reducing friction."
In urban environments, where manhole spacing is usually several hundred feet, the distance between manholes usually represents separate portions of the relining project.
On the Sequoyah Hills project, however, space constraints required sliplining 2,045 linear feet in one single, continuous operation. This 36" pipeline section contained five manholes, each having horizontal direction changes between inlet and outlet pipes ranging from less than one degree to more than six degrees. Such an unusually long "push," especially in the presence of significant line deflections, required careful selection of materials and installation techniques.
Guy Anderson, Project Manager for American Excavators, selected A2 PVC Liner Pipe for the Sequoyah Hills project because "Our biggest concern was taking deflections at the liner pipe joints without disengaging the joint gaskets and without restricting our ability to push the liner into the existing sewer. A2 Liner provided the strongest joint, even when deflected up to five degrees, which was a must for this installation. Alternative segmental liner pipes did not offer as much joint deflection, which would require shorter liner pipe lengths and additional joints to make the bends.
Reducing the number of joints was another issue, since the liner would be air tested at 3.5 psi for nearly two hours following placement."
American Excavators successfully completed the long push and passed the air test without incident. A2 Liner Pipe's unique joint design, which can manage pushing forces even when fully deflected, was a contributing factor to this success. Sections of the liner running through manholes were cut and removed after testing was completed.
The annular space between the new liner and the existing pipe was filled with a non-shrinking grout and additional sealer applied at manhole entries.
"While we were not very concerned about relining the shorter sections on this project, we thought that the unusually long 2000 foot section would be fairly difficult," said Larry Pittler, Resident Inspector for Consoer Townsend Envirodyne Engineers. "However, the contractor used the right techniques, picked the most appropriate slip-liner pipe and relining went much smoother than expected."
Although residents of Sequoyah Hills were initially concerned about the impact that the work would have upon their community, they were relieved that inserting the liner pipe required only four excavations totaling 160 linear feet along the 3,459-foot long line—which minimized property disruption and sped job completion.