Managing Mother Nature: Wild Weather Puts Aging U.S. Water Infrastructure to the Test
One of the biggest concerns in winter weather is water main breaks. The wild weather should serve as confirmation that upgrading our water systems is no longer an optional expense. By focusing on our water and wastewater infrastructure, we're investing in our water delivery systems for both the short and long term, helping to curtail costly damage and prolonged service outages.
Nov 17th, 2014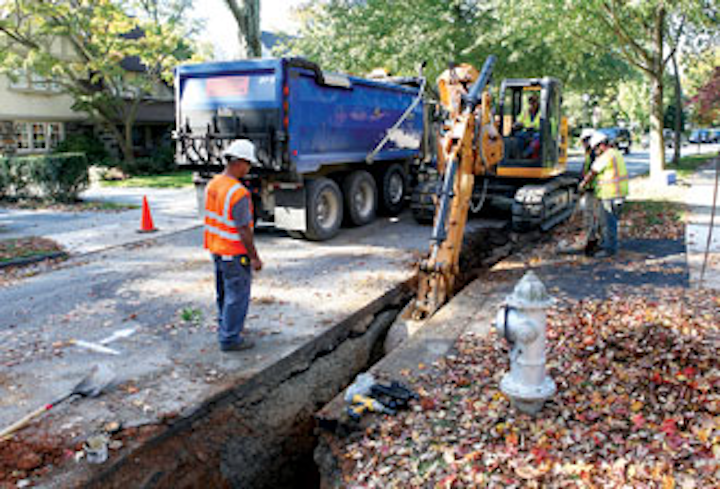 By Christopher Franklin
In the water utility industry, each season can bring its own set of challenges to delivering clean, safe drinking water by placing different stresses and demands on water supplies as well as treatment and distribution systems.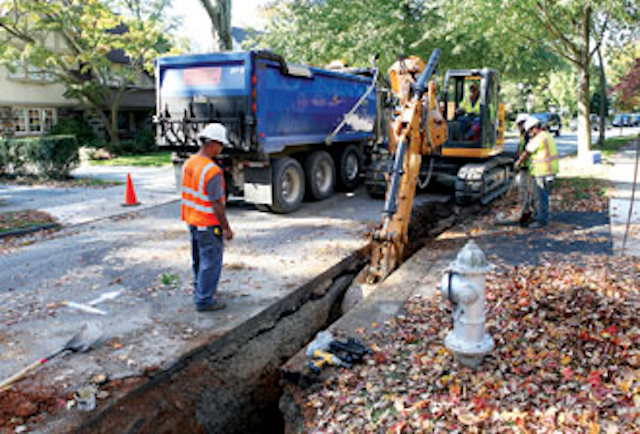 Main replacements make up a significant part of Aqua's infrastructure improvement program. In Pennsylvania, its largest operating subsidiary, the company replaced 700 miles of main in the 5-year period 2009 through 2013. Photo courtesy of Aqua America.
This year, for example, ongoing drought conditions in California, Texas and Oklahoma were further exacerbated by an extremely dry summer, forcing some regions to declare water emergencies and impose restrictions as water reserves reached low levels. In parts of Central Europe, spring and summer often bring flooding, which can cause concerns over surface and groundwater contamination. In a more unusual example, Toledo, Ohio, was forced to impose a strict drinking water ban for several days this summer after shifting currents in Lake Erie pushed dangerous algae blooms into the city's drinking water supply.
Arguably, winter produces a whole different level of challenges for the water industry. For much of the country, the winter of 2013-2014 will be remembered as one of the toughest in recent history. Many parts of the country endured record amounts of snowfall and months of bitter, sub-freezing temperatures. Even areas of the country that normally experience relatively mild winters were affected by the extreme weather. Atlanta was hit with several debilitating snow and ice storms, and the cold temperatures even reached subtropical Florida, where Tampa had a low of 35˚F on January 7, 2014.1 In total, roughly 187 million residents in the continental U.S. were affected by the deep freeze.
For the average American, the harsh winter meant snowy and dangerous commutes, high heat bills and roads pocketed with potholes. But for many of us in the water industry, the severe winter was a true test of our nation's aging infrastructure, which can be especially vulnerable in extreme temperatures.
Challenges Posed By Winter Weather
One of the biggest concerns in winter weather, of course, is water main breaks. Breaks occur when temperature fluctuations cause pipes to contact and expand. A perfect storm of cold soil, frost and cold water can combine to add stress to water pipes. This can -- and often does -- result in breaks, even during relatively moderate winters.
As temperatures near the freezing point, additional stress inside and outside the pipes can occur, increasing their vulnerability to breakage. Water temperature changes more slowly than air temperature, so the impact of cold water on these pipes can cause breakages to take place days after air temperatures drop. When water mains break, residents can be without water service for hours, or even days, as crews work overtime to dig through the frozen ground to repair pipes.
Compounding the problem is the fact that much of the country's existing water infrastructure is more than 60 years old2 and is reaching the end of its useful life. Aging water mains in the U.S. are usually made of galvanized or cast iron. In many cases, the main is much older, dating back to the turn of the century and made from old cast iron or cement. This cast iron, however, is susceptible to even relatively small changes in temperature. In fact, a variation of just 10 degrees is enough to cause these old pipes to contract and expand, increasing the likelihood of breaks.
The American Society of Civil Engineers reports that an average of 240,000 water main breaks occur each year, but it's likely that the winter of 2013-2014 far surpassed that average. Many water systems -- including those in the cities of Syracuse, Cleveland, Milwaukee, Green Bay, Iowa City, Cedar Rapids, and Baltimore -- reported a record number of main breaks last winter as they fought against Mother Nature.
Aqua Pennsylvania, the largest division of Aqua America, experienced 300 main breaks in the greater Philadelphia region in the first two months of 2014 alone, compared to 398 breaks in all of 2013. This increase was a direct result of the harsh winter conditions, in which the Philadelphia region was hit with more than 67 inches of snowfall and an average temperature of just 30˚F. Despite the higher rate of breaks during the winter of 2014, Aqua Pennsylvania weathered the storm, proudly reporting no major service disruptions to its 1.4 million customers in the state.
An Ounce of Prevention Is Worth a Pound of Cure
The U.S. has approximately 700,000 miles of aging underground water pipes, so it's reasonable to expect that a particular section of pipe will fail or break at some point. The challenge for water utilities is to proactively work to minimize the number of breaks that occur -- saving emergency repair costs and improving service reliability to customers. By examining trends in water main breaks over time, a utility provider is better able to identify categories of pipe that are more prone to breaks and thus proactively target that pipe for replacement. However, the Environmental Protection Agency (EPA) estimates that $384 billion of improvements are needed through 2030 for systems to continue providing safe drinking water to 297 million Americans.
There is proof that making a proactive investment in water infrastructure can reduce main breaks year-round and especially during extreme weather. Aqua Pennsylvania's greater Philadelphia service region, for example, experienced a 27-percent reduction in water main breaks during the winter of 2013-2014 when compared to the winter of 2008-2009, which was the last time the service area saw similar extreme temperatures and high snowfall totals. During the winter of 2008-2009, Aqua Pennsylvania experienced 520 breaks in its greater Philadelphia service area, compared with 381 over the same period in 2013-2014.
At Aqua, we credit this decrease almost solely to our investment in renewing and improving our water and wastewater infrastructure through continuous capital investment. Every year, Aqua invests millions of dollars to improve its plants, tanks, distribution systems, and other infrastructure, including replacing miles of aging water main with more durable ductile iron main. To determine which of our nearly 6,000 miles of water main in Pennsylvania need to be upgraded, we carefully assess our systems and target pipes for replacement or rehabilitation that would provide the most benefit in terms of improved reliability and reduced leakage.
Between the winters of 2008-2009 and 2013-2014, Aqua Pennsylvania invested $957 million in infrastructure improvements in the greater Philadelphia region. In 2013 alone, more than 100 miles of pipe were replaced to reduce the potential for service disruptions, as well as plant upgrades to enhance water quality. Aqua America expects to invest $1 billion in needed infrastructure improvements over the next three years across the eight states the company services.
There's no doubt that last winter was exceptionally challenging for many U.S. water utilities. But the wild weather should serve as confirmation that upgrading our water systems is no longer an optional expense. By focusing on our water and wastewater infrastructure, we're investing in our water delivery systems for both the short and long term, helping to curtail costly damage and prolonged service outages. After all, like it or not, next winter is right around the corner.
About the Author: Christopher Franklin is executive vice president of Aqua America and president and COO of regulated operations responsible for the company's regulated operations, including customer operations, throughout its entire service area, which includes approximately 3 million people in eight states. Franklin, a 20-year veteran of the company, has held executive roles in public affairs, customer operations and most recently as regional president of Aqua's southern and mid-western operations.
References
1. 2013-14 North American cold wave. n.d. http://en.wikipedia.org/wiki/2013%E2%80%9314_North_American_cold_wave (accessed October 22, 2014).
2. Alison Kosik, "Experts: U.S. water infrastructure in trouble," CNN.com, January 11, 2011, http://www.cnn.com/2011/US/01/20/water.main.infrastructure/.
3. "Eighth Coldest January on Record for Illinois," Illinois State Climatologist (blog), January 31, 2014, http://climateillinois.wordpress.com/2014/01/31/eighth-coldest-january-on-record-for-illinois/.
---
Thawing the Line
In addition to water main breaks, frozen pipes in customers' homes and business can be a serious concern when the temperature drops below freezing. In January 2014, the average statewide temperature in Illinois was a frigid 18.2˚F,3 which caused pipes to freeze throughout the state. Aqua Illinois crews worked overtime to thaw frozen service lines underground, which was especially challenging considering that the frost line (which is about 15 to 30 inches deep during an average winter) was more than 45 inches belowground in some areas.
More WaterWorld Current Issue Articles
More WaterWorld Archives Issue Articles