Combined Sewer Solutions: Sustainable Infrastructure Initiative Merges Green, Gray Development to Reduce CSOs in Ohio Watershed
The Metropolitan Sewer District of Greater Cincinnati has launched Project Groundwork, a multiyear sustainable infrastructure initiative comprising hundreds of sewer and stormwater management projects. Taking place in Hamilton County, Ohio, the program is designed to reduce and ultimately eliminate sewer overflows entering local waterways throughout the region.
Sep 9th, 2014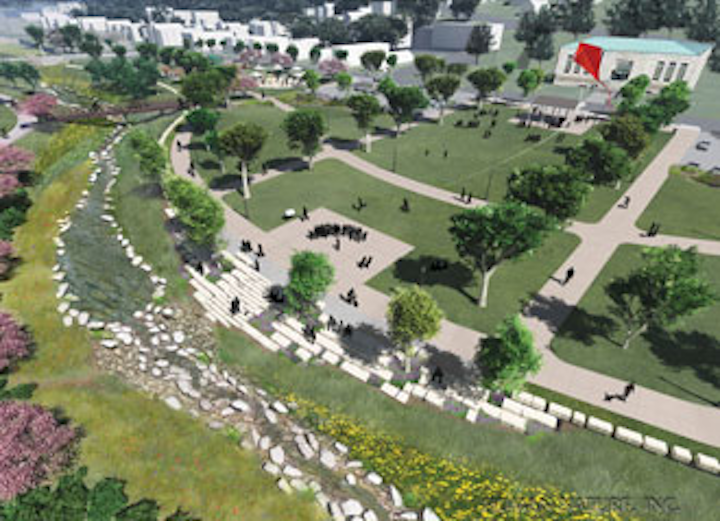 By Art Haddaway
At a time when green infrastructure endeavors are more prevalent than ever in the water and wastewater industry, the Metropolitan Sewer District of Greater Cincinnati (MSD) is proving that low-impact development (LID) is a practicable and cost-effective solution.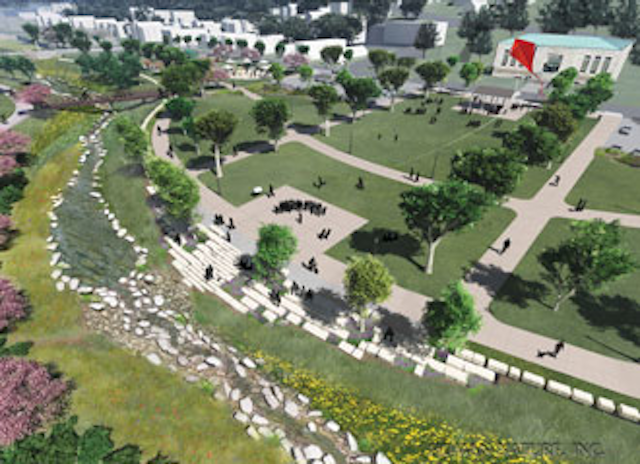 Illustration of the Lick Run VCS along a recreational use area.
The municipality recently launched Project Groundwork, a multiyear sustainable infrastructure initiative -- MSD's largest public works project in over two centuries -- comprising hundreds of sewer and stormwater management projects. Taking place in Hamilton County, Ohio, the program is designed to reduce and ultimately eliminate sewer overflows entering local waterways throughout the region.
MSD started Project Groundwork in 2009 to meet a consent decree issued by the Environmental Protection Agency (EPA) in 2004 to treat, capture or remove 85 percent of its annual 11.5 billion gallons of combined sewer overflows (CSOs), as well as eliminate all sanitary overflows.
The program is broken into two phases -- Phase 1 and Phase 2 -- that focus on blending the use of LID and source reduction stormwater techniques (green infrastructure) with conventional sewer separation, storage and conveyance (gray infrastructure) "to achieve maximum environmental, social and economic benefit while managing storm runoff volumes and preventing sewer overflows," according to a recent EPA report.
MaryLynn Lodor, MSD deputy director, explained that this unique blend is not only an effective solution to reducing CSOs but a timely one given the condition of the waterways as well as the availability of new technologies and community desire for maximum return on investment. "From the beginning, we were looking at a need to come up with a large-scale, comprehensive solution to combined sewer overflows, and we knew that green infrastructure was really starting to take off, and people were taking notice of that."
Phase 1, a $1.3-billion undertaking, involves the construction of 106 new projects along with the design of 62 additional projects to be completed by 2018. Phase 2, an estimated $2.1-billion endeavor, includes the construction of 256 projects beginning in 2019, with a specific completion date pending.
Project Groundwork encompasses a variety of major individual sites throughout Hamilton County, including work on the Lick Run watershed -- the most notable and large-scale effort of MSD's green initiative -- as part of the Phase 1 process. Located in Lower Mill Creek on Cincinnati's west side, Lick Run is the county's largest CSO area covering 2,700 acres that involves parts of Westwood and East and West Price Hill neighborhoods.
The 19.5-foot-diameter combined sewer pipeline, which encloses a stream built over 100 years ago that ran between Queen City and Westwood avenues, extends 3,700 feet under South Fairmount neighborhood streets, houses and buildings. When it rains, however, the system has often flooded and diverted excess untreated flow -- around 1 billion gallons worth of sewage and stormwater -- into Mill Creek, ultimately affecting surrounding communities in the process.
As a viable solution, the EPA consent decree allows MSD to institute an alternative approach that combines green and gray infrastructure to mitigate CSOs. This $190-million endeavor includes the development of new underground storm sewers and water quality detention features, as well as the complete revitalization of aboveground waterways designed to safely and efficiently transfer stormwater and other drainage into Mill Creek.
The Lick Run project is part of the Lower Mill Creek Solution, which was approved by the EPA in May 2013, and is set to eliminate 1.78 billion gallons of CSOs that run into Mill Creek, a Project Groundwork factsheet indicated. The endeavor also involves source control and stream restorations in Kings Run, a real-time storage facility in Bloody Run and source control solutions in West Fork watersheds. Further, the Lick Run project encompasses 15 individual efforts to reduce 624 million gallons of overflows annually.
In particular, MSD is incorporating the use of a nearly 40-acre valley conveyance system (VCS) -- an innovative "daylighting" project -- that will ultimately revive the use of South Fairmount's former stream. Designed to transport much of this stormwater directly to the watershed itself, the VCS serves as a central channel where 11 other surrounding Lick Run projects can convey their excess flows and drainage through the use of the new underground and aboveground infrastructure. In addition, a box conduit will be installed underneath the VCS to better handle flows from large rain events, mainly 100-year floods. The top of the conduit will also serve as the stream's channel bed.
Of the watershed's 2,700 acres, MSD is targeting 1,800 acres to separate existing stormwater from the combined sewer system. "We are creating areas for detention, bioswales as well as piping networks for this stormwater to flow into in order to get to the valley conveyance system," said Lodor. "We're strategically separating this stormwater or natural drainage from the sewer where it makes sense economically and environmentally." Further, it's estimated that nearly 80 percent of the runoff will be conveyed through the VCS before being released into Mill Creek, she said.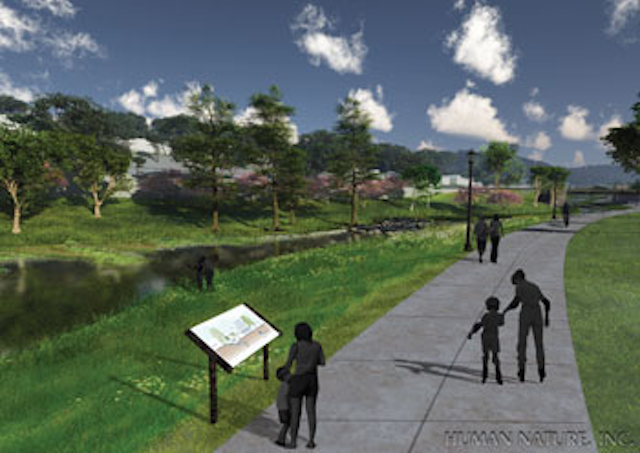 Illustration of Wetland area of the Lick Run VCS
Moreover, the VCS will feature a long, linear public park area comprising a variety of natural elements including wetlands, bioswales and bio-infiltration basins, rain gardens, reforestation in selected areas, and native plant and tree growth assimilated along riparian edges.
These environmental factors along with the project's many economic attributes will contribute not only to the reduction of CSOs in Mill Creek and surrounding waterbodies but also improve water quality, create new green jobs and provide opportunities for much-needed neighborhood and community revitalization throughout the region, according Lodor.
"What makes it [the Lick Run project] different is that it's a large-scale watershed-based solution," said Lodor. "It's not just looking at the CSO at the end of the pipe, but it's looking at where the water falls onto the land and how we can capture that in a unique way by not letting it get to the combined sewer but redirecting it into a stormwater quality or conveyance feature that operates as a system."
In fact, the Lower Mill Creek Solution -- and the Lick Run project in particular -- is being considered as a national model by the EPA and other federal agencies for other urban neighborhoods and communities that are undertaking similar integrated watershed planning projects under strict consent decree mandates.
"This is a project that is creating a platform in which new community and economic development activities can occur around this new asset that is providing CSO and stormwater reduction benefits," said Lodor. "It's really a seed for the community to build around and integrate with as more of a sustainable community development project."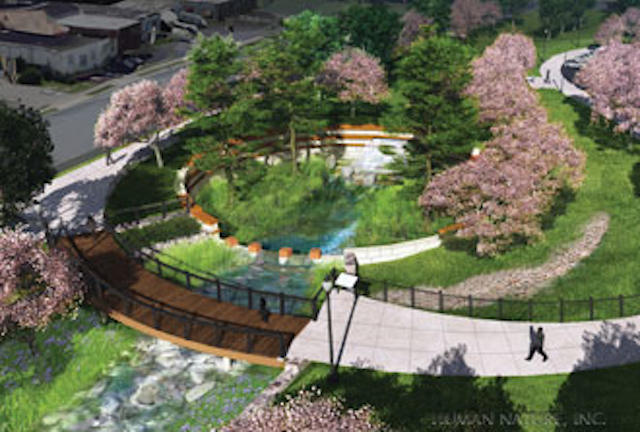 Illustration of the Lick Run Daylighting feature
MSD also recently received the U.S. Water Alliance's 2014 U.S. Water Prize for its strategy "to reduce water pollution, beautify neighborhoods and help spark economic development," according to a recent press release.
"Getting the U.S. Water Prize is sort of an acknowledgement not only that this is the right way to go," said Tony Parrott, MDS executive director, "but it is something that is innovative, something that is changing the game that we're playing in, and it is something that can be beneficial to the neighborhoods as folks [implement] sustainable solutions as part of their consent decrees or wet-weather programs."
The Lick Run watershed project is set to install 75,000 linear feet of new underground storm sewers, 10,000 linear feet of aboveground naturalized stream, and eight different detention basins. Further, the VCS's open-channel and subsurface box will run approximately 8,700 linear feet, with 5,600 of that being the daylighting portion and a wetland.
Currently, 96 of the 106 Phase-1 Project Groundwork efforts are completed. Of the 15 Lick Run projects, one has been completed (Harrison Avenue, Phase A), and two are under construction (Rapid Run Park and Queen City Avenue, Phase 1), while others are in final design stages. MSD expects to finalize the designs of the VCS by the fall of 2015, with construction anticipated to start in January 2016.