Green Thumbs Up: Keystone State Embraces Green Infrastructure for Stormwater Management
The state of Pennsylvania is carrying out a variety of innovative green infrastructure initiatives to improve stormwater management throughout the state, including an advanced stormwater fee structure, CSO improvement projects, a roadside stormwater retention program, and a cutting-edge green sustainability center.
Sep 9th, 2014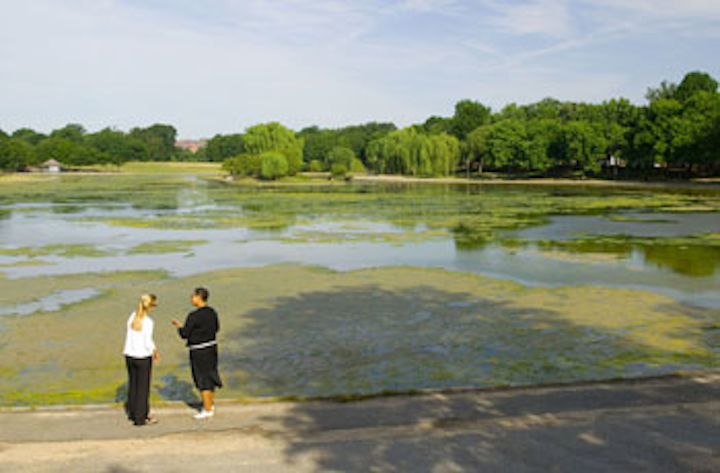 By William Atkinson
As discussed in a recent EPA report, "The Economic Benefits of Green Infrastructure: A Case Study of Lancaster, PA" (February 2014), stormwater runoff is recognized as a major cause of water pollution in urban areas. When rain falls in undeveloped areas, the water is absorbed and filtered by soil and plants. However, when it falls on roofs, streets and parking lots, the stormwater ends up being drained through engineered collection systems and discharged into nearby waterbodies. This stormwater carries trash, bacteria, heavy metals, and other pollutants from the urban landscape directly to receiving waters. Fortunately, there is an alternative: green infrastructure.
Green infrastructure uses vegetation, soils and natural processes to manage water and create healthier urban environments. At a city or county level, green infrastructure refers to the patchwork of natural areas that provide habitat, flood protection, cleaner air, and cleaner water. At a neighborhood level, it refers to stormwater management systems that mimic nature by soaking up and storing water.
Excess nutrients carried by stormwater can cause thick, green muck that pollutes the water. Photo by Eric Vance, U.S. EPA.
One organization focusing a lot of attention on green infrastructure for stormwater management is the Center for Sustainable Communities (CSC) at Temple University (Ambler, Pa.), which was created in 2001 and focuses on a number of "green" initiatives -- the main one of which is water.
"We have seen a lot of interest in flood control in general and stormwater management, specifically in this region," said Jeffrey Featherstone, Ph.D., director and professor, CSC, Department of Community and Regional Planning, School of Environmental Design, at Temple University. "For example, the city of Philadelphia has embarked on an ambitious green infrastructure program as a way to deal with its combined sewer overflow (CSO) problem," he said. Philadelphia is one of about 800 cities in the U.S. where sanitary sewers and storm sewers are combined.
The cost to implement a traditional graywater-type solution, which separates the sewers, or to build underground chambers is quite expensive, said Featherstone. "Philadelphia, in working with the EPA and the state Department of Environmental Protection, is proposing an alternative to the graywater solution by doing green infrastructure with the goal of capturing the first inch of runoff." The $2.5-million Philadelphia Water Department program, called "Green City, Clean Waters," carries a significantly lower price tag than the $15- to $20-million for gray infrastructure.
Philadelphia has also implemented a stormwater fee structure that accounts for commercial users, especially those with large amounts of impervious cover. "It replaces the previous approach of assessing stormwater fees based on water meter usage, which, of course, didn't make any sense," Featherstone said. "We are also working with Philadelphia on preparing watershed plans, preparing ordinances and identifying various stormwater control measures that can be implemented."
The CSC is also working with the William Penn Foundation on the Delaware Watershed Conservation Program (DWCP), a $35-million effort by the Foundation to improve water quality in the Delaware River Basin. One focus of the initiative is on the watershed that has its headwaters in the suburbs of Philadelphia and drains through the city itself. Part of the program involves constructing various stormwater control measures in the headwaters.
"We will provide oversight and expertise for dozens of restoration projects in five watersheds in the Philadelphia region," said Featherstone. "Nearly all stream segments in these watersheds have been designated as impaired by the Pennsylvania DEP -- primarily due to stormwater runoff." Proposed projects include creating infiltration systems for parking lots, restoring buffers for eroded stream banks, improving stormwater runoff management, restoring stream channels, and upgrading existing stormwater management facilities.
Green infrastructure is indeed having a positive impact. According to a March 2014 press release from the Pennsylvania DEP, efforts to reduce pollution in the state's Chesapeake Bay Watershed continue to demonstrate success. Since 1985, various efforts have helped to reduce phosphorus loadings by 25 percent, sediment by 15 percent and nitrogen by 10 percent. The press release identified a number of initiatives that have helped, one of which involves green infrastructure for stormwater runoff. In fact, the DEP issues municipal stormwater system permits that include nutrient planning requirements.
"We can't keep building bigger pipes and treatment plants," said Ron Furlan, division manager, planning and permitting, in the Bureau of Point and Non-Point Source Management, for the Pennsylvania DEP. "Green infrastructure involves rethinking what we have done in the past to manage stormwater better, with a focus on prevention rather than dealing with the onslaught afterwards. The idea is to handle the water where it comes down, not later on where it goes."
A number of projects throughout the region have supported this goal. For example, according to Furlan, the Pennsylvania Turnpike Commission has undertaken several projects to build stormwater retention structures along the road so that water doesn't end up in the creeks.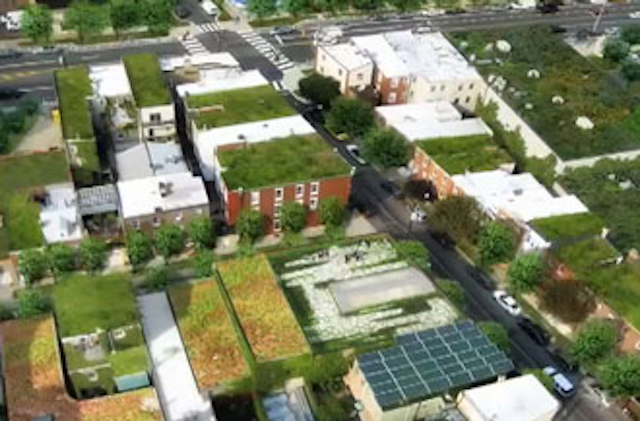 Green roofs, like these in Philadelphia, help slow down stormwater, reducing the volume of water entering storm drains and filtering out pollutants. Photo courtesy of Philadelphia Water Department.
"The Harrisburg Area Community College has a satellite campus that introduced some retrofits and stormwater best management practices (BMPs), including rain gardens and porous pavement," said Ken Murin, division chief, Bureau of Waterways Engineering and Wetlands, for the Pennsylvania DEP.
According to Furlan, one city that has done a lot of work in terms of reducing stormwater is Lancaster, which is focusing on reducing CSOs. "Lancaster has taken steps to reduce the amount of stormwater that is getting into the system," he said. "This has helped to reduce the amount of pollution that results from untreated system overflow." One project is taking place at Brandon Park, which features basketball courts with porous pavement, rain gardens, retention basins, detention basins, and other green infrastructure strategies.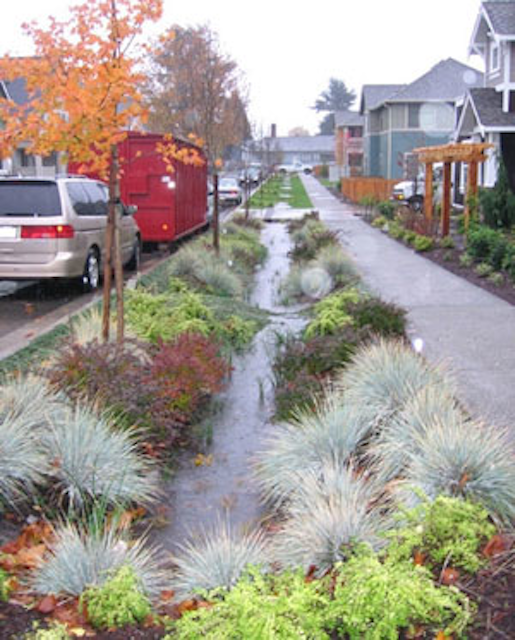 Green infrastructure techniques such as rain gardens retain stormwater runoff, which can help reduce peak flooding. Photo by Clarion Associates.
Lancaster is indeed gaining a lot of publicity for its efforts. According to the aforementioned EPA report, Lancaster (population 60,000), like hundreds of other cities across the country, has both a combined sewer system (CSS) and a municipal separate storm sewer system (MS4). While the CSS collects both sewage and stormwater and conveys the flows to a wastewater treatment plant, the MS4 collects only stormwater runoff and discharges it directly to receiving streams.
In 2011, Lancaster released a comprehensive Green Infrastructure Plan (GI Plan), which stated, in part, that installing green infrastructure in the CSS area could reduce gray infrastructure capital investments and associated wastewater pumping and treatment costs. Specifically, the GI Plan estimated that green infrastructure could provide $2.8 million in energy, air quality and climate-related benefits annually. Further, it could reduce gray infrastructure capital costs by $121.7 million, as well as wastewater pumping and treatment costs by $661,000 per year.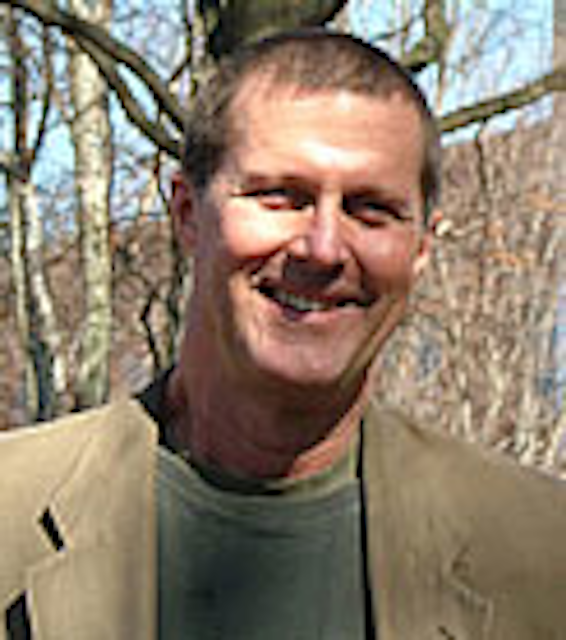 "We will provide oversight and expertise for dozens of restoration projects in five watersheds in the Philadelphia region."
Jeffrey Featherstone, Ph.D., director and professor, CSC, Department of Community and Regional Planning, School of Environmental Design, at Temple University
The benefits would exceed the costs of implementing gray infrastructure in the CSS area, which were estimated to be $51.6 million if the projects were integrated into planned improvement projects, or up to $94.5 million if they were implemented as stand-alone projects. In addition, according to the GI Plan, installing green infrastructure in both the CSS and MS4 areas could produce a range of environmental benefits throughout the city.
"Our Green Infrastructure Plan is a 25-year strategy designed to integrate GI into every capital project the city undertakes and to incentivize private property owners to build GI on their property," said Charlotte Katzenmoyer, director of public works for the City of Lancaster. "We currently have about 160 projects in various stages of development, from conceptual to completed construction." WW
About the Author: William Atkinson is a correspondent for WaterWorld Magazine. He has been a full-time freelance business magazine writer since 1976, specializing in infrastructure, sustainability, supply chain, risk management, and safety/health.