Town Reshapes Collection System to 21st Century Standards
Deteriorating wastewater infrastructure is a problem for many communities particularly in the Northeast where existing infrastructure can be more than a century old.
Aug 1st, 2012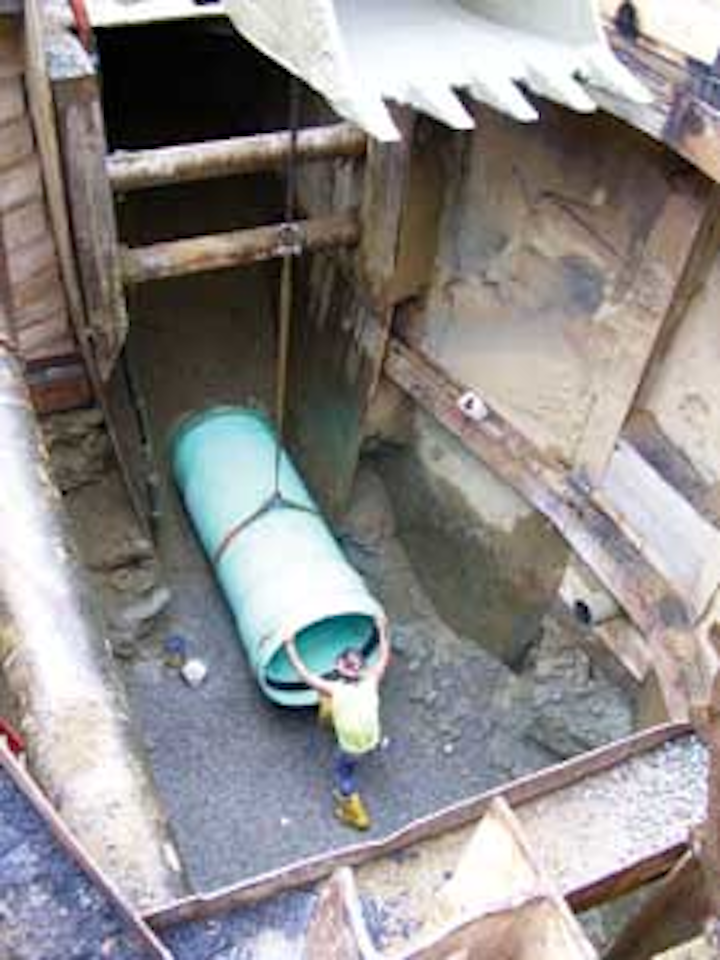 By Laura Robinson
Deteriorating wastewater infrastructure is a problem for many communities particularly in the Northeast where existing infrastructure can be more than a century old. Often times, public works agencies struggle to keep pace with capital needs, forcing staff to perform unscheduled maintenance to keep systems operational instead of focusing on regular maintenance. After years of similar behavior, the Town of Framingham, Mass., looked to shift from more conventional reactive wastewater management to proactive wastewater planning.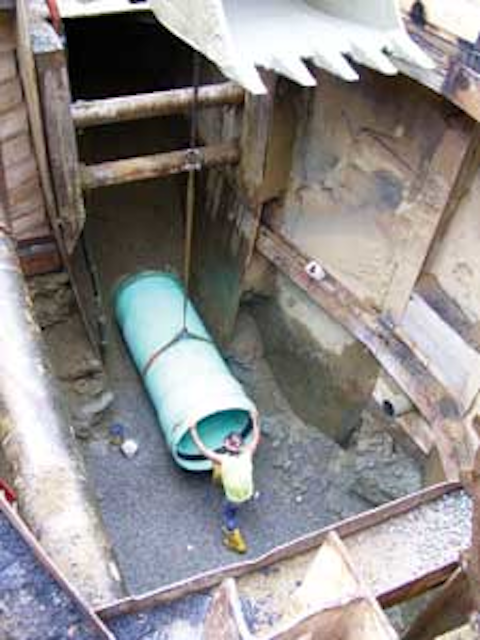 The contractor installs 42-inch PVC pipe in Work Zone 1.
Working with an engineering consultant, the town developed a Comprehensive Wastewater Management Plan (CWMP). The CWMP included a capital improvement plan (CIP) which identified projects intended to reduce hydrogen sulfide generation, reduce operations and management costs, and minimize sanitary sewer overflows (SSOs). A major project identified in the CIP was the East Framingham Sewer Improvements Project (EFSIP).
Designed from 2007 to 2009, EFSIP is the largest project that Framingham has ever undertaken with a final construction price tag of $40.4 million. It is designed to address deteriorating infrastructure and capacity issues, while reconfiguring the town's wastewater management system to meet current and future needs with improved energy consumption and overall sewer flow. Three years into the program, the town's wastewater collection system has undergone an impressive transformation.
EFSIP explained
Incorporated in 1700, Framingham is located in MetroWest, about 20 miles west of Boston. The first sewers in Framingham were installed in the nineteenth century. The community has since expanded to become one of the larger sewer systems in the Massachusetts Water Resources Authority (MWRA) service area. In 2004, the town was issued an Administrative Consent Order, and in 2007, a Notice of Non-Compliance by the Massachusetts Department of Environmental Protection (MADEP) was issued. Additionally, the town must comply with a Settlement Agreement from MWRA issued in 2003 to limit the levels of hydrogen sulfide discharged into the MWRA system.
The EFSIP project area includes four sewer pump stations and several miles of sewer force main. This map shows the layout of the existing system, with proposed design indicated in blue and proposed demolition of stations and mains in red. Solid blue indicates gravity sewer and dashed blue indicates force main.
The Framingham Department of Public Works is responsible for the collection and transport of 10 million gallons of wastewater daily from 17,000 residential and commercial accounts. The separated collection system includes 226 miles of sewers, 18 miles of force mains, 51 pumping stations and 6,600 manholes.
Key goals of the EFSIP design are to reduce sulfide loads by eliminating pump stations and their associated force mains, which also serves to minimize operations and maintenance costs. The project area consists of more than 30,000 feet of force main piping as well as two large pump stations and two smaller pump stations — Saxonville (3,200 gpm), Speen Street (4500 gpm), Arsenal (600 gpm) and Valentine (300 gpm).
Force mains account for approximately 80 percent of hydrogen sulfide generation. The Saxonville and Speen Street pump stations require constant repair and are beyond their useful lives. The Saxonville pump station discharges to a 17,000 lf, 24-inch ductile iron force main. The Speen Street force main alignment runs through a neighboring community and is a 15,000 lf, 16-inch piecemeal piping system comprised of sections of pipe ranging in date from 1910 to 1978.
The EFSIP design eliminates the Arsenal and Valentine pump stations and more than 25,000 feet of force main, and consolidates Saxonville and Speen pump stations — two of the town's largest pump stations — into one centralized wastewater management facility (WWMF) with a capacity of 13 million gallon per day (MGD).
In summary, the EFSIP design includes:
Net elimination of three pumping stations
Combining two existing pumping stations (Saxonville and Speen) into one new WWMF
Net elimination of 25,000 feet of sewer force main
Construction of 6,000 feet of dual sewer force main
Construction of 17,000 feet of new gravity interceptor sewer (24- to 42-inch diameter)
Construction of 13,000 feet gravity collector sewer (8- to15-inch diameter)
Construction of 29,000 feet of new water main (8- to 24-inch diameter)
The EFSIP design was complete in December 2009 and construction began in July 2010. Now in the midst of a three-year construction period, the design of EFSIP is being put to the test.
From Theory to Reality
The real-world challenges associated with moving from design to actual implementation of a massive urban underground utility construction project are many. Framingham and its engineering consultant had to consider significant stakeholder involvement to deliver a well-integrated project with minimal impact to the public, while providing the contractor flexibility to complete the work in a phased, streamlined approach.
The EFSIP design included constructability reviews that considered everything from optimal sequencing to traffic impacts and community relations. The Kleinfelder team combined design and resident engineers who worked closely to develop a construction sequence that kept parts of the system online while other parts were repaired or replaced, emphasizing the need to minimize community impacts. The entire team encountered and overcame a range of challenges, including traffic management throughout the town during construction, service interruptions, dewatering and field conditions.
Ultimately, the construction work was broken up into three work zones and the Cochituate Rail Trail. Each work zone represents its own challenges and required specific sequencing and construction limitations. The design of the project focused on locating new infrastructure to allow traffic lanes to be maintained throughout construction, while also maintaining services and minimizing community impacts. Trenchless technologies, including cured-in-place-pipe (CIPP) lining, pipe jacking and pipe bursting, were incorporated into the design to address some of the anticipated construction issues.
Work Zone 1 is in mostly residential area and includes the connection point to MWRA. Work Zone 2 is predominantly commercial along with a major traffic corridor (Intersection of Route 126 and Route 30), as well as the crossing of Route 9. Construction in Work zone 2 was designed to be completed at night to minimize traffic and community impacts on the major traffic routes. Kleinfelder, the town's engineering consultant, designed a pipe jack to install the proposed 36-inch sewer across Route 9. Work Zone 3 is a mixed residential and commercial area, with six new utilities proposed within the right-of-way (dual sewer force main, 12-inch water main, 16-inch water transmission main, 15-inch sewer main and a 15-inch drain).
During the first year, a significant amount of infrastructure was constructed, including:
A connection chamber to MWRA
2,500 feet of 42-inch PVC sewer
18,500 feet of 12-inch ductile iron water mains
6,650 of 16-inch ductile iron water transmission main
4,000 feet of 24-inch sewer
Two stream crossings
At the height of construction, the contractor had eight crews on a three-mile stretch installing sewer and water mains, replacing and testing service connections, and operating a paving crew. Adding to the complexity, the town officials elected to eliminate the night work option, which required the engineers and contractors to revise their approach.
Revised Approach
With the lessons learned from the first year of construction, the project team increased traffic management oversight and plans, and established a traffic control manager and a community/business liaison to respond to community questions and concerns. By the second year of construction, the engineers and contractors had a good feel for challenges associated with a project of this magnitude.
Traffic management, deep trench excavation and coordination with other town projects remained top priorities. The contractor was permitted to reinstitute the night work option for Work Zone 2, and introduced a major detour for southbound traffic. And because crews were working in front of the Framingham High School through the summer and into the fall, the contractor pushed the construction start time until 9:00 a.m. to allow school buses to get students to school on time.
Weekly meetings included a three-week look ahead to allow for community impact and traffic management planning with frequent updates to the town's construction website. Under the gun to get the work wrapped up, Kleinfelder worked with the contractor and the town to extend the construction season a few extra weeks in order to finish the work and create a fully operational system.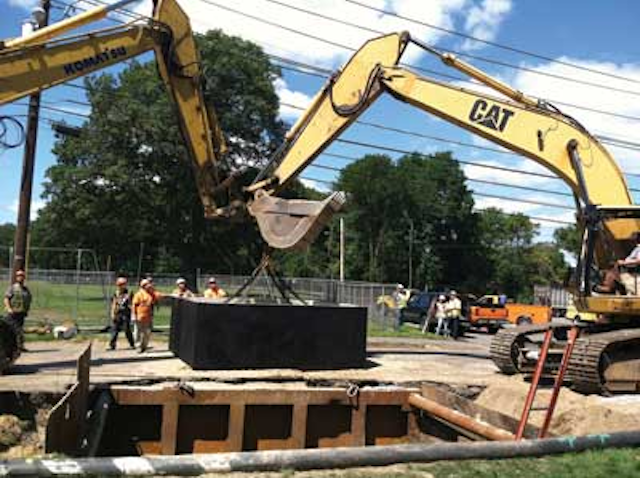 The contractor installs a vacuum/air release chamber in A Street near the Framingham High School.
By the end of the second year, the team completed 4,250 feet of 36-inch sewer and 500 feet of 8-inch sewer lines in Work Zone 1. In Work Zone 2, they completed deep construction on Concord Street, including rock blasting next to the existing 24-inch force main, installation of 4,900 feet of 36-inch sewer line at 25-feet depth and 900 feet of 8- and 15-inch sewer main. In Work Zone 3, crews focused on the connection point to the WWMF, which included 1,700 feet of 8-inch water main, 1,700 feet of 12-inch sewer line, 5,900 feet of dual sewer force mains and three vacuum/air release chambers.
Now in the final year, crews are finishing the remaining 1,000 feet of 8- and 10-inch sewer, which will eliminate the Arsenal and Valentine pump stations. Additionally, the remaining 350 feet of 30-inch sewer and 500 feet of 24-inch sewer connect Cochituate Rail Trail sewer to A Street WWMF and eliminate the Speen Street pump station.
To-date, a large portion of the EFSIP has been completed, reconfiguring the Town's wastewater collection system into a more streamlined, efficient system ready for the 21st century. The town has complied with the Administrative Consent Order (ACO) to undertake major sewer construction and rehabilitation and alleviate reoccurring sanitary sewer overflows as well as the MWRA Settlement Agreement to limit sulfides by eliminating pumping stations and related force mains. The Framingham Department of Public Works is also on schedule to complete other components of the ACO including increased staffing levels and implementation of a SCADA system to remotely monitor and control pumping stations by the end of 2013. WW
About the Author: Laura Robinson, P.E., LEED AP, is a project engineer with Kleinfelder based in San Diego, California. She can be reached at 858-320-2219 or by email at LRobinson@kleinfelder.com