Utility Executives Meeting Infrastructure Challenge
Water utilities across the country are challenged by the huge task of repairing and replacing aging infrastructure...
Dec 1st, 2007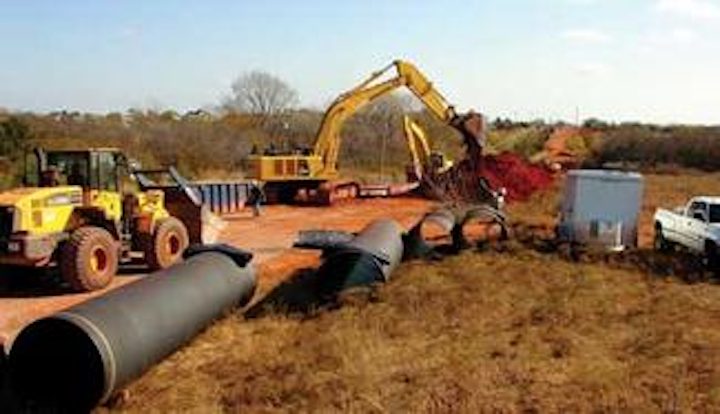 by James Laughlin, Editor
Water utilities across the country are challenged by the huge task of repairing and replacing aging infrastructure, managing system growth and meeting regulatory requirements, all while faced with limits on their funding, rising material costs and a shrinking labor pool.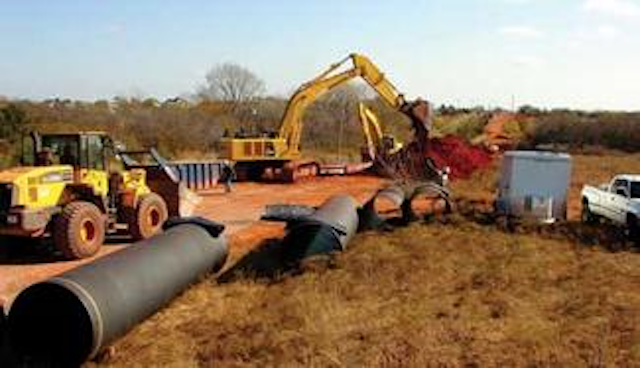 A 5-mile pipeline will carry treated water for developments in Oklahoma City and Moore, OK. Contractors for the project was BRB Contractors Inc. of Topeka, KS. The engineer is Cobb Engineering.
Click here to enlarge image
Despite those challenges, the municipal water industry in the United States is healthy and moving forward. While utility managers are cautious about the future, they are ready and willing to meet the challenges ahead, according to a small group of utility managers interviewed by WaterWorld.
"There is a general feeling that distribution systems nationwide have been neglected and there's a huge backlog of modifications, improvements, replacement and rehabilitation that needs to be done," said Lee Cesario, PE, current Chair of AWWA's Engineering and Construction Division who has worked at Denver Water for 35 years in planning, design and construction of the potable and recycled water distribution systems.
While there is a sense of pessimism among some water utilities "mainly because it's so overwhelming, there is a general feeling that people want to face the challenge and get it done," Cesario said.
Concerns about funding are at the heart of any discussion about infrastructure these days.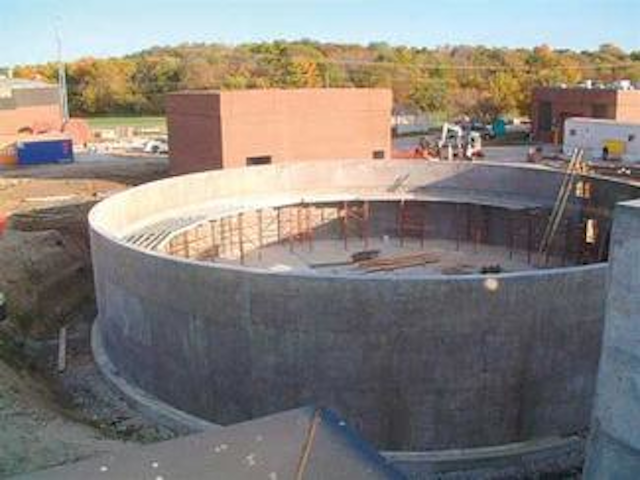 A new clarifier was part of a project at the Middle Basin Wastewater Treatment Plant for the Johnson County (KS) Wastewater District. Contractors for the project was BRB Contractors Inc. The Engineer was Black & Veatch.
Click here to enlarge image
"The roadblocks for us are finances," said Scott Taylor, PE, Director of Public Works for the City of Wichita Falls, TX. "We issued $118 million in bonds for water system improvements, and have a $12 million per year debt payment. That doesn't give you much flexibility to do other major things. Ironically, we're three quarters of the way through and now we have a study underway evaluating our water distribution system – both expanding it and setting up a replacement schedule for 25 years.
"So, we have to go back to the council and say 'By the way, here's the next bill you have to pay'," Taylor said. "It's going to be overwhelming to them."
"Other cities are in the same boat," Taylor said. "They've got a lot of infrastructure that needs to be repaired, and it carries a big price tag."
There are four separate funding challenges common to most water utilities, and utilities need to develop a strategy to meet each challenge, said Greg Heitzman, President of Louisville Water Company.
"On the drinking water side, utilities are faced with one major capital challenge with aging infrastructure, and second with future drinking water regulations, specifically the Long Term 2 Enhanced Surface Water Treatment Rule and the Disinfection Byproducts rule," Heitzman said. "The third component is funding needed for growth and the fourth is for on-going operations.
"If it wasn't for growth and rehab costs, most utilities would be able to meet their operational needs," Heitzman said, "but the combined effect of regulations, growth, and infrastructure renewal are all competing for the same dollar, or the rate capacity of the customer."
Although Congress is considering several bills that offer the hope of increased federal funding through the SRF Program or a proposed Water Trust Fund, all the utility executives interviewed agreed that additional federal funding is not expected.
Jeanette Brown, Executive Director for the Stamford Water Pollution Control Authority in Stamford, CT, testified recently before a House Appropriates subcommittee.
"One representative said to me that, 'I agree with everything you're telling me, but there's no money to do it'," Brown said. "I found that to be extremely sad – that our legislators recognize that we are in for a very serious problem by not funding infrastructure improvements, yet there's just no money."
Material Costs
"We see cost pressure on the material side, with rising costs of copper, iron, and PVC products. Most everyone across the country is seeing that, and it's a major driver for escalating costs for construction," Heitzman said.
Taylor agreed:
"We've seen good increases in pipe prices and we've seen exorbitant cost increases for taps," he said. "Copper is much more expensive that it was. We've seen our meter prices go up and our service line prices go up. And, of course, anything that involves petroleum, we've seen rises. And I know the contractors get those and they're passed on in their bids."
The industry is still feeling the aftereffects of Hurricane Katrina on concrete prices, among other things, Taylor said.
"That's one of those things you never think about. When you're doing a construction project for a water line, you're going to have concrete and asphalt," he said. "That leads to increased project costs, and we end up doing less work than intended because we have to stay within our budget or get additional funding – and for the last couple of years we've had to stay within our budget."
Energy Costs
"We've had huge increases in energy costs. Even looking at all means of energy conservation, wastewater treatment is a big energy user," Brown said. "The O&M costs of running a plant are very high, and that impacts the taxpayer and the plant managers trying to do what's right for the utility.
"The most dramatic trend is in the awareness among wastewater treatment plant managers," Brown said. "It's a hot topic that people have really taken up and noticed. And not just the cost, but also the potential environmental impact of using too much energy."
Regulatory Drivers
In general, on the wastewater side of the industry there is more activity in the collection system than at wastewater treatment plants. On the drinking water side, the higher level of activity is in the treatment plants.
"To a large degree, the industry is responding to the regulatory drivers from EPA for both clean water and drinking water," Heitzman said. "Right now EPA is driving investments to correct combined sewer overflows (CSOs) and Sanitary Sewer Overflows (SSOs) on the wastewater side.
"On the drinking water side of the market, the regulatory drivers are the Long Term 2 and the Disinfection Byproducts rules, which is why there is more emphasis on upgrading water treatment plants," he said.
However, "Every day that goes by there's another element of aging infrastructure moving in the distribution system," Heitzman said.
While water quality issues are driving wastewater permits, the challenge faced by many utilities is balancing the needs of aging infrastructure with the demands of regulation and permit limits, Brown said.
"Regulatory agencies can impose permit limits on you but don't have to give you funding," she said. "They can say, 'Gee, you discharge into this great river and you need to increase the size of your treatment plant by 25 percent.' And the mayor knows he has old sewers and old pumping stations that he was going to spend the money on, and now he has to decide how to use that money – to fix his infrastructure or meet permit limits."
At some point in the future, a revamped Total Coliform Rule or as yet unwritten Distribution System rule will drive work on the drinking water distribution side.
It's that kind of "unknown" that troubles Taylor as he plans for the future. Requirements of the rule could drive distribution system construction and maintenance programs. One possibility is a requirement for mandatory main flushing programs, he said.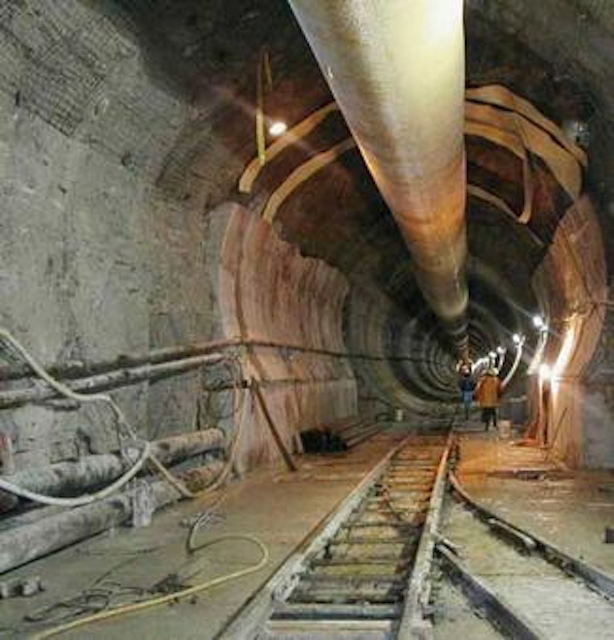 Click here to enlarge image
"Flushing requires people and equipment, and that's another cost that has not been projected," Taylor said. "I've talked with our council about a flushing program and they were taken aback by the costs I gave them. This isn't something we have to worry about this year, but we're going to see it eventually."
Construction Techniques
One alternative to increased funding is improved, lower-cost construction techniques.
"I think we are at a point where the country has realized the need to get the work done, and the realization there is not enough money to do it." Cesario said. "We need to be creative in how we find the money and look for newer, better, less costly technologies to get the job done."
Taylor's Wichita Falls utility has been active in using trenchless technologies for its wastewater collection system projects and is exploring new techniques for its water distribution system.
"We're looking at alternative construction techniques," Taylor said. "For example, with pipe bursting in a sanitary sewer, you don't have as much pavement replacement. You end up being able to do more replacement because you're not having to do a road reconstruction project after installing a sewer.
"Generally if I can reduce the peripheral costs, the concrete and asphalt and contractor's time, we can get more out of the project. Which then allows me do to more replacement," he said.
Conclusion
Taylor has seen both pessimism and optimism in the water industry.
"A lot of us are right on the front line. And it looks to a lot of us that we have an unachievable task," Taylor said. "We need to step back and see that it's a process – it was a process to build the system, it's got to be a process to replace, rebuild, and rehab that system.
"It took several years to build the system and it's going to take several years to replace it," Taylor said. "You just have to identify the priorities and start to work."
Again, funding is key to meeting the challenge. And planning is the key to funding.
"One of the strategies is to have a diversified revenue source to meet those challenges. That diversification can include fees from developers, a dedicated reserve for renewal, elements in the rate base for on-going operation, and then issuing debt for regulatory compliance. And, where feasible, also look for grants or low interest loans to supplement those strategies," Heitzman said.
"I think municipal water systems put out a very good product and by and large are well within regulatory compliance across the industry. The challenge is financing those four areas, concurrently, over the next 20 years," Heitzman said.