Contractors Upbeat about Booming Water Market
U.S. drinking water and wastewater construction contractors are unguardedly optimistic about their business prospects in the forseeable future.
Dec 1st, 2007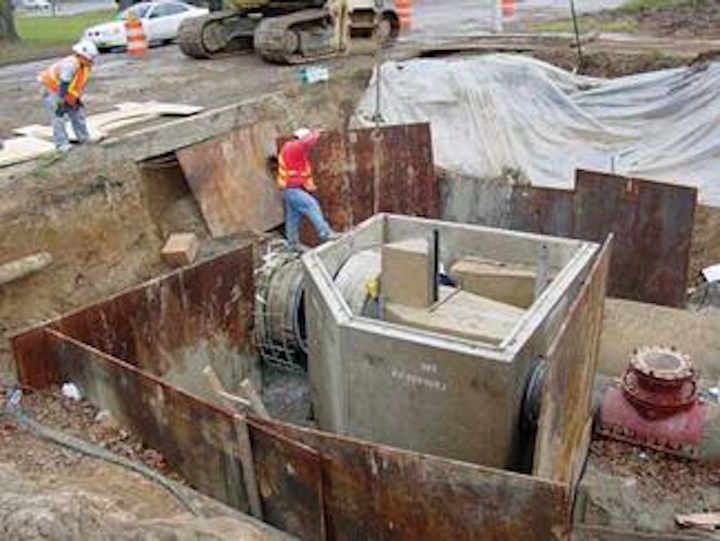 by Patrick Crow, WaterWorld Correspondent
U.S. drinking water and wastewater construction contractors are unguardedly optimistic about their business prospects in the foreseeable future. The constructors expect some new construction but also foresee a steady flow of rehabilitation projects as the existing U.S. infrastructure continues to deteriorate.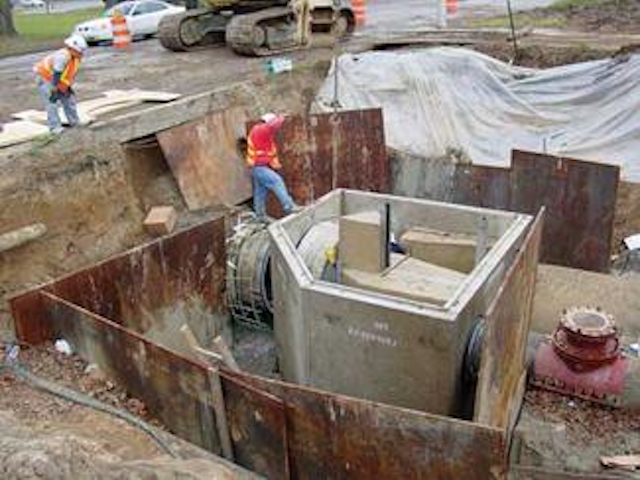 Click here to enlarge image
An industry coalition, the Water Infrastructure Network, has estimated the need for clean water infrastructure at $300-500 billion over the next 20 years – a forecast similar to others by the Environmental Protection Agency and the Government Accountability Office. In its most recent survey of local governments, the U.S. Conference of Mayors said nearly 40% of the 414 cities that it contacted did not expect to have adequate water supplies in 20 years.
Those bleak scenarios have several industry and environmental groups urging Congress to create a clean water trust fund to finance infrastructure improvements – similar to the highway trust fund used to bankroll transportation projects. Such an approach would potentially provide larger and more reliable funding than currently available through annual congressional appropriations.
The National Association of Clean Water Agencies has warned, "Without a dedicated source of funding, the progress we have made over the past 35 years to clean up the nation's waters will be lost."
The blend of new and rehab work should keep utility contractors busy, said Mike Welch, a director of the Associated General Contractors (AGC) of America.
Welch heads BRB Contractors Inc. of Topeka, KS, which operates in the states between the Rocky Mountains and the Mississippi River. BRB specializes in water and wastewater treatment and pipeline utility construction and also builds bridges. Over half of its utility jobs involve rehabilitation or upgrades to systems.
Welch said a primary business driver has been utilities' need for maintenance or replacement of infrastructure that might be nearly 100 years old. Another driver has been the need to adapt to technological changes, either to meet new standards, update equipment, or downsize equipment for better efficiency.
"With the growth and shifts in the U.S. population changing water demand patterns, and the general need for more and more water, I think the utility construction industry is going to stay very healthy. There may be local peaks and valleys due to funding but the general outlook is good."
Welch applauded the fact that Congress has overridden a presidential veto to pass the Water Resources Development Act (WRDA), which outlines $23 billion worth of projects.
"The bill will help funding, which is the biggest challenge we have in our industry. A lot of our funding is user fees and user based."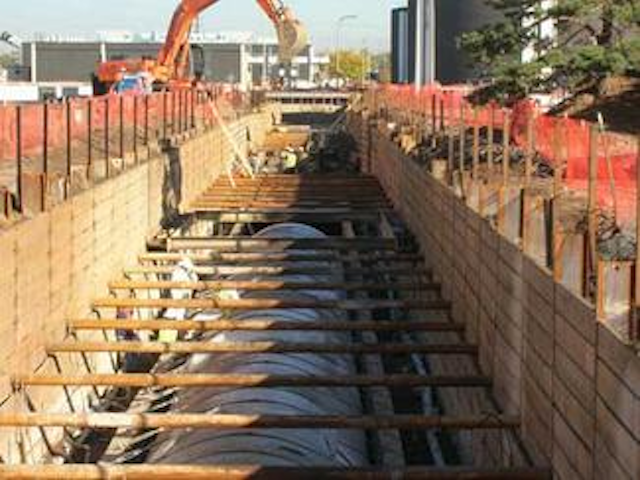 Click here to enlarge image
Welch said the bill also would help increase impoundments. "Despite the U.S. population growth, we've not done anything to increase water impoundment over the last 20 years. We should be planning for our needs 50 years from now. If we have the dams and lakes, eventually were going to need to pump, treat, and move that water. The WRDA is good for our industry and its good for the people."
He said all contactors are battling higher expenses. "The world economy has been a driver on costs. China and other developing nations are buying so much resin and steel that it has run our costs up significantly in the last three years. In some cases, the final product has gone up as much as 50%.
"Another thing that has had a big impact on our cost structure is fuel. Higher energy prices affect every element of our costs in one way or another.
"If our materials costs go up, if fuel costs rise to operate our machinery, and if we have to pay our employees more to offset the energy element in the cost of living, we'll have to be somewhat clairvoyant to figure out what our cost estimates should be for a project six months out."
Welch saw several trends in the drinking water/wastewater sectors.
One has been the joint or regional construction of infrastructure by small water or wastewater utilities. "You need good-sized facilities even to serve a relatively small number of people. Also, if you ramp up the quality of water or effluent, you have extra costs, costs that have to be passed on to users. That's difficult to do in smaller towns."
He said utility operators are looking even harder at their power consumption these days, particularly the efficiency of their motors and equipment. And they're adding more insulation to control the costs of heating and air conditioning.
Welch said, "Automation has affected our business more than anything else. Reliance on computers has become the norm to the point that some plants are pretty much entirely run by computer. That's been a factor that drives up the cost of the initial capital investment but reduces operating costs for the owner in the long run."
Howard Pebley, Jr., president of McAllen Construction, Inc., also foresees a healthy future for water and wastewater contractors, especially those in growing areas of the nation.
McAllen Construction, based in the Texas city of the same name, operates primarily in the Rio Grande Valley region of Texas, which has seen explosive growth in the past decade.
New water and wastewater projects are about 40-50% of the company's business. Bridge construction is the balance.
"We anticipate pretty steady growth over the next 3-5 years, which is about the limit of vision on our horizon. There's been no shortage of growth in the Rio Grande Valley, which has forced the local municipalities to launch some large projects."
The growth hasn't been in just one area of the balance sheet, though. Pebley said his company has seen a 20%/year increase in construction costs over the past few years, which has presented the company challenges in bidding for jobs. He said labor costs alone jumped 24% in the last year.
"The health of our company follows that of the economy – the Mexican economy. The U.S. could have a depression and they'd have to send us an e-mail to let us know. But if when Mexico sneezes, we catch a cold."
He said Rio Grande Valley communities are benefiting from loans and grants from the North American Development Bank. The U.S. and Mexico created the bank, under the North American Free Trade Agreement, to develop the infrastructure needed for a clean and healthy border environment.
Pebley said the larger, well managed cities – such as McAllen – have been able to secure funding for important projects but some of the smaller cities have had more difficulties.
"What the nation needs is consistent, continuing federal funding for drinking water and wastewater infrastructure, like the gasoline excise tax that feeds the highway trust fund. Most of our infrastructure in the Rio Grande Valley is relatively new, but across the nation – especially on the East Coast – the facilities are aging. It's been estimated that the nation needs to spend $23 billion per year on water infrastructure. The water boards don't like to alarm their customers by declaring there is a crisis, but there is."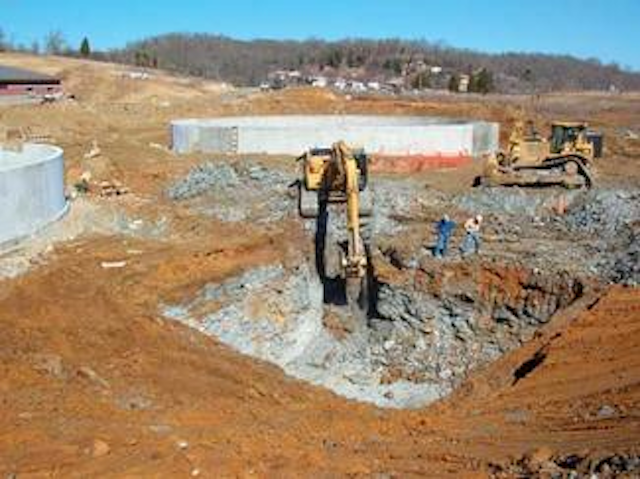 Click here to enlarge image
Pebley is a former president of the AGC of Texas and has served on a number state and national AGC committees.
In an aging infrastructure region, Aaron J. Conner Inc. of Roanoke, Va., has been busy with jobs. The company only does utilities work, mostly in southwestern Virginia.
Larry Conner, Jr., vice president in charge of estimating, said, "From a utility's standpoint, it's a good time to put work out. They're getting a lot of bidders, even on small jobs.
"The reality for water and sewer is that we are at the time in our history when the need to replace lines is going to grow in coming years. There will continue to be a good need for infrastructure improvements in the foreseeable future."
Conner said utilities probably aren't replacing as many of the older systems as they should. "For many of these the life expectancy of 50 years has been reached, although records are sometimes lacking. This is an important issue today and it's going to get a lot more important in the future."
He said the firm expects new construction jobs too, as utilities expand services to match economic growth.
Conner said even if the U.S. should slip into a recession, the need for infrastructure repair would keep the utility construction sector afloat. "Sewer lines will collapse no matter what the state of the economy."
The Virginia company uses a variety of construction methods, from conventional open cut, to trenchless, and to pipe bursts.
Conner said, "As technology continues to change, that will allow for some more innovative ideas to come out. I think we'll see a continuation of kind of a marriage of various [construction] methods, a combination of the different technologies to provide the owner with the best solution."