FlexNet's Versatility Enables Small Municipalities to Realize Operational, Customer Service and Conservation Benefits
As technology advances in the water meter reading industry, municipalities are looking to solution providers to fill the needs of customer service and operational efficiency in a more streamlined and cost-effective manner.
Aug 1st, 2007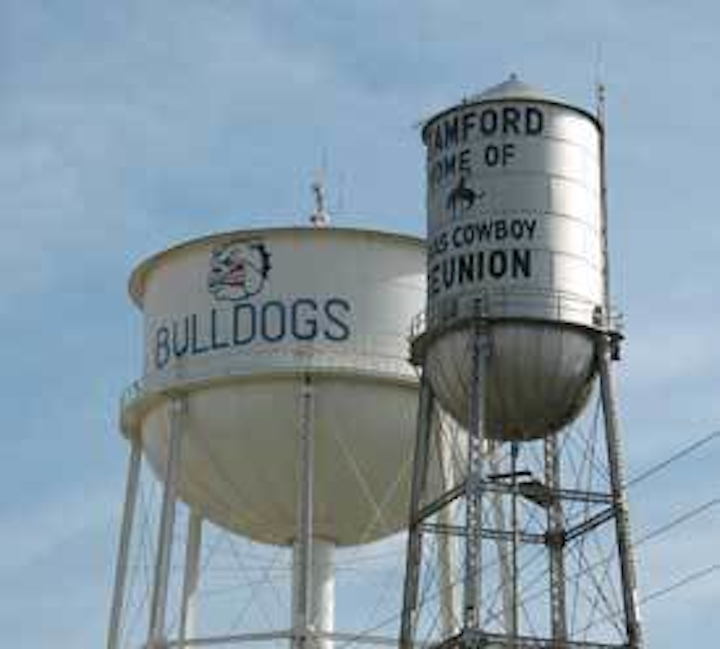 As technology advances in the water meter reading industry, municipalities are looking to solution providers to fill the needs of customer service and operational efficiency in a more streamlined and cost-effective manner. Sensus Metering Systems has responded to that call with FlexNet, a flexible radio frequency fixed network utility data collection system.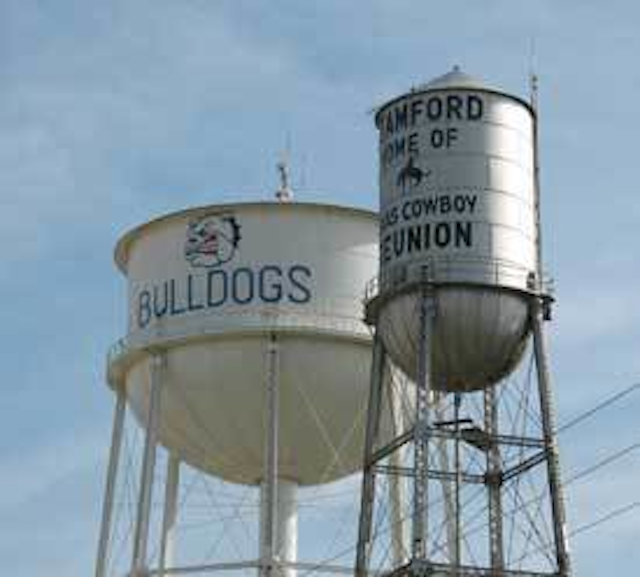 FlexNet antenna installed on top of Stamford water tower
Click here to enlarge image
This tower-based, Advanced Metering Infrastructure (AMI) system operates on a single-tier wireless radio network. FlexNet is fueling solutions with increased meter reading efficiency, reduced overhead costs and enhanced customer service across North America for a variety of customers with a range of issues.
But in the state of Texas, FlexNet has become the answer to yet another unique challenge: water conservation. Two cities there, each of whom must protect its water supply as a precious resource, are employing FlexNet to aid in this task. Each city targeted cost-savings, enhanced customer service, and a solid water conservation program as their justification to implement the latest, technologically sophisticated fixed network system.
The West Texas cities of Post and Stamford are each upgrading their water meter data collecting from a manual read process to the technologically advanced FlexNet system. Each will implement about 1,500 endpoints over their 4 (Post) and 6 (Stamford) square mile service territories.
In Post, this town has to purchase its water, making it imperative to bill for every drop of water used by customers in order to remain fiscally responsible. It is just as important to identify leaks quickly.
Options of walk-by and drive-by were considered, as part of a total meter replacement program, but those systems didn't offer features that stood up to FlexNet's fixed network system.
Post's FlexNet system will record hourly usage, employ a pinpoint-accurate leak-detection program, and send this data every six hours to the utility office. Now, estimates will be a thing of the past and leaks can be detected and fixed quickly.
"With manual reads, it was difficult to reconcile water purchased versus water sold, which in turn made it very hard to budget and allocate resources," said Ric Walton, Post City Manager.
And Walton explained that the enhanced customer service helped sell the system to city council and customers. "We had to get buy-in from City Council, and in that process, we needed to communicate the benefits of this new system as simply as possible."
In Stamford, Texas, an aging metering system needed addressed, but walk-by and drive-by systems were ousted because of rising gasoline prices and because neither helped ease labor shortages. Unlike Post, Stamford produces its own water, making operational efficiency paramount.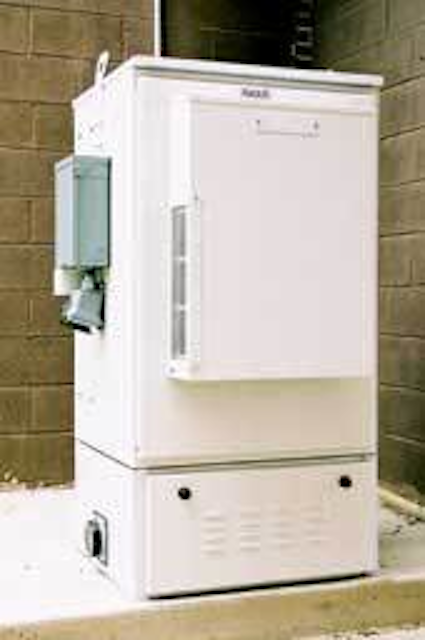 Outdoor Tower Gateway Base Station in protective housing installed beneath Post tower infrastructure
Click here to enlarge image
"We looked at manpower, lost water revenue and leak detection versus FlexNet's costs, and it became apparent that the cost-benefit was there," said Mark Routon, Stamford's Director of Public Works. "Water is a scarce resource here, and we needed a system like FlexNet to make sure water leaks were caught quickly and water usage was billed for, one-hundred percent."
Another attractive feature to both Post and Stamford officials is that the system is enabling them to better utilize their current staff.
"With the growing oil and agricultural industry, manpower is at a premium. This fixed base system can be implemented and maintained efficiently with our current staffing levels," Routon said, explaining that it used to take 20 days to manually read meters in Stamford's former system, where now it can be done in an hour with FlexNet.
Both men agree that adding FlexNet has made their municipality more efficient and environmentally and fiscally responsible. Walton added, "As a city government, we are responsible for providing all of our services in a cost effective and efficient manner. The new FlexNet system will provide a higher level of service, and will continue to reinforce our fiscal responsibility commitment to our residents."
"FlexNet is simple, reliable and flexible," explains Tom Galuska, Sensus' Marketing Manager for AMI - Water/Gas. "We are not surprised that we are able to assist in the water conservation efforts of these Texas municipalities, because FlexNet has the versatility to adapt to the emerging challenges of our customers no matter their size or unique topographic characteristics."
FlexNet is an RF (radio frequency) wireless fixed base system. The single-tiered FlexNet architecture and FlexNet's primary use license system that provides 2 watts of power, allows for greater transmitter range from minimal infrastructure, which in turn lowers operating costs. The ability to issue hourly reads also eliminates estimates for customers, improving customer satisfaction.
FlexNet offers a solution for both urban and rural areas for both pit and non-pit set environments. It also delivers primary-use licensing by the FCC, which guarantees an uncluttered path for transmissions through the use of an industry-leading 2 watts of power.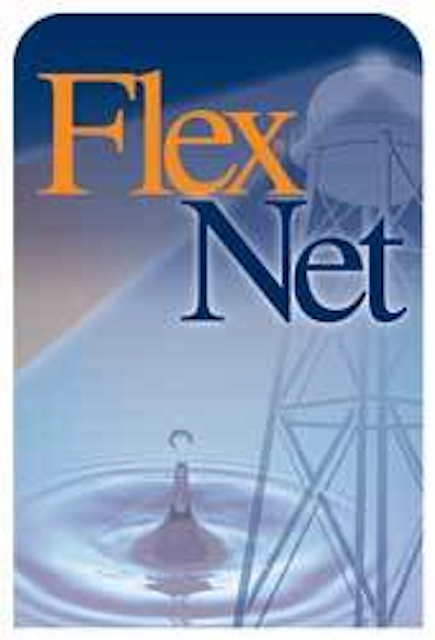 Click here to enlarge image
The primary use FCC license that FlexNet uses is one of the unique characteristics of the system and the only meter data collection system of its kind on the market today. The license guarantees that Sensus and its customers are the only users on that frequency - meaning there are no competing RF signals and little or zero interference.
Another advantage provided by the primary use license is the ability to use a higher power transmitter. This attribute is available to Sensus and its customers because the license frequency is not shared. The more powerful transmitter enables Sensus to offer a longer transmission range between the meter endpoint and the tower. This greater range helps to minimize the utility network infrastructure and site management costs.
FlexNet is designed to transfer usage data from the meter to the utility offices. The system is comprised of the FlexNet transmitter (end point), the Tower Gateway Base Station (collection device located on the tower), and the Regional Network Interface (backbone of the system located at utility offices).
In addition, the system is designed to be scalable to accommodate growth as a utility expands their meter deployments throughout its service territory.
About Sensus Metering Systems
The Sensus Metering Systems companies are leading world-class providers of high-value metering, Automatic Meter Reading (AMR) and Advanced Metering Infrastructure (AMI) system solutions for water, gas, electric, and heat utilities as well as sub-metering entities worldwide. Additional linked businesses include Smith-Blair, Inc. a leading provider of pipe clamp & coupling products for the water, gas, and industrial markets; and Sensus Precision Die Casting that produces complex, high quality die-castings. For more information, please visit the company's web site at www.sensus.com.