Century-old archive records converted to GIS format
A system-wide data conversion project using Haestad Methods' WaterGEMS for ArcGIS will save thousands of dollars, according to a US water authority in upstate New York.
Jun 1st, 2003
By Adam Strafaci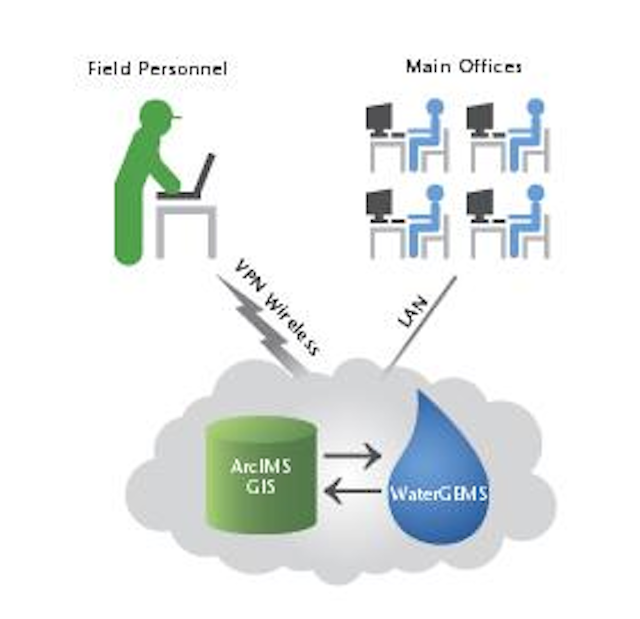 Click here to enlarge image
Consulting engineers Wendel Duchscherer and the Mohawk Valley Water Authority (MVW) in upstate New York (USA) have teamed up to unlock the "Vault," a fireproof archive room for all MVW drawings and records, some of which date back to the mid-1800s. MVW employees had to first access this vault for information whether engineers needed to update a basemap or field personnel needed to isolate a main break in the middle of the night.
"Imagine having to hunt through paper records on one side of town while you have a line break flooding the streets in another part of town," said Dan Seider, project manager for Wendel Duchscherer. "Seconds of time are worth thousands of dollars in that situation." MVW and Wendel Duchscherer, based in Albany, New York, agreed that the system needed to be modernised.
The goals of the modernisation project were to convert all paper maps and records into a geographic information system (GIS) format; automate the hydraulic model building process from the GIS data; and use office networks, the Internet, and mobile devices to streamline access to the MVW infrastructure data.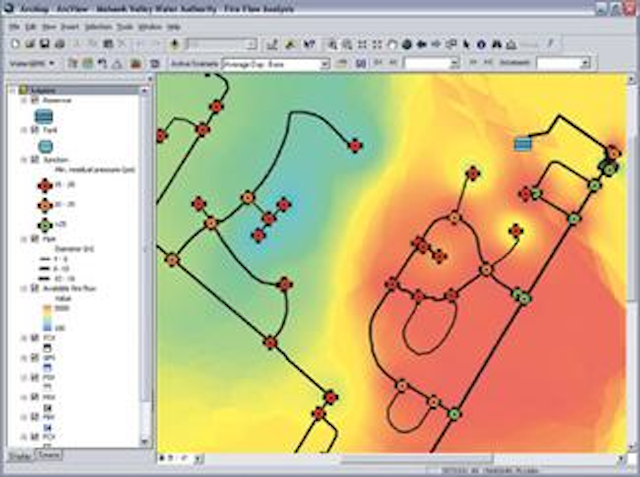 Screen image of the WaterGEMS software
Click here to enlarge image
Before taking on the task of converting all of the paper maps and records, Wendel Duchscherer and the Mohawk Valley Water Authority started with a pilot project to test the workflow and measure the benefits of going digital. MVW serves over 125,000 people in the central New York state area. Its service area covers approximately 388.5 km2, and the authority maintains around 1,126.5 km of pipe, 24 storage tanks, 3 reservoirs, and 22 pumping stations.
The selected pilot area consisted of a representative service zone with a single pump station and storage tank.
Hard-copy data for the pilot area was captured and stored in a geodatabase (a spatial database for a GIS) making it instantly available for viewing, editing, and analysing within the ESRI ArcGIS™ environment. Then, using WaterGEMS® for ArcGIS, a functioning hydraulic model for the pilot area was constructed from the same geodatabase. Haestad Methods of Waterbury, Connecticut, USA developed the WaterGEMS software.
Wendel Duchscherer used all core components of WaterGEMS, including ModelBuilder™, Skelebrator™, Trex™, and LoadBuilder™, to compile, skeletonise, and allocate demands for the pilot hydraulic model.
Upon project completion, MVW will be able to use the system to model and evaluate the effect of future developments, analyse fire-flow conditions, review system-wide pressure contours, and develop flushing programs all within the GIS. This will allow the authority to extend the basic functionality of the GIS beyond facility management to system operations.
Efficient delivery of the infrastructure data across the organisation became the top priority once the data was converted and stored in the geodatabase and the hydraulic model began functioning. With the new system, modellers and GIS professionals gained access to the water system and other infrastructure data directly from their desks via the Local Area Network. Using technology such as ESRI's Internet Map Server (ArcIMS), field workers also had direct access to current water system data through wireless devices and a Virtual Private Network. Seider explained, "The faster data access resulting from this pilot clearly demonstrated to us that it was time for a system-wide data conversion project."
According to Seider, it was the direct connection to the geodatabase that made this project such a success. "Because WaterGEMS' GIS integration is so tight, it is easy to keep the model updated. It is always on and always ready. WaterGEMS lets us build models more efficiently and accurately and save our clients thousand of dollars over the life of the project."
---
Author's note
Adam Strafaci is a civil engineer and marketing manager for Haestad Methods, a provider of water resources modelling and management software, based in Waterbury, Connecticut, USA. For more information visit: www.haestad.com.