Ground probing radar avoids excavation risks
Ground probing radar locates hidden utility services before construction crews break ground, and helps avoid the possible risk of project delays, increased costs and even fatalities.
Jun 1st, 2003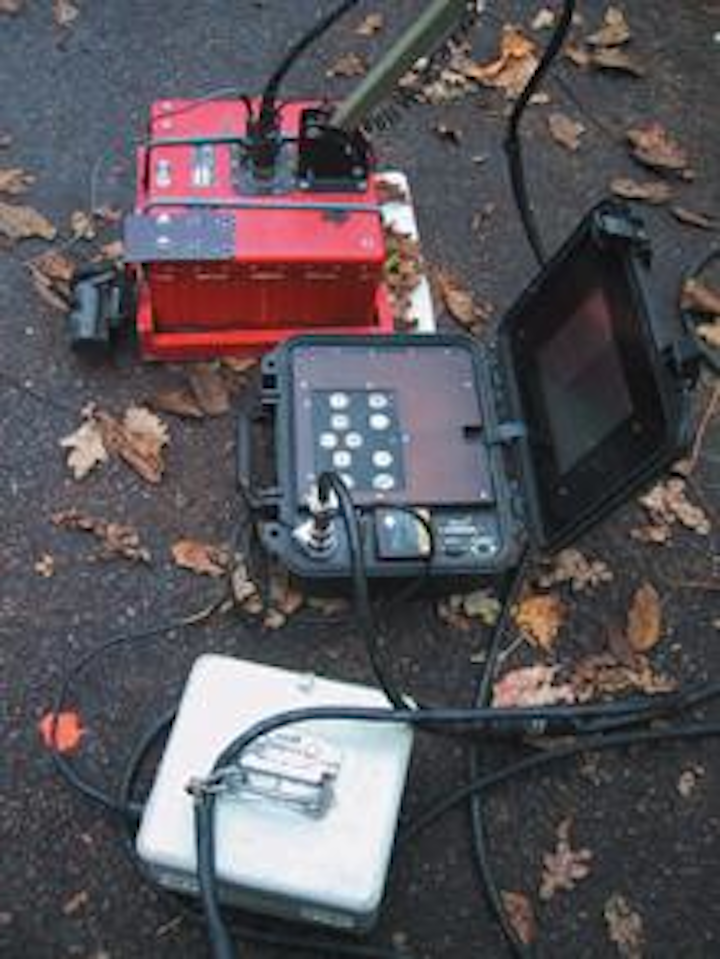 By Craig Simmonds
Ground penetrating radar locates buried plastic and other non-metallic objects.
Click here to enlarge image
Accidents and fatalities whilst excavating should now be a thing of the past. If one reads the UK Construction Health & Safety Executive (CHSE) guidelines and conforms to the recommendations, no one should ever suffer harm from damage to underground services during excavation. Although this is a UK law, utility crews in all countries should take note. All employers, operatives, and even service owners must reconsider the practice of breaking ground.
The Law Commissions draft of the Involuntary Homicide Bill (as it will be known) will be made law in late 2003. The CHSE clearly states that before breaking ground at the commencement of any excavation, the operator or contractor should:
• Look around for obvious signs of underground services;
• Use locators to trace any services, marking the ground accordingly;
• Make sure that persons supervising the excavation work have service plans and know how to read them; and
• Everyone carrying out the work should know about safe digging practices and procedures.
More than 35% of all accidents in the UK workplace occur in the construction industry, according to the Health and Safety Executive (UK). Moreover, and even more staggering, prosecution relating to these deaths are minimal. The HSE published a booklet outlining the guidance on avoiding danger from underground services. This publication provides the reader with all the information required when undertaking excavation and underground works. The booklet also offers guidance to those organisations providing plans and design service routes.
David Left of the HSE Engineering and Utilities Sector commented on this guidance document: "Workers excavating the ground still continue to be injured by striking cables and pipes and it is vital that they understand the dangers. The guidance highlights these dangers and lays out a safe system of work to follow. Service owners should also play their part, by providing readable and up-to-date plans promptly. It's in everyone's interest to have maximum co-operation between all parties involved to protect life and property."
Kevin Myers, HSE's Chief Inspector of Construction, concurred: "This guidance will be of great importance to the construction industry. So many injuries from incidents involving underground services are avoidable. Often those doing the work come to site ill prepared and don't observe good digging practices. It's essential they locate the services by using plans and cable & pipe-locators.
In the Guide to the Construction (Health, Safety & Welfare) Regulations 1996, Regulation 5, employees have duties to carry out their own work in a safe way and all employees have "A general duty to ensure a safe place of work and safe means of access to and from that place of work."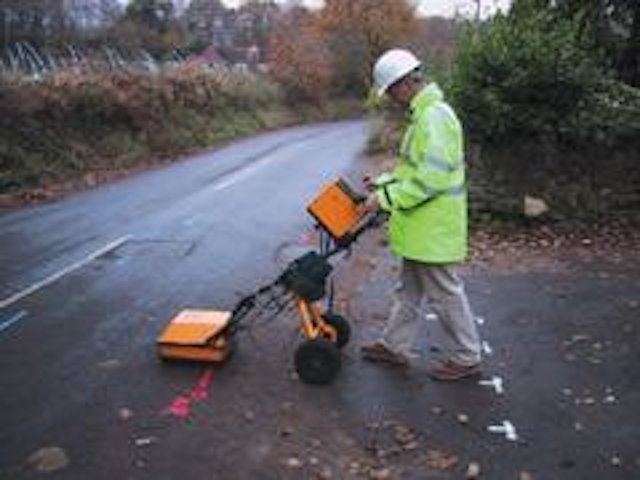 Using ground probing radar before construction crews excavate reduces risks, such as costly project delays.
Click here to enlarge image
The penalty for not conforming to the regulation may have far-reaching consequences. The government is finally being seen to keep its promise in terms of passing the appropriate sentence for the crime. Suggested penalties include jail, up to a maximum of life imprisonment for "Reckless Killing." Proposed penalties for "Corporate Killing" are unlimited fines, remedial orders for corrective action to address the original cause of the accident and director disqualification. In the case of fines or compensation for injury or death, where negligence can be proven and failure to adhere to strict regulations and codes of practices can be proven, insurance payouts may even be seriously affected.
The appropriate technology to locate hidden services effectively is now available. Ground probing radar has the ability to locate the services that a conventional utility survey will miss, namely fibre optic cables and plastic and non-metallic pipes for water and gas. Indeed, the radar also provides valuable depth information on the pipes and cables located, allowing the design team an accurate starting point from which to begin a new project.
Ground-probing radar can provide information that almost completely eradicates the risk of accidentally striking a utility, along with the risks of project delays, increased costs and even site fatalities.
---
Author's note
Craig Simmonds is the managing director of Subtechnics, a company that specialises in underground investigation services, such as locating underground utility networks.