Dispel the myths of partnering and frameworks
Sub-contractors in the water industry can influence and improve the supply chain, says Peter Marsh of Water & Construction Business Management Ltd, but tactics employed by major water companies and the unstable UK market have complicated the effort significantly.
Oct 1st, 2005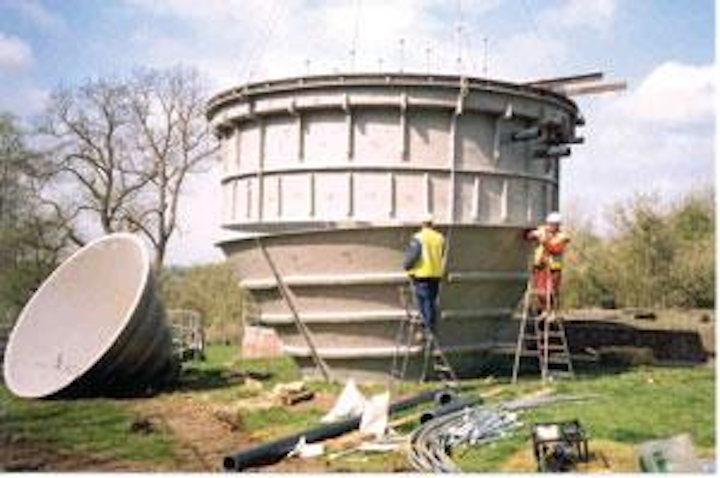 Sub-contractors in the water industry can influence and improve the supply chain, says Peter Marsh of Water & Construction Business Management Ltd, but tactics employed by major water companies and the unstable UK market have complicated the effort significantly.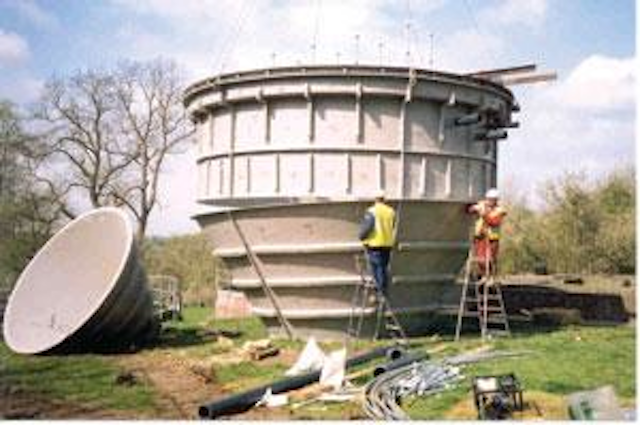 Assembly of an upward flow conical settlement tank - part of the many minor works projects being carried out by water companies in UK.
Click here to enlarge image
The UK water industry must change its procurement techniques. Clients and main contractors should not be allowed to lead these changes just to maximize profits; suppliers and sub-contractors must have a voice and use it to change current practices.
All the talk about partnering, supply chain integration and collaborative working is just a white wash over the reality of fleecing suppliers; it is just lip service and an impediment to real supply chain management. Framework agreements cannot create better working practices in the UK water industry, and neither will any other system be effective, unless there is greater continuity of work, an understanding of all parties of their responsibilities, and lower barriers of entry.
"Partnering" and "collaborative working" are phrases now commonly used in the water sector in establishing supply chain practices; however these phrases remain unclear. Many organizations claim to work collaboratively, but in reality, major contractors tend to relate impressive stories of partnering during interviews with water companies that are rarely practiced.
A survey undertaken by the Collaborative Working Centre in early 2005 concluded "through collaborative working most partnering projects have not reduced costs or improved performance. Worse, many have resulted in increased prices." It was also noted that suppliers and sub-contractors are still usually chosen on a lowest price basis -- a practice that deters the establishment of good supply chain management.
"Partnering" and the associated phrases are all overused in the context of contracting in the water industry; they are preached while client bodies and contractors continue to engage in practices that do not contribute to a sustainable supply chain. They are loose terms that cover a variety of sins.
In theory, framework kit suppliers have some protection from unscrupulous main contractors because of their direct link with water companies, however, that relationship is often tenuous. Most sub-contractors, including those on frameworks, suffer the same abuse and bullying tactics that have proliferated the water industry in recent years. Kit framework agreements do have their advantages, but only if operated correctly by all parties, which is generally not the case in the water industry.
Frameworks can also stymie innovation and the short-term cost savings are not necessarily right for the future market. Competition is limited because the level of entry is often set too high and the bidding process can be difficult for some suppliers. Advantages do exist for water companies using framework arrangements to obtain equipment and services, but they will only be successful if established and operated by keeping the above problems in mind.
AMP4 began on 1 April 2005, an appropriate date for sub-contractors and suppliers serving the water industry in England and Wales to begin asking, "What tricks will the water companies and their main contractors get up to and will their be any help from the regulator?"
The regulatory system managed by OFWAT in England and Wales has created an uncertain and unstable market for suppliers and sub-contractors. The five-year periodic review creates disruption to continuous workloads, and is one of the main factors inhibiting price reductions and efficiencies.
The water companies are concerned that OFWAT has built far harsher than expected targets into its projection, which means that they will put contractor's profit margins under increased pressure. Consequently, further cost-cutting measures will be necessary from the supply chain.
Price controls have made it difficult for water companies and their contractors to retain experienced, quality personnel - a situation that has resulted in increased costs; delays; compromised quality; specification difficulties caused by wrong interpretation; more accidents and other health and safety issues; and possible collusion. These consequences, of course, lead to lower margins and adversarial reactions from all parties.
UK water companies have been in a constant state of flux regarding procurement methods for the past 16 years of privatization, and they still continue to seek different procurement strategies to realize the efficiencies demanded by OFWAT. However there is no logic why the water companies have to do this at the same time that OFWAT carry out the periodic review and introduce the new AMP period. Too much emphasis is placed on the problems that the periodic review creates and mismanagement of the supply chain by the water companies is glossed over.
Water companies must make profits, but some companies do not expect their suppliers to do the same or, at the best, limit the profit to a level that does not allow security for the future. Some water companies have proudly boasted that they will try and get their contractors to work for no profit or at the best only pay flat rate profits.
The water companies are lagging behind their counterparts in other industries in their attitude to the supply chain. In these other sectors, they compete on the success of their supply chain, not on who can screw the most out of their contractors and suppliers.
Main contractors are chosen for, amongst other talents, "managing" the supply chain however they show little expertise in this area. Contractors must realize that they will not get the support of suppliers just by appealing to their better nature - it will not happen. It is not good enough to say that if you support us we will be able to share in the benefits and gains with our clients and when this happens the benefits will percolate down the supply chain to the suppliers and sub-contractors. A business cannot be run on such lines of hope; there needs to be a more solid route for achieving a healthy and, more importantly, wealthy supply chain.
However given the complications and demands placed on main contractors, it is not surprising that sub-contractors and suppliers report so many unscrupulous practices by contractors. Many in the industry say there has been a move away from adversarial contracting in recent years to more collaborative working - usually by the regulators, water companies and the main contractors, not generally by others further down the supply chain. The typical problems between main contractors and sub-contractors remain:
• Lowest cost wins;
• Onerous and inappropriate terms and conditions of contract;
• Inappropriate demands for performance bonds of insignificant value;
• Lengthy amendments and qualifications to standard contract conditions;
• Abundance of contractors own contract conditions;
• Over stretching and misunderstanding of sub-contractors scopes and capabilities;
• And at the other extreme copious documentation for minor items;
• Catch all specifications: "or as the project manager may require;"
• Unfair requests for break down of prices;
• Delayed payment
Sub-contractors and suppliers are a very important part of the supply chain and form the base on which the whole industry and its successful performance depends; a lengthy delay in order placement during the back end of AMP3 and the beginning of AMP4 have created a situation, for sub-contractors, which is worse compared to five years ago.
Sub-contractors represent 90 percent of the companies working in the water industry, most are small businesses, and include civil and process engineering contractors, equipment suppliers, service providers, and installers.
The water companies are highly dependent on external supply sources for goods, services and complete projects; therefore a sustainable and efficient supply chain is essential to achieve the efficiencies set by the regulator.
First, however, the concept of sustainable supply chain must be clearly understood before examining how sub-contractors can affect the supply chain. Sustainable supply chain means efficient companies, suppliers, contractors and clients earning reasonable returns over the medium to long term. To achieve this sustainability, sub-contractors want several conditions:
• They want to supply products that have the best whole life value not products at the lowest price.
• They want commercial agreements to reflect profit expectations of all parties in the chain with business carried out with the highest degree of integrity. They want fairness.
• They want to deal with professional people and organizations.
• They want to be formally recognized as part of the supply chain and develop long-term relations but they do not want to be controlled by the water companies or their framework partners.
• They want to continue to be involved with supply chains in other sectors, which more than likely have different rules.
How can sub-contractors improve the supply chain? Sub-contractors need to sell the benefits so that clients and contractors can identify and value the values they are talking about.
The benefits to the upper echelons of the supply chain are many. Main contractors will receive recognition from the water companies for better supply chain relationships. Long-term improvement in efficiencies and reduced costs will result. It has been reported that the best supply chain practitioners have a 50% cost advantage over their peers, and in the construction industry at least 8.5% can be shaved off project costs by adopting best practice supply chain methods. Sub-contractors can bring expertise to the table and, once contractors and clients buy in to it, then the supply chain will work more efficiently and the benefits will be accrued. Sub-contractors need to constantly remind clients and contractors that it is not about making money at the expense of another player. It is about adding wealth to the end users and sharing in that wealth, that extra wealth.
So how can sub-contractors aid in achieving these benefits? Subcontractors tend to underestimate the value they bring to the marketplace and are generally backward at trying to speak to the clients. Water companies talk to contractors but they need to be taught how to speak to the "rag end," the people in overalls. There is no reason why clients and contractors should not seek advise from sub-contractors on solutions.
Sub-contractors can assist by promoting and involving themselves in two-way appraisals whereby suppliers and sub-contractors can have their say about main contractors and even clients without being intimidated. They can participate in open forums in which suppliers, in conjunction with clients and contractors, can comment on specific aspects of their operations. Additionally, they can become involved in representative trade bodies that can add weight to their arguments, lend solutions and aid communication.
Sub-contractors can influence and improve the supply chain even though this immense task is like trying to turn an oil tanker. They must be leaders not followers; they can make sites safer, they can reduce costs and waste, and earn profits.
Author's Note
Peter Marsh is the director of Water & Construction Business Management Ltd., and a director and vice chairman of the UK trade group British Water. A chartered engineer with more than 35 years of experience in the water industry, Mr. Marsh is chairman of British Water's working group that produced the "Guide to Sustainable Procurement in the Water Industry." Visit www.wcbm.co.uk for more information.
---
Water seeks to improve trade relationships
In 1994 British Water published a code of practice on Non-Adversarial Contracting in the Water Industry, which was aimed at the relationships between suppliers, sub-contractor and main contractors based on the practices at that time. In November 2002, the trade organization published an updated version of this earlier document, now called Guide to Sustainable Procurement in the Water Industry, which incorporated the whole supply chain.
The document sets out guidelines to help improve trading relationships between all parties in the supply chain and further improve supply chain performance. Nine of the 10 major water companies have signed up to the principles in the document.
In 2004 British Water established a new group, the Business Best Practice Panel (B2P2), which allows concentration on specific aspects of the supply chain. It aims to promote best practice and deliver tangible outputs based on inputs from a wider representation. Focused working groups carry out investigations that cover specific issues or related issues with representatives from all of the supply chain. Topics already identified and for which working groups have been established are health & safety; procurement; reverse auctions, pre-qual questionnaires; framework agreements; contract conditions; retentions; risk allocations, cost forecasting (soon to be published); supplier registration schemes; legislation; insurance, regulation; and water company performance.
Visit www.britishwater.co.uk for more information.
---
Problems of Framework Agreements
• Most frameworks are won on low margins.
• Frameworks are sourced by electronic reverse bid auctions, which generally ignore "best value" and "best sub-contractor."
• No guarantee of work.
• Work flow can be sporadic.
• Relationships between the parties are misunderstood.
• Some clients demand price reductions once frameworks are established.
• Clients are loath to and, in some cases, do not have the resources to check that main contractors operate frameworks correctly.