A Need for Speed
• Construction dewatering package for Daytona National Speedway demands industrial pump solution.
Jul 1st, 2008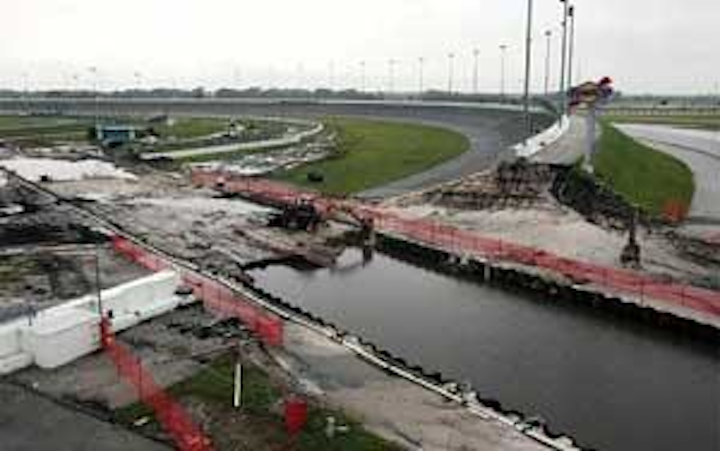 • Construction dewatering package for Daytona National Speedway demands industrial pump solution.
Like most construction in Florida, when the venerable Daytona International Speedway began a massive construction project to refurbish its infrastructure, planners needed to address site dewatering. For a complete package, they turned to ITT's Goulds Pumps unit.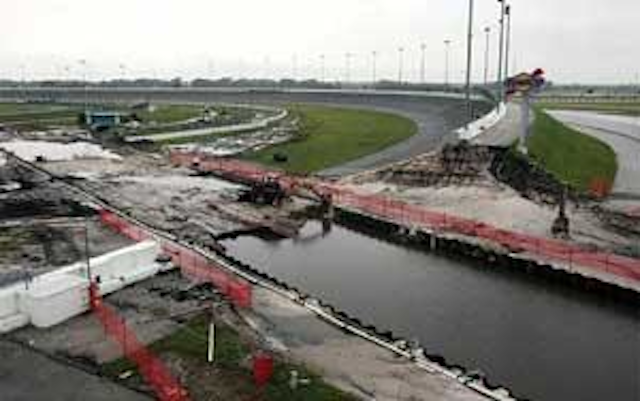 Dewatering pumps from ITT were employed during tunnel construction under Turn 1 at Daytona National Speedway due to the high water table
Click here to enlarge image
A Versatile Venue
The 480-acre motor sports complex is home to "The Great American Race," the Daytona 500, as well as many other car, truck and motorcycle races year-round. In addition to 10 major weekends of racing activity, rarely a week goes by the Speedway grounds aren't used for events that include civic and social gatherings, car shows, photo "shoots," production vehicle testing and police motorcycle training.
A few years ago, a massive construction project was undertaken to dramatically change the look of the entire infield – the area inside the oval racetrack. Some redevelopment plans included a new Nextel Cup Series garage area and a tunnel under Turn 1. Track officials also planned to fill part of the venue's trademark 29-acre Lake Lloyd in the infield to make room for more parking inside the track. Lake Lloyd was created when construction crews in 1958 needed dirt from that area to form Daytona's famous 31° banked turns. Once the area was dug out, the pit was turned into a water retention pond and named after a former local car dealer.
New Construction
To dewater the surface water from Lake Lloyd, "Trash Hog" model pumps from Goulds (Marlow) Pumps were used. This is a solids handling, self-priming centrifugal pump, specifically designed to handle wastewater and capable of handling solids up to 12" (76 mm) in diameter.
Also part of its 1958 construction, the Speedway boasts a set of tunnels in Turn 4 that allow traffic to flow to and from the infield during on-track events. Those tunnels are being augmented with a new tunnel system under Turn 1 more than twice the size of the original tunnels and big enough to allow campers, motor homes and even tractor-trailers to pass under the racing surface. This is crucial for race fans that camp out for days in their recreational vehicles during race events.
Like most areas of Florida, the Speedway is located in an area with a very high water table. In the construction of the tunnel, a tremendous amount of dewatering was required. Rusty Simeone, the market development manager for Goulds pumps recommended a dewatering package for the tunnel construction. These pumps were to be used primarily to remove the surface water to permit construction of the tunnel.
The rest of the pump package consisted of ITT's Red Jacket brand Grizzly 4"submersible pumps supplied by All Florida Plumbing in Daytona, FL. These pump were used to lower the groundwater level. The pumps were installed in a set of 64, 5-inch diameter wells down to 60-feet in depth. They were all piped to a common header and water was discharged into the local airport canal. The infrastructure construction began the day after the 2004 July 4th race and was completed in time for the Daytona 500 race in February.
According to Jim Heid, southeast regional manager for ITT Goulds Pumps, "The performance of the pumps were challenged by a record four hurricanes that hit Florida in quick succession during the construction – Charley, Frances, Ivan and then Jeanne – between August and September 2004.
Conclusion
ITT Goulds Pumps kicked off the 2005 NASCAR racing season Feb. 20, 2005, at Daytona with a major sponsorship of the Fitz-Bradshaw Racing Team, racing a brand new Dodge Charger.
One of the wildest finishes in the track's then 47-year history, Jeff Gordon grabbed the lead from Dale Earnhardt Jr., then held off Kurt Busch and Earnhardt in extra laps to win his third Daytona 500.
It all went smoothly due to the industrial-size dewatering solution provided by ITT Goulds Pumps.
---
Based in Seneca Falls, NY, ITT Goulds Pumps manufactures pumps and accessories for water sector applications including residential, agriculture and irrigation, sewage and drainage, commercial and light industrial use. Article supplied by Minett Media. Contact: www.goulds.com