PRODUCT SHOWCASE
McGard Special Products Division has developed The Intimidator® Fire Hydrant Lock to protect against unauthorized water access and usage.
Sep 1st, 2004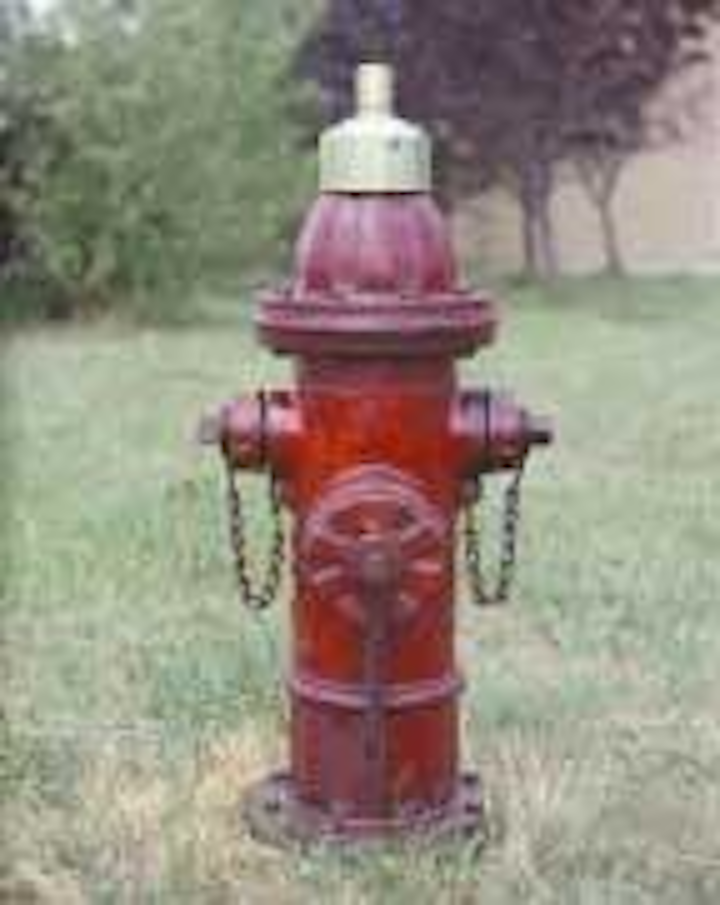 Hydrant locks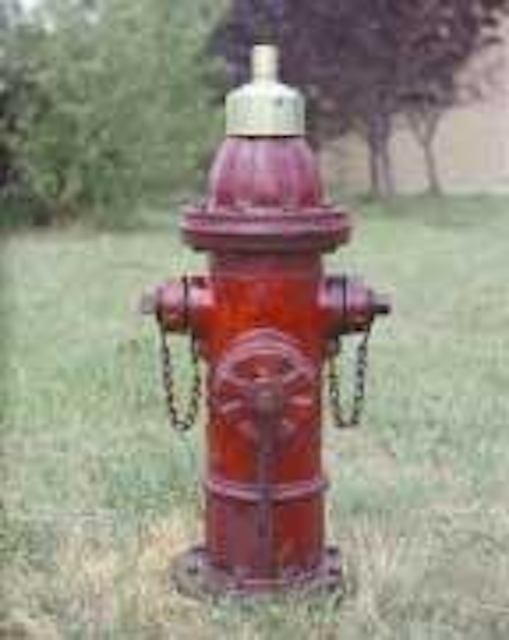 Click here to enlarge image
McGard Special Products Division has developed The Intimidator® Fire Hydrant Lock to protect against unauthorized water access and usage. No modifications are necessary to the existing operating stem. The locking device is easy to install and is designed to fit virtually all hydrant styles. The locks are machined from high quality alloy steel and plated to ensure protection from water and weathering. A unique key has been designed to match the specific recesses found in the inner ring of the locking cap of the hydrant. Both ends of the operating wrench are threaded to accommodate the unique key as well as a hose wrench. This means only one tool is required to completely operate the hydrant.
McGard Inc.
Orchard Park, NY
Tel: 888-888-9192
Web: www.mcgard.com
Access door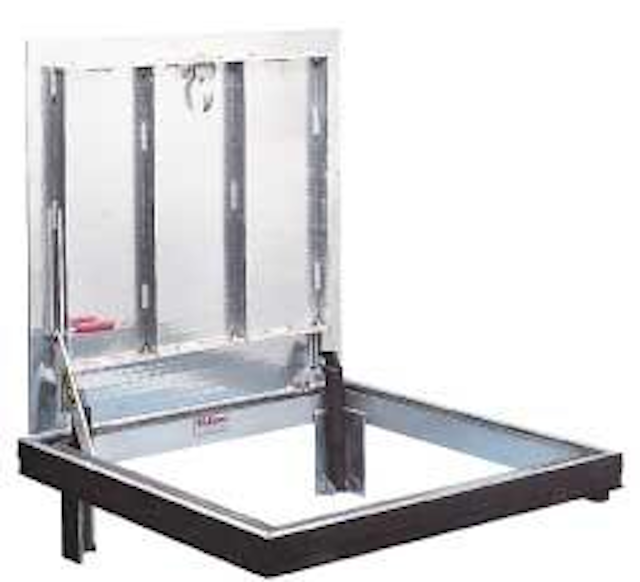 Click here to enlarge image
The Bilco J-AL access door includes many standard anti-corrosion features such as 5086 aluminum cover material, advanced composite spring tube assemblies, electrostatically coated compression springs, forged aluminum hinges and a high strength aluminum hold-open arm. A standard debris gasket reduces the amount of dirt and debris that enter the channel frame, improving drainage and lowering maintenance. The door offers smooth operation and the hold-open arm prevents inadvertent closure by positively locking the cover in the full open position.
Bilco Co.
New Haven, CT
Tel: 203-934-6363
Web: www.bilco.com
Pump control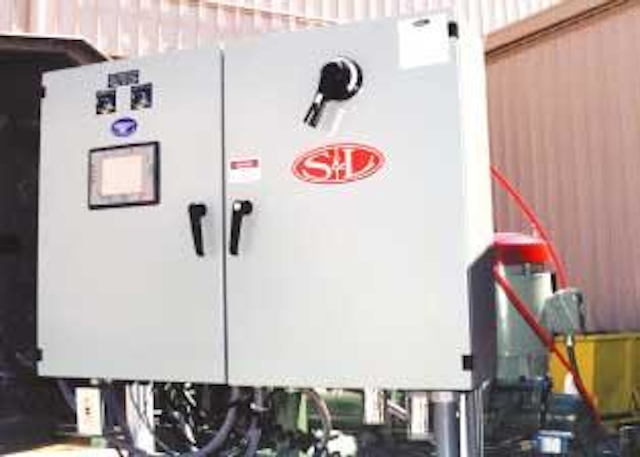 Click here to enlarge image
The new Protronix™ Control System human-machine-interface (HMI) display enables pump station operators to quickly determine the performance of the pump station. This microprocessor-based digital control system automatically controls pump operation, environmental systems, accessories, panel display unit, and alarm functions through isolated digital and analog input and output ports. The control system comes standard in the Smith & Loveless Formula X® Pump Station. It is also available as a controller on the company's Classic and Underground pump station lines as well as retrofit on existing pump stations.
Smith & Loveless
Lenexa, KS
Tel: 800-898-9122
Web: smithandloveless.com
Ozone systems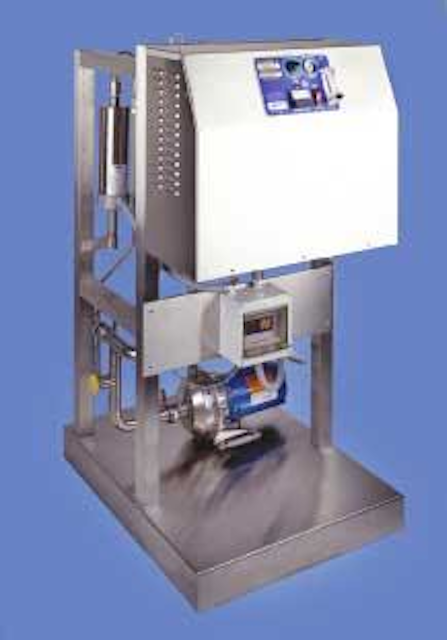 Click here to enlarge image
The ICS Series is a line of compact, fully Integrated Ozone Contact Systems with Pacific Ozone's unique Fat Pipe - Enhanced Mass Transfer™ (EMT™) ozone injection technology that insures maximum dissolved ozone. The series is powered by the air-cooled SGC Ozone/Oxygen Generators, EMT™ ozone mass transfer/dissolving and mixing system and POT ozone off-gas destructors that are all engineered into a stainless steel package. The generators have outputs from 12 to 25g/hr high concentration ozone and combine an onboard oxygen concentrator, oil-less air compressor with an air-cooled corona discharge ozone generator that uses the company's patented Floating Plate Technology™.
Pacific Ozone Technology Inc.
Benicia, CA
Tel: 707-747-9600
Web: www.pacificozone.com
Single jet meter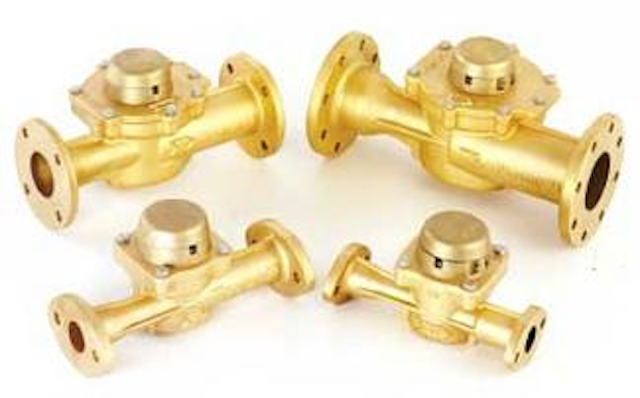 Click here to enlarge image
Actaris Metering Systems has introduced Flostar, a single jet meter designed to meet the newest AWWA C712-02 standard. The patented design uses a hydrodynamically balanced turbine and unique ball bearing pivot to provide superior low flow capability and endurance. Operating in a mechanically straightforward measuring chamber, the turbine is coupled to a hermetically sealed, straight reading register that can be upgraded to AMR functionality without register replacement. The unitized, top loading main case is made of EnviroBrass™ to meet the latest in safe drinking water standards.
Actaris U.S. Liquid Measurement Inc.
Greenwood, SC
Tel: 800-833-3357
Web: www.actaris.com
Water tank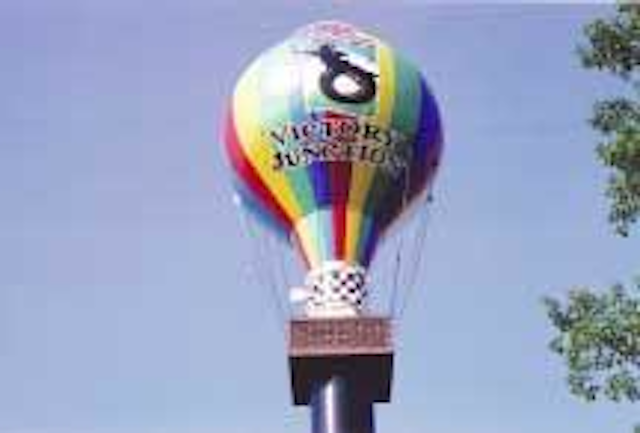 Click here to enlarge image
Caldwell Tanks recently completed a "hot air balloon" tank for Kyle and Pattie Petty's new Victory Junction Gang Camp. Standing at 140 feet with a capacity of 150,000 gallons, the brightly colored balloon-shaped water tank sets a magical tone for arriving campers. That is very important according to Pettys, who created the camp for chronically ill children. In the fall of 2003, Caldwell Tanks was asked by the architect to make the tank look like a hot air balloon. With the help of the architect and Richard Petty, a design concept was developed using the pedesphere tank style.
Caldwell Tanks
Louisville, KY
Tel: 502-964-3361
Web: www.caldwelltanks.com
Expansion joint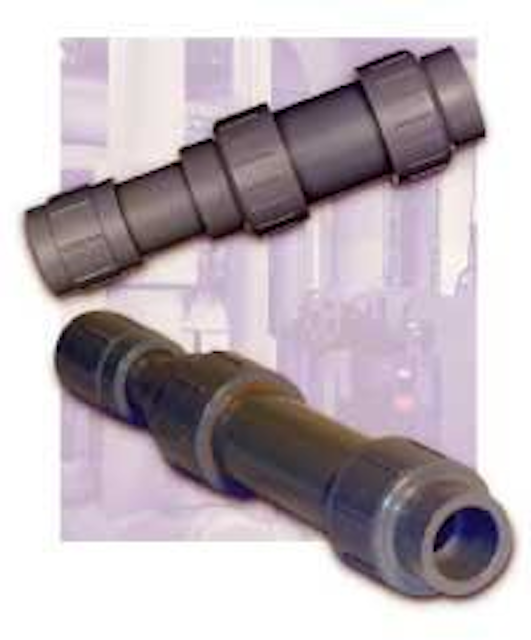 Click here to enlarge image
Designed to provide a simple engineering solution to the problem of expansion and contraction in outdoor piping systems exposed to harsh environmental elements, George Fischer Sloane has introduced a new Expansion Joint in PVC and CPVC. Typical applications include water intake systems, waste lines, manifold systems, or any outdoor application where the air or fluid can experience a 30 degree shift in temperature. Available in sizes from 1/2'' to 6'', the new joints incorporate inner and outer telescoping tubes that allow for high-strength mounting between two fixed points. The inner tube expands and contracts, similar to a piston, against the anchored outer tube, providing the flexibility needed to maintain proper pipe operation.
George Fischer Sloane, Inc.
Little Rock, AR
Tel: 800-423-2686
Web: www.sloane.georgefischer.com
In-line flow conditioners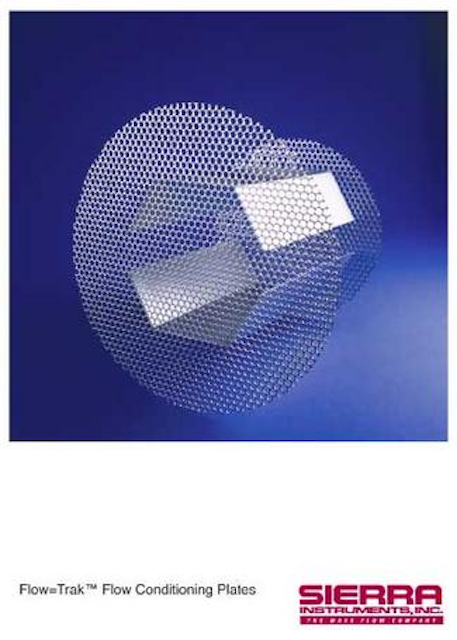 Click here to enlarge image
Sierra Instruments has introduced its new Flow-Trak™ In-Line Flow Conditioners, an economical solution to the problems associated with monitoring air and gas flow in piping-constrained applications. The conditioners eliminate velocity profile distortions, swirl, and temperature stratification in the gas stream. The conditioners reduce upstream piping requirements to less than five diameters after most common flow disturbances, and improve measurement accuracy. Other product attributes include low permanent pressure loss and ease of installation.
Sierra Instruments Inc.
Monterey, CA
Tel: 800-866-0200
Web: www.sierrainstruments.com