From Biologics to Market Reform: Drinking Water Innovations Poised to Make a Splash
Innovation comes in many forms, and in the water industry, the most obvious examples are treatment related. Small improvements, such as low-flow showerheads, acoustic leak detection technology and real-time pressure management solutions can all work together to positively impact the operating cost and integrity of a water system.
May 13th, 2014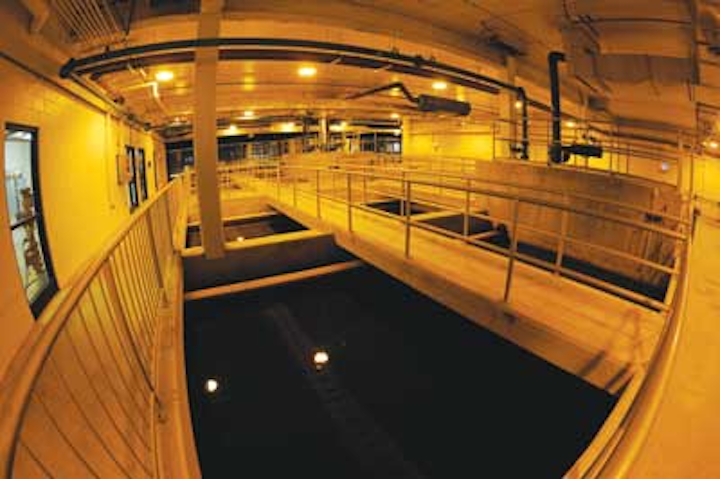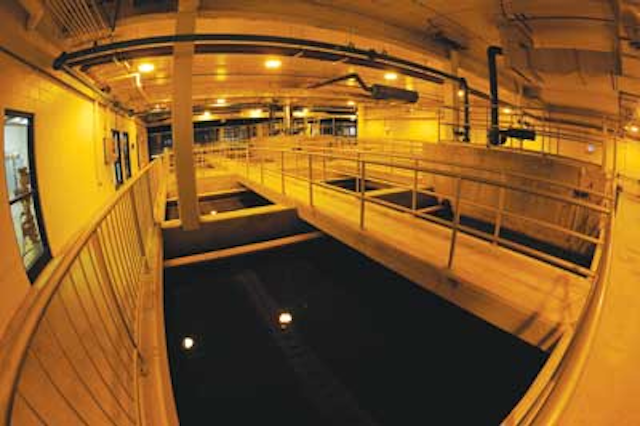 Typical filter room at a drinking water treatment facility. Photo courtesy of American Water.
By Sarah Fister Gale
Innovation comes in many forms. In the water industry, the most obvious examples are treatment related - for example, scientists introducing new biologics or advanced filtering solutions to improve water quality while reducing costs.
But that's just one aspect of innovation in drinking water, said Peter Gleick, president of the non-profit research group Pacific Institute and author of The World's Water Volume 8, a biennial report on global freshwater issues released in January. "Water innovation is a complicated topic that doesn't just refer to new technologies," he said. "The challenges we face today integrate economics, environmental challenges and politics."
Gleick is most excited about projects to improve efficiencies of existing systems and treatment solutions that allow us to bring any quality of water to drinking water standards. He points to the Orange County Water District's implementation of advanced water reuse technologies, which won it the 2014 Lee Kuan Yew Water Prize as well as a 2014 U.S. Water Prize. "It's a very innovative approach to treatment," he said.
However, most innovations in the drinking water space are less revolutionary. Small improvements, such as low-flow showerheads, acoustic leak detection technology and real-time pressure management solutions can all work together to positively impact the operating cost and integrity of a water system.
From a Trickle to a Stream
These innovations have come slowly over the years but that's starting to change, said Mark LeChevallier, director of innovation and environmental stewardship for American Water. "The industry recognizes that the tools we've been using for the last century won't serve us going forward," he said. "The need for new solutions is driving innovation."
American Water has its own innovation research program, staffed with scientists and technicians dedicated to exploring new technologies and testing their viability for drinking water and wastewater management. "The idea is to look for something new - or even existing technology that other industries are using - that could fit in our organization," LeChevallier said.
American Water isn't alone. Across the country, water innovation clusters are springing up, bringing utilities together with government agencies, non-profit groups and the business community to generate innovative solutions to the water challenges the country faces. The resulting innovations run the gamut from technical and biological solutions to monitoring to energy maintenance to finance strategies to even government initiatives that streamline approval of new technologies.
Dozens of these concepts are being developed and tested across the industry. Here are just a few that together could change the way we treat and consume water in the future.
Controlling DBPs with Ferrate
David Reckhow, professor of civil engineering at the University of Massachusetts–Amherst, has spent his career studying disinfection byproducts (DBPs), which are a broad group of compounds produced as an unwanted byproduct when disinfecting drinking water. DBPs have been associated with elevated incidences of cancer and adverse reproductive outcomes, Reckhow noted. "Reducing this exposure is a major challenge to the drinking water industry," he said.
Reckhow's team is exploring the use of ferrate oxidation to solve some DBP-related water quality and treatment problems. The project involves using ferrate, a highly oxidized form of iron, as a preoxidant ahead of treatment in place of conventional oxidants, such as ozone or chlorine dioxide, which are costly, hazardous and often require specialized expertise to operate. The team believes that ferrate will be more effective and less detrimental than conventional oxidative technologies and comparable in performance to current technologies.
"Ferrate is a powerful oxidant that reacts with precursor organics and renders them less productive," Reckhow said. As a result, it could allow the treatment system to destroy many oxidant-causing DBPs and deal with the remaining DPBs later in the system.
If the technology is effective, it could both improve the quality of drinking water and provide utilities with a low-cost alternative to ozone, Reckhow said. "We expect that a full-scale deployment will lower operating costs and significantly lower capital costs, particularly for smaller systems," he said.
Reckhow's team is currently testing the technology through an EPA grant, and he is optimistic that in two years or less they will have general acceptance from the regulatory agencies. "Most innovations in drinking water are incremental rather than disruptive," he added. "But if this works, it could be a pretty big increment."
Saving Millions with Smart Technology
American Water is in the process of testing several technologies to improve the way it manages and operates its systems. One of the most successful is a universal translation technology developed by a small start-up company called Smart Earth Technology, which enables the company to more efficiently read and respond to all of its utilities' water meters.
"Most water meters have proprietary software that is locked in by their vendors," LeChevallier explained. Prior to implementing the universal technology, American Water had to read and consolidate 129 different meter data files before it could incorporate monthly billing. By eliminating this step, LeChevallier estimated the company has saved millions of dollars over the past two years. "That is capital we can invest elsewhere," he said.
The technology is also enabling the company to perform analytics on meter data that weren't possible before. The latest version allows the company to conduct real-time automatic meter reading (AMR) to detect backflow in service lines, which can introduce contaminants into the water system. "The meters can be programmed to issue an alert when a backflow is detected, and American Water professionals can quickly address the situation," he said.
Old Filter or New Opportunity?
American Water is also taking a unique approach to innovation in the way it filters water to control the tastes and odors that come from algal cells and bacteria. The company uses granular activated carbon (GAC) as biologically-active filters, which allow the bacteria to grow on the filter and break down adsorbed contaminants. If the filters become loaded with the compounds, they can start to desorb and be released back into the water.
American Water usually changes out its filters every three to four years. But the innovation team began testing whether those filters can function for a much longer period of time. The results were surprising: Their research showed that older filters actually functioned the same or slightly better than new filters.
"Brand new filters are effective for removing taste and odor compounds, but they tend to operate at slightly shorter filter run lengths, slightly higher turbidity levels and higher head loss," LeChevallier said. "Moreover, it can take a period of time before the microbial populations colonize the filters so that they can be biologically active." Because the microbial population has been allowed to build up on older filters, they can function more productively.
The team is currently testing GAC filters that have been in operation as long as eight years without any loss of performance. These results mean the company may be able to delay filter changes by several years, saving time and money. "It shows that great innovations sometimes don't require anything more than a change in mindset," he said.
Regional Testing Reciprocity
In other areas of the industry, innovations are all about impacting the politics of water and the way new technologies are brought to market.
Regulations and the government bodies that control the water industry can stand in the way of innovation, said Earl Jones, chairman of the New England Water Innovation Cluster (NEWIC) and a partner in Liberation Capital, a private equity firm focused on infrastructure investment.
Cumbersome testing and approval processes make it expensive and time-consuming to implement new technologies in the water industry, and that has negative consequences for utilities, consumers and the business community, Jones said. "If the industry can't get innovations to market quickly, we will always be catching up to problems and never accelerating beyond them."
One of the biggest challenges is the regulatory barrier that prevents communities from implementing technologies that have already been validated by third-party organizations in other towns. To combat this hurdle, NEWIC is pushing 'regional testing reciprocity' legislation that would allow a technology approved in one community to be approved across a designated region without further testing required.
"This legislation would be a huge win for the industry," Jones said. "If we can help companies get regulatory approval faster, we can accelerate the time to market for new technologies."
Jones is also excited about many of the young water-tech companies in New England that are exploring ways to lower the cost of water management and to more effectively treat contaminated sources. One of those companies is Boston-based Resolute Marine Energy, which is developing technology that will use wave power to desalinate seawater. "It's a brilliant idea that could gain a lot of traction in coastal areas dealing with water scarcity," Jones said.
Conservation - From Field to Tap
In Colorado, a state struggling with water scarcity and battles over water rights, the Colorado Water Innovation Cluster (CWIC) is focused on making every drop of water go further, said Neil Grigg, a professor of civil and environmental engineering at Colorado State University and member of the CWIC. "We want to be a model of sustainable water management through better technology and better politics," he said.
Grigg's team at the university is currently working with Regenesis Management Group to facilitate water conservation research into deficit irrigation practices that use sensors to take a more balanced approach to irrigating crops based on drought-sensitive stages of growth.
Grigg noted that this project isn't directly about drinking water, but it has an indirect impact because when you can conserve water in one area of the water infrastructure, it positively impacts the entire system. "If we can reduce the need to put water back into pipes and treat it again, it will make the entire water supply go further," he said.
Energy on the Open Market
Energy costs account for the largest percentage of a water utility's operating budget - as much as 55 percent by some estimates - which is why many innovations today revolve around lowering energy use and the costs associated with running these systems.
Recently, the Greater Cincinnati Water Works employed an innovative funding strategy to rein in its energy costs. When the utility's latest energy contract ran out, it opted to move to a market-based model, through which it now bids for energy on an hourly basis.
Based on the prices available, the facility can adjust its energy purchases to focus on the lowest cost hours, said Verna Arnette, superintendent of the utility. "Usually the most expensive hours are during high electric use periods, so we adjust our pumping schedule to avoid those hours," she said.
To minimize the financial risks of this model, the company will also occasionally buy blocks of energy for high-energy-use months at fixed prices if a competitive price comes to market.
But even with block purchases, this was a big move that required support from across the company. Prior to making the switch, Arnette worked closely with the CFO and operations teams to ensure the organization was comfortable with the new financial model and could adapt to the changes. She also hired a consultant to help them manage the bidding process.
"It took a leap of faith to get operations on board," Arnette said. "But once they realized that they wouldn't have to adjust pump rates every 60 minutes, they agreed."
Since moving to the market-based model, the utility has seen its energy costs drop an average of 10 percent, Arnette said. "It was a risk, but we did our homework and took advantage of this opportunity, and it has created real financial efficiencies."
About the Author: Sarah Fister Gale is a freelance journalist based in Chicago. Over the last 15 years, she has researched and written dozens of articles on water management trends, wastewater treatment systems and the impact of water scarcity on businesses and municipalities around the world.