Water charities in India, Uganda honored with prestigious impact award
Winners of the annual London-based Stars Foundation 2013 Impact Awards were recently announced.

Dec 13th, 2013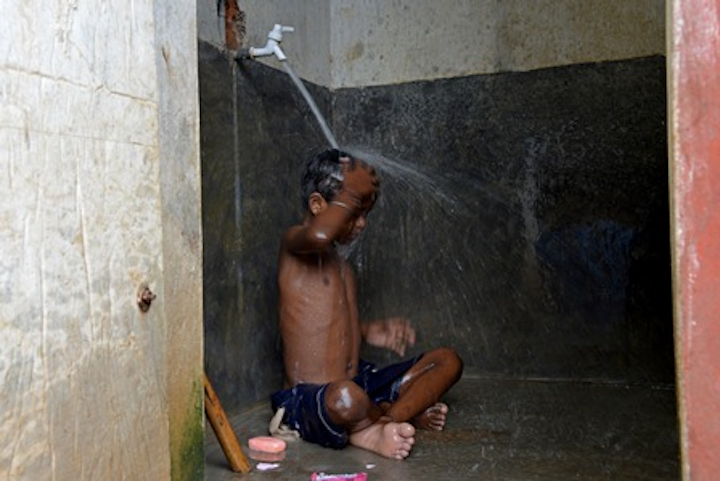 Dec. 13, 2013 -- Winners of the annual London-based Stars Foundation 2013 Impact Awards were recently announced and selected from more than 1,300 applications from 60 different countries.
The Stars Foundation, a charity organization dedicated to improving the lives of children and their communities worldwide, selected the award recipients in recognition of their excellence in providing frontline services to disadvantaged communities and children.
This year, for the first time, the Stars Foundation has included a category for water, sanitation and hygiene (WASH), awarding two extraordinary charities in India and Uganda:
Gram Vikas, India
Award winner Gram Vikas works to eradicate open defecation in villages across the Indian state of Orissa. Throughout India, open defecation is widely prevalent, and an absence of toilets is a chronic problem. Further, contamination of drinking water sources results in diarrhea, cholera, jaundice, typhoid, and scabies.
However, with 80 percent of diseases being waterborne and easily preventable, Vikas ensures access to piped water facilities and construction of squat toilets in each household within a community. Sustainability and community ownership is the focus of Vikas' approach.
No community will receive assistance unless every household agrees and contributes the equivalent of £12.50 ($20.50) for future maintenance costs. Helping over 3,500 children gain access to toilets, 8,000 were also supported for immunization, healthcare and education services by Vikas in the last year.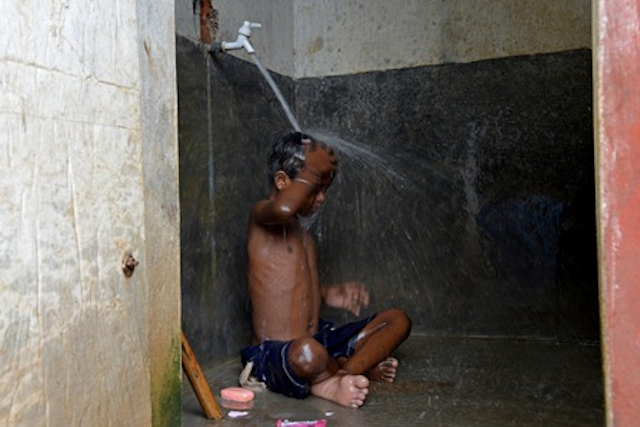 A boy washes under a clean water tap installed by Gram Vikas, Orissa, India (Photo Credit: Suchit Nanda/Majority World)

Water School Uganda
Water School Uganda has also been awarded for empowering communities to access safe drinking water using simple and sustainable water treatment technology. With more than 14,000 Ugandan children dying every year from diarrhea, Water School Uganda helps to construct more resilient home compounds and sanitation facilities.
Since March 2010, Water School Uganda has installed more than 2,500 'Tippy Taps' -- structures that encourage sanitary hand-washing -- and constructed more than 1,000 clean pit latrines at household level, increasing latrine coverage from 63 percent to 78 percent across eight counties in the Busia district. Likewise, a local hospital confirmed a 50-percent reduction of dysentery, typhoid and diarrhea in school children and communities where Water School Uganda has worked.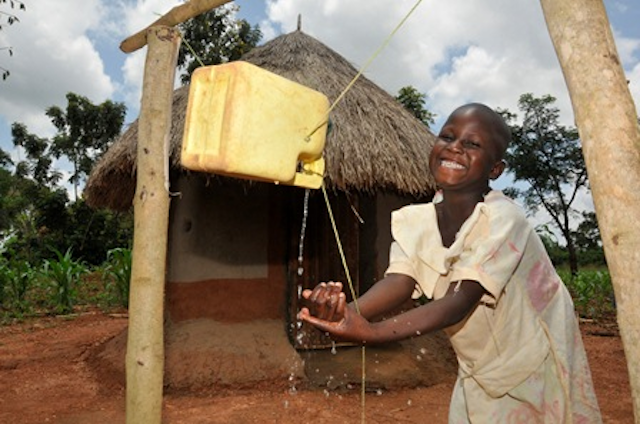 A girl washes her hands using a 'Tippy Tap' -- which encourages safer handwashing practices -- outside her family's clean pit latrine in Busia, Uganda. (Photo Credit: Jimmy Adriko/Majority World)

Over the years, theStars Foundation has supported 58 outstanding organizations working in 24 countries, reaching two million people. Founding patrons include former President Bill Clinton and Her Majesty Queen Rania Al-Abdullah.
The Stars Impact Awards recognize and reward effective, well-managed local organizations working to fight against poverty and child mortality in the countries with the highest rates of under-five mortality. Awards are made in four categories (health, education, protection and water, sanitation & hygiene) across two geographic regions (Africa-Middle East & Asia-Pacific). The 2014 Impact Awards will also be open to eligible charities in Latin-America and the Caribbean.
An awards ceremony will be hosted at Kensington Palace on Saturday, Dec. 14, 2013.
###