Potable water quality to be improved in India with innovative treatment system
Regions of India will soon receive cost- and energy-efficient drinking water with an innovative European water treatment technology.

Feb 17th, 2014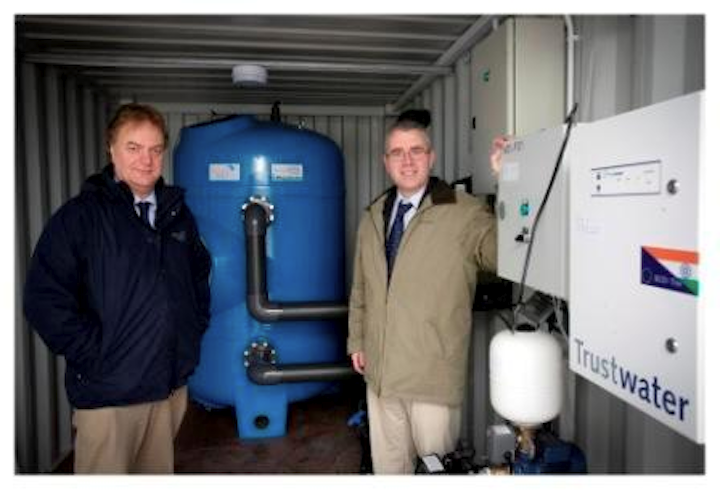 Feb. 17, 2014 -- Regions of India will soon receive cost- and energy-efficient drinking water with an innovative European water treatment technology stemmed from a €2.2 million (US $3.0 million) Europe/India collaborative research project.
Called ECO-India, the three-year project is co-funded by the European Commission's Seventh Framework Programme (FP7) and the Indian Department of Science and Technology (DST). It will run until August 2015 and is focused on developing innovative and sustainable approaches for producing potable water at a community level. The first rural community deployment is set for West Bengal, India.
Coordinated by the Tyndall National Institute in Cork, Ireland, the €1.7 million (US $2.3 million) FP7 consortium represents a world-class interdisciplinary research team from three research institutes -- Tyndall-UCC, Danmarks Tekniske Universitet (DTU), Helmholtz-Zentrum für Umweltforschung GmbH (UFZ) -- and four SMEs (Trustwater, Adelphi, Dryden Aqua, and AGM).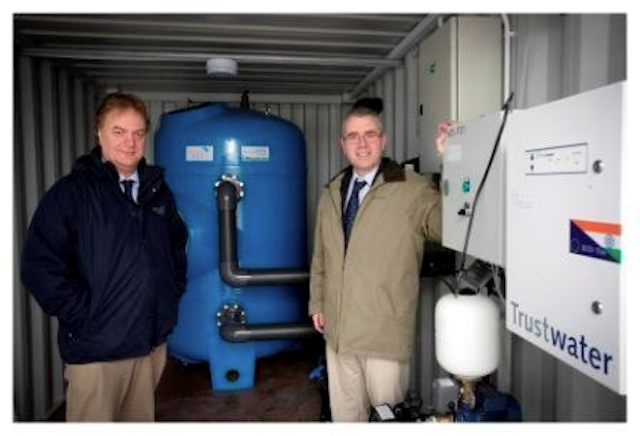 Dr. Aidan Quinn (right), co-ordinator of the ECO-India EU consortium, and Dr. Howard Dryden (left) with the cutting-edge integrated European systems for water disinfection (Trustwater ECO-Trio) and filtration (Dryden Aqua AFM, background) due to be shipped to India for installation at a rural community pilot site in West Bengal. (Photo credit: Hume Brophy)

The FP7 consortium will develop energy-efficient systems for advanced filtration and disinfection of drinking water supplies from surface-water ponds and groundwater tube wells, which suffer from arsenic contamination using Dryden Aqua and Trustwater technology. In addition, UFZ will lead the development of field-deployable arsenic sensors for screening tube-wells, while an online system developed by AGM will enable remote monitoring of water quality.
Tyndall-UCC will focus on the development of novel capacitive modules for the removal of ions from brackish surface water and heavy-metal ions (especially arsenic) from groundwater as well as development of novel sensors for monitoring dissolved oxygen. The overall system will be solar-powered with mains/battery backup. DTU will also lead a feasibility study for assessing energy harvesting via biogas from wastewater.
The EU team partners with the €500,000 (US $685,300) DST-funded ECO-India consortium, co-ordinated by Professor Asis Mazumdar from Jadavpur University. The consortium also includes the Indian Institute of Technology Kharagpur, as well as an SME, Super Technicians. Collaborating with Jadavpur University and Adelphi GmbH (the collaboration managers for the project), the European systems will be installed alongside conventional water filtration systems in order to demonstrate their performance in a harsh rural environment and to assess their potential for sustainable, cost- and energy-efficient treatment of potable water.
About ECO-India
The overall aim of ECO-India is to design and develop innovative cost-effective solutions for community- based water- and wastewater- treatment systems. These systems will be deployed at pilot sites in arsenic-affected water-stressed regions in India. For more information, visit www.eco-india.edu.
###