New reverse osmosis plant helps FL city meet water supply demands
The acceptance testing of Biwater's 1.5-million-gallons-per-day RO system has been completed at the Springtree WTP in Sunrise, Fla.
Feb 11th, 2014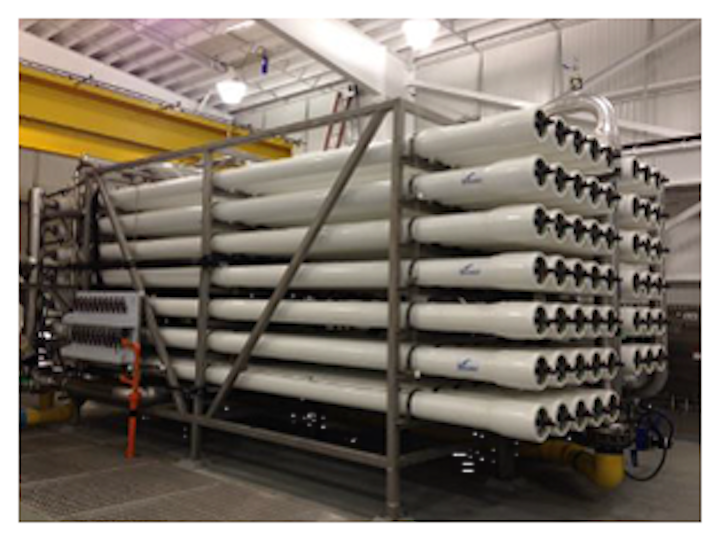 RO trains 1 and 2 pictured during commissioning (Photo credit: Biwater)
SURREY, UK, Feb. 11, 2014 -- The acceptance testing of a new 1.5-million-gallons-per-day (MGD)
reverse osmosis (RO)
system has been completed at the Springtree Water Treatment Plant located in Sunrise, Fla.
Provided by
Biwater
, a provider of various water services internationally, the now-operating facility is assisting the city in meeting its alternative water supply requirements. The UK-based company designed the two-stage system, which incorporates an interstage energy recovery system that includes a novel manipulated valve control system that it developed in conjunction with Fluid Equipment Development Company (FEDCO).
Approximately 1.5 MGD of potable water is produced with permeate water recoveries of up to 80 percent at the facility. Likewise, the feed water
total dissolved solids (TDS
) is recorded at roughly 3,000 mg/l, from a repurposed existing
aquifer storage recovery (ASR)
well. Biwater's installed treatment capacity in the city of Sunrise has climbed to 19.5 MGD/74,000 m
3
/day.
The project was performed directly under contract with the city of Sunrise, and Carollo Engineers served as the owner's engineer.
About Biwater

Biwater provides large-scale water and wastewater solutions for clients across the world.The company's desalination business serves both municipal and industrial clients. It is a premier membrane system manufacturer, particularly for large capacity systems, producing high purity drinking water. The company currently has more than 440 MGD of installed membrane treatment capacity globally. For more information, visit www.biwater.com.
###