Because Data Is What You Depend On
Cost-effective multiparameter sonde with intuitive software solves data collection challenges.
Jun 1st, 2019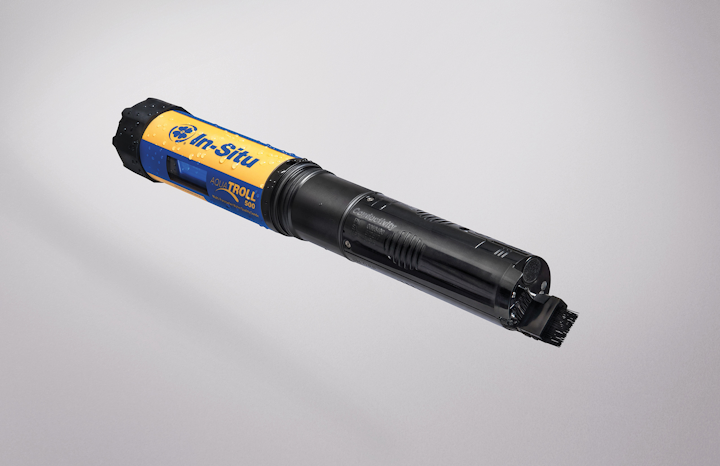 Image courtesy of In-Situ.
It's hard to know which is the greater threat to compliance — data collection equipment that's overly complex and difficult to set up and use, or data access and management processes that are clunky, redundant and prone to error.
Understanding that the increasingly rigorous water-management industry has no need for anything that doesn't improve efficiency, increase accuracy and reduce costs, In-Situ has developed the versatile Aqua TROLL 500 Multiparameter Sonde, which, together with the company's intuitive software, makes it easy to collect and use your data.
Flexible Equipment saves hours in the field
Most water monitoring equipment is designed for either handheld or permanent installation, but the Aqua TROLL 500 is ideal for spot-checking and long-term deployment.
The instruments require minimal maintenance and calibration, and interchangeable, drift-resistant sensors include conductivity, temperature, DO, pH, turbidity, level, and a full line of patented fluorometers. Additionally, six- to nine-month battery life and a mechanical wiper for complete antifouling reduce trips to the field and help maintain function and accuracy in the harshest environments.
Communication is just as important as durability, and traditionally it's been a challenge to get PLCs and telemetry to work with multiparameter instruments. So, In-Situ designed the Bluetooth-enabled Aqua TROLL family of products to easily hook into a PLC with a Modbus interface or SDI-12.
Easy to use, effective software completes the system
Because data collection is just one piece of the puzzle, In-Situ's solution for cost-effective municipal water management includes the VuSitu mobile app and HydroVu Data Services.
The intuitive app makes auto-configuration, calibration, directed data analysis, and automated report creation simple and easy. Technicians can use VuSitu to view and record live readings; consolidate site information and tag data with site photos and GPS coordinates; and share real-time results on the spot via email or export. VuSitu is available for Android and iOS.
The HydroVu Data Services platform integrates seamlessly with In-Situ instruments and telemetry to provide network-wide visibility. Get instant alerts for drinking-water system inflows. Access data in real time and filter by project, location, time and more, and export data via API for use in any other system.
An Upgrade That Can Pay Its Own Way
The Aqua TROLL 500, together with VuSitu and HydroVu, lowers the cost of ownership by addressing issues that hinder efficiency, accuracy and reliability inside and outside the fence. Because everything — from sonde to sensor to software — is designed to work together and with your internal systems, you can focus on the data and not the equipment or processes. WW
In-Situ has served the water-monitoring industry with high-quality equipment and software for more than 40 years. For more information, visit www.in-situ.com/WWed.