CycloPure wins $1 million PHASE II SBIR Grant
NIEHS taps company for further development of PFAS technology.
Sep 17th, 2019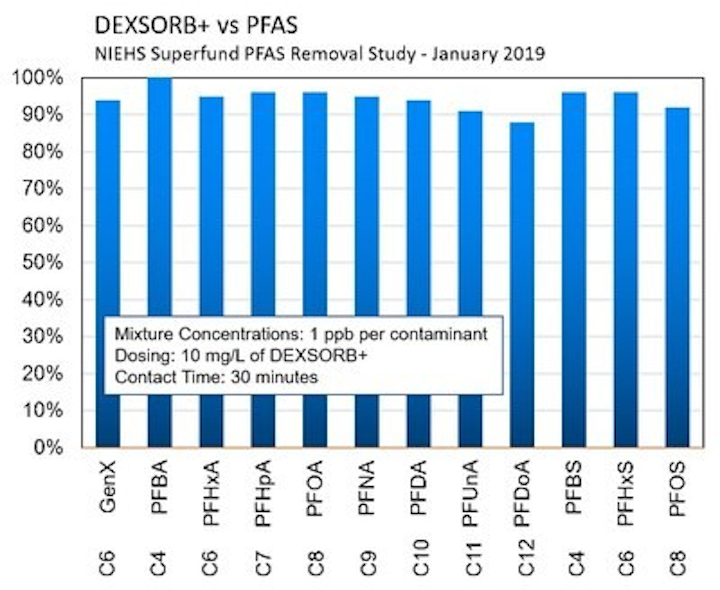 ENCINITAS, CA, SEPT 17, 2019 -- CycloPure, Inc., a leading innovator in water purification technologies and the developer of the DEXSORB™ line of adsorbents, announced that the National Institute of Environmental Health Sciences has awarded the company a Small Business Innovation Research (SBIR) Phase II grant in the amount of $1,000,000. CycloPure will use the Phase II grant to continue development of its DEXSORB+ adsorbent for removal of PFAS from drinking water.
"We are very grateful for the ongoing support from NIEHS," said CycloPure Chief Science Officer Will Dichtel. "During Phase I, we demonstrated the fast kinetics and strong removal performance of DEXSORB+ against 12 short and long chain PFAS compounds. Using this funding, we will move to the next phase of preparation of our materials for water treatment installations, with a focus on engineering tests and studies of matrix effects."
Everyday there is new publicity around the crisis of PFAS contamination of drinking water and its threat to public health. Congress is holding hearings, the Secretary of Defense announced it as a Day 1 priority, and the EPA and State regulators are in a continuing cycle of lowering acceptable limits for drinking water. Recently, Michigan proposed limits of 8ppt for PFOA (1 drop in 1.25 million gallons of water) and 16ppt for PFOS. 
Bottled water is not a reliable or sustainable solution. Along with many other flaws of single use bottled water, New Hampshire State officials recently found PFAS concentrations of 120ppt, 5 times the State level, in 8 brands of bottled water.
"We're thrilled to continue working with the NIEHS Superfund Research Program," said CycloPure Chief Executive Frank Cassou. "NIEHS has been a great partner; they care deeply about the issue of PFAS in domestic drinking water supplies. Funds from this award come at a great time as we push to expand field activities with our environmental and municipal partners. We do our best work removing nanoscale contaminants. The PFAS Superfund Program is in our sweet spot."
To learn more, visit www.cyclopure.com