Identifying the Gaps Between Water and Wastewater Operators and Market Partners
A joint survey of water and wastewater operators across Canada and the United States highlights key challenges, investment needs, and levels of confidence to deliver on those needs.
Jan 1st, 2019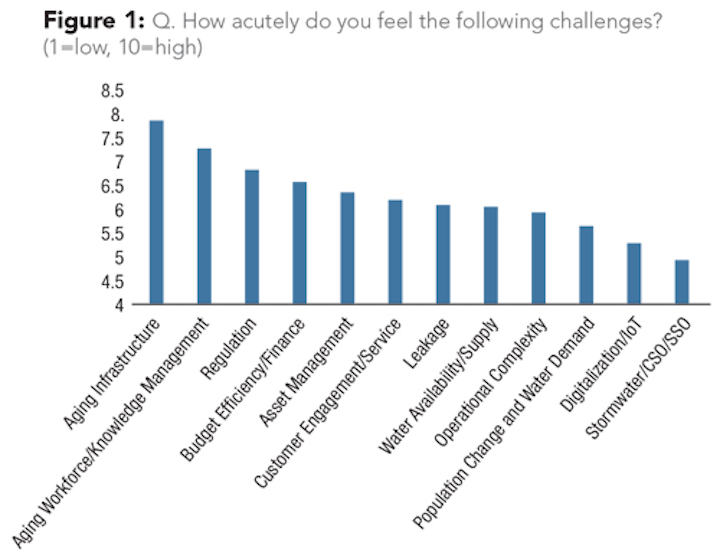 How the water market can improve solutions offerings for customers in 2019
By Seth Cutler
To best understand key issues and trends for 2019, WaterWorld and Frost & Sullivan conducted a joint survey of water and wastewater operators across Canada and the United States. Responses highlighting key challenges, investment needs, and levels of confidence to deliver on those needs were gathered from 174 authorities representing 45 states, provinces, and territories. Respondents come from populous jurisdictions with large economies such as California, Texas, and New York, as well as more remote locations, including Guam, Northwest and Yukon Territories, and Wyoming.
This article represents a high-level overview of results that will drive water and wastewater operators through the year ahead and offers opportunity guidance for market vendors in developing and tailoring solutions to meet customer demands. Articles that provide a deeper dive on key issues will be published quarterly throughout 2019. WaterWorld and Frost & Sullivan thank all the individuals and organizations that participated in the research.
top three challenges reported by respondents:
1. Aging infrastructure
2. Aging workforce and knowledge management
3. Regulation
Top market opportunities, i.e., those indicating high operator need with low confidence in delivery:
Training
Pipes
Process control and automation
Sensors and monitoring
Resource recovery
What Keeps Operators up at Night?
Water and wastewater network operators face a range of fundamental challenges that require transformative solutions. However, not all challenges are felt as acutely as others. While some challenges, such as IoT/digitalization and stormwater, receive a great level of attention in the media and from solutions providers, operators still cite very traditional challenges in aging infrastructure — aging workforce and knowledge management, and regulation — as being the most strongly felt. This may be due to the level of development and investment some challenges have seen, but those most acutely felt represent stubborn and pervasive issues.
Aging infrastructure is both a near- and long-term challenge, with established networks seeing almost perpetual pipe replacement programs, moving through their infrastructure piece by piece. Frost & Sullivan notes that investment in water and wastewater pipes in North America is set to bring market revenues of over $13 billion in 2019. Pipes and infrastructure investments are labor intensive and expensive programs, but they are critical in delivering on the key industry mandate of reliable and safe water and wastewater services.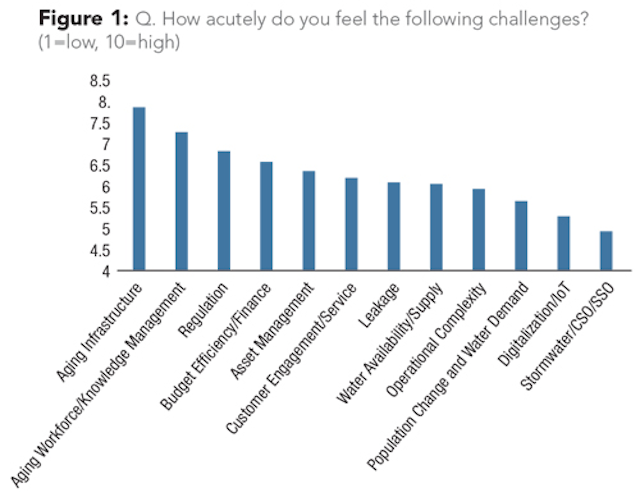 The water and wastewater industry currently experiences an ongoing generational turnover in its workforce. In 2016, the National Rural Water Association highlighted that between 2010 and 2020, industry turnover will remove up to 50 percent of the workforce.1 It is unsurprising that, as a result, operators are concerned about retaining and transferring knowledge to incoming employees or having to devise a strategy to deliver on the same responsibilities with a smaller workforce. There are market opportunities here, including knowledge management and training solutions and outsourcing opportunities for partners to assist operators during and after this transition.
Regulation in the industry remains strong and efforts to ensure compliance (and specifically to avoid non-compliance) is a backbone of industry investment. While this will continue, there are questions on whether regulation will be relaxed or changed and how strictly compliance will be enforced, especially for industry. Changes to effluent quality, however, impact downstream influent quality, shifting what technologies are needed to handle changing water compositions and where. Reading these potential shifts while also delivering on compliance is a careful decision-making process for operators that impacts investment.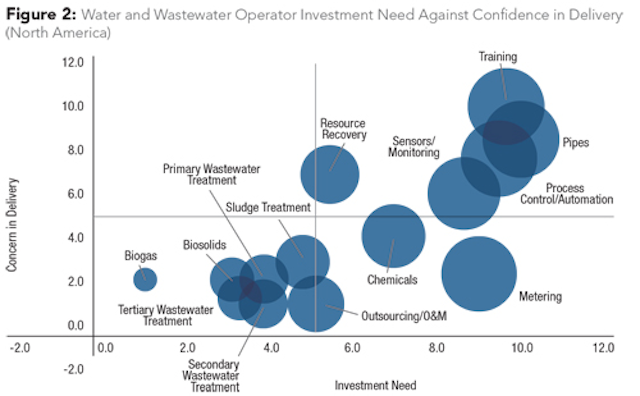 Translating Challenges Into Opportunities in 2019
These key challenges and their relative pain translate into several different opportunities on which the market can deliver. Survey respondents were asked to rate 10 different investment areas by their need and by the level of confidence they have in delivering on that need. The results were averaged and normalized on a scale of 1 to 10 and then combined into a single chart to identify investments of highest need but lowest confidence in delivery (or concern in delivery).
When reviewing the charted results, the investment areas in the upper right quadrant represent ones that respondents feel are of greatest need, but where there are concerns in successful delivery (bubble size represents the relative investment need). The results include training, pipes, process control and automation, sensors and monitoring, and, to a lesser extent, resource recovery. Metering, for example, is a large investment need that operators feel confident in delivery.
The four strongest opportunities neatly tie into the previously outlined challenges that operators currently face. Training and pipes are direct responses to aging workforce/knowledge management and aging infrastructure. Process control and automation, and sensors and monitoring represent opportunities to do more with less, to optimize control and investment, and deliver new operational models that help bridge conventional networks and systems with advanced capabilities.
Importantly, these opportunities indicate areas in which increased competitive differentiation and better-defined offerings can be of customer value. In these areas there are supply and demand gaps: while customers know the outcome on which they must deliver, they are less sure how to achieve that outcome, whether through internal or third-party delivery. As a result, solution providers in these spaces can further hone their offerings to improve the business case to customers and strengthen market gains in the years to come.
While there will be demand-side challenges complicating the sales process, supply side opportunities are likely to be varied: pricing, value-add services, customer education, product/portfolio/operations simplification, balancing capex and opex, relationship-selling, etc. The market needs to better understand and internalize underlying customer challenges to maximize growth in the coming years.
WaterWorld and Frost & Sullivan look forward to the year ahead and to a market that is better-aligned between customer needs and vendor solutions.
About the Author: Seth Cutler is a principal consultant with Frost & Sullivan, a global multi-disciplinary research and consulting firm, where he is the program manager for Environment & Water (Americas). In that role, he leads a team that identifies market growth opportunities and develops robust go-to-market strategies in water/wastewater, solid waste management, and air pollution control. Cutler holds an MA in cities, culture and social change from King's College London and an MA in human geography from the University of St. Andrews. He can be reached at seth.cutler@frost.com.
Resources
1. National Rural Water Association, "NRWA to Announce Creation of Workforce Advancement Center," November 2016. https://nrwa.org/2016/11/nrwa-to-announce-­creation-of-workforce-advancement-center/, accessed Dec. 14, 2018.
Circle No. 237 on Reader Service Card