Wellsboro Municipal Authority Lifts Boil Water Order Using Mobile Membrane Solution
In 2010, the Municipal Authority of Wellsboro, Pa., began noticing issues at its drinking water plant as the city's slow sand filtration process was experiencing high turbidity and algae events due to elevated levels in its reservoir.
Dec 1st, 2016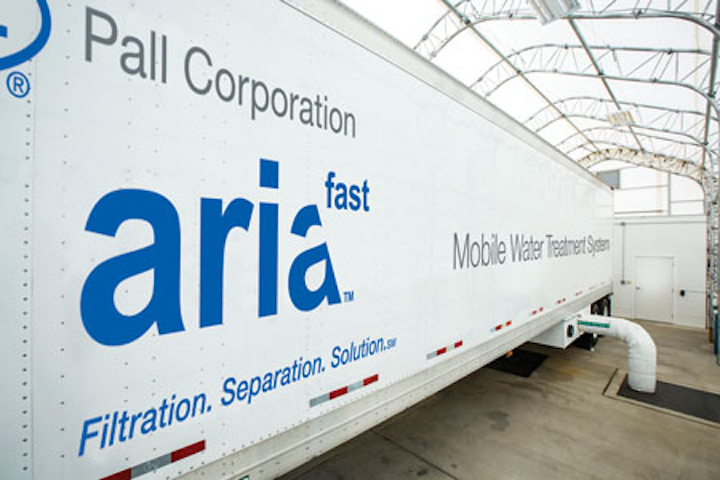 By Dave Glovinsky
In 2010, the Municipal Authority of Wellsboro, Pa., began noticing issues at its drinking water plant as the city's slow sand filtration process was experiencing high turbidity and algae events due to elevated levels in its reservoir. As a result, citizens received emergency notices to boil their water before use. The boil water advisory not only impacted residents' daily lives, from brushing teeth to preparing food, but it also required business owners to shut down soda fountain dispensers, ice machines and coffee makers in order to avoid contamination.
Upon successful completion of a pilot test, Wellsboro Municipal Authority selected Pall Corporation's Aria™ FAST mobile water treatment system. The unit's membrane filtration modules provided high-quality water, bringing the municipality into water quality compliance despite high turbidity events.
With a capacity of one million gallons per day (MGD), the modular unit offered a compact footprint and required minimal infrastructure, allowing for an easy installation. In total, the fully containerized system consisted of a concrete pad, a portable canopy enclosure, electrical power connection, and inlet and waste discharge piping.
"I was impressed with the engineering that Pall completed," said Daniel K. Strausser, the city's borough manager. "The collaboration between our engineers and Pall's with the pre-built enclosure and supporting elements was spot on. When the mobile unit arrived, everything fit perfectly."
Historically, Wellsboro Municipal Authority was plagued with filter blockages in its slow sand filters as algae in the raw water during the warmer months began to halt water production. With very little flow coming through the slow sand filters during algae events, the water treatment plant knew that it needed to identify a solution to alleviate this challenge.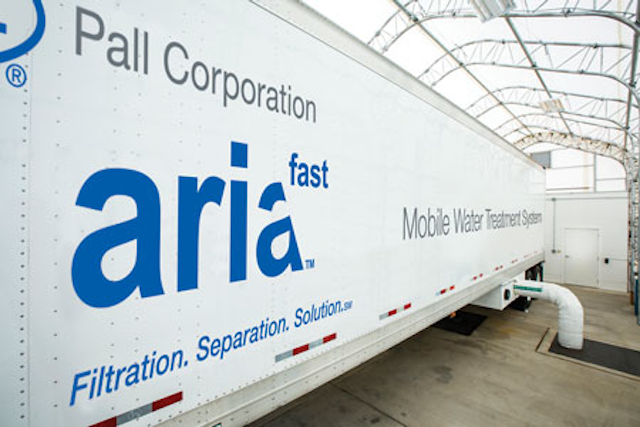 The mobile membrane unit installed at Wellsboro Municipal Authority's water treatment facility.
With 80 percent or more of its water now being produced by Pall, the algae problem has been alleviated as the Aria FAST unit is able to filter out the turbidity. Previously, the municipality had to issue a boil water notice when the slow sand filters were clogged and unable to meet demand. However, this has not been an issue since implementing the Pall unit, as backwashes are able to clean the filter. With the mobile membrane system, Wellsboro Municipal Authority now produces 700,000-800,000 gallons per day serving 8,000 residents. The Authority is now in its second year of utilizing Pall's membrane system to augment summer water demand as it services 20-25 million gallons per month.
Additional benefits of the system also include a stand-alone PLC control system and SCADA for process control and plant data collection. Signals from the pre-existing plant process instrumentation are connected to the unit's PLC, enabling the trending and storage of data for both historical reference and regulatory reporting requirements.
The system's automated reporting features also ensure that everything is monitored in the Pall system 24/7, allowing the Wellsboro Municipal Authority to download information and forward it to the DEP as needed. Due to the automated testing and reporting, what was once a very labor-intensive and manual process of collecting daily pH and turbidity tests has now been all but eliminated.
Beyond automated reporting, an alarm management system was incorporated into the control system as an additional safety measure to automatically call specified contacts in the event of a critical alarm. The system not only gives operators the ability to customize and program the circumstances for receiving an alarm but also allows them to turn it off, in the case of a minor situation, right from their mobile device.
Additionally, operators can make processing control changes - such as shutting off one side of a filter - from their phone or home computer. This is a major advantage if the alarm goes off in the middle of night. "I know the operators love the ability to control the system and its alarm programming as they don't have to come out to manage it manually," Strausser said.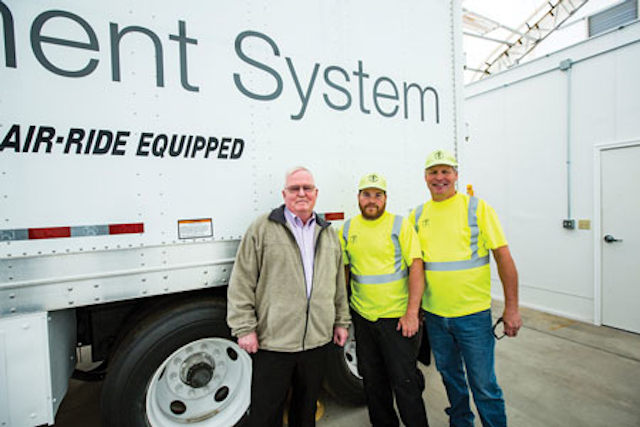 The operations team at Pennsylvania's Wellsboro Municipal Authority. (L-R) Borough Manager Daniel K. Strausser; Assistant Superintendent Rob Cleveland; and Superintendent Mark Dieffenbach.
Robust membrane filtration by Pall's Aria FAST self-sufficient mobile unit was able to easily handle high turbidity events with minimal operator intervention. Remote access for process review and quick response time on system alarms from Pall technicians also helped to ensure that the system was running smoothly.
"Support from our Pall technicians and customer support team has been critical," said Strausser. "Last summer we experienced a power surge that really knocked us down. With the help of Pall technicians, within 24 hours we were able to make water and just a few days later we received the parts that we needed to automate our system again. Pall's technicians and support team have always been there for us, providing answers and the help we need."
Pall's Aria CARE customer service team regularly monitors Wellsboro Municipal Authority's system remotely to ensure that the Aria FAST unit is operating correctly and is able to troubleshoot any issues that may arise. Additionally, the Aria CARE team provides 24/7 phone support and direct access to a technician should a site visit be required.
With the installation of the mobile water treatment system, in conjunction with the pre-existing slow sand filters, the Wellsboro Municipal Authority was able to meet the DEP drinking water requirements, lift its boil water order, and supply citizens and businesses with safe, quality drinking water. In addition to providing high-quality water, the Authority was able to reduce the cleaning frequency of its conventional technology, significantly reducing maintenance costs. This solution minimized capital expenditure and gave the Wellsboro Municipal Authority the flexibility to respond to future changes to the source water.
About the Author: David Glovinsky, eastern regional sales manager for Pall Process Systems, has 15 years of experience in the water treatment and engineered systems industry. Prior to his sales role, Glovinsky was heavily involved with field service activities, including pilot plants for municipal and industrial water and wastewater treatment. He also specialized in the processing and treatment of landfill leachates.