Contegra Construction to expand, renovate Illinois WTP in $7.9M project
Contegra Construction has been selected to renovate and expand the water treatment plant that serves the city of Roxana, Ill.
Jan 30th, 2015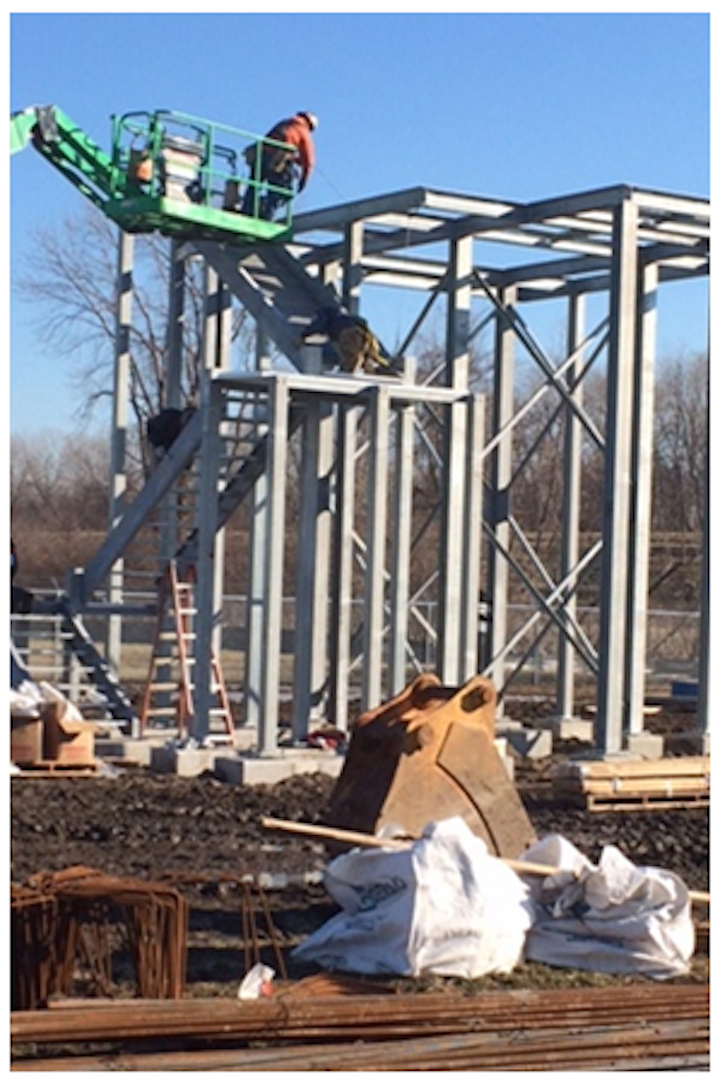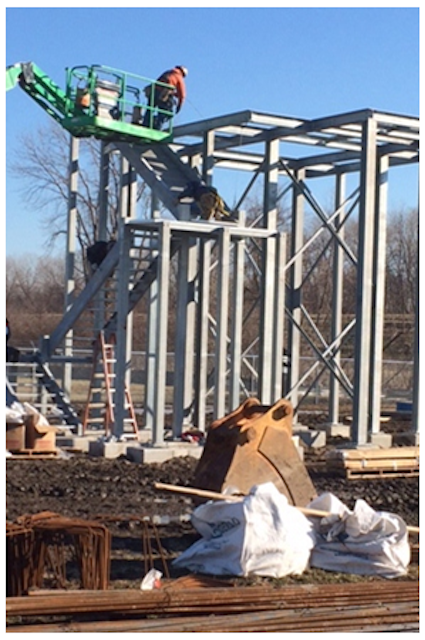 A Contegra worker frames out the new chemical feed building at Roxana's WTP.
ST. LOUIS, MO, Jan. 30, 2015 -- Contegra Construction Co., a design, build and construction management firm, has been selected to renovate and expand the water treatment plant that serves the city of Roxana, Ill.
The $7.9-million project will boost the facility's water storage capacity from 1.15 million gallons to 1.65 million gallons and enable it to meet EPA regulatory compliance standards.

In step with strategic, sequential demolition, Contegra is installing a new forced draft aerator, a hydrated lime line-feed system and water filters, and is modifying the flow path of process water to existing clarifier.
The Edwardsville, Ill.-based contractor is also erecting a new chemical feed building and a 9,600-square-foot addition to the existing filter building. Meanwhile, a structure that hosts clarifiers, a 750,000-gallon ground storage tank and an elevated 300,000-gallon storage tank are being repainted.
Joe Koenig, Contegra project manager, noted that the plant's infrastructure upgrades are significant and complex. "The new equipment and buildings require extensive SCADA communication system, electrical and above- and below-ground piping upgrades. We're working with pipe ranging in diameter from 1/2 inch to 24 inches."
Built in 1977, the plant has not been comprehensively upgraded for more than 20 years. It remains fully operational in the Southwest Illinois community during construction. Contegra is targeting a completion date for the fall of 2015.

About Contegra Construction

Founded in 2003, Contegra Construction is a design/build and construction management firm with offices in Edwardsville, Ill. and St. Louis, Mo. It operates in the institutional, industrial, health care, municipal water and wastewater, retail and office markets and is among the 25 largest contractors in metro St. Louis. For more information, visit www.contegracc.com.
###